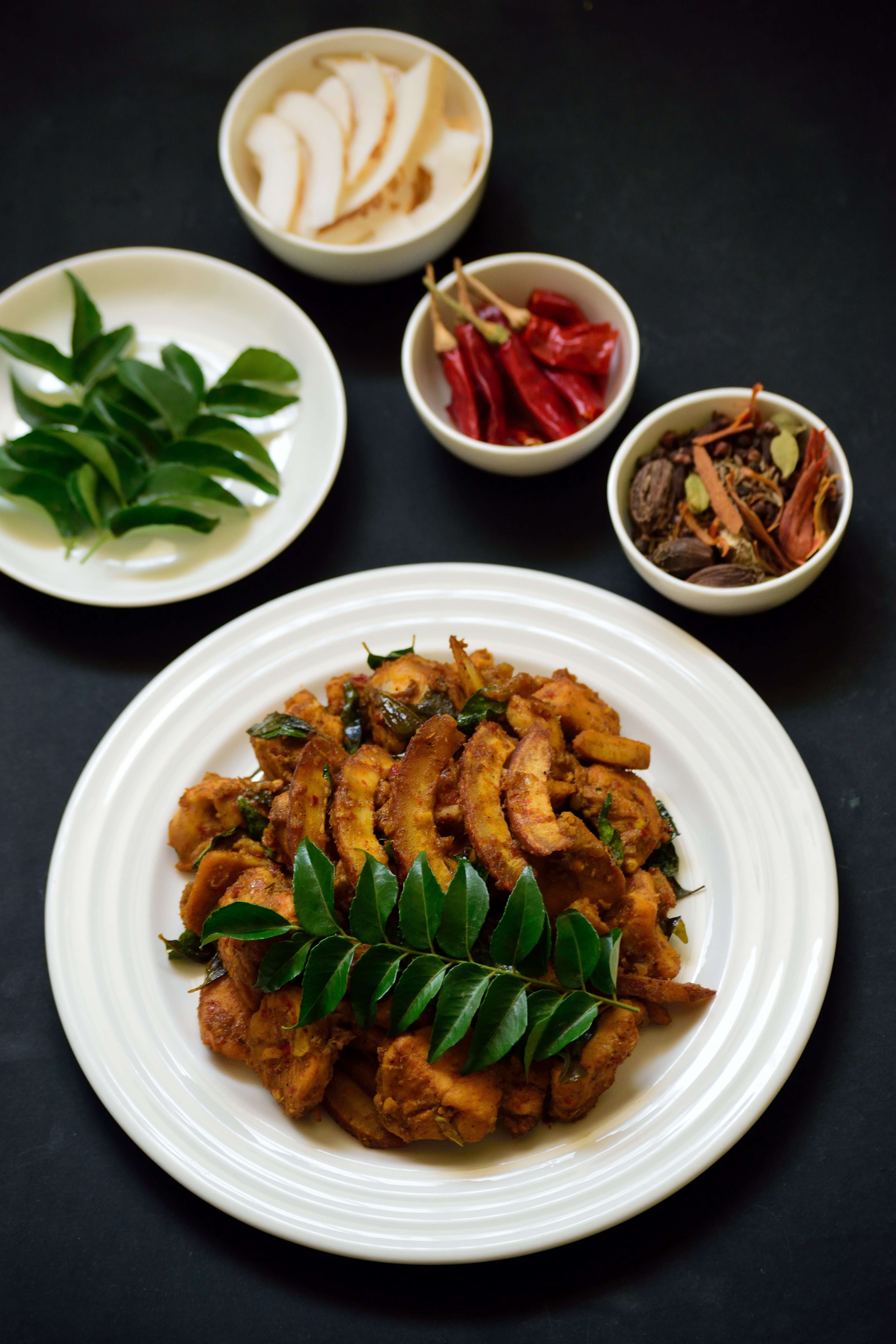 As you know that I am doing a concept series #flavorsofregionalcooking
along with some of my blogger friends , Preethi from Preethicuisine and Pushpita from pushpitaschakhum and plan to cover a state each month and explore its cuisine during the entire month. Last month we have covered Karnataka and made some delicious food from that region and you check all these recipes under #flavorsofregionalcooking .This month we are planning to cover the beautiful cuisines from the state of TamilNadu and its my pleasure to introduce Sathiskumar Shanmugam, a Human Resource Professional by qualification and the author of the blog Tastepot who has written this guest post on Tamil Cuisine for us to understand and cook throughout this month.
His roots are of Indian origin but he was born and brought up in Sri Lanka. His family has been residing in Sri Lanka for the last couple of generations for now. His family are Indian Tamils and their food is a mix of Indian, Sri Lankan and Malaysian cuisines. Head over to his blog to know about his foodjourney and this talented homechef. Here is what he has to say about Tamil cuisine and this yummy Pallippalayam Chicken Curry.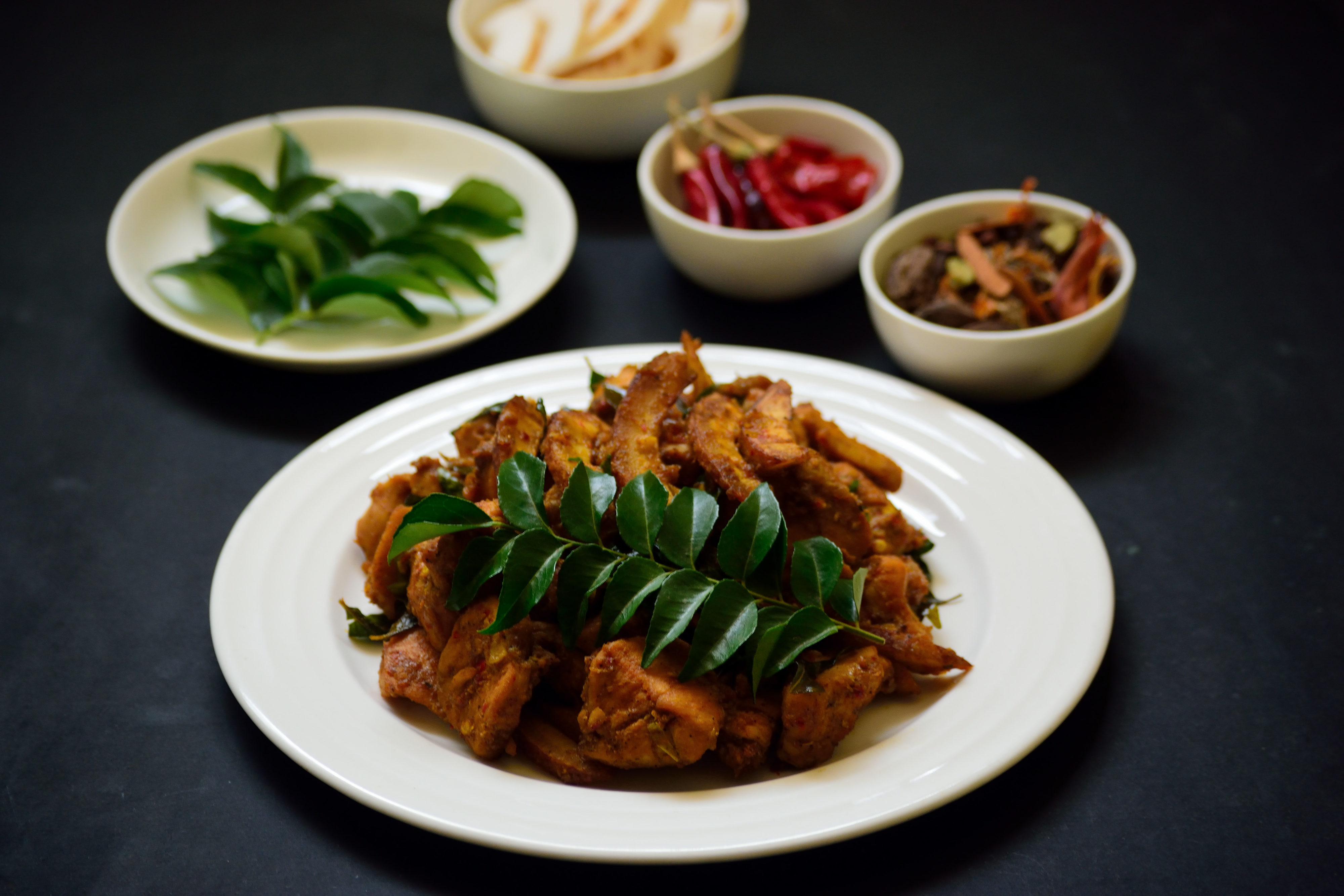 The Taste of Tamil Nadu
Tamil cuisine is entirely fascinating and it's not only about Idli, dosa and sambar. Tamilians practise a grand cuisine which is a blend of various local cuisines within the state. It is one of the oldest and best cuisines practised in the world. Some of the classical Tamil literary works mention that Tamilians are well-known for the best culinary practices, hospitality and offering food to others.
The Ingredients
Rice in different forms is the most common ingredient used in day to day food preparation. White rice varieties are the most consumed rice varieties in recent days whereas Kavuni, Samba, Kaikuththal Rice are the indigenous rice varieties used for food preparation in the olden days. With rice, millets like Kambu (Pearl Millet), Samai (Little Millet), Thinai (Foxtail Millet), Kelvaragu (Finger Millet), Panivaragu (Proso Millet) and Karuvaragu (Kodo Millet) used for preparing the main course.
Regional vegetables namely Brinjal, Raddish, Drumstick, Ash Gourd, Snake Gourd, Pumpkin, Yam and Raw Banana are used for making the curries. Potatoes, Carrots, Cabbages, Beans, Ladies Figure have also become a part of routine Tamil food after the arrival of the British to India. The curries are usually made with either Moong dal or Thoor Dal.
Anjarai Petti, the well-known masala or spice box is something you can find in every Tamil households used for storing the important spices used in daily cooking. Though the literal Tamil translation of spice box means a five chamber box, the modern dabbas contain not less than seven chambers. Depending on the cooking style of the family Tamilians store Mustard Seeds, Cumin Seeds, Fennel Seeds, Urad Dal, Channa Dal, Fenugreek Seeds, Pepper Seeds, Coriander Seeds and Dried Chillies. Spices like Cardamom, Cinnamon, Bayleaf, Cloves, Mace, Nutmeg, Poppy Seeds, Anise and Sesame Seeds are stored separately or bought as and when it is required. These spices are used at a minimal level in daily cooking.

Dried Chillies, Corriander, Turmeric, Cumin and roasted spices are usually powdered are stored separately in buckets and bottles. Garlic, Ginger, Curry Leaves, Green Chillies, Tamarind and Coconut are usually used in making the curries. For tempering Coconut Oil, Sesame Oil and Ghee are used and for frying, either Coconut Oil or Groundnut Oil is used; Ghee in some rare occasions. Samipparai or Vaipparai (Store Room) is the place where these are stored and the lady of the house is responsible for the store room normally at any home.

The Routine Food
Day of anyone living in Tamil Nadu normally begins with a filter coffee or milk tea. Tamilians prefer steamed foods and pancakes for breakfast and dinner as mentioned in Sanga Literature centuries ago. Certainly, Dosa is an invention by Tamilians. The traditional breakfast foods are Idli, Puttu, Idiyappam, Kozhukkattai and Pongal along with pancakes like Dosa, Appam and Paniyaram made with rice flour and other grains. Each of these items goes with different side dishes. Idli, Pongal, Dosa, Kozhukkattai and Paniyaram are served with Samber & different types of dry and wet chutneys, where as Idiyappam, Appam, Puttu are served with Kuruma (Korma), Sodhi (Vegetable Stew), or Sweetened Coconut Milk. Parota, Poori, Chapati had been a part of Tamil cuisine only in the recent past.

Rice is a staple food and the main course for every day. Plain rice is accompanied by curries with vegetables and lentils. Vadas, fried chips, and Payasam appear on the leaf during the feasting days. A normal meal ends with plain rice with rasam or curd. These are the various types of curries and side dishes in Tamil cuisine.
Thuvayal – Spicy Chutney
Sundal – Boiled and Stir Fried Peas
Poriyal – Stir Fried Vegetables or Spinach
Varuval – Pan Fried Vegetables
Aviyal – Mixed Vegetable Curry with Curd & Coconut
Masiyal – Mashed Vegetable Curry
Pirattal – Semi Dry Vegetable Curry
Pachchadi – Cooked Vegetables mixed with Curd
Koottu – Vegetables or Spinach Cooked with Dal
Paruppu – Cooked Lentils mixed with Ghee
Sambar – Curry with Vegetables & Pigeon Peas
Kara Kuzhambu / Vaththal Kuzhambu – Spicy Tamarind Curry
Mor Kuzhambu – Butter Milk Curry
Rasam – Tamarind & Tomato Soup
On the other hand, Tamilians have lots of variety or mixed rice recipes as quick lunch options. The followings are the different types of mixed rice had for lunch:
Sambar Sadham – Rice Cooked with Lentils and Vegetables
Puliyodharai – Tamarind Rice
Ezhumichchai Sadham – Lemon Rice
Thengai Sadham – Coconut Rice
Thakkali Sadham – Tomato Rice
Mangai Sadham – Raw Mango Rice
Milagu Sadham – Pepper Rice
Thayir Sadham – Curd Rice
For nonvegetarians, Tamil Nadu always has a lengthy list of dishes. Tamil Nadu has its own Biryani recipe which originated from Dindigul. Jeeraga Samba is the indigenous rice used for making Biryani here. Biryani is accompanied by curries with Mutton, Chicken, Country Chicken and Eggs. Tamil Nadu has a long coastal line & seafood like Fish, Prawns, Crab and Squid is also equally popular like poultry. Tamilians prefer sea water fish more than freshwater fish. Seafood curries are usually made with tamarind juice and coconut milk, especially when it comes to fish; it has to be prepared with these. There is a saying in Tamil 'Newly married daughter in law's cooking skills are measured by her fish curry. Fried fish like Vanjiram (Sheer Fish) Fry is quite popular in this part of the country than other regions.

The Banana Leaf Meal
A Tamil lunch is incomplete without a full course Tamil Vegetarian Lunch popularly known as Thala Vazha Illai Sappadu (Banana Leaf Meal) comes with not less than 20 items on the leaf. A full course banana leaf meal accommodates all the Arusuvai (six tastes) mentioned in Sanga Literature namely; Inippu (Sweet), Pulippu (Sour), Uvarppu (Salty), Kasappu (Bitter), Uraippu (Pungent), Thuvarppu (Astringent). These different tastes indicate the different emotions a person comes across in his/her life and accepting it.

Serving food on the leaf has few procedures to be followed. The leaf should be washed and cleaned well. The bigger side of the leaf has to be on your right-hand side. First the sweet is usually served. Then uppu, pazham, vegetable curries and fried accompaniments are served. Rice and Variety Rice are usually served only when the person/guest sits to eat. Then one by one sambar, kara kuzhambu, rasam, mor kuzhambu are served. Payasam is usually served at the end and some prefer having payasam before having rice with curd.

The Local Cuisines within Tamil Nadu
Just like all other states and countries even within Tamil Nadu, there are lots of variations in the method of cooking and recipes. Sangam Literature had differentiated the land they live with different names as follow Kurunji (Mountains), Mullai (Forest), Marudham (Agricultural Lands), Neithal (Seashore), Palai (Dried Wasteland). Foods consumed were different among the people based on the land they lived. Availability of ingredient in the locality, weather conditions, religion and traditions, the lifestyle of the people, migration of people from other regions in the last few centuries have influenced the food practices among the people in Tamil Nadu in the modern days.

Kongu Nadu Cuisine: The cuisine practised by the western part of Tamil Nadu. Since it shares its borders with Kerala and Karnataka, this cuisine has lots of similarities to them. People from this region were into agricultural activities for generation. Their food is usually prepared with fewer spices available in their locality. The use of coconut oil and coconut in the dishes makes this region's food distinguishing one. Some of the popular dishes of this region are Santhakai, Ulundhu Kali and Kachayam.
Chettinad Cuisine: The cuisine practised by people in Karaikudi and nearby areas. People of this region have migrated to various parts of the world during the British era due to the non-supportive climatic conditions of the region to do agriculture in this region. They also brought in lots of changes in their food habits due to this when they returned to India. Paniyaram, Chettinadu Chicken, Idiyappam, and Kozhukkattai are few iconic Chettinadu dishes.
Nanjil Nadu Cuisine: This is the culinary practices followed by people in the southernmost Tamil Nadu. This area is very closer to Kerala and this cuisine again shares lots of similarities with Kerala Cuisine. Nanjil Nadu Fish Curry, Ripe Banana Bajji, and Coconut Halwa are the specialities of this region.
Arcot & Chennai Cuisine: The culinary methods practised by people in the northernmost Tamil Nadu. Being the most urbanized part of the state, this region has also contributed a lot to Tamil cuisine. The recipes of this region have a heavy influence of Andhra Cuisine because of the location and Telugu settlements in the region centuries ago and migrated population from other states. Still we do have few specialities of this region. Arcot Biryani, Kanchipuram Idli, Makkan Peda and Mushroom fry.
Madurai Cuisine: The cuisine followed by Madurai and central region of Tamil Nadu. Pandya dynasty ruled this region for centuries. Sometimes the spongy idlies are called are Madurai Jasmine Idlis means soft as Madurai jasmines. Jigarthanda and Kari Dosa are some of the popular dishes in Madurai.
Tanjore Maratha Cuisine: During the 18th Century Marathas had built their empire in Thanjavur region and settled here with a huge number of Maharashtrians. Though the present generation has almost lost their roots in Maharashtra, their cuisine keeps it alive to an extent. This also led to significant changes in the food style of people in this region. The well-known Tamil Sambar originated from this region when the chef at Sambhaji Maharaj's palace experimented a curry with toor dal and tamarind. Paruppu Poli, Surul Poli and Somasi are some of the Maratha influences in Tamil Cuisine.
Tamil Brahmin Cuisine: This is more community based cooking rather than the regional. The cooking methods followed by Tamil Iyer and Iyengar come under this broad topic. The food here is purely vegetarian and prepared with fewer spices. Akkaravadisal, Maavadu, Puliyodharai, and Kai Murukku are some of the Tamil Brahmin specialities.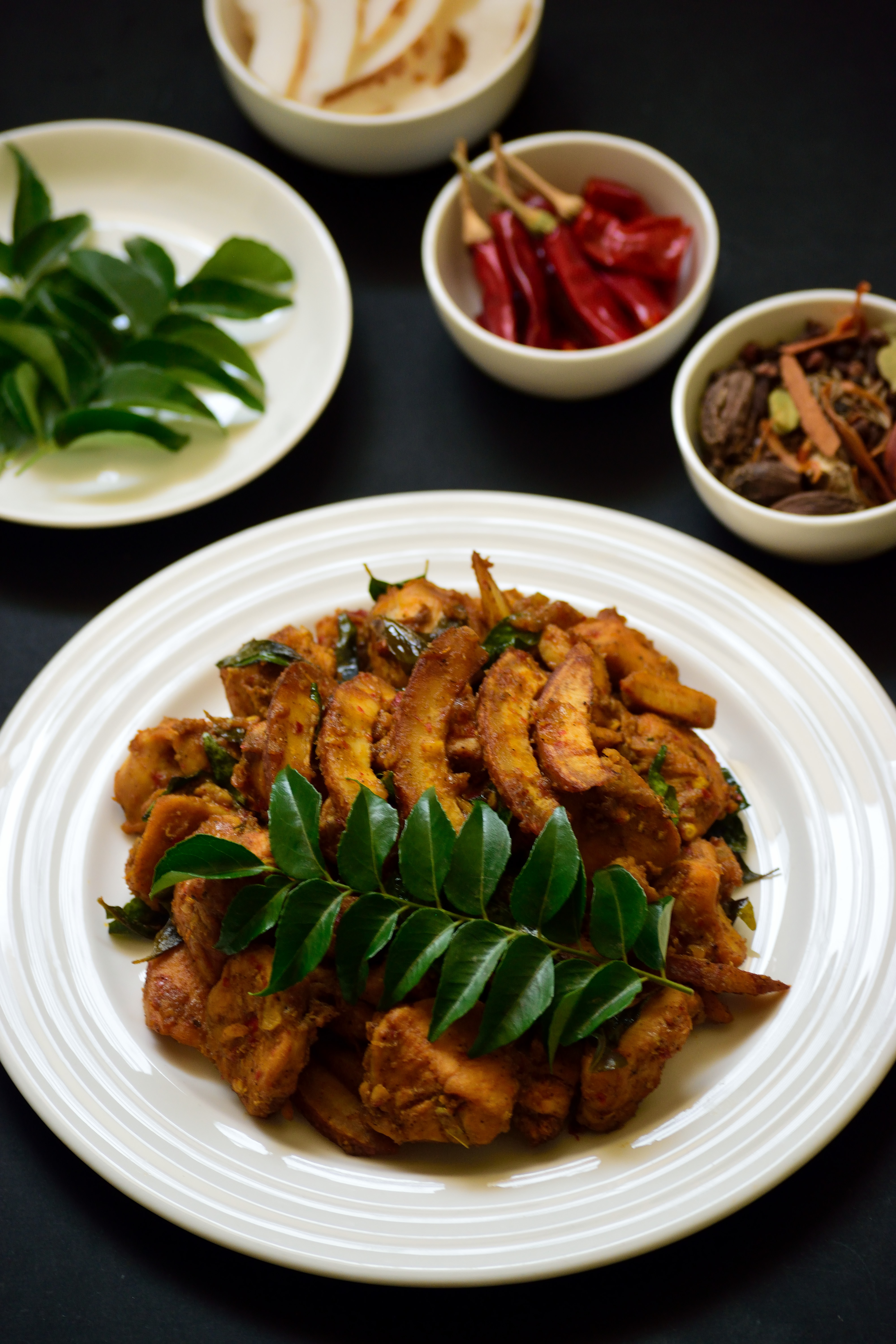 Pallippalayam Chicken Curry
Pallippalayam Chicken Curry is one of the delicious and spicy non-vegetarian curries of Tamil Cuisine. It originated from the village Pallippalayam of Erode district. As I had already mentioned most of the people of this land were into agricultural activities for their livelihood. So cooking is just done once or twice a day as they start the day very early for agricultural and farming activities and complete the day with the sunset. As a result, they selected the recipes with a few steps and fewer ingredients available in the region. This with hot plain rice makes a simple and best combination.

Ingredients Required:
Skinless Chicken (Big Pieces) – 01 Kg
Turmeric Powder – 0.5 Tablespoon
Red Chilli Powder – 01 Tablespoon
Pepper Powder – 01 Tablespoon
Chopped Coconut – Few Pieces
Chopped Shallots – 150 Gm
Chopped Garlic – 50 Gm
Red Chillies – 10 No
Curry Leaves – Few
Coconut Oil – As Required
Salt – As Required
Steps:
Wash the chicken pieces thoroughly and keep it aside.
In a pan heat little water and boil 05 of the dried chillies for 10 minutes. Keep it aside.
In another pan add enough coconut oil to pan-fry the coconut pieces and fry it until it turns golden brown in colour. Keep it aside.
In the same pan heat a little oil. Add few curry leaves, dried chillies, garlic and shallots. Saute it well.
Blend the boiled chillies to a fine paste with a little of the sauteed shallots and garlic mix.
Add the chicken, salt, turmeric powder, chilli powder, pepper powder and the dried chilli paste. Mix it well.
Add little water to the curry and let it cook until the chicken pieces turn soft and dry.
Once the chicken pieces are cooked well and the remaining curry leaves and fried coconut pieces. Stir it well and continue to cook it for 5 minutes.
Serve the chicken curry with hot rice or roti.
Notes:
Usually, this curry is made with country chicken. But if you do not find it in your region you can prepare this with the normal chicken.
In some families, they have a tradition of adding garam masala to the curry. Its usually not added to the curry.
(Visited 78 times, 2 visits today)