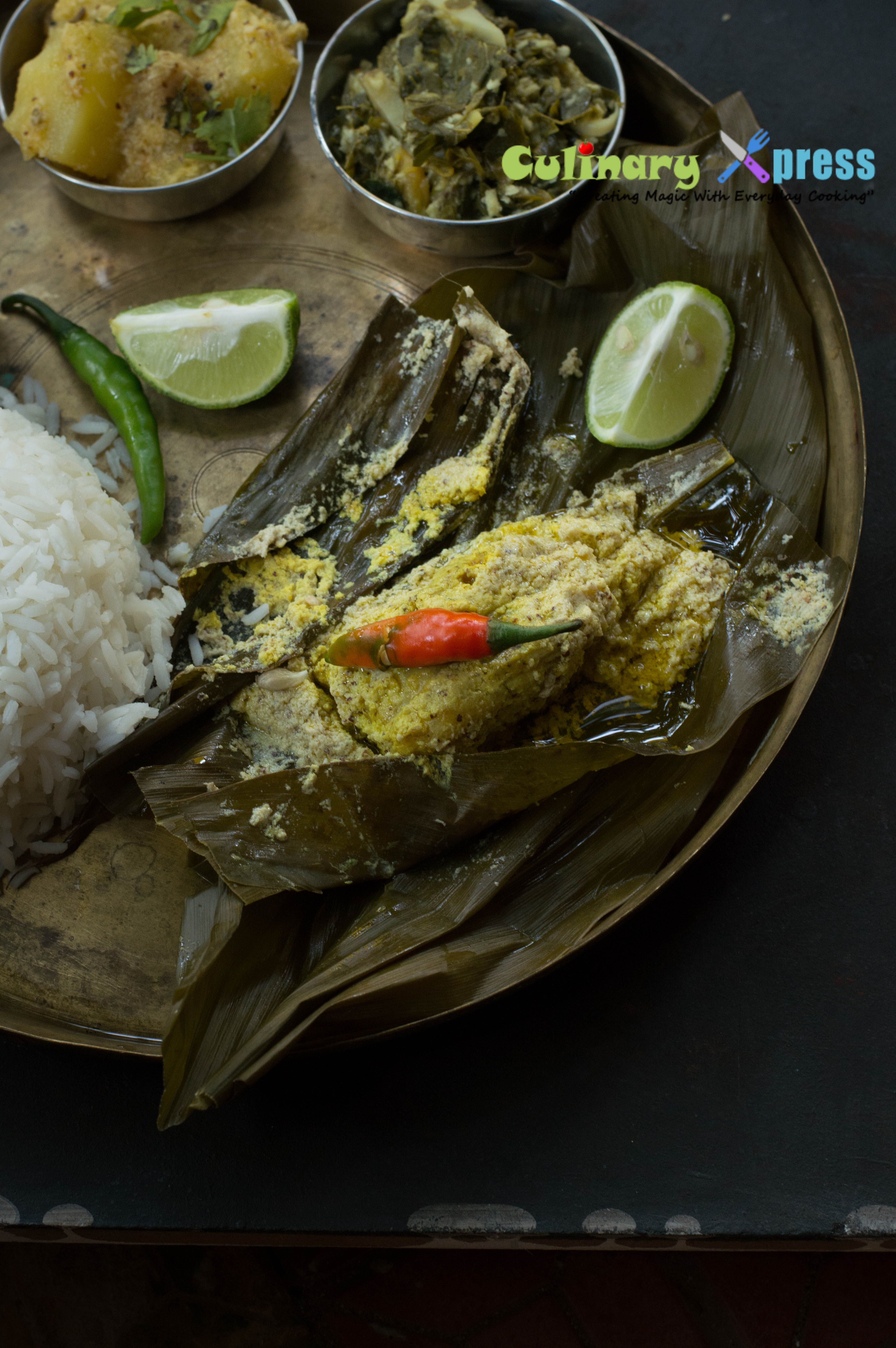 Fish Paturi has always been a great favorite of mine and it can be made with any kind of fish, Rohi, Katla, Tilapia, Prawn etc but it tastes best with Hilsa and Bhetki .The word Paturi comes from the Bengali word "Pata" which means leaf. Paturi  is a particular form of cooking where the ingredients are wrapped in  leaves and cooked in steam or by roasting the parcel on the griddle.
The leaves plays an important role in this form of  cooking ,as the leaves when steamed enhances the flavour of the dish. Paturi can be both vegetarian and non-vegetarian depending on the choice of key ingredients.  I try making Paturi with the availability of leaf as per season. I make Paturi with Banana leaf, Pumpkin Leaves, colocasia leaves, Malabar Spinach etc but have never tried with Turmeric Leaves.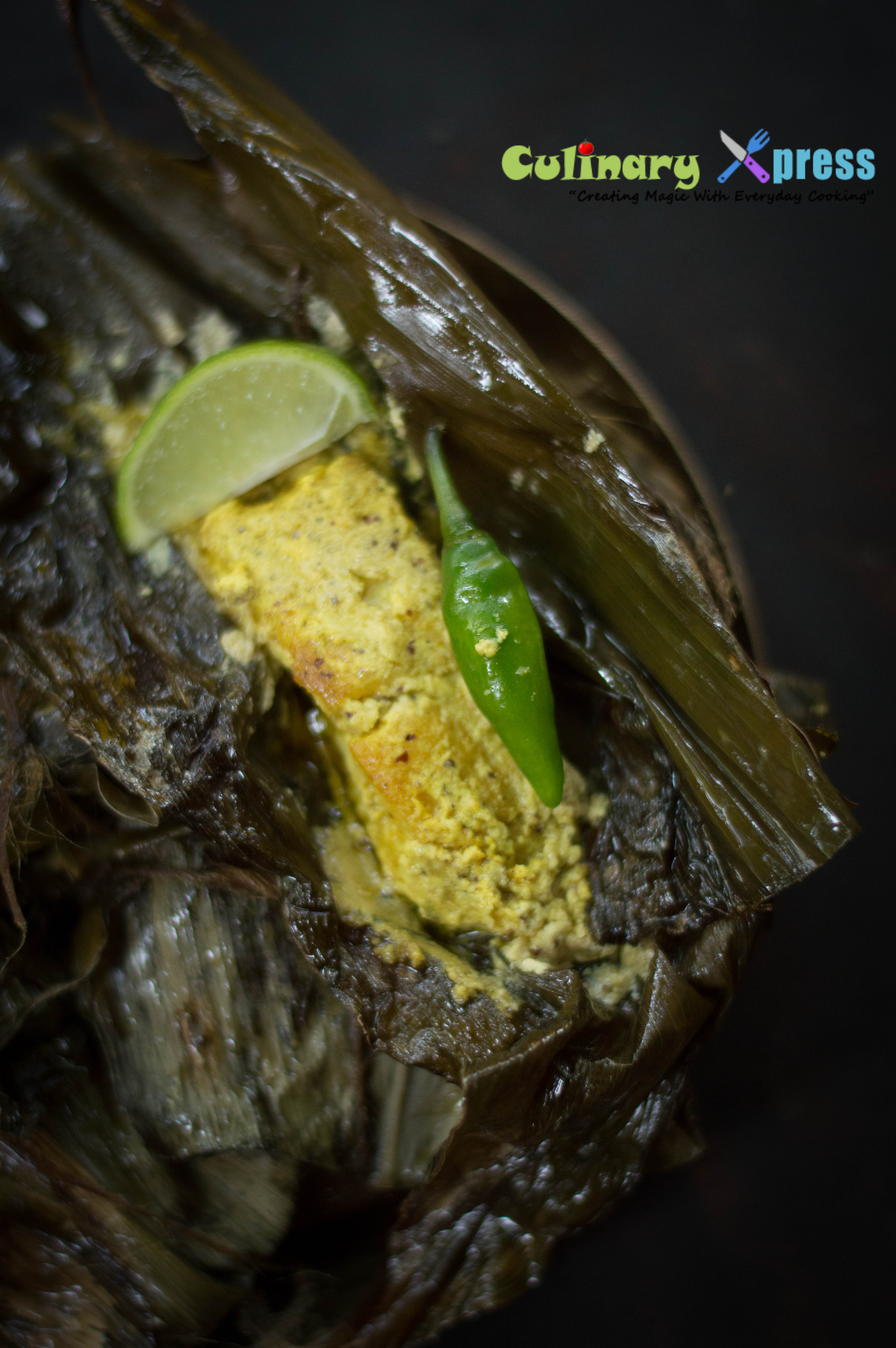 I wanted to try  this Bhetki Paturi recipe for a long time but it kept postponed because of non availability of the major ingredient i,e.the Turmeric Leaf during rest of the year. But thankfully, I did manage to cook this recipe this time and it turned out so well. That's the reason why I am going to share this recipe of Bhetki Paturi made in turmeric leaf with you.
In this recipe of  Bhetki Paturi ,  fish pieces are marinated in a spiced mustard paste, wrapped in turmeric leaf individually and then slow cooked till tender. If you are using Hilsa or Bhetki, avoid using garlic in the recipe because it will suppress the supreme flavours of these fishes, but for other fishes you can add the garlic. The garlic will help in making it tastier.If you are a vegetarian, then you can try this with paneer or with some other vegetables like flat beans, cabbage, Green papaya, Banana flower, mushroom,banana stem etc.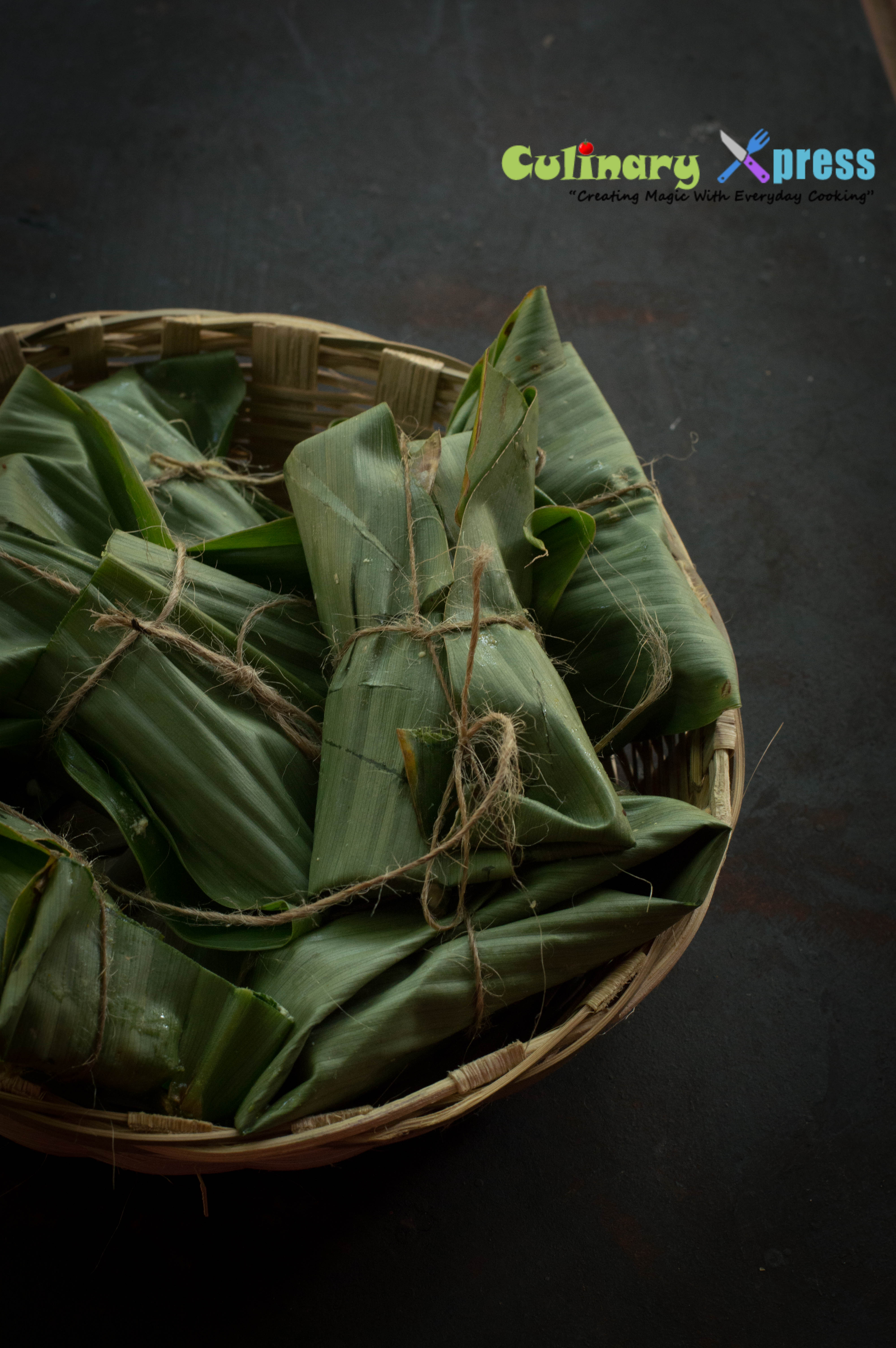 Ingredients:
6 medium pieces of Bhetki fish fillets
3 tablespoon Mustard Oil
1 tspTurmeric powder
2 tbsp yellow mustard seeds
1 tbsp poppy seeds
4 tbsp Coconut grated
Salt to taste
6 to 7 nos green chilli
Juice of a lemon
Few Turmeric leaves
Method:
Marinate the fish with salt and turmeric and keep aside for 15 minutes.
In a mixer grinder, make a paste of mustard seeds, poppy seeds, grated coconut and green chilies by adding a little bit of water.Pour this entire paste in a bowl and add 2 tbsp of the mustard oil, salt, turmeric powder and a generous squeeze of lemon juice.
Prepare your turmeric leaf. Put turmeric leave pieces glossy side up over a plate, rub a little mustard oil on it. Now spread a teaspoon of marinated paste in the center of the  leaf, place one piece of fish on the paste and put another teaspoon of paste on the top of fish piece so as to cover the fish piece by the paste from both sides.  Drizzle ½ tsp mustard oil over it and place some grated fresh coconut then place a green chilli on top of it.
Fold the turmeric leaf to make it a square parcel and tie with thread that the parcels will not open while cooking. Repeat the process for all the fish pieces.
Take a roasting pan and drizzle some mustard oil into it. Now  place the turmeric leaf wrapped fish pieces into that pan one beside the other. Do not stack , close the pan with a heavy lid and cook on medium heat for 8-9 minutes on each side on a medium heat.
Serve hot with some steaming hot plate of rice and a generous drizzle of mustard oil.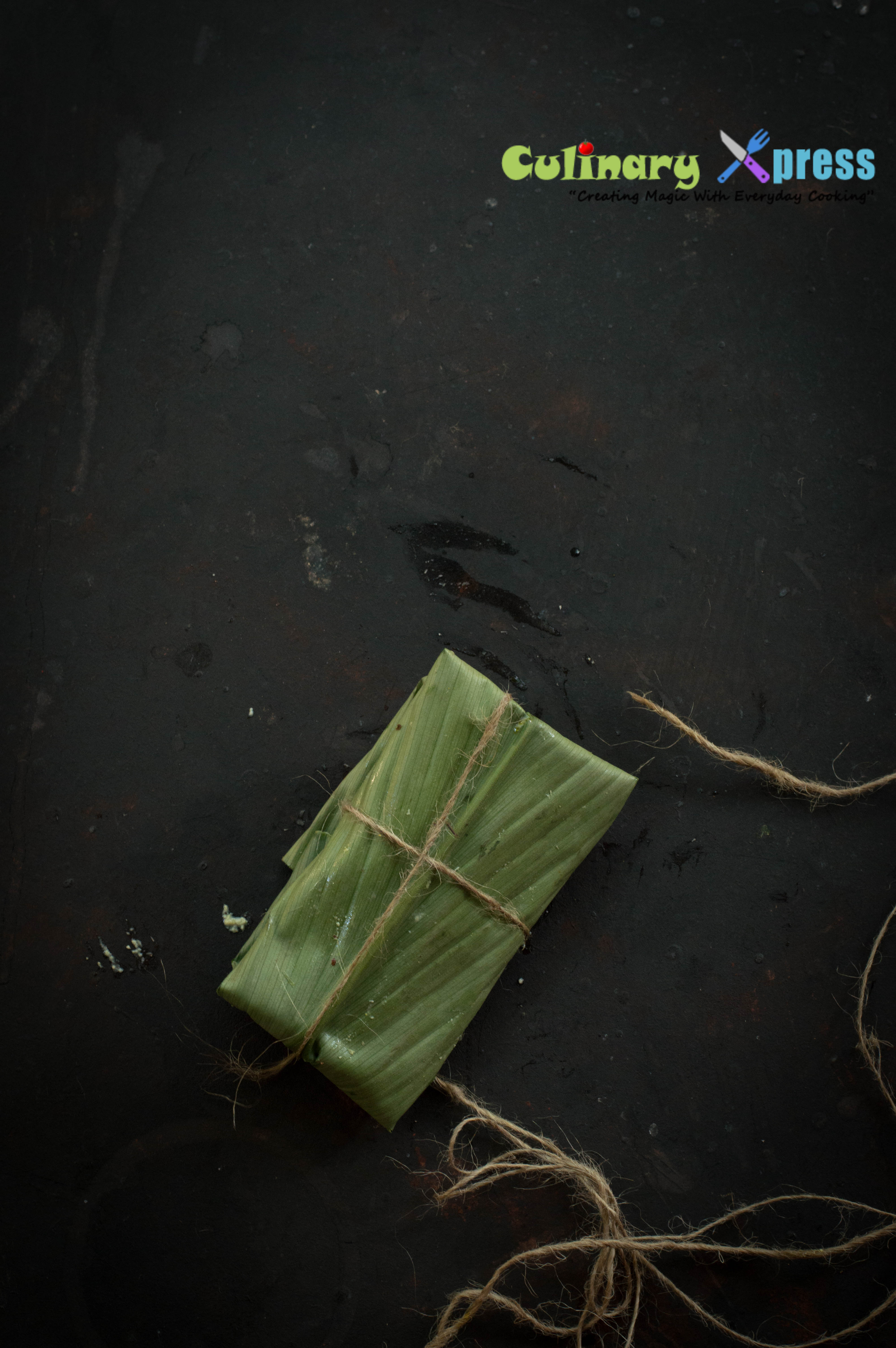 (Visited 163 times, 1 visits today)