VEGETABLE MOMOS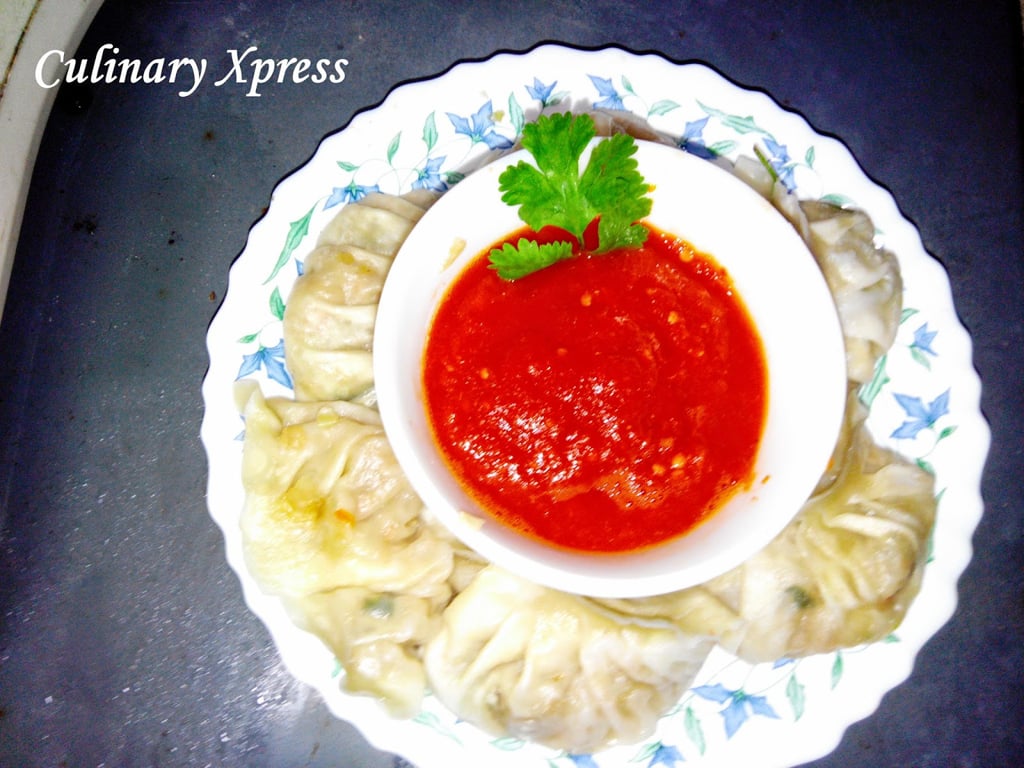 Momo is a type of dumpling native to Tibet and Nepal.  I had first tried these delicacy on my visit to kathmandu in way back in 2009 an since then it has remains as one of the all time favorite. I had tried these recipe a no. of times , manya times I have failed but I keep on trying and now it seems so easy. 

(Visited 346 times, 1 visits today)
| | |
| --- | --- |
| | |
Knead the 2 cups of flour with lukewarm water till it becomes soft in texture. then add 1 tsp of oil on the surface of the dough to make it silky and soft. Cover and keep it aside.

Now chop the cabbage , onion, garlic, green chilies, ginger, coriander leaves finely. Add salt, soy sauce, oil and mix it well. Your filling is ready for use.

Take a sauce pan and boil the tomato along with the dry red chilies with a cup of water for 10 minutes or till the tomato is soften. Once done take away from heat and let it cool. once cooled, take away the tomato and peel it's skin and place in the blender along with the red chilies, salt and garlic to a smooth paste. Your sauce for the momos is ready.

Now take the dough and pinch out a small dough and roll out with in circular motion with the help of flour. Place 1tsp of filling over this. start from your left side and start folding the momos as shown in the picture. If you cant get it right then also donot worry, you still can just cover both the ends with your hand so that no filling comes out. Though the shape will not be the same, you still can have lovely momos. prepare all the moms like this and keep on a plate.

Now put water in a momo steamer and place on the gas stove for boling. Once the water starts boling , place these momos in the steamer after rubbing a good amount of oil so that the momos do not stick to the bottom. Steam for 10 to 15 minutes and once done take away from heat carefully. repeat the process for rest of your momos. now your momos are ready for serving. serve hot with the typical red chilly chutney.
Enjoy your hot steaming momos with your family .