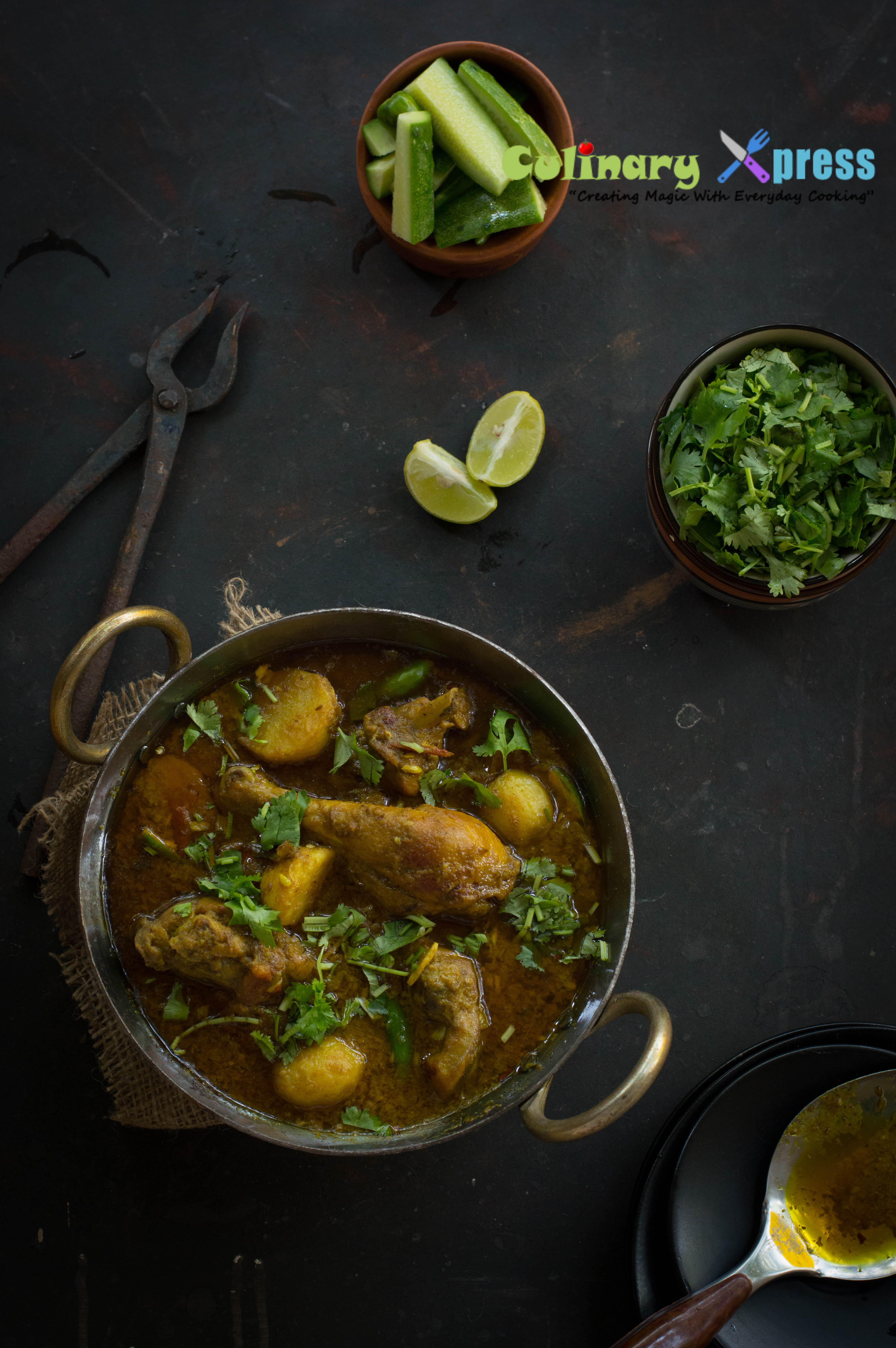 MANIPURI CHICKEN CURRY or YEN THONGBA is the most typical way of cooking chicken in the Manipuri community . This MANIPURI CHICKEN CURRY is full of flavors and taste best with country foul.Use of Awa Phadigom ( Mexican coriander ) or culantro makes this curry quite different from other chicken curries , we are used to.
The proportion of the ingredients can be adjusted to make this dish more spicy or the gravy more soupy or dry. This recipe was shared by Pushpita Aheibam , a dear friend and a blogger who is from the small and beautiful North-East Indian state of Tripura and shares her passion for Manipuri community food in her blog Pushpita's Chakhum .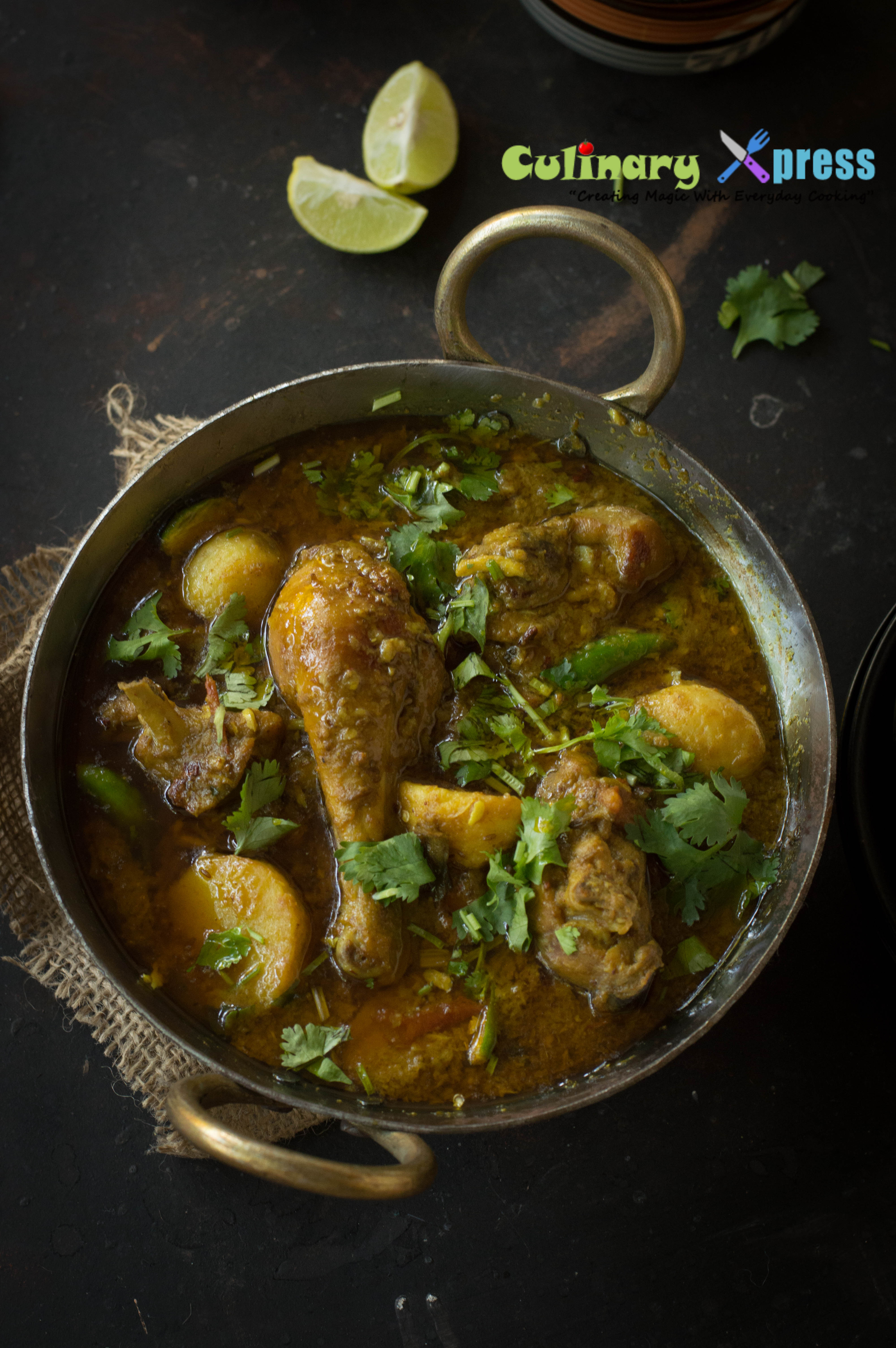 Manipur is situated in the north eastern part of India which shares borders with Burma and so the locally produced ingredients are quite common in nature. It's food is also influenced by the the Vaishnava culture due to the Bengali immigrants that have settled in Manipur over the years. The most important thing in Manipuri cuisine is the flavours which comes from the local ingredients used in it's cooking. Every household had its own kitchen garden and the food was usually prepared from fresh harvest.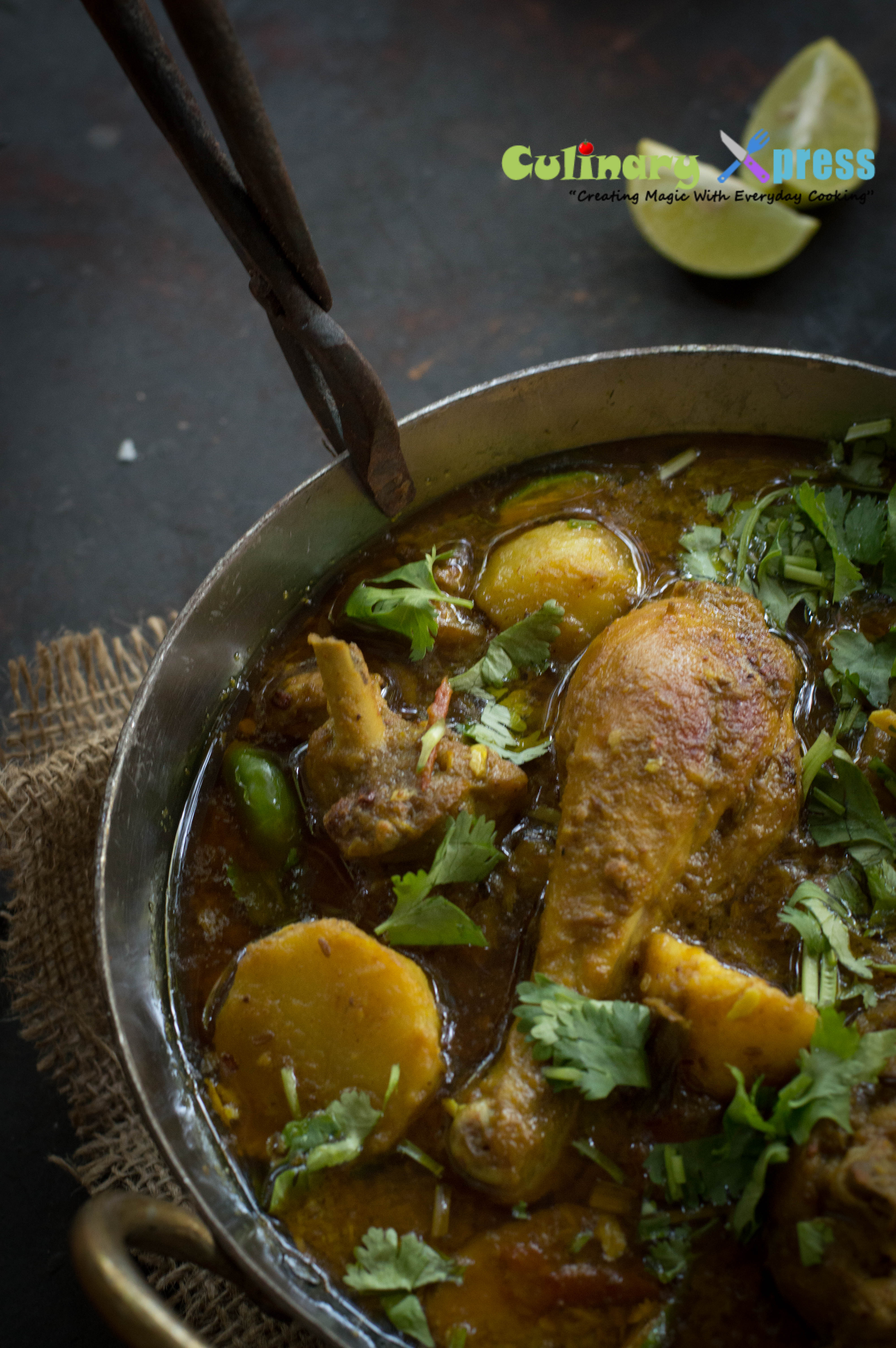 Yen Thongba (Manipuri Chicken Curry)
All you need
500 gms country fowl cut into medium pieces
Salt
1 tsp turmeric powder
2 to 3 green chillies
10 to 12 cloves of garlic
1/2 inch fresh ginger
2 medium size onions made to paste
2 medium size tomatoes finely chopped
2 medium size potatoes cut into halves
1 tbsp cumin seeds
1/2 tbsp coriander seeds
3 tbsp mustard oil
4 to 5 thorny coriander leaves called Awa Phadigom in Manipuri( Mexican coriander ) or culantro
water as needed
1 bay leaf
1/2 tsp fennel seeds
1/2 inch cinnamon stick
4 to 5 green cardamom
Handful of chopped fresh coriander leaves
Let's prepare:
In a mortar and pestle , crush the garlic pods, green chilli and the ginger to a semi fine paste.
Wash the chicken and apply salt and turmeric powder to it. Add the crushed ginger, garlic , green chili to it along with 1 tbsp of mustard oil and mix with your hands so that all the masalas gets coated in the chicken pieces and keep aside for 30 minutes.
Cut the potatoes in halves and apply salt and turmeric powder to it and keep aside.
Dry roast the coriander and cumin seeds and make a powder of it in a mortar and pestle and keep aside.
Heat 2 tbsp mustard oil in a pan, preferably cast iron . Once hot, shallow fry the potatoes till light brown on both sides and keep aside.
In the same oil, put the bay leaf in and fry for a few seconds till the oil is infused with it's smell.
Now add the fennel seeds and once they splutters, then add the onion paste and fry them till the start turning brown.
Now add the marinated chicken in it and fry on medium to low flame till oil begins to separate.
Now, toss in the chopped tomatoes and the potatoes. Mix them well and cook for 5 more minutes. Add the freshly pound coriander and cumin to it . Add little amount of water to cook the chicken evenly.
Simmer till potatoes, chicken are well cooked and oil floats on top. In a mortar and pastel powder the cardamom and cinnamon to a fine powder and add it to the curry.
Turn off the flame. Add about 3-4 Awa Phadigom and the regular fresh coriander over the curry.
Keep covered for 30 minutes minimum before serving it with rice.
NowyYour Awesome Manipuri chicken curry is ready to be served with rice.
Note:
It makes a lot of difference if you use freshly pounded garlic and ginger instead of the ready-to-use ginger garlic pastes.
I have used dry thorny coriander leaves called Awa Phadigom in Manipuri( Mexican coriander ) or culantro in place of the fresh ones as provided by my friend from her kitchen garden.
(Visited 1,553 times, 1 visits today)