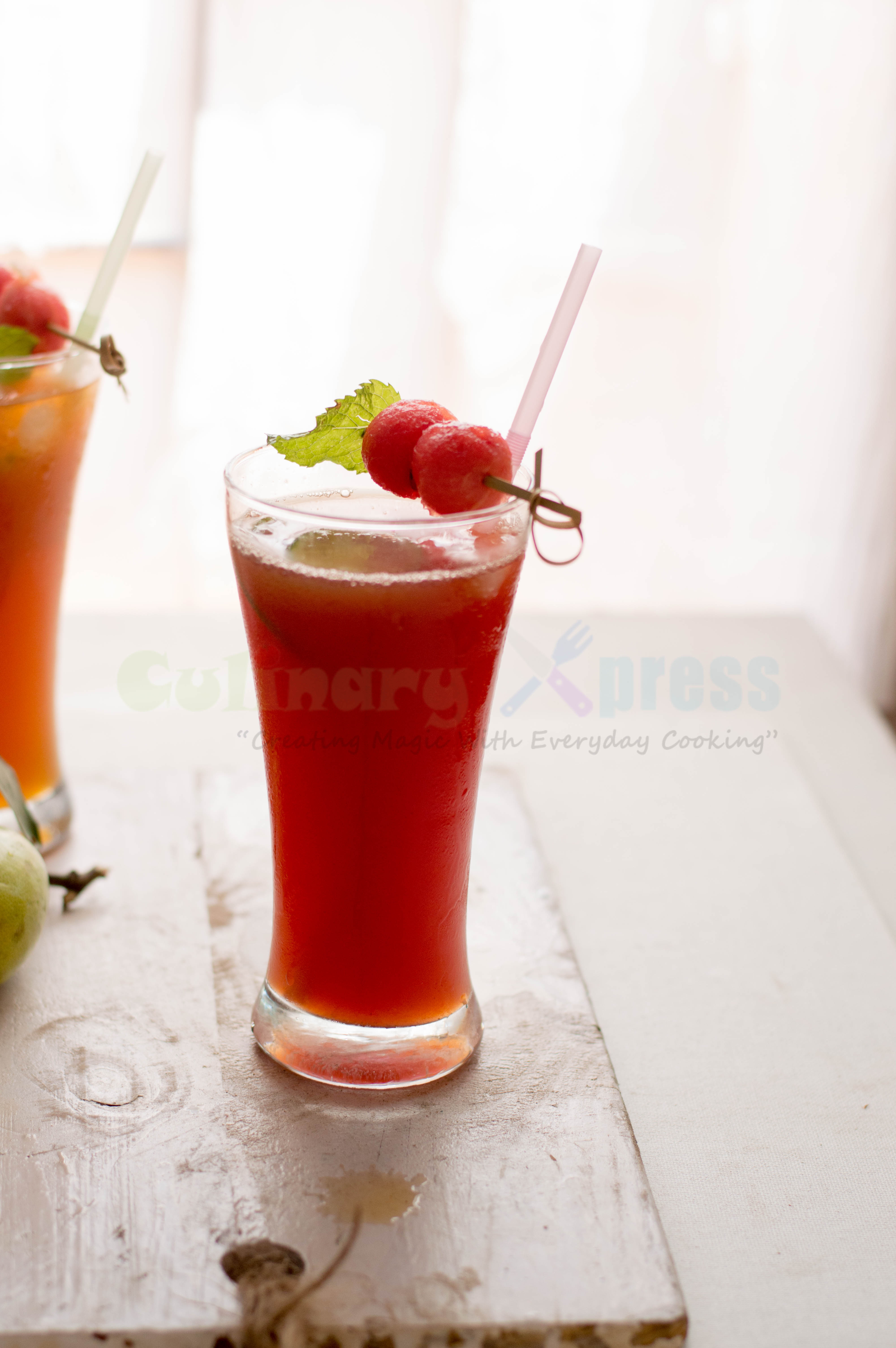 Watermelon Iced Tea is  a bliss in the summer as it has lot of water content, vitamins, minerals which are required in your body.This Watermelon Iced Tea is one of my favourite in the summer months.I use green tea or regular black tea whichever is available for my iced tea mixes .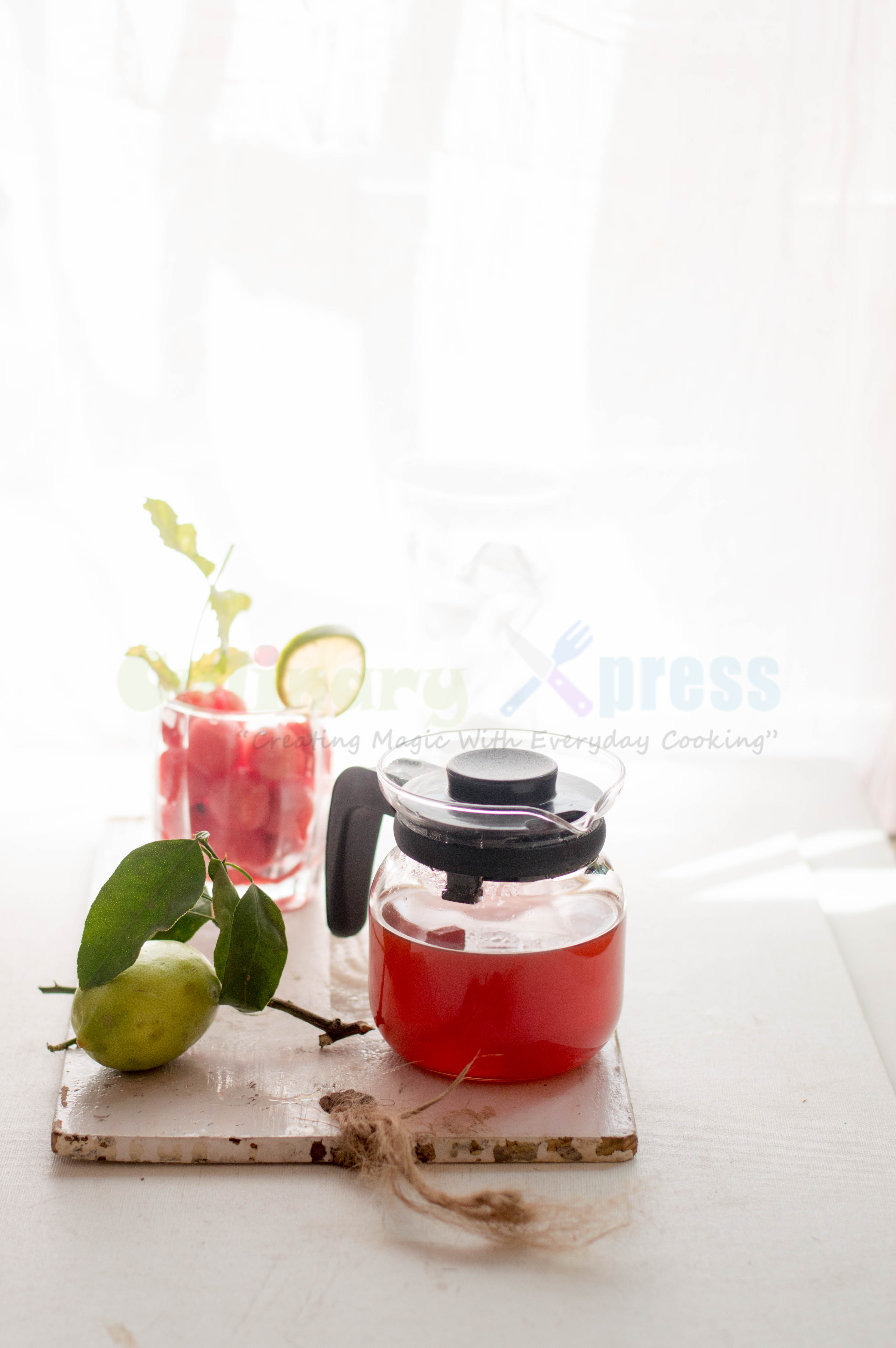 Watermelon is one of my favourite fruits besides mangoes. Since it is a low calorie fruit, I often include it in my diet in many different form. Watermelon is also a great source of Vitamin A, B6 and C. It is such a versatile fruit that it pairs perfectly with feta cheese for a salad, with any green or black tea for a fruity flavored iced tea.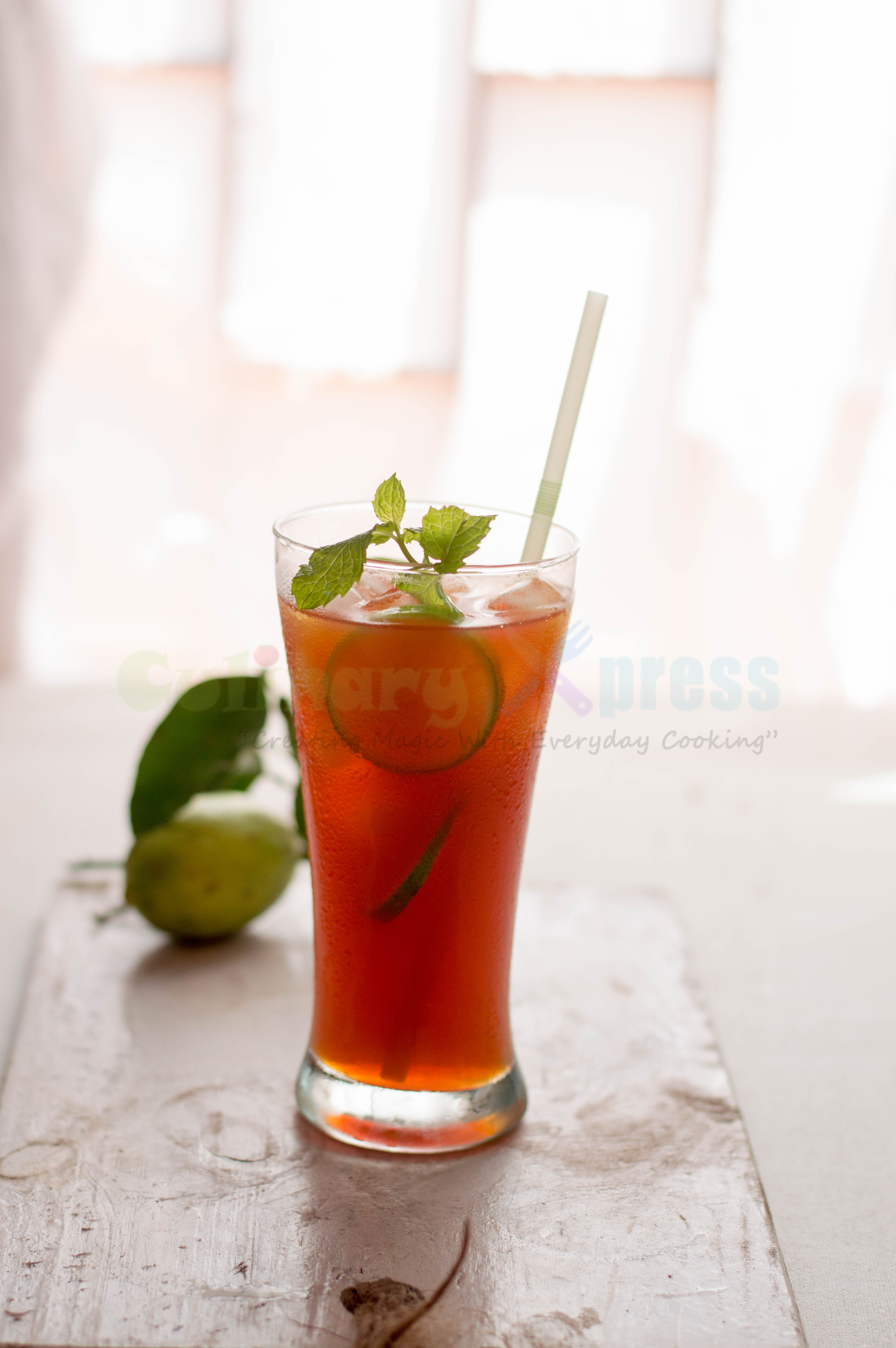 The weather in Bhubaneswar is too hot and I am keeping myself hydrated through a lot of juices and smoothies. While coming from office I picked up  a watermelon and found the refrigerator crowded with things. I cut into half and cling wrap the half and kept in the fridge. The other half went into being stored as watermelon ice cubes to be used later and some into making this Watermelon Iced Tea.
The bright and earthy iced green tea with fresh watermelon juice is the ultimate summer romance. Life is all about the simple pleasure of life and so does my recipe.It's the right blend of perfectly brewed green tea and sweet juicy watermelon and topped with some lime and mint.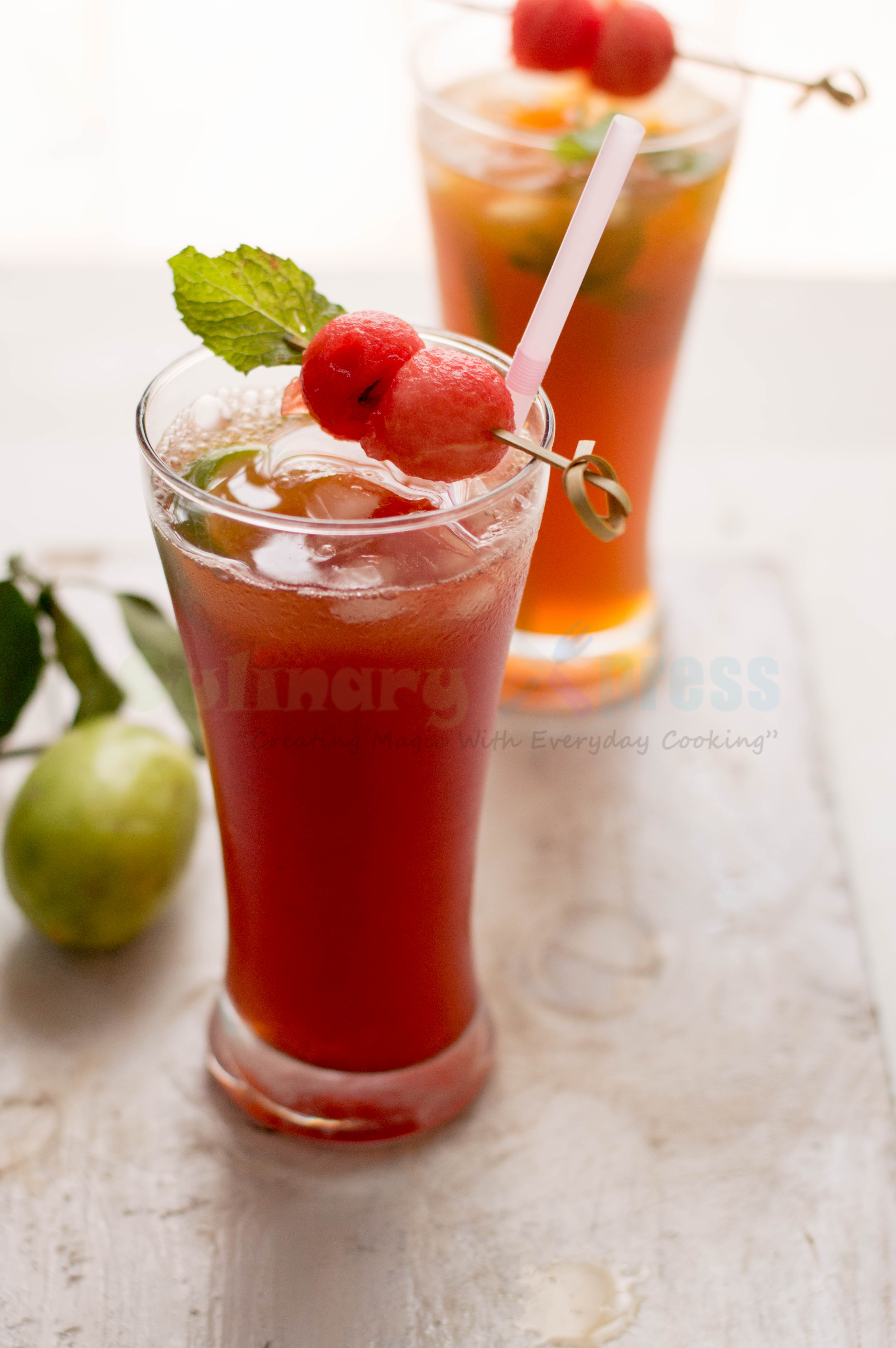 To make this ultimate summer drink, all you have to do is drop some teabags into a large pot of boiling water. Allow the tea to brew for 5 to 6 minutes in the hot water . I like my tea to be strong so I let it sit for 10 minutes.Now remove the tea bags and allow the tea to cool down to room temperature and let it chill in the refrigerator for 1 hour. Now scoop out the watermelon and give it a whisk in the blender, strain and chill the water melon juice in the refrigerator.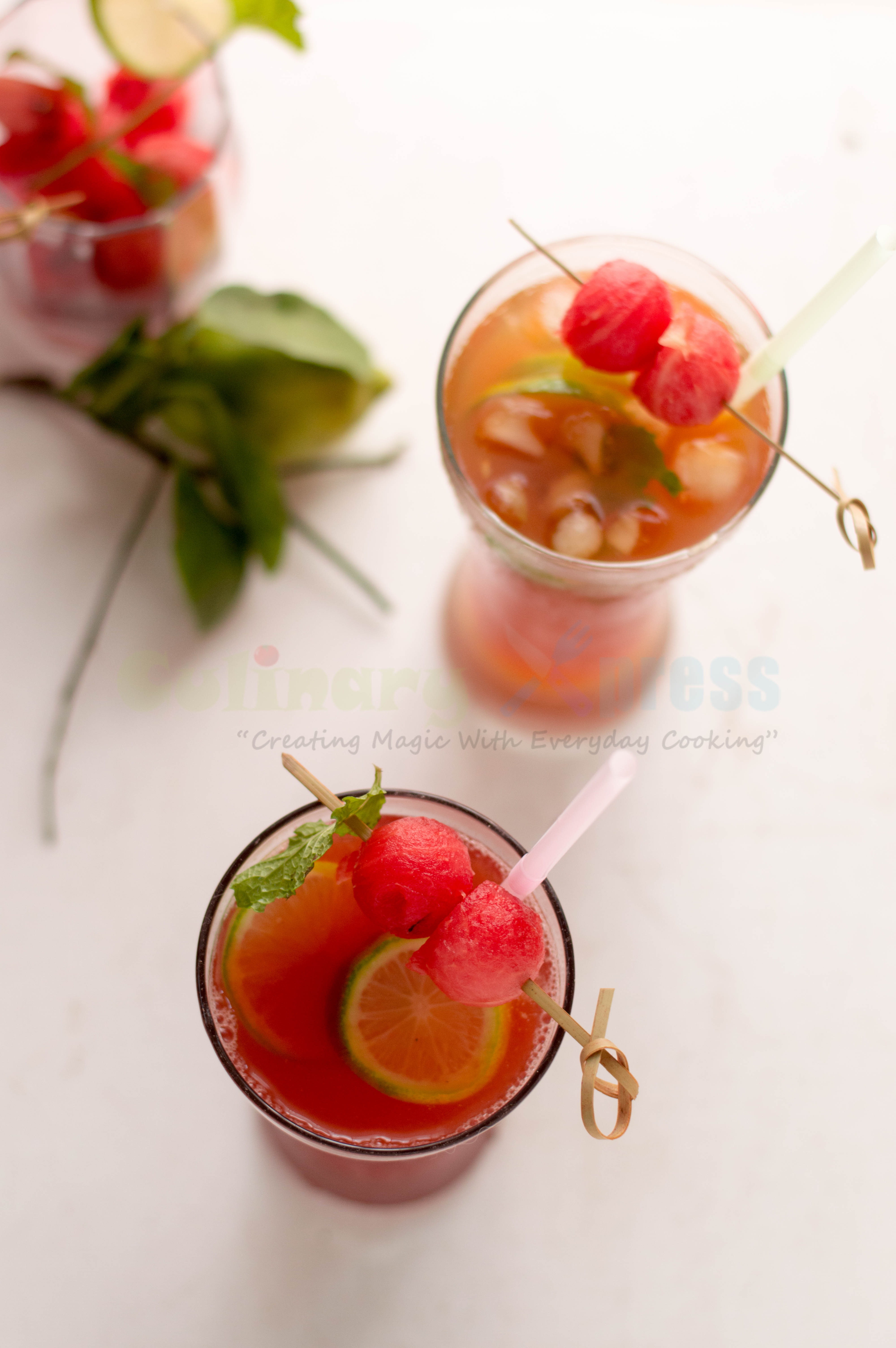 Depending on how sweet you want your iced tea, you have to make a simple sugar syrup by boiling water and sugar till they dissolve. Let it cool down and then chill in the fridge.Now you can pour the watermelon juice into the chilled tea, add some lime juice and loads of ice. Serve chilled.
This recipe is going to be part of our 88th Foodie Monday BlogHop theme of #Watermelon.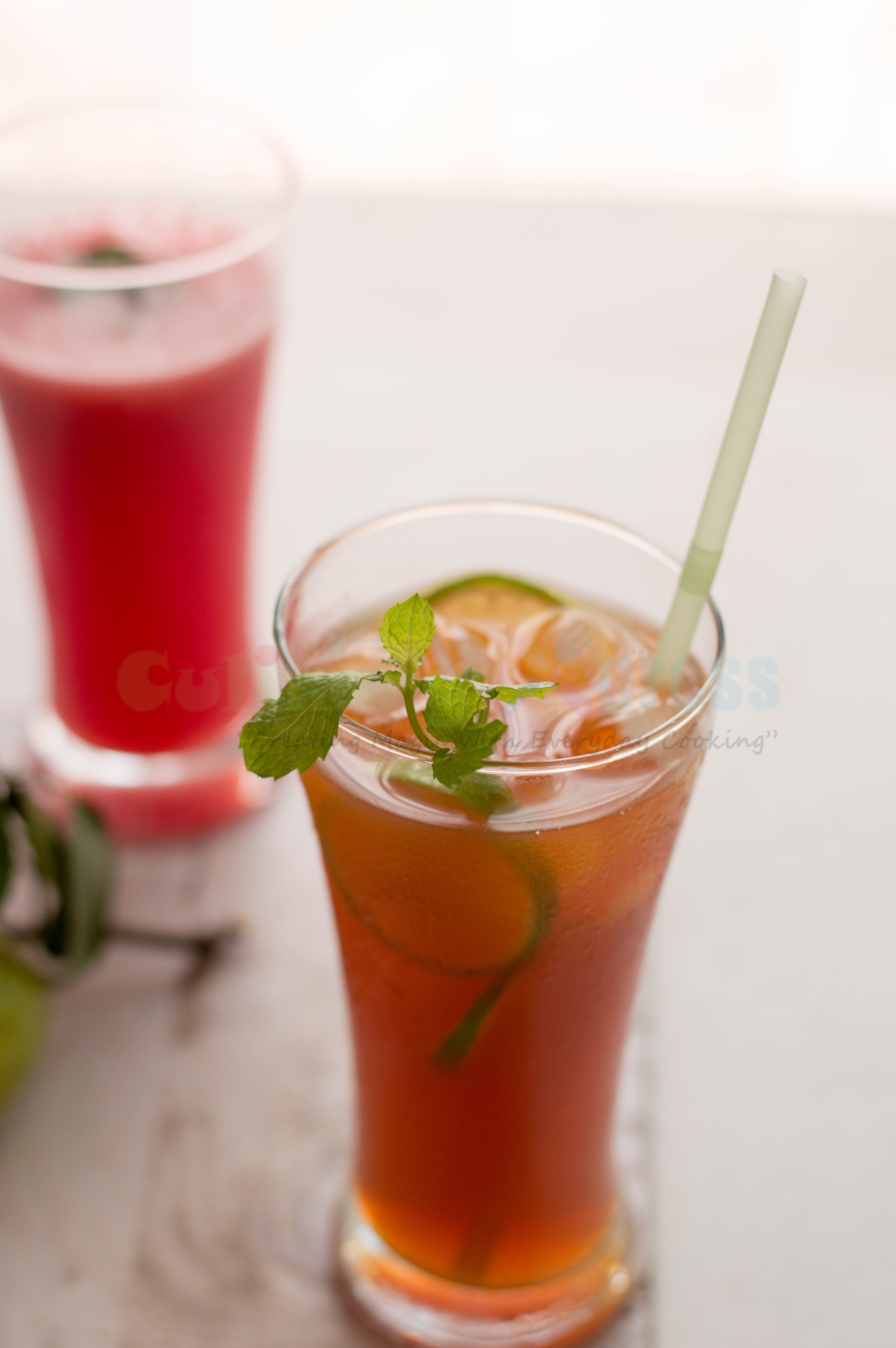 (Visited 234 times, 1 visits today)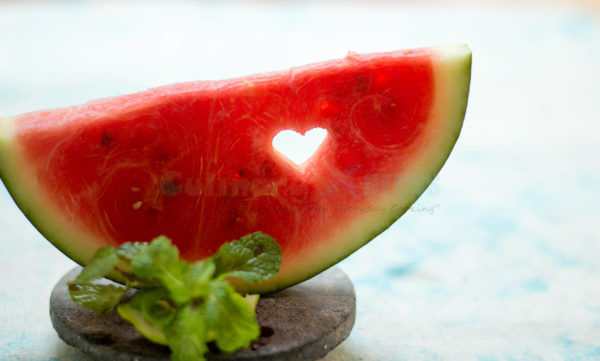 | | |
| --- | --- |
| | |
Bring 6 cups of water to a simmer. Place the teabags in a large pot and pour the hot water over the teabags. Allow to steep for about 5 to 10 minutes, depending on how strong you like your iced tea. Remove the teabags and discard. Let the tea cool down to room temperature and chill for at least 1 hour.

Scoop out the flesh from the watermelon and blend in a blender for 3 to 5 pulse. Now sieve the watermelon juice through a strainer. Discard the pulp and white seeds that are left behind. Let it chill in the refrigerator .

To make the sugar syrup , boil ½ cup sugar and ½ cup water in a small sauce pan till sugar is dissolved completely. Remove from heat and allow to cool down completely.

To assemble the watermelon iced tea, pour 3 cups watermelon juice to the 6 cups chilled tea. Add sugar syrup as per taste along with fresh lime juice and give it a stir.

Serve with lots of ice in tall glasses. Garnish with a few lime slices,and watermelon rounds.