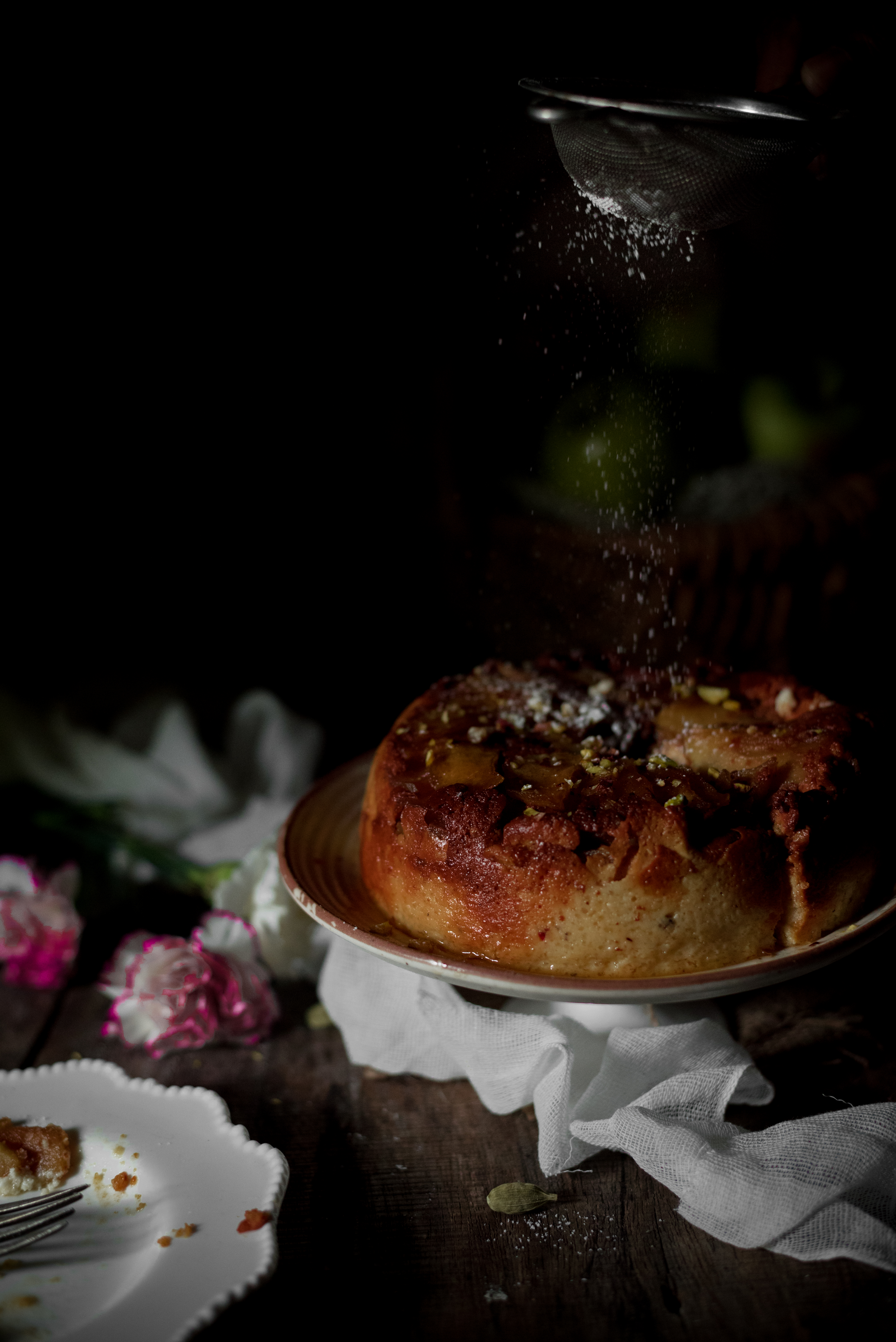 With winter around the corner and the falling leaves of the autumn, I am enjoying this pleasant weather and the aroma of the warm fall spices like ginger, cinnamon, nutmeg, cloves, and cardamoms . These spices really bring out the warmth and gives an edge to the food we cook. One spice, which is not used frequently in western baking is the cardamom, however this musky spice is often used in many Indian foods. So when I was thinking of a recipe using my autumn apples , the one thing I was sure not to make the usual upside down apple cake. So I decided to make use of these apples in making an upside down cheese cake but with a desi twist. So what comes out is this splendid not-too-sweet Chenapoda (baked cheesecake) from Odisha with caramelized sliced apples on top which is perfect for celebration of fall and apple season.
CHHENA PODA is  made of a  few basic ingredients but yields a smoky, nutty flavored sublime dessert that is infinitely rich and intense. I particularly love it's texture, it certainly looks like a cake but tastes like a slightly grainy pudding. How much I try to put my feelings in words,  I don't think I can truly describe in words what a wonderful dessert I am talking about. The proof of this dessert  is totally in it's eating. and considering how easy it is to make, you might start to making it now.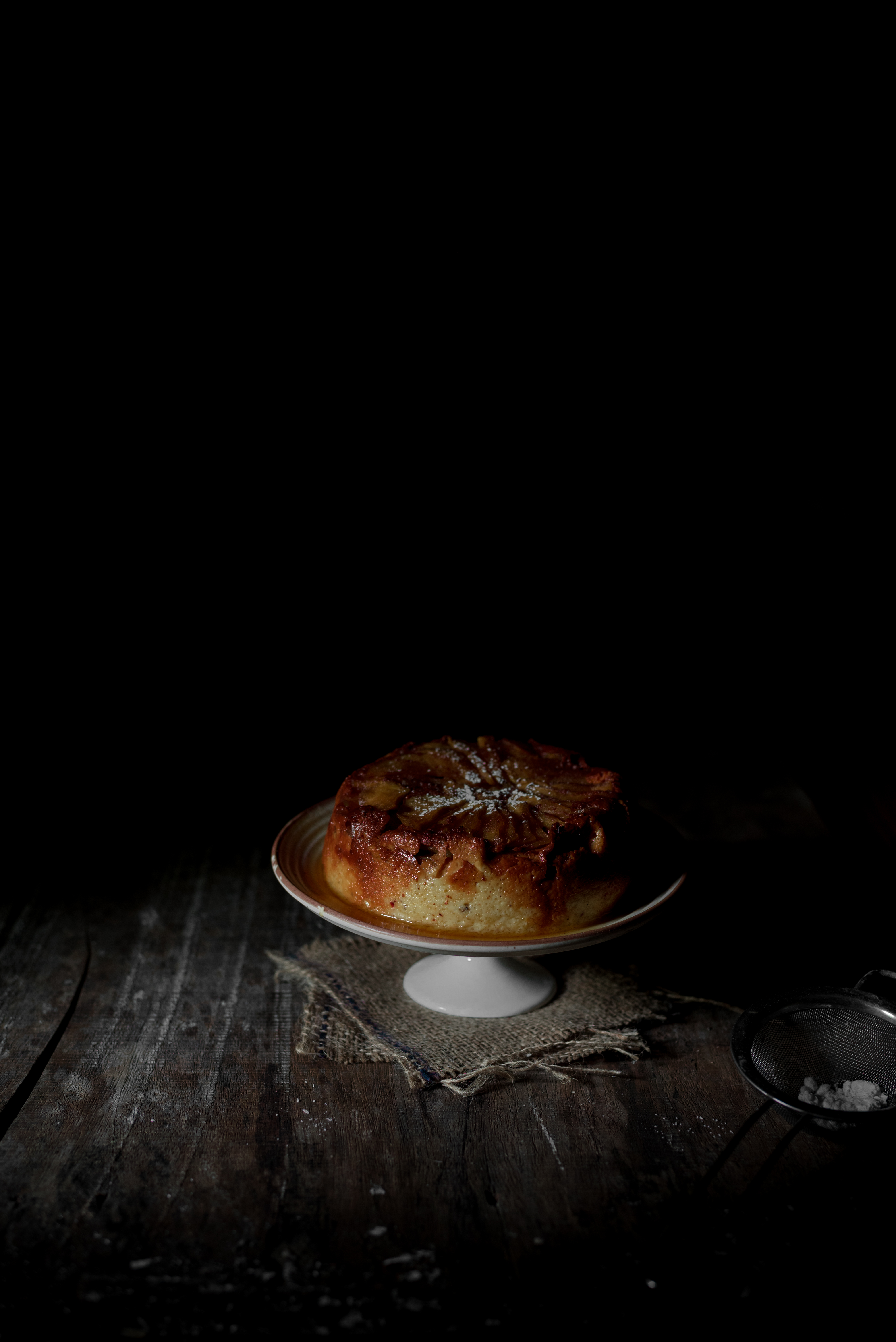 Ingredients:
400 to 500 gms chena (You can use Paneer also)

2

 

tbsp

 

semolina

1/2

 

cup

 powder 

sugar + 1 tbsp plain sugar 

6

 

nos

 

green cardamoms, crushed

2

 

tbsp

 

ghee 

4 to 6

 

tbsps

 

milk whey( Chena water) ( You can use milk also)

2 granny Smith Apple , Peeled and thinly sliced
Lets make it:
Preheat oven to 180 degree C and 

Line a parchment paper in a 6 inch baking pan and brush with with ghee . 

Crumble and mash the chhena / panner when it is still warm with the help of a spatula till smooth. If you are using store bought paneer just add it to warm milk for 10 minutes, and you can easily use it for making this dessert. Add semolina, cardamom and mix well.
Add the whey or chenna water to make the batter a little runny and milk if you are using store bought paneer. Now add powdered sugar, 1 tbsp ghee, and knead it till sugar dissoves completely. Keep aside.

Now in a small sauce pan add 1 tbsp ghee and sprinkle a tablespoon of sugar and heat the pan. Once the sugar starts getting caramelized, switch off the flame and pour in the baking pan and tilt the baking pan so that its base is well covered with caramel syrup.

Now spread the sliced apples in circular motion to cover the base and pour the mashed chena mix over it and spread evenly using a flat spatula. Keep aside for 5 minutes.

Bake in a preheated oven at 180 degree Celsius for 40 minutes till the top turns brown or in  Microwave in convention mode at 180 degree for 45 minutes .

Insert a tooth pick in the center. It should come out clean. If it is wet, bake for 5 more minutes.

Run a knife through the sides and invert the baking pan on a plate as soon as it is out of the oven. Any delay will make the sugar at the base of the tin harder making it difficult to come out intact.

Once cool, you can slice the Chhena Poda and serve sprinkling with some chopped nuts.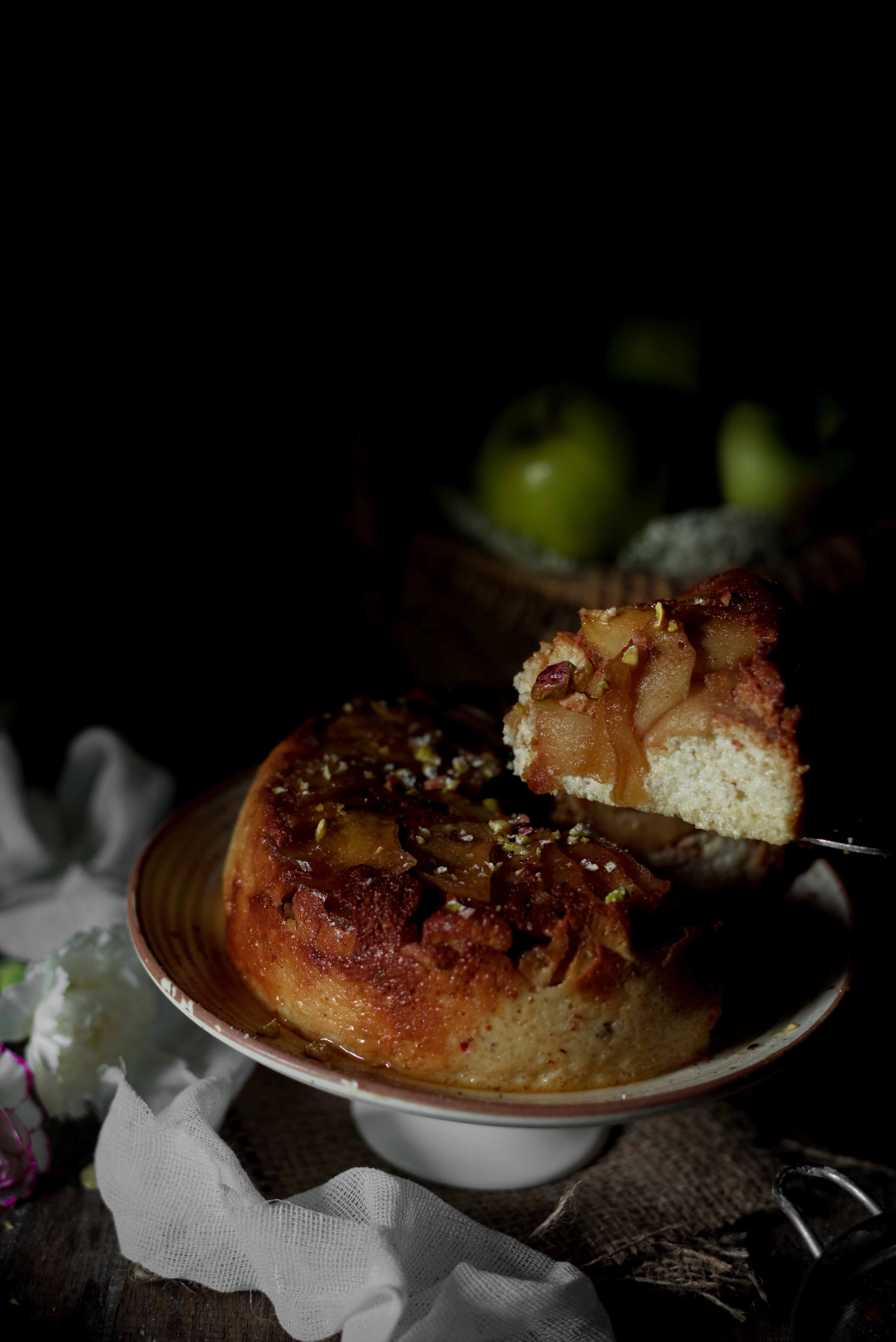 (Visited 36 times, 1 visits today)