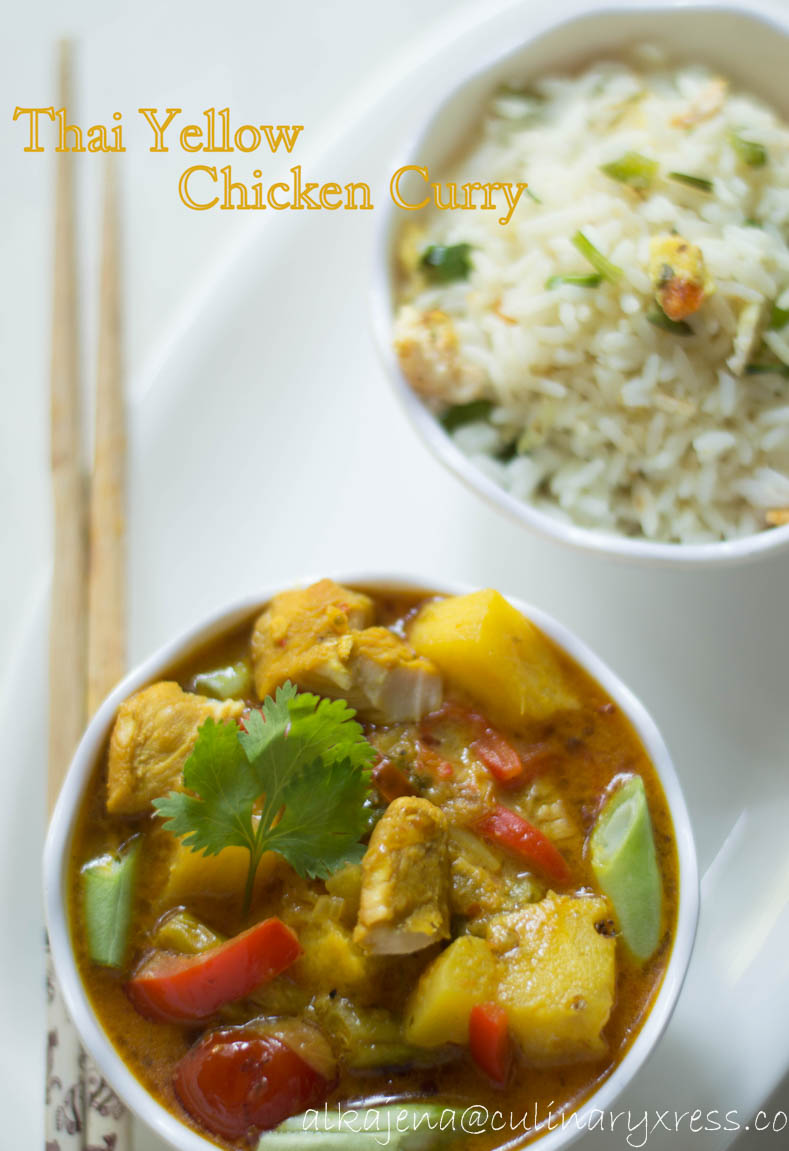 While Thai food has a reputation for being spicy, it is actually a harmony between different flavors – spicy, sour, sweet, salty, and bitter.  The basic characteristics of Thai food is a balance between eastern and western influences to come up with a cuisine that is uniquely Thai.The Thai meal is a harmonious blend of the spicy, the subtle, the sweet and sour, and is meant to be equally satisfying to eye, nose and palate. A typical Thai meal consists of a clear soup , a steamed dish , a fried dish , a hot salad  and a variety of sauces into which food is dipped and sweet desserts or fresh fruits .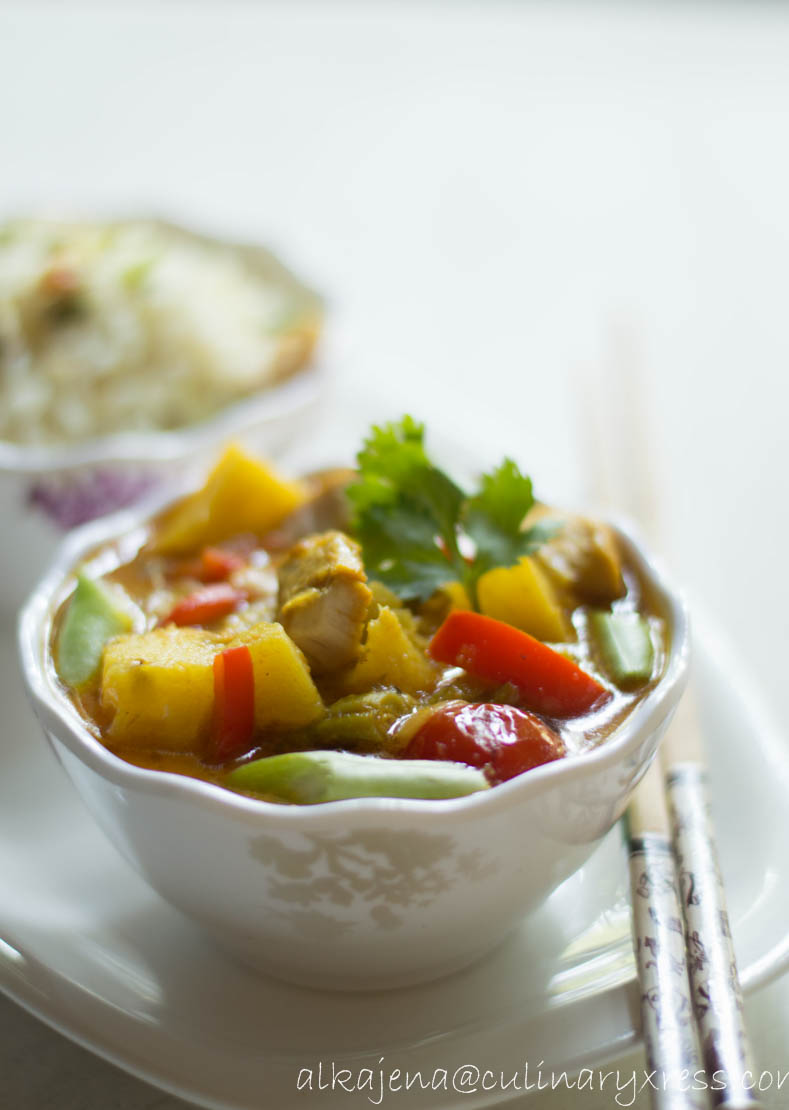 The major ingredients in a Thai curry are fresh herbs whereas in other cuisines its dried spices.A simple Thai curry paste consists of dried chilies, shallots and shrimp paste and the more complex curries include garlic, galangal, coriander roots, lemon grass, kefir lime peel and peppercorns.The consistency of each Thai curry varies widely, most Thai curries are coconut milk-based and some are spicier than others.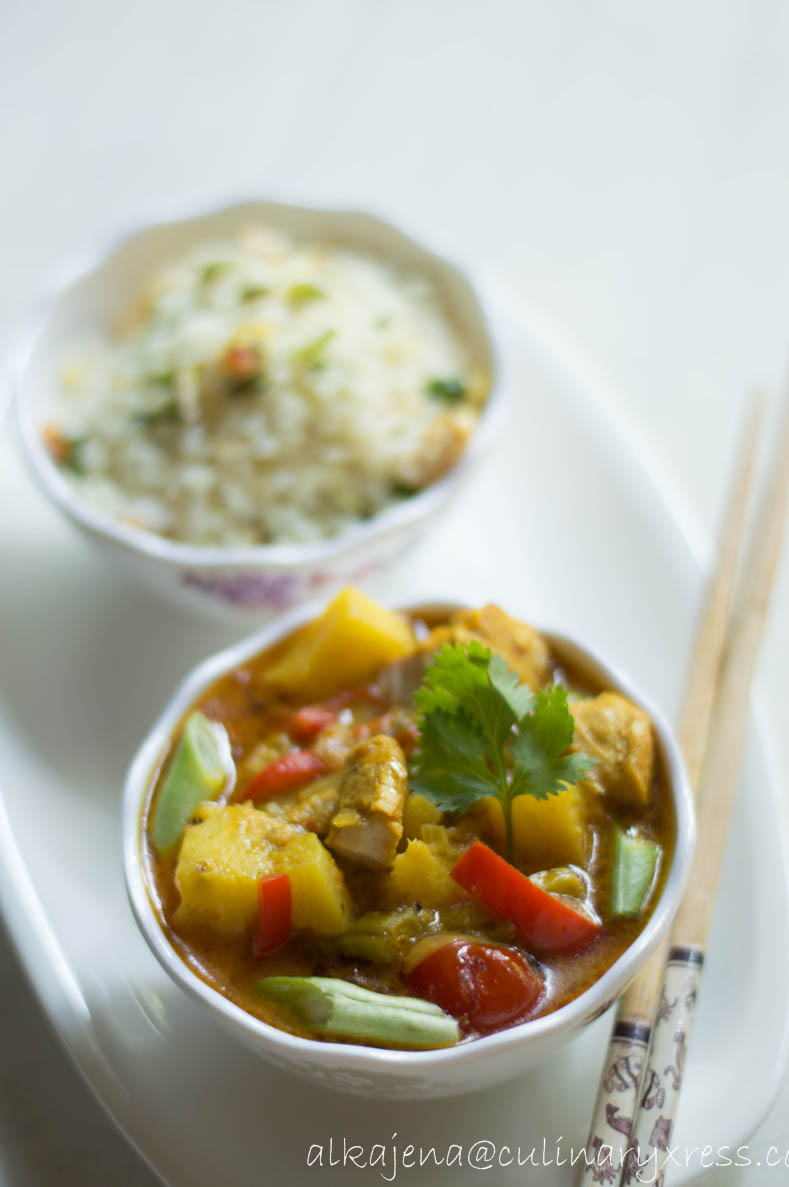 This Thai Yellow chicken Curry Recipe is a classic curry dish which you will love to make . I have given the traditional chicken curry which we make in our house with potato a Thai makeover . The curry was awesome , you can have it with plain rice  or some fried rice . I have made the Thai yellow curry paste from the scratch and it was quite easy to make. The ingredients are easily available in the supermarket and some ingredients which are not found, I have substituted with the local variants.  I have replaced galangal with ginger, Kefir lime with lemon zest .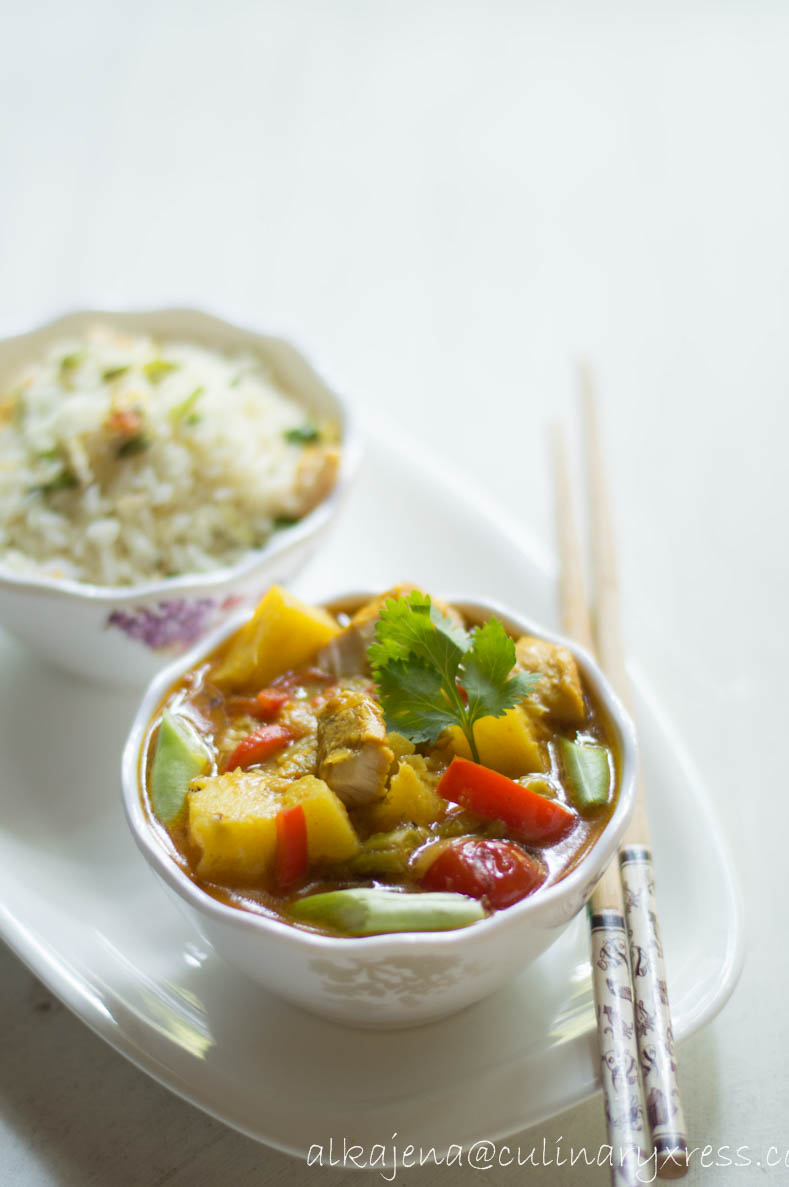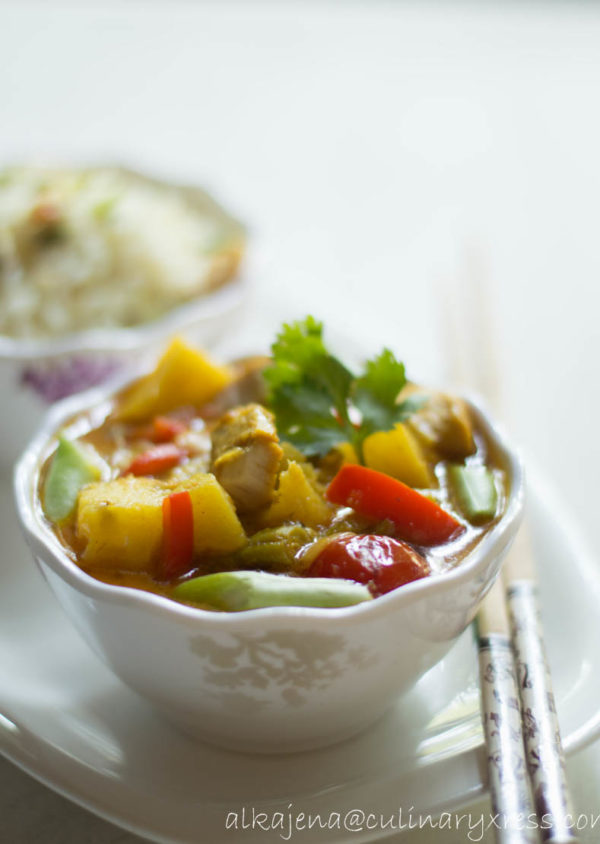 | | |
| --- | --- |
| | |
For the Yellow Curry Paste: Place all the ingredients in a blender and blend to a paste. Place a pan over medium heat and pour the spice blend into the pan and cook until it begins to bubble. Reduce the heat to low and continue to cook until all moisture has evaporated.Store in a jar in the fridge for up to two months.

For the Thai Yellow Chicken Curry Wash and cut the chicken pieces and marinate it with salt and some lemon zest.

Heat oil in a large pan or wok over medium heat. Add the onions and cook for a minute. Add the curry paste and cook for a minute or two, stirring occasionally, until the paste begins to sizzle and becomes fragrant.

Add the bell pepper, french beans, potato and chicken. Saute for a minute and stir in the coconut milk and mix well . Check the seasoning and if needed add salt, bring to a boil, cover and cook for 15 minutes or until the chicken is cooked on low flame.

Stir in the chopped pineapple and tomatoes and serve with plain rice or fried rice.
(Visited 186 times, 1 visits today)