Winter brings with it cosy blankets, quilts and variety of food, vegetables, fruits and sweets. This is the time when the markets are flooded with lush greens saags and vegetables. Come winters Makki di roti (coarse maize bread) and Sarson da saag (mustard plant) are culinary delights that are savoured in every household of North India especially Punjab .
The prominent names that come to mind whenever Punjabi cuisine is mentioned are tandoori chicken and butter chicken. But one thing that remains literally evergreen, is the traditional Punjabi dish of sarson dasaag with makki di roti. Come winter and every Punjabi household, eateries and most roadside dhabas have their fill of this dish which is so rich in iron and calorie.
Sarson ka saag is made with combination of different green leafy vegetable such as sarson or mustard leaves to which smaller quantities of paalak (spinach) and bathua (wild spinach) are added. Mustard leaves or sarson tastes a little bitter on it's own, to suppress that spinach or any other leafy vegetable is used along with it. Popularly spinach, bathua or methi is mixed with sarson but if it is not available you can just add spinach. However bathua adds a very nice taste to this saag.
The sarson leaves are washed properly before being shredded and then pressure-cooked. The flavour of the dish comes from the Tadka, which is an art itself and has to be good. The saag dish is not complete without dollops of butter – be it the home-made white butter or the salted one. One does not have to be calorie-conscious to savour this Punjabi delight. Serve hot with spoonful of butter or cream. Sarson ka saag tastes best with makki ki roti made from corn flour, which makes it a complete package.Sarson da saag and makki di roti is a quintessential Punjabi dish that is enjoyed by both Punjabis and non-Punjabis alike. The dish uses spinach-which makes it a healthier alternative.
4 cups

Fresh mustard leaves,chopped
1 cup

Bathua ( Wild Spinach),chopped
¼ cup Fresh coriander, chopped
4-5 tbsp Maize flour (Makke ka aata)
2

medium Onions, finely chopped
2

medium tomatoes, finely chopped
1 inchs

piece of Ginger chopped

Unsalted butter for garnishing
Sliced Chillies , white butter, coriander leaves and Ginger Julienne for garnishing
Steps
Clean , wash and chop the mustard leaves, spinach and wild spinach leaves and keep aside.
In a pressure cooker place the chopped mustard, spinach and wild spinach along with the garlic , green chilies , chopped coriander ,salt and 100 ml water and bring to a whistle and let it simmer on low heat for another 10 minutes.
Once you take off the lead , mash the greens with a masher and add cornmeal 1 tbsp at a time time till all liquid are absorbed.
Now heat 2 table spoon ghee in a pan.Add the finely chopped onion and sauté till light brown. Add chopped ginger and saute till brown. Now add the chopped tomatoes and fry till oil comes out. Add the ground mixture and cook for five to ten minutes or till the paste thickens.
Garnish with chillies , ginger julienne, white butter and coriander leaves .Serve hot with makki di roti.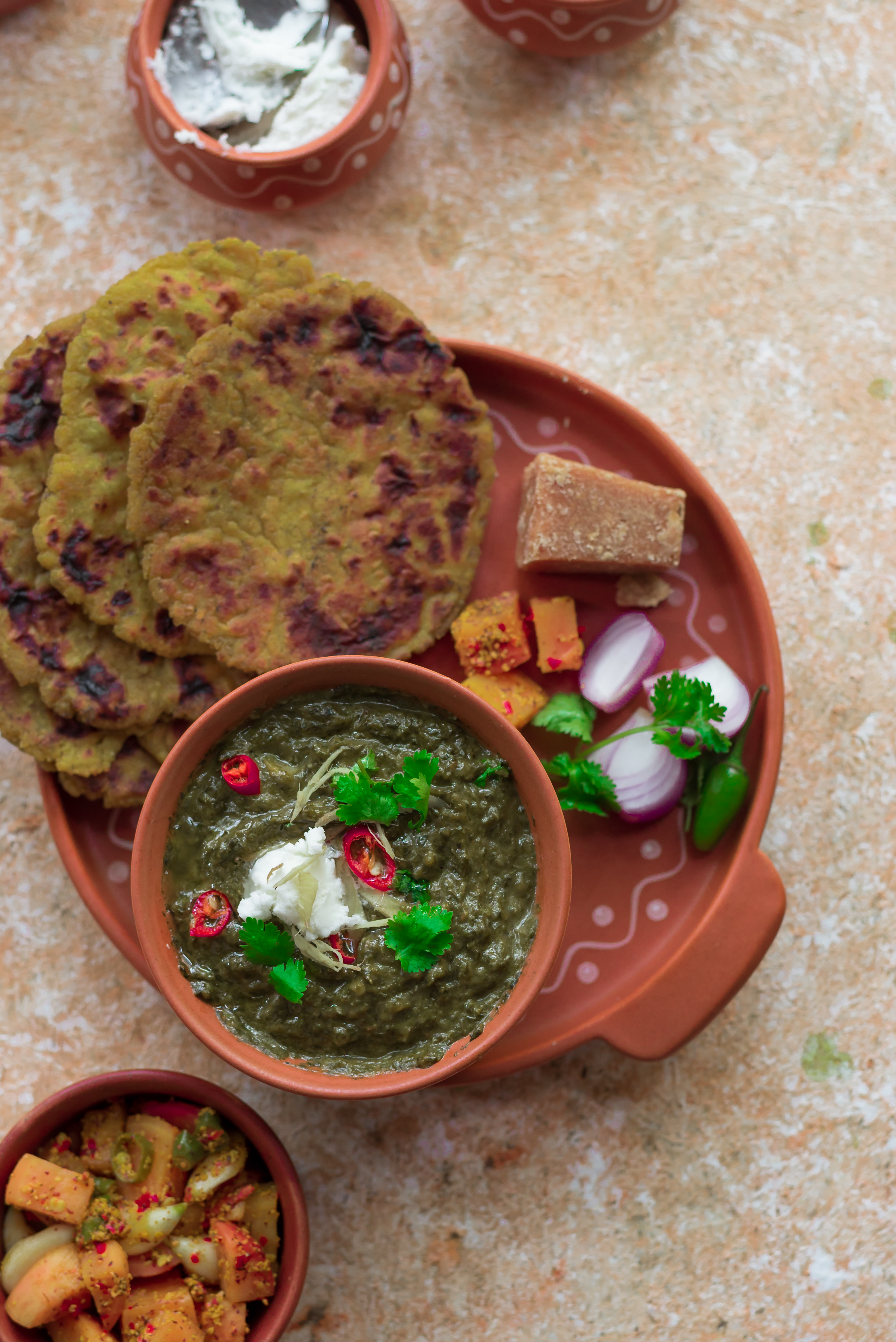 Makki di roti is a flat, unleavened Punjabi bread made from
corn flour, primarily eaten in Punjab region of Pakistan and India. Like most rotis in South Asian cuisine, it is baked on a tava. It is an important element of the rural Punjabi cuisine.Makki is a Punjabi word for maize (corn) and a yellow flour made from it is the base ingredient for this recipe. Traditionally makke ki roti is prepared by flattening a dough ball into round shape by repeatedly pressing it in-between palms in a thumping motion and then baked on hot tawa.
Makki ki roti is a little different from the regular whole wheat flour chapattis. They are essentially to be made using warm water and they do not roll easily. One can use dry flour to roll them out between parchment paper or butter paper. Locally, corn flour is available only in the winter months. Rotis made with the flour of freshly harvested yellow corn are delicious. A dollop of unsalted white butter is mandatory on the roti; a half dollop doesn't hurt in the saag as well. Winter is not the time for a low-fat diet.
Ingredients
1 cup

Corn Meal or Maize flour
Mix maize flour, ajwain and salt in bowl.Add warm water. Mix and knead to make a smooth dough. Cover With a damp kitchen cloth, cover the dough for 30 minutes.
Divide the dough into equal parts. With your palm, flatten the dough pieces.Slowly roll the dough to a thick and small round on a silver foil or baking sheet to prevent it from sticking to the floor. A small quantity of flour can be sprinkled to stop the dough to stick to the surface.

Place the Roti on a hot Tawa or griddle and cook on both sides. Roti is now ready to be served. Add a dash of butter for a richer taste.
This recipe has been prepared for the 18th Foodie Monday Blog Hop theme of "Indian Flat Bread Recipes".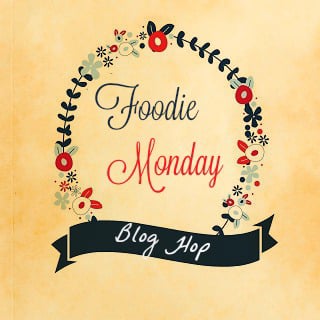 (Visited 165 times, 1 visits today)