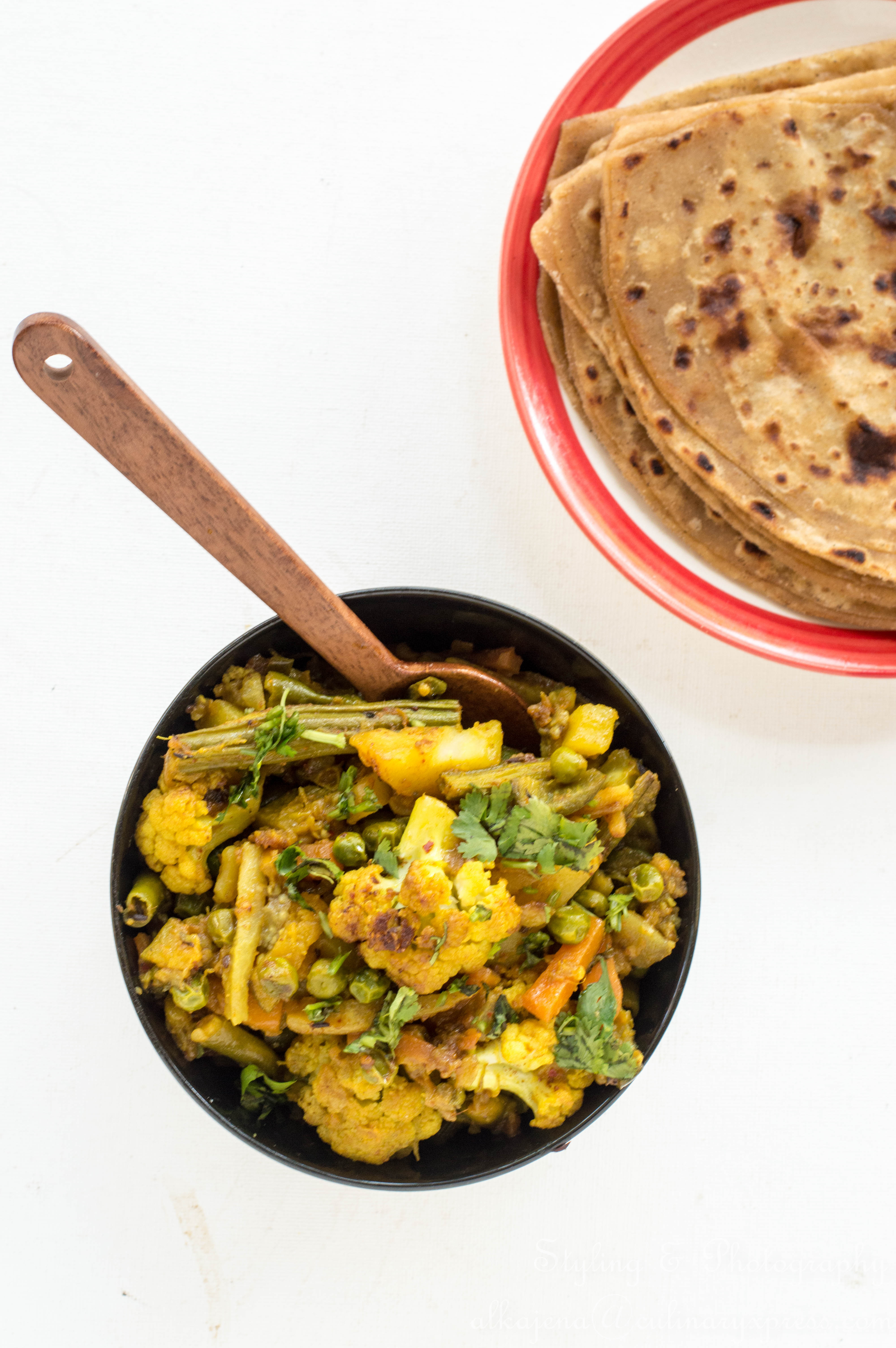 Santula is a unique dish from the Odia kitchen which can be either fried called (Bhaja Santula) or boiled called (Sijha Santula). One can include whatever vegetables you have such as potato, brinjal, drumstick, beans, tomatoes, pumpkin, and ladyfingers to make this dish which can be made with less or no oil. It's a quick and fast to prepare dish which is served with roti, paratha or even rice.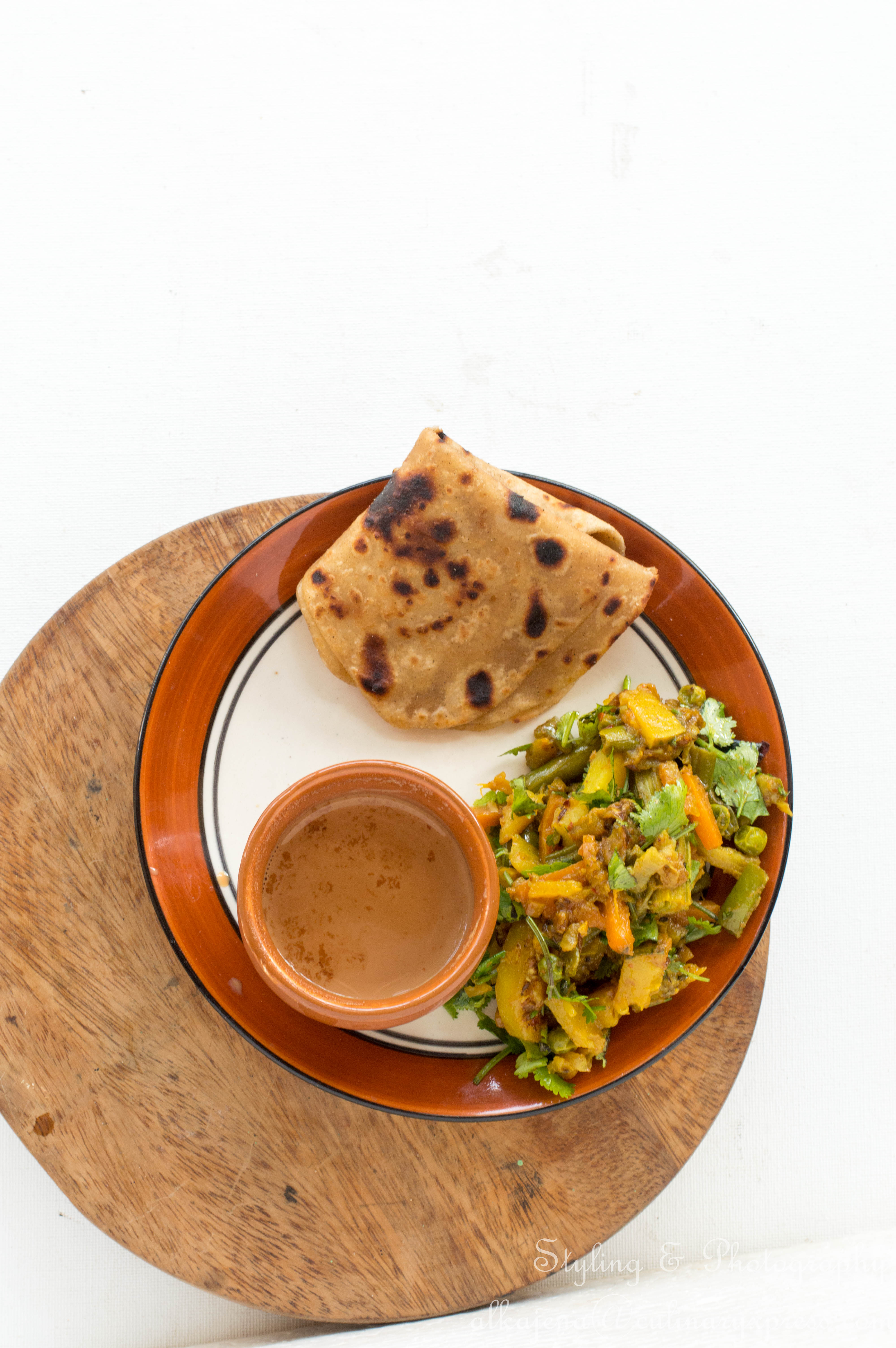 Santula is one dish where the vegetables are first boiled and then sautéed in a drop of oil to get a nice flavor. For this simple recipe, you need the correct proportion of vegetables and "Pancha-phutana", a mixture of cumin, fennel, mustard, kalonji, and fenugreek, is used for seasoning . Highly nutrition, fat and cholesterol free and healthy to eat and it contains very less spices.
Santula is considered a great nutritional delicacy because Santula is low on oil and comprises a varied mix of fresh, seasonal vegetables. Being very easy to digest, this recipe can be enjoyed even by sick people. Do try and enjoy the flavor and taste of this dish at least once a week to get a healthy serving of vegetables.
250gm Papaya
100gm Pumpkin
4 to 5 cauliflower florets
1/4 cup green peas
1 no Potato
100gm Brinjal
1 no Raw banana
100gm French beans
2 nos Drumstick
1 Bay leaf
1 no Tomato chopped
1 Onion chopped
2 no Dry red chili – broken
½ tsp Panch Phutan
½ tspTurmeric powder
1 tsp Roasted red chili & cumin powder
2tbsp Coriander leaves chopped
2 tsp Oil
Salt to taste
Method

Peel the skin and scrap out the inner part and seeds of the papaya and pumpkin. Dice it and keep it in a bowl of water. Peel the potato and raw banana and dice it into small pieces and keep it in the bowl . Chop the cauliflower florets.
Dice the brinjal and peel the skin of the drumstick , chop the beans,and cut it in length of 1½ inches and put it in a different bowl of water.
Wash and drain the vegetables in both the bowls separately.
Heat a pan with ¼th cup of water, add salt, turmeric and the chopped papaya, pumpkin, potatoes and cauliflower. Cover it and half cook it for few minutes.
Now add the brinjal, beans and drumstick, green peas, mix thoroughly and cover it again.Take out the lid when it is fully cooked.
In a separate pan, heat oil. Add panch phutan, red chilli, and bay leaf. After they splutter add chopped onion and fry till the onion turns brown and then add the chopped tomatoes. Fry well.
Now add the cooked vegetables. Mix it, cover it and cook it for 1 – 2 minutes.
Add the coriander leaves and roasted cumin-red chili powder.
Serve the healthy santula hot with roti or rice.
(Visited 216 times, 1 visits today)