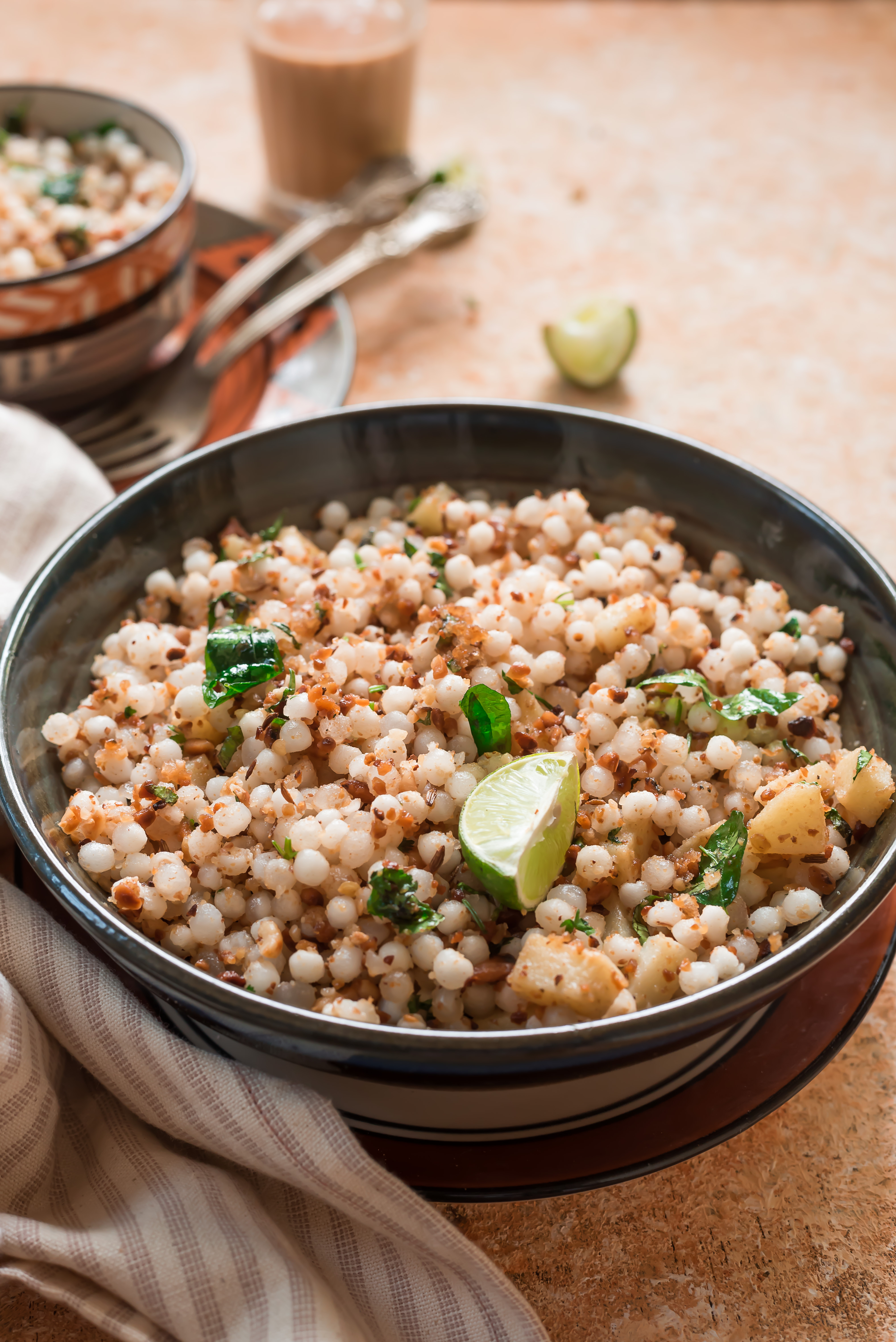 Tapioca sago is commonly known as Sabudana which is a carbohydrate rich, low fat, low protein supplement that can be used for preparing snacks, kheer etc.
Sabudana
is a must have ingredient in your kitchen if you are vegetarian. You can make lots of dishes using this simple yet nutritious ingredient.The first thing that comes to our mind when we think of what to eat during fasting, is the sabudana khichdi. The sabudana khichdi is cooked using tapioca pearl with potato and peanuts and is generally prepared during festival season like navaratri, ekadashi, poornima, ramnavmi etc when wheat based dishes are generally avoided.
The addition of Peanuts and other nuts adds the much needed protein , making it a more balanced meal.Soaked sabudana pearls are stir-fried with crushed peanuts, boiled potatoes, chillies, cumin seeds, coconut and other ingredients that are permitted during a fast. The chewy texture and starchy taste of sago is beautifully complemented by the nutty flavour of coarsely powdered peanuts, and balanced by the tangy lemon juice, making this khichdi soothing to the taste-buds, yet very tempting too.
This recipe has a wonderful blend of flavors — tangy, spicy and balanced to perfection. It makes a mouth watering brunch or lunch item and is often enjoyed during times of fasting.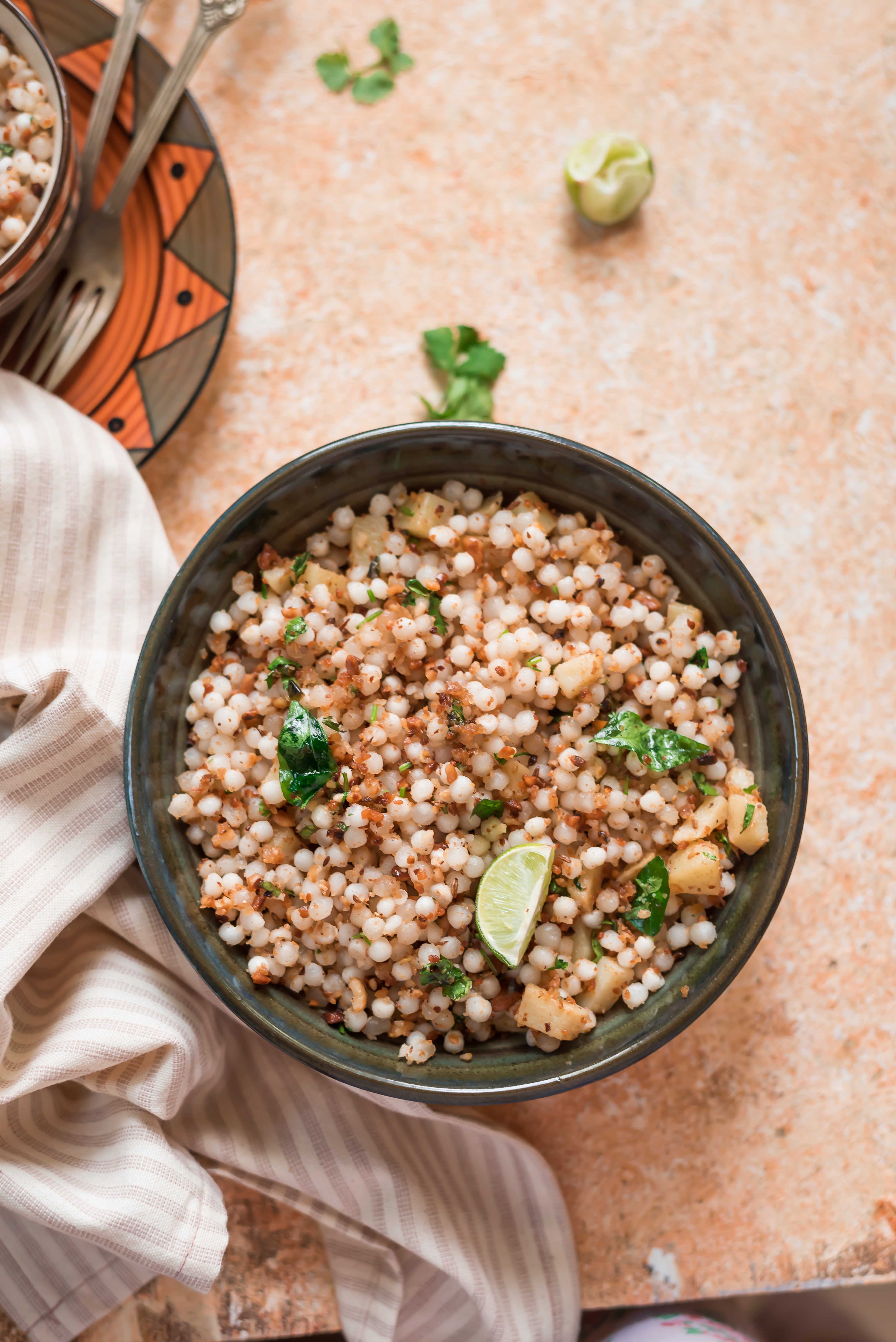 (Visited 281 times, 1 visits today)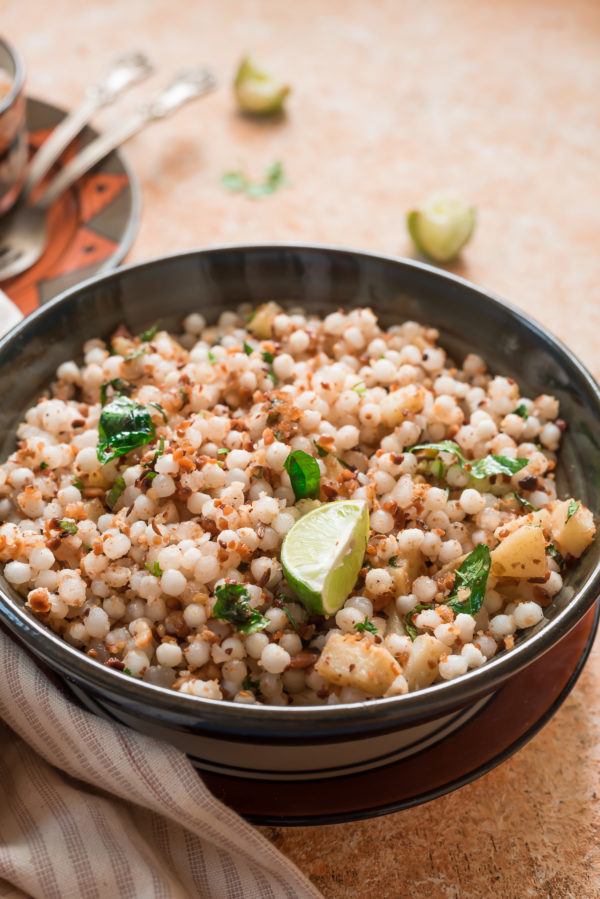 | | |
| --- | --- |
| | |
Wash sabudana pearls for 3-4 times until water runs clearly. This process will free of most of the starch in it. Then soak in 1 & 1/4 cup of water overnight . You will notice the sabudana pearls have puffed up and become twice in size. Transfer it into a colander to get rid of any trace of water . Add crushed peanuts in the sabudana. Gently mix them well and set it aside.

Heat oil in a pan , add cumin seeds and fry for few seconds. Then add diced potatoes and saute on high heat for a minute, and then cook for 3-4 minutes until they are almost done. Now, add curry leaves, and green chilies and mix.

Add soaked sabudana, salt and gently mix, cook for 4-5 minutes only until the pearls are just translucent. Gentlly stir couple of times . Do not overook them as it will start stcking to each other. Before serving sprinkle the lemon juice and garnish with coriander leaves.