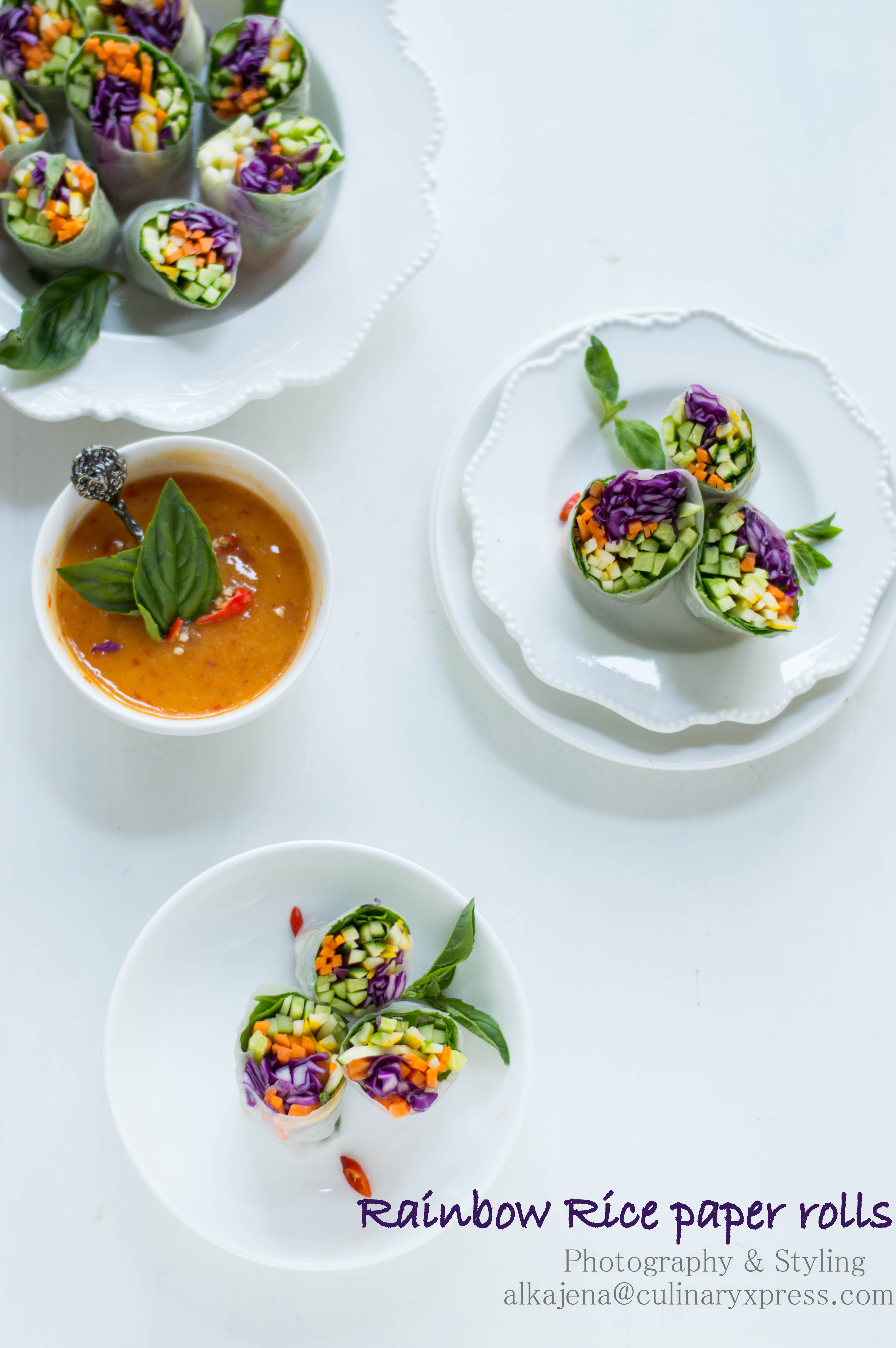 Rice paper rolls filled with fresh julienne vegetables accompanied by a sweet & spicy mango chilli sauce can surely give you a feel of fresh and delicious meal.The spicy and sweet mango chilli sauce accompanying these rainbow rolls  is completely addictive.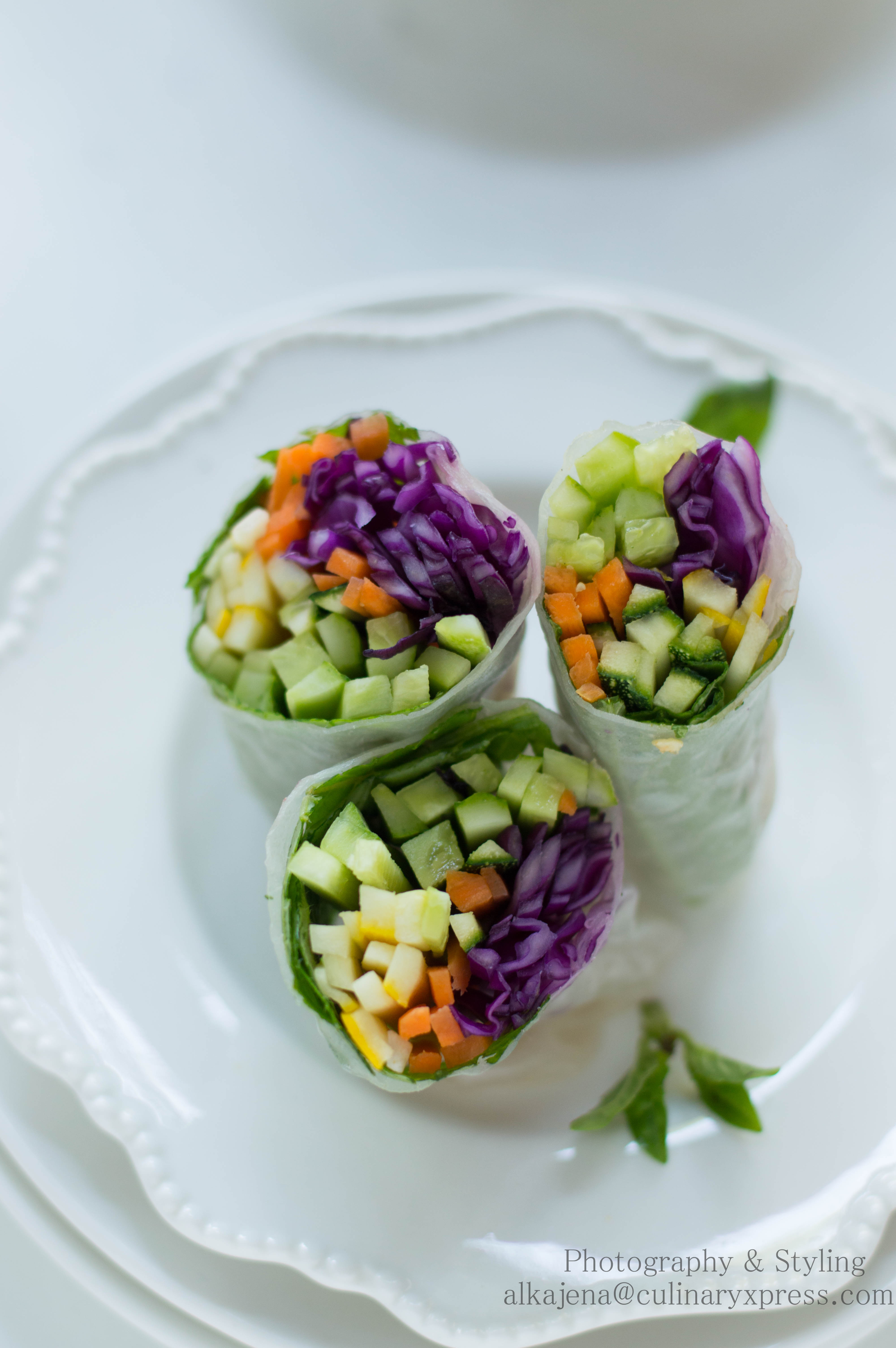 The flavors are clean and fresh with the use of vegetables like zucchini, cucumber,carrots, purple cabbage and mustard leaves wrapped in rice paper and accompanied by that oh so sweet and spicy mango chilli sauce is out of this world.I had earlier planned for a peanut dipping sauce for these rolls but I changed my mind when I noticed the mango pulp I have preserved in the refrigerator.I just add some Thai sweet chilli sauce to it and my finger licking mango chilli sauce is ready.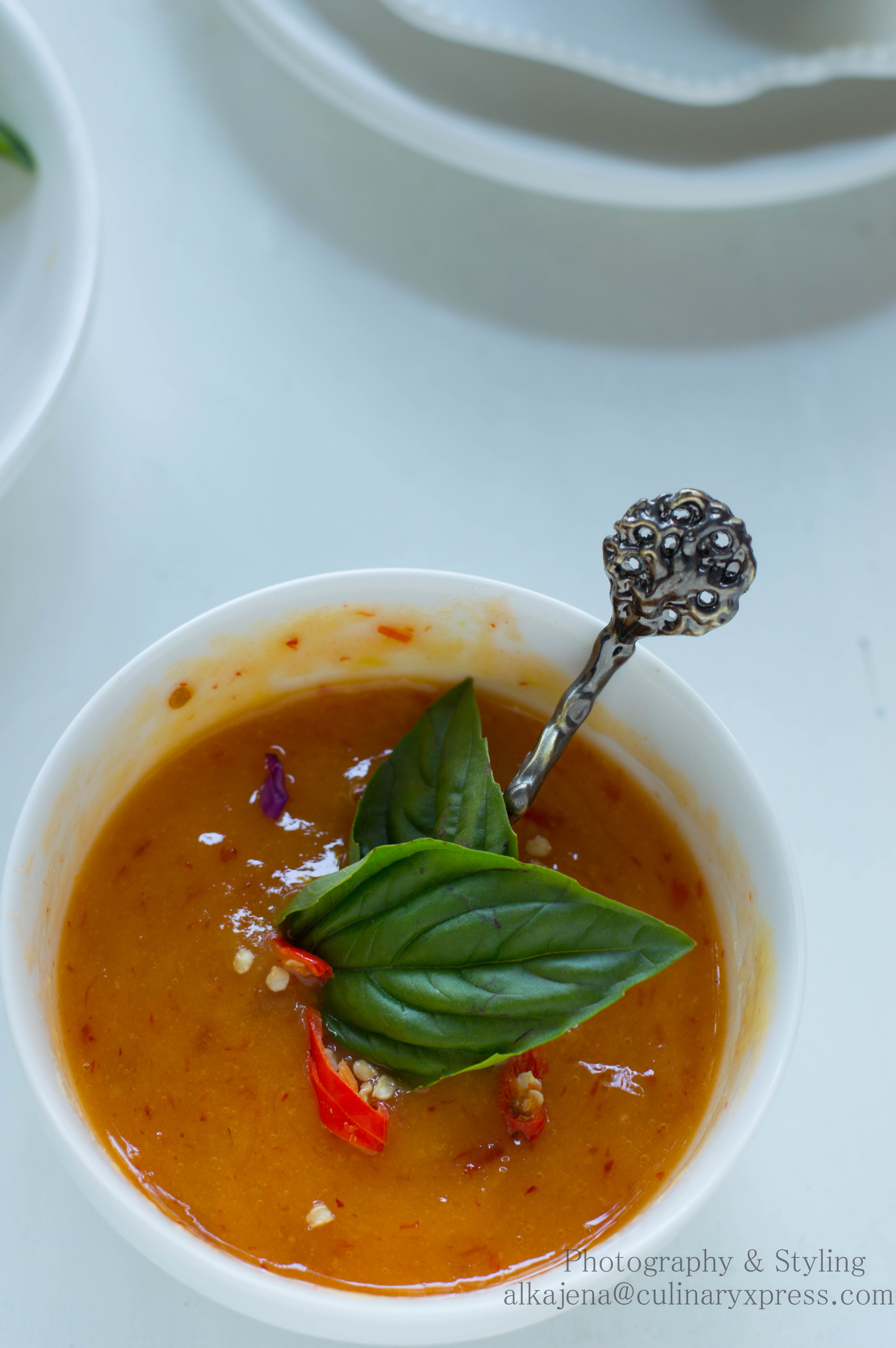 Coming back to the use of vegetables in the roll, are not they colorful and vibrant. I am a cook who gets attracted by the color of the food and the idea of beautiful colors stimulates my appetite. Do you know  the vegetables and fruits get their color and healthy properties  from a unique nutrients called  phytochemicals. The easiest way to get more phytochemicals is to eat more fruits like blueberries, cranberries, cherries, apple and vegetables like cauliflower, cabbage, carrots, broccoli to name a few.
Green vegetables contain a range of phytochemicals which have anti-cancer properties. Red fruits and vegetables gets their color from a natural plant pigment called lycopene which is a powerful antioxidant that can help reduce the risk of cancer and keep our heart healthy. Foods that are blue contain flavonoids which contribute to the maintenance of proper brain function and blood flow.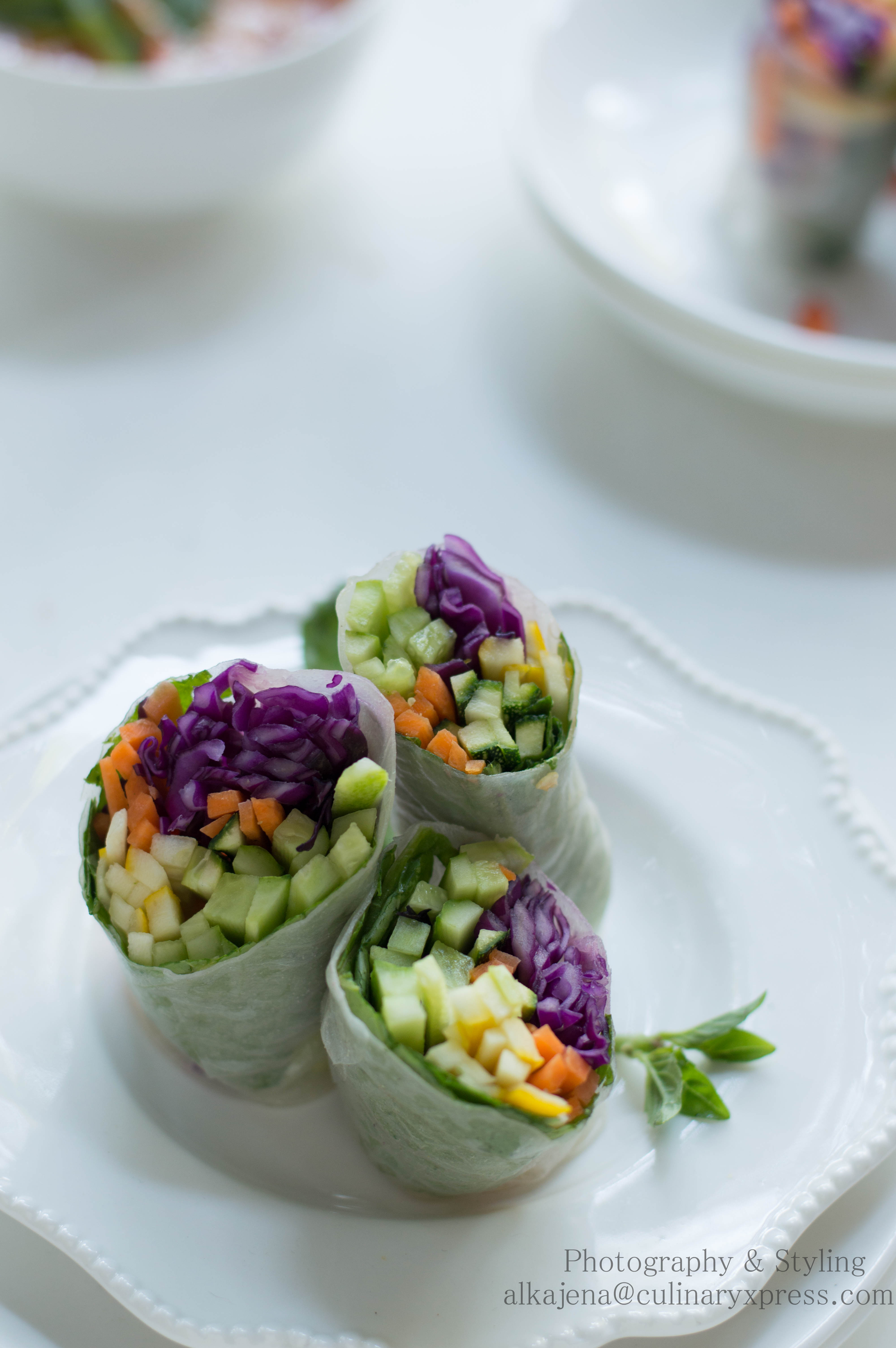 This recipe of rice paper rolls filled with vibrant vegetables is the perfect example of eating a rainbow meal which have a variety of antioxidants, vitamins and minerals that helps you to stay healthy. The mango sweet chilli sauce with a hint of Thai flavor perfectly complements the rainbow rolls .
(Visited 213 times, 1 visits today)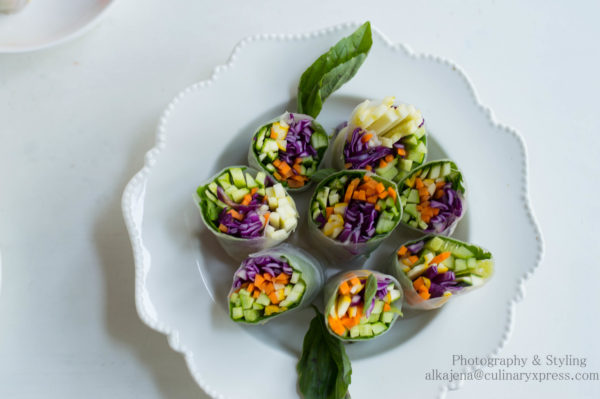 | | |
| --- | --- |
| | |
Prepare the mango chilli sauce by adding 2 to 3 tbsp of Thai sweet red chilli sauce to one cup of mango pulp. Mix and Keep aside.

Soak an individual rice paper in water and remove after 1 seconds. Leave it on a kitchen towel for 10 to 20 seconds to soften . The papers won't stick together properly if they're really wet. Gently lift the rice paper, lay it straight out on your work space.

Lay the mustard leaves in the middle of the rice paper. Arrange the julienned vegetables on the mustard leaves one on top of the other. You can use any green in place of mustard leaves, like baby spinach, basil , lettuce etc.

Try to keep the fillings laid neatly, making sure to leave ample room on each side to easily fold the wrap. Now fold in both sides of the rice paper. Then fold one third of the rice paper over the filling. Continue to roll the paper to enclose the entire filling.

Now keep all the rolls on a aluminium foil to retain its moisture. Before serving , cut the rolls diagonally in two parts and serve with the mango sweet chilli sauce and sprinkle some chopped basil leaves over the vegetables.