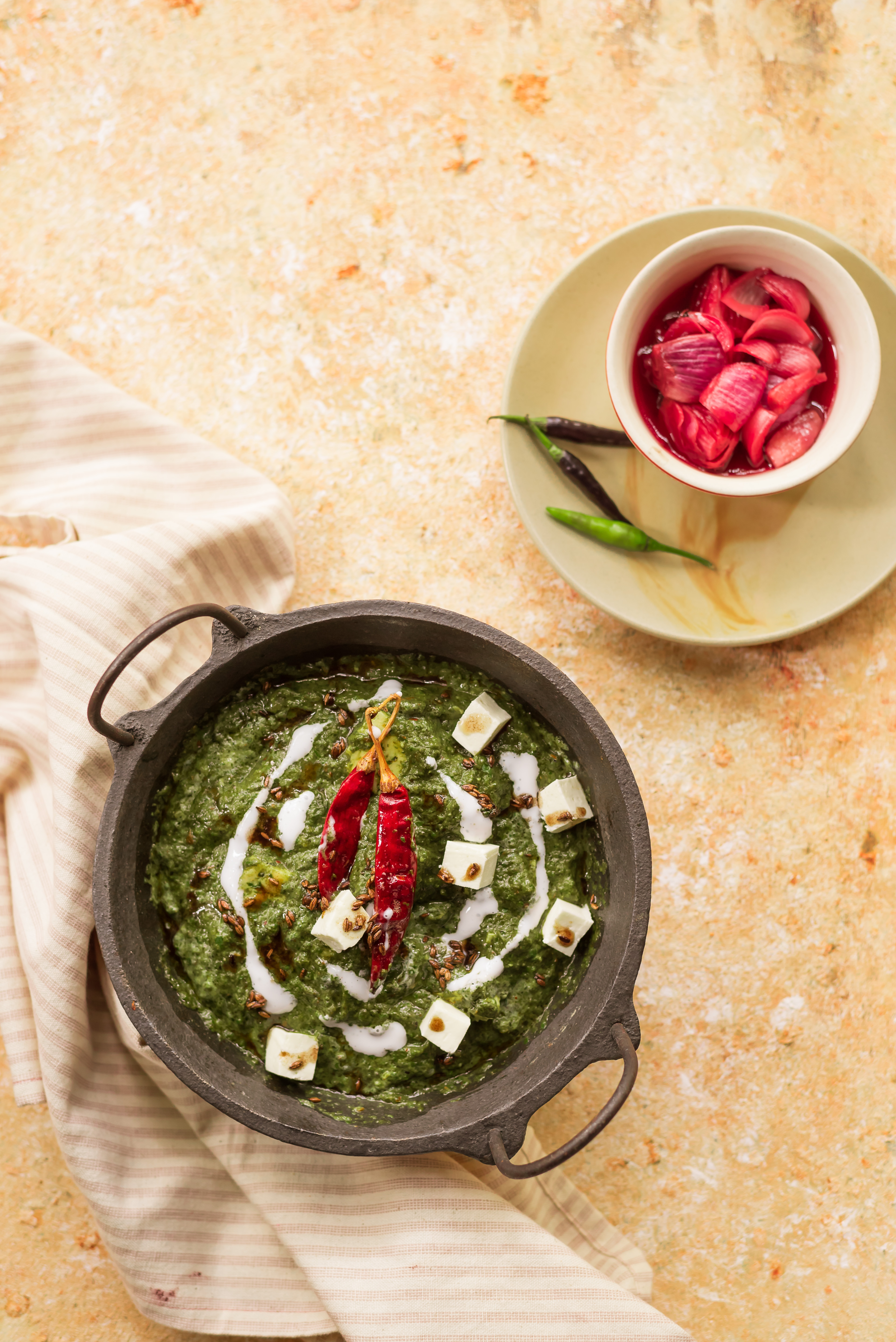 Palak Paneer is a delicious restaurant style dish where cottage cheese cooked in spinach puree and aromatic spices. This Palak Paneer Recipe is a favorite across the length and breadth of India. Spinach and Cottage cheese is very nutritious and takes care of calcium, iron and protein levels of our body.
The Palak Paneer curry with all the goodness from Spinach and Paneer is easy to make at home in less than 30 minutes. To cook palak paneer recipe in restaurant style, you have to blanch the spinach in boiling water and then cook with onion, garlic, tomatoes , aromatic spice blend and in the last you add paneer to it.
The smoky effect in this Restaurant style curry comes from the Dhungar method where a burning piece of charcoal is kept on a bowl and some ghee/ butter is poured over and place it inside the curry and cover it so that the smoke that releases is trapped in the curry.This curry can be made in a vegan way replacing the paneer with tofu and cream with coconut cream.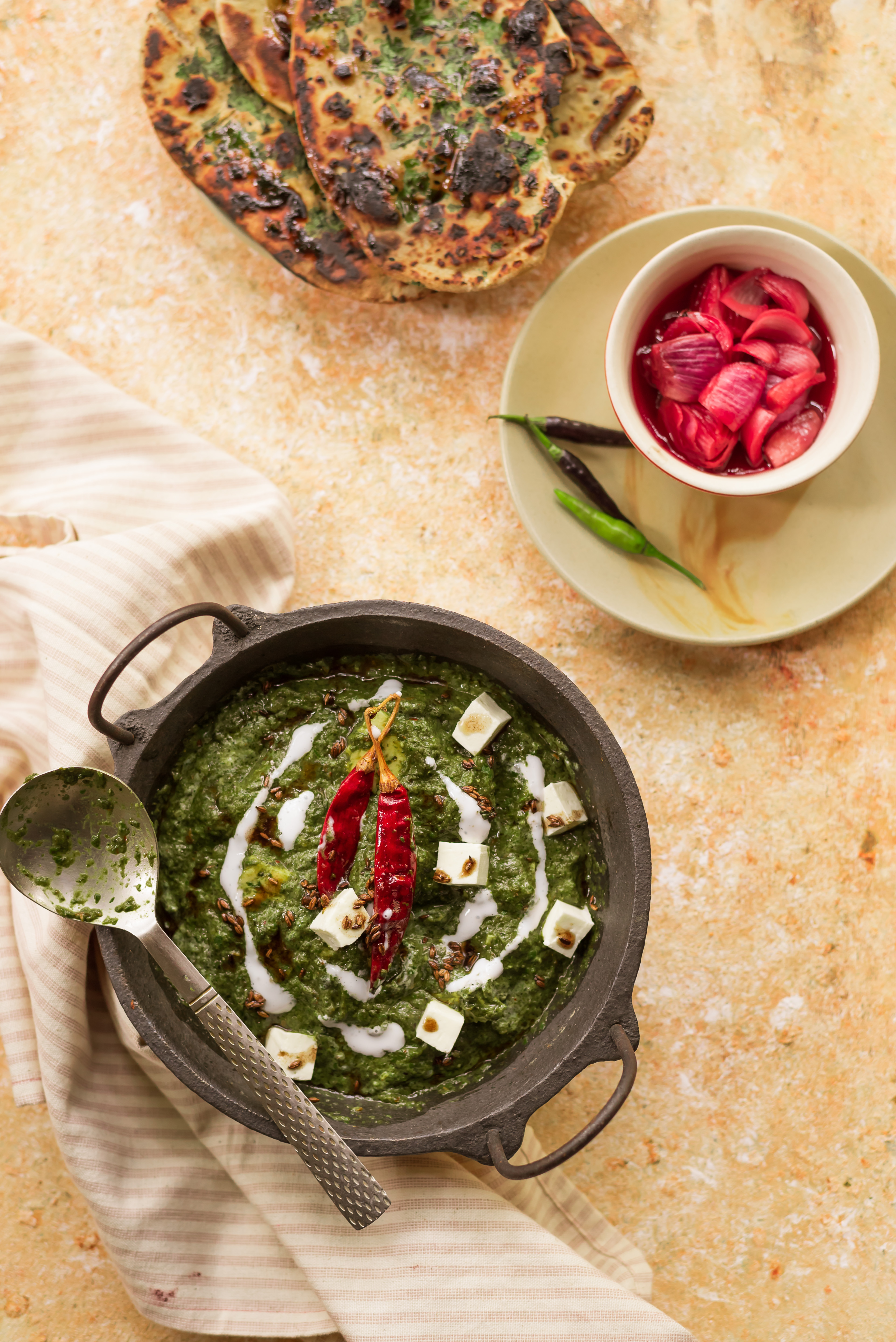 INGREDIENTS
500 gms panner / Cottage Cheese,cut in cubes
1 1/2 cups Spinach Puree
Ice cold water with some ice cubes
1 tsp cumin seeds
4 whole dried red chillies
1 medium onion, finely chopped
2-4 green chillies, finely chopped
6 garlic cloves, crushed
2 large tomato, finely chopped
1 teaspoon, coriander powder
1 teaspoon, garam masala powder
5 tbsp oil
1 tbsp butter
1 large piece coal
2 tablespoon cream for garnishing
Salt as per taste
INSTRUCTIONS
Wash and clean the stem of the spinach . In a large pan , boil enough of water. Add spinach and allow the spinach to blanch in the water for 2-3 minutes. Take the blanched spinach out and immediately put them in ice cold water.Put the blanched spinach in a blender and blend it to a puree.
Add the paneer cubes in salted hot water for 3 to 4 minutes to retain its softness.
Heat oil in a heavy bottom pan,add cumin seeds, allow it to crackle. Then, add crushed garlic and fry till its golden brown.
Add broken whole red chilies and green chillies. Add chopped onions, and saute till it turns translucent.Now, add chopped tomatoes, coriander powder, garam masala powder, salt. Mix well.
Cover and cook till the tomatoes becomes very soft. Increase the heat to high, add pureed spinach and saute it for a minute.
Now, add Paneer, cream, mix and saute for another minute and immediately take it off the stove.
Heat a tbsp of oil in a small pan. Add cumin seeds and allow it to crackle.Pour the tadka over the Palak Paneer.
Burn a small piece of charcoal on stove top until red hot. Now, place a small bowl on the palak paneer curry.Then, with the help of tongs, carefully place the live charcoal over the foil or in the bowl. Top it with 1tbsp butter and immediately close the lid. Let the spinach paneer gravy undisturbed for 5-7 minutes to infuse the smoke in it well.Drain the coal butter and mix in the curry.
Now serve this restuarant style palak paneer with some cream on top and enjoy with Naan, Roti Paratha.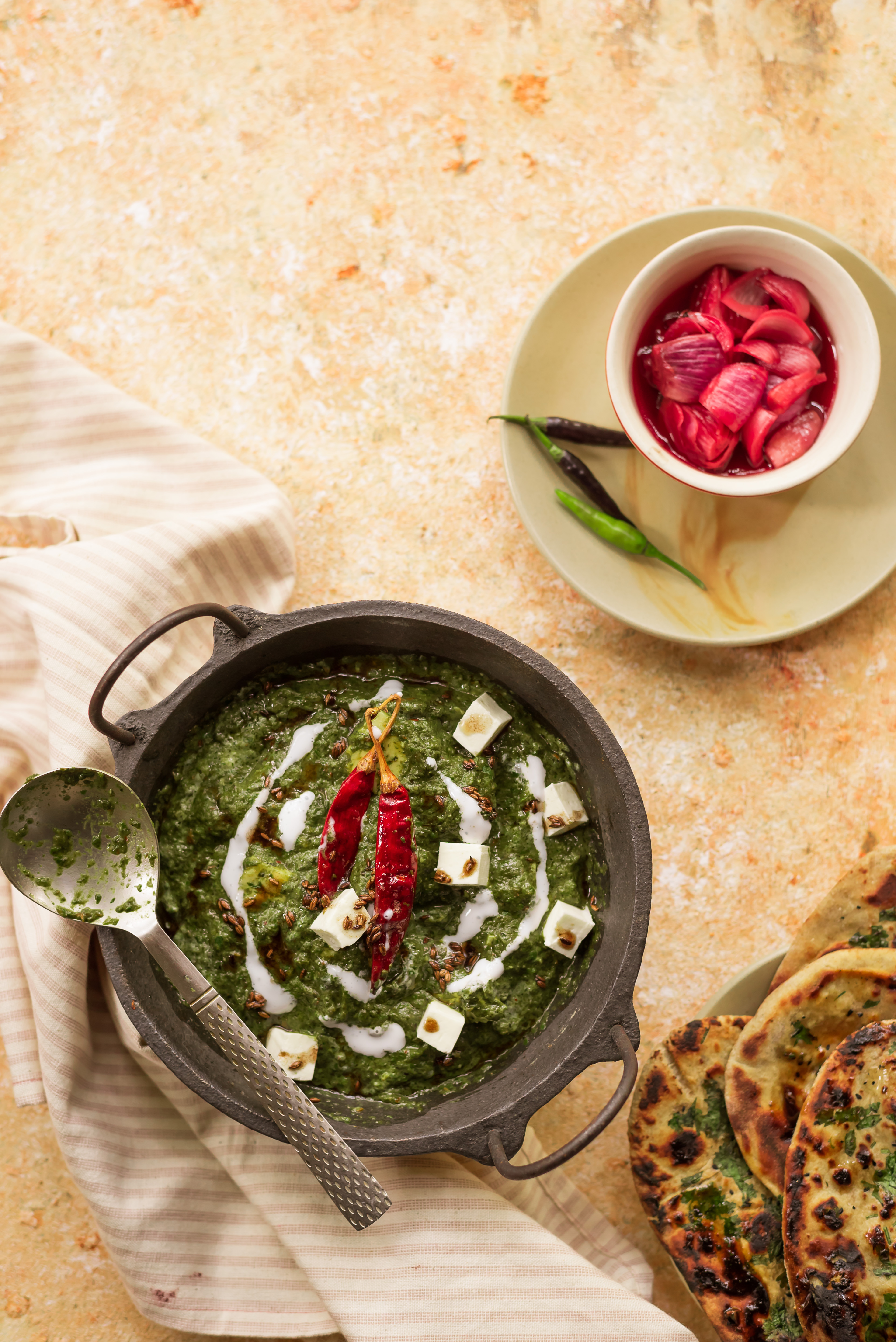 (Visited 94 times, 1 visits today)