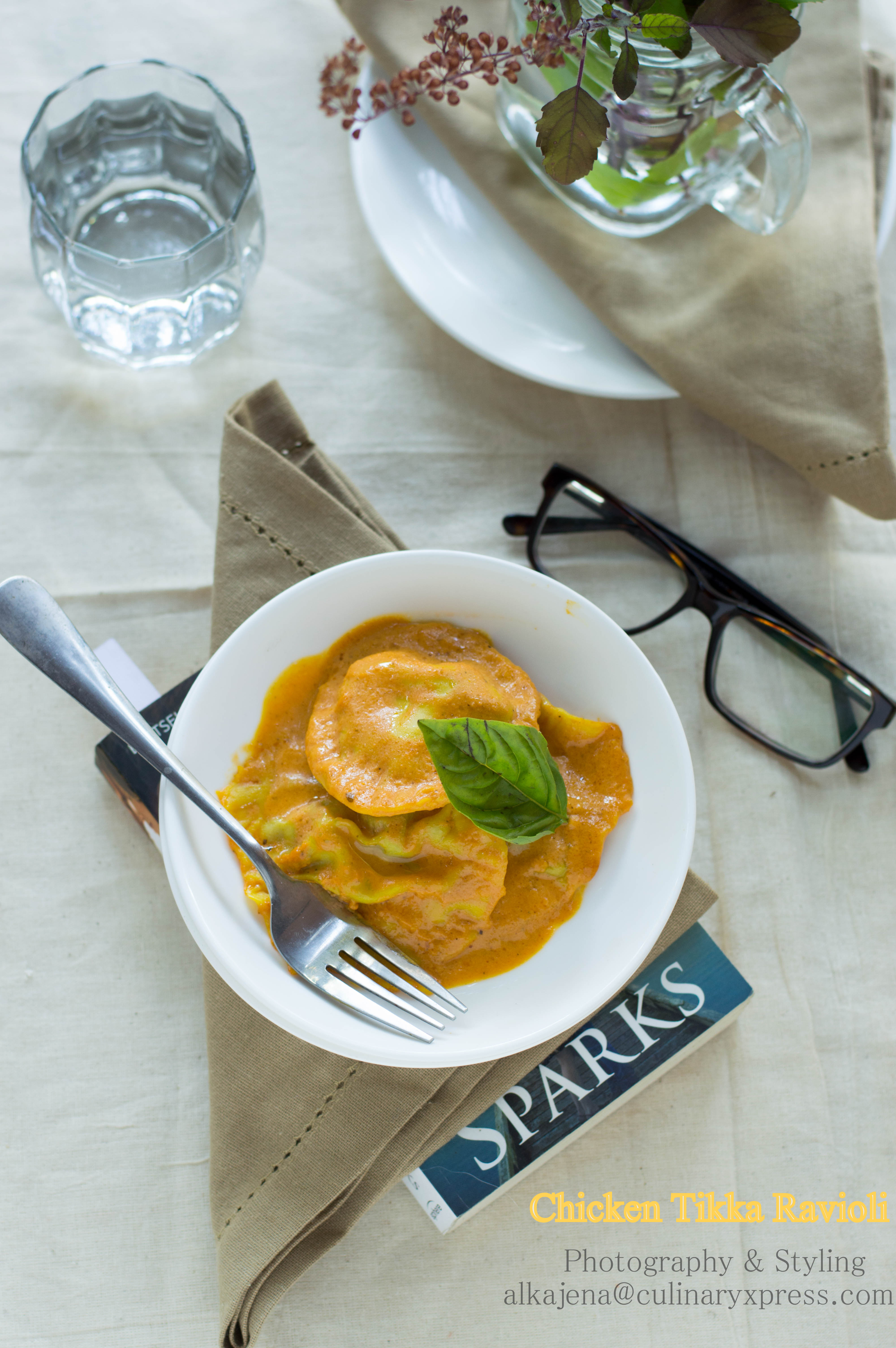 I love how beautiful this Ravioli dish looks with the delicious creamy  sauce. It is tantalizing for both the eyes as well as the taste buds. The idea of making a ravioli was not at all planned for the Sunday. All I was looking for to spend some time reading in the warm winter noon and eat outside.
My plans for my Sunday afternoon got a serious jolt when I heard a loud scream from my Son's room. When I rushed in there the floor is flooded with books and termites had a gala time in the bookshelf. I have to put my plan for some other time and helped him in cleaning the room. It was getting quite late when we could finish cleaning up the room. I was too tired to go outside and eat. I opened the fridge to see what I can make quickly for lunch and found this leftover Chicken Tikka  with some coriander chutneys .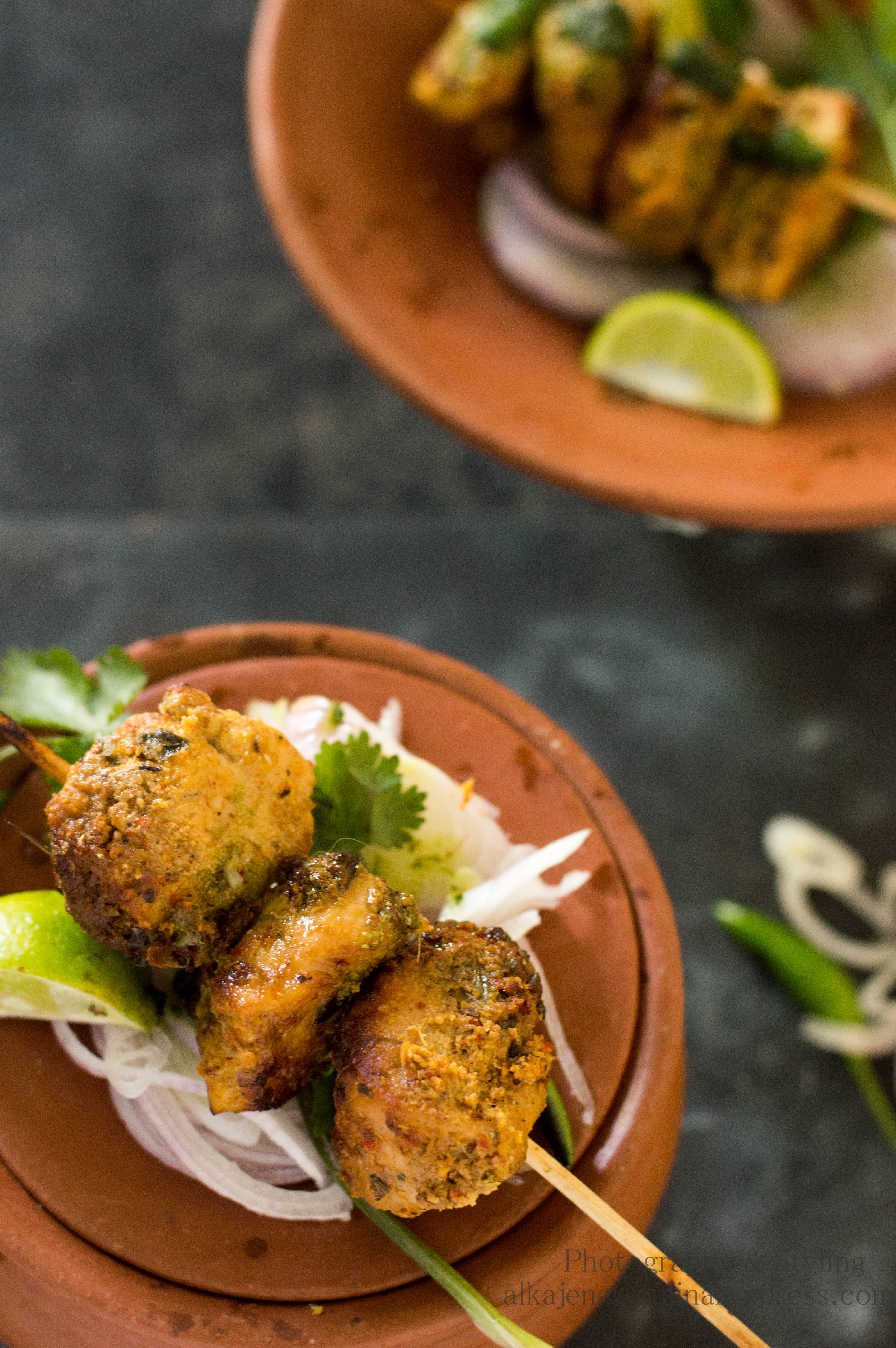 The first thought was to make a Chicken Tikka Butter Masala and some Lachha Paratha to go with it. Suddenly the idea popped into my head of making a Fusion dish out of it for our Foodie Monday Blog hop. I dropped everything to make this Chicken Tikka Ravioli in a creamy tomato sauce  immediately. The gravy of tikka masala is tomato based and quite similar to pasta sauce. I had never thought this fusion recipe with a grilled stuffing with Indian flavor would taste so amazing.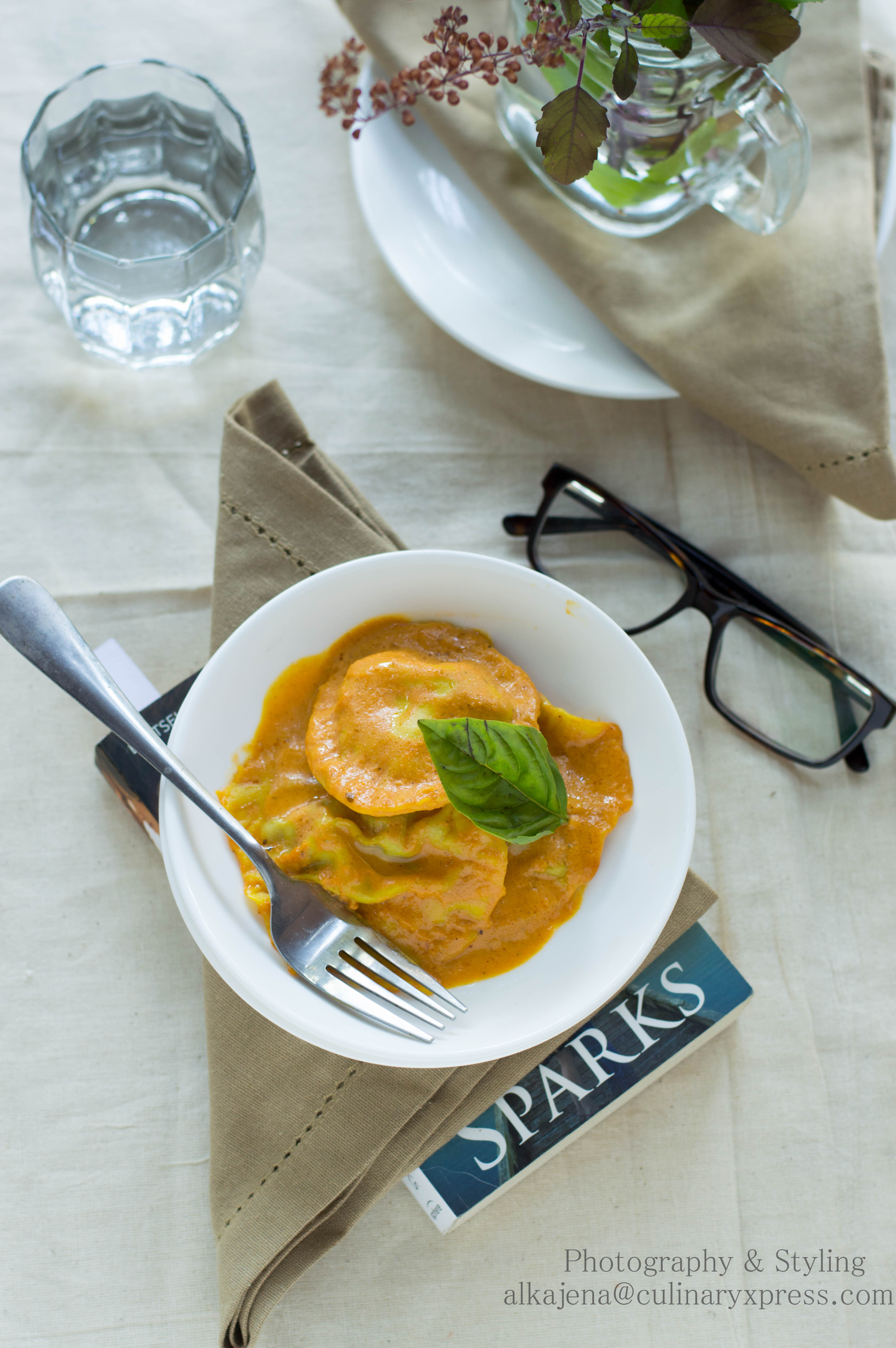 This is my first attempt in making ravioli and  it was a huge success and was  excellent in taste. At first ravioli seems intimidating to me , but a little research and I am comfortable with it.The secret to perfect ravioli dough is it's stretch. You should be able to see the shadow of your hand move behind the dough when you hold it up to the light. I cook my ravioli for two minutes or wait till they float to the top. Then I transfer them to my skillet finishing with my creamy tomato sauce.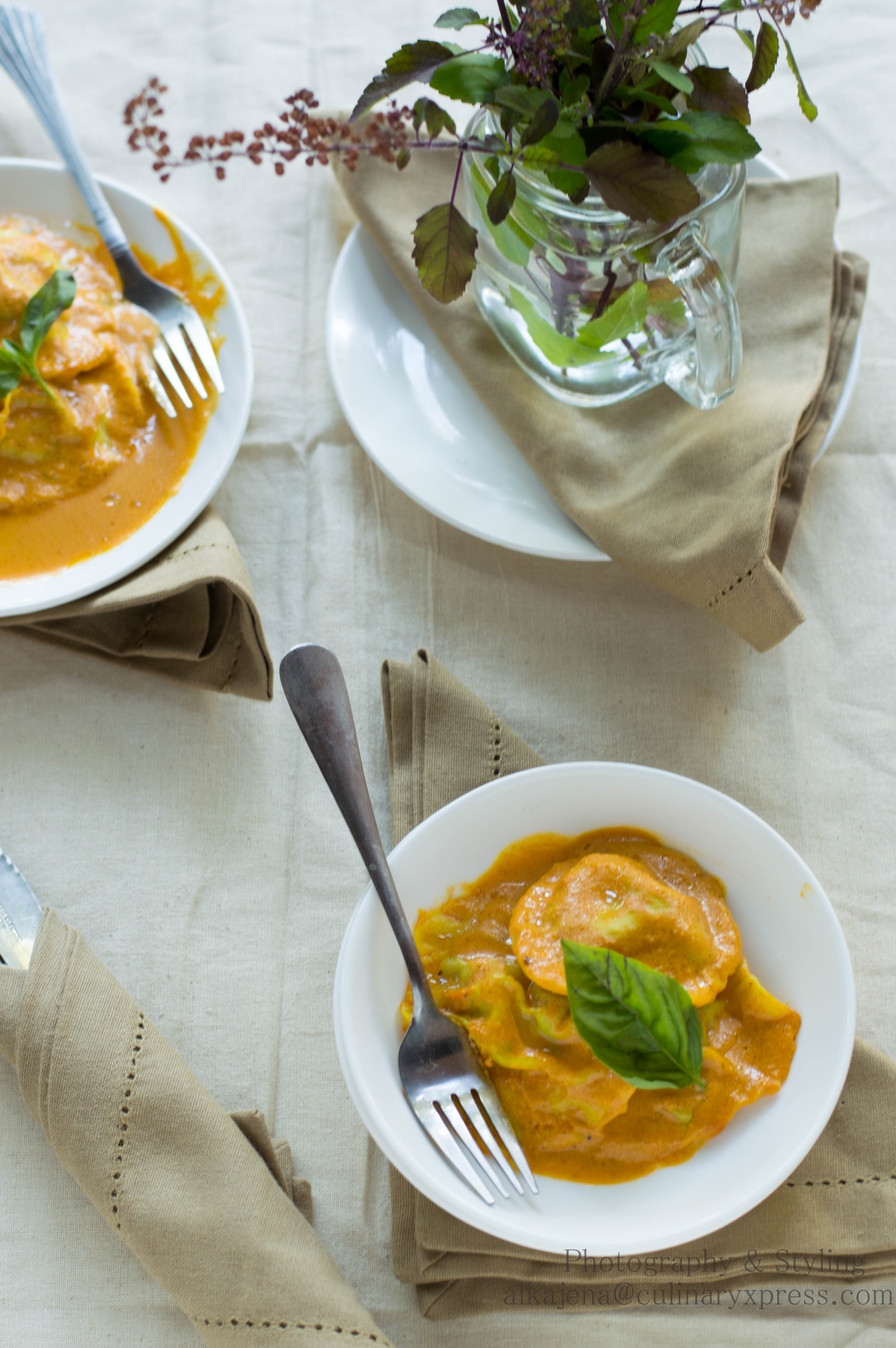 Thank you for

(Visited 367 times, 1 visits today)
| | |
| --- | --- |
| | |
Mix the flour and salt. Take an egg in a bowl and beat lightly ( to mix the yolk and white ). Make a well in the centre of the flour mixture and add the egg. With a fork lightly mix in the flour starting from the centre.

add just enough water to make it as a ball and knead for 5 minutes till smooth. Wrap it in a cling film and let it rest in kitchen counter for 1/2 an hour.

For the filling, shreds the chicken tikkas in a bowl and add to it the coriander chutney and the crumbled paneer and keep aside.

After half an hour divide the pasta dough into 2 parts. If you have a pasta maker, you can roll the dough in the machine. I donot have a pasta maker so used a rolling pin . Sprinkle some flour on the work surface. Take one half of the dough and roll it into a rectangle as thinly as possible. Cut in half, so that you have two pieces of dough strips 15 inches long and five inches across.Keep the other dough wrapped in the cling film to prevent it from drying out.

Fold the first sheet along its midline to make a light crease and then re-open it. Working so that your filling is approximately one-and-a-half inches in diameter and half an inch apart, place six even heaping tablespoons of filling along the lower half of the dough.

Moisten the dough lightly with your water , then fold it over along the crease, pressing from the folded point outward to remove excess air.Gently pat the dough down around each lump of filling to create a seal.

And finally, use the cookie cutter or a stamp to slice your ravioli into even rounds or squares as you like.After cutting , you can make it pretty by sealing it with fork as well. Repeat the same steps for the other half of dough as well. Cover the ravioli with a towel to stop them from drying out while you make your sauce.

Puree 500 gms of large tomato and strain through a strainer to discard the seeds and the cover. Dry roast 1 tbsp of coriander seeds, 1 tsp of cumin seeds, 1 tsp of fennel seeds, 2 green cardamom, 1 inch cinnamon stick and grind to a fine powder. keep aside . You will be needing 1 tsp of this curry powder.

Start the sauce by heating your olive oil in a medium pan. Fry the onion and add the ginger garlic paste and cook until soft and aromatic, before adding the strained tomato puree, store bought tomato puree, 1 tsp curry powder,basil leaves, along with the salt and pepper. Stir together and cook to 5 to 10 minutes gently over a medium heat. While the sauce is cooking, start cooking your ravioli by adding it to a large pan on a low boil. Cook for around 3-4 minutes. When cooked remove from the pan, drain away any excess water and serve with the creamy tomato sauce.

Transfer the content to a blender and blend it perfectly. Strain and transfer to the pan once again. Add the cream and further cook for 5 more minutes.

While the sauce is cooking, start cooking your ravioli by adding Salt to 8 cups of water and bring to a rolling boil. Drop in the prepared ravioli few at a time. Cook for two minutes or till they float on top. Remove them with a slotted spoon and keep aside. Repeat the same for all the ravioli.When cooked remove from the pan, drain away any excess water and serve with the creamy tomato sauce.

That's it , your amazing raviolis with stuffed chicken tikka are ready...Enjoy hot.