Pickles plays a major role in Indian cuisines in the form of a condiment accompanying the main course. Pickles can be made from every vegetable, fruit with fresh spices and herbs. Besides this many regions make their own version of non vegetarian pickles also like fish pickle, prawns pickle, chicken pickle etc.
Unlike many, I prefer to make my pickles at home and mostly in small quantities. But if you want to try out some exotic , preservative free pickles and spreads, your search should end here. My kitchen cupboard is always well stocked with all varieties of pickles.
This Prawn pickle was made in a jiffy and not at all planned. While preparing for my Sunday Lunch Menu of sweet Malabari Khichdi, I need a perfect spicy condiment to go with the sweet Khichdi. When I look into the shelf, I realized the prawn pickles sent by Pushpita have exhausted .So, I have to make this Kerala style Prawn Pickle to go well with this sweet Khichdi. A spoonful of this pickle, and you are surely going to lick your fingers for it's subtle taste.
Prep Time: 30 minutes
Cooking Time: 20 minutes
Makes: 1 cup
Ingredients:
500 gms Prawns
Salt to taste
1/2 tsp Mustard seeds
1/4 tsp Fenugreek seeds
1 tbsp jinger juliennes
1 tbsp Garlic,sliced
1 sprig Curry leaves
4 to 6 Green chilies
1 tbsp Kashmiri chili powder
1 tsp Turmeric powder
1/4 cup Vinegar
1/4 cup water
1 tbsp sugar
Oil as required
Instructions:
Mix the red chilli paste and turmeric with some water and make a paste of it.Keep aside until required.
Boil water and vinegar with 1 tbsp sugar till sugar melts and the quantity reduces to half. keep aside to cool.
Wash and clean the prawns.Marinate the prawns with salt and 1/2 tsp turmeric powder. Keep aside for 15 to 20 minutes.Heat oil in a pan and shallow fry the prawns,turning once in between.Once it is done,drain and keep aside until required.
Add more oil to the pan,add mustard seeds and once it splutters, add fenugreek seeds and saute for few seconds.Add ginger,garlic and curry leaves , saute until raw smell disappears.
Now add the red chilli and turmeric paste , saute for a minute. Next add the prawns and and mix well.Add the cooled vinegar water mix and cook over medium low flame for few more minutes until oil starts to separate. Check the seasoning.
Cook for 1 or 2 minutes.Switch off the stove and allow this to cool completely before transferring to an airtight-glass jar.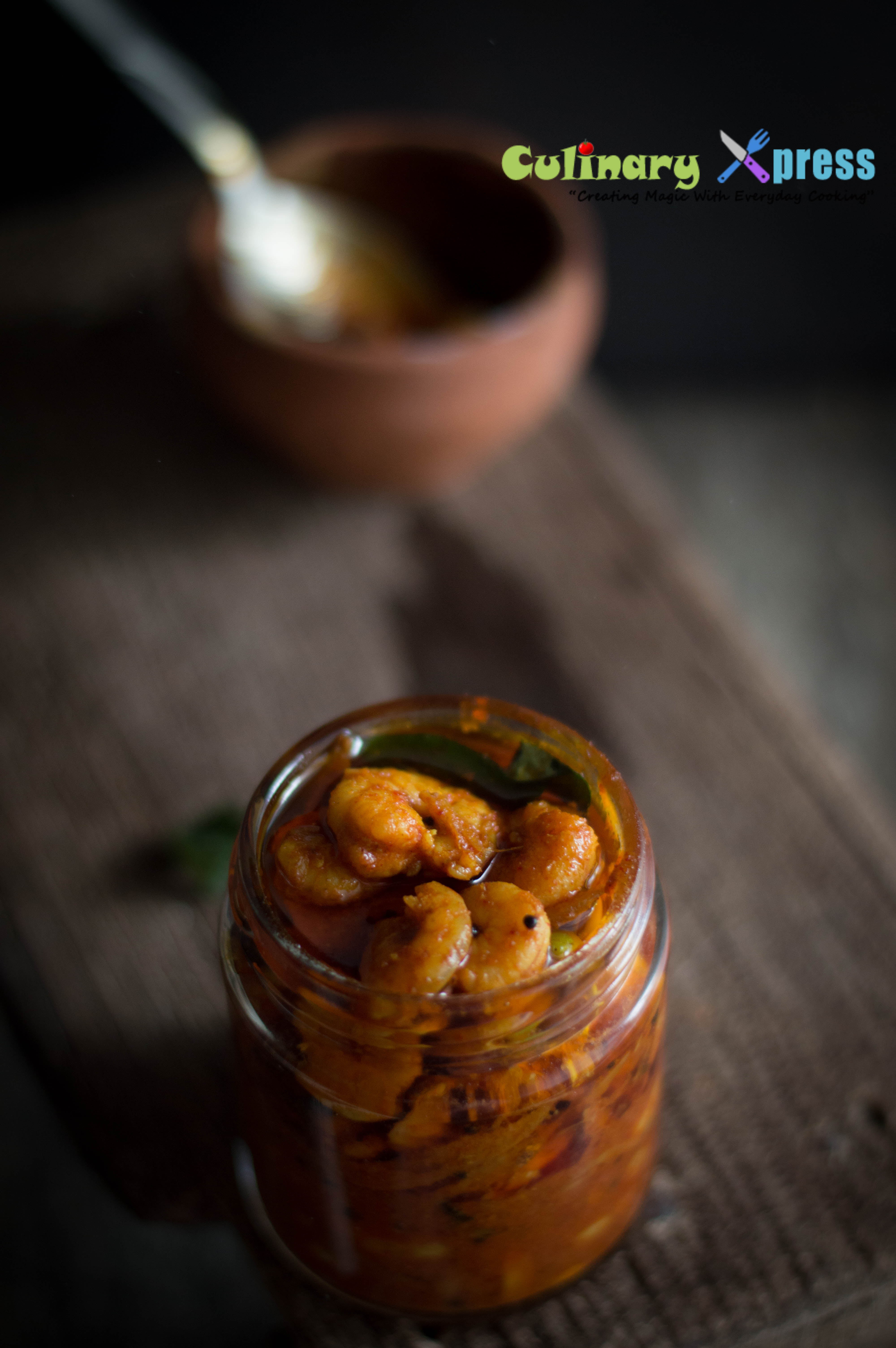 (Visited 237 times, 1 visits today)