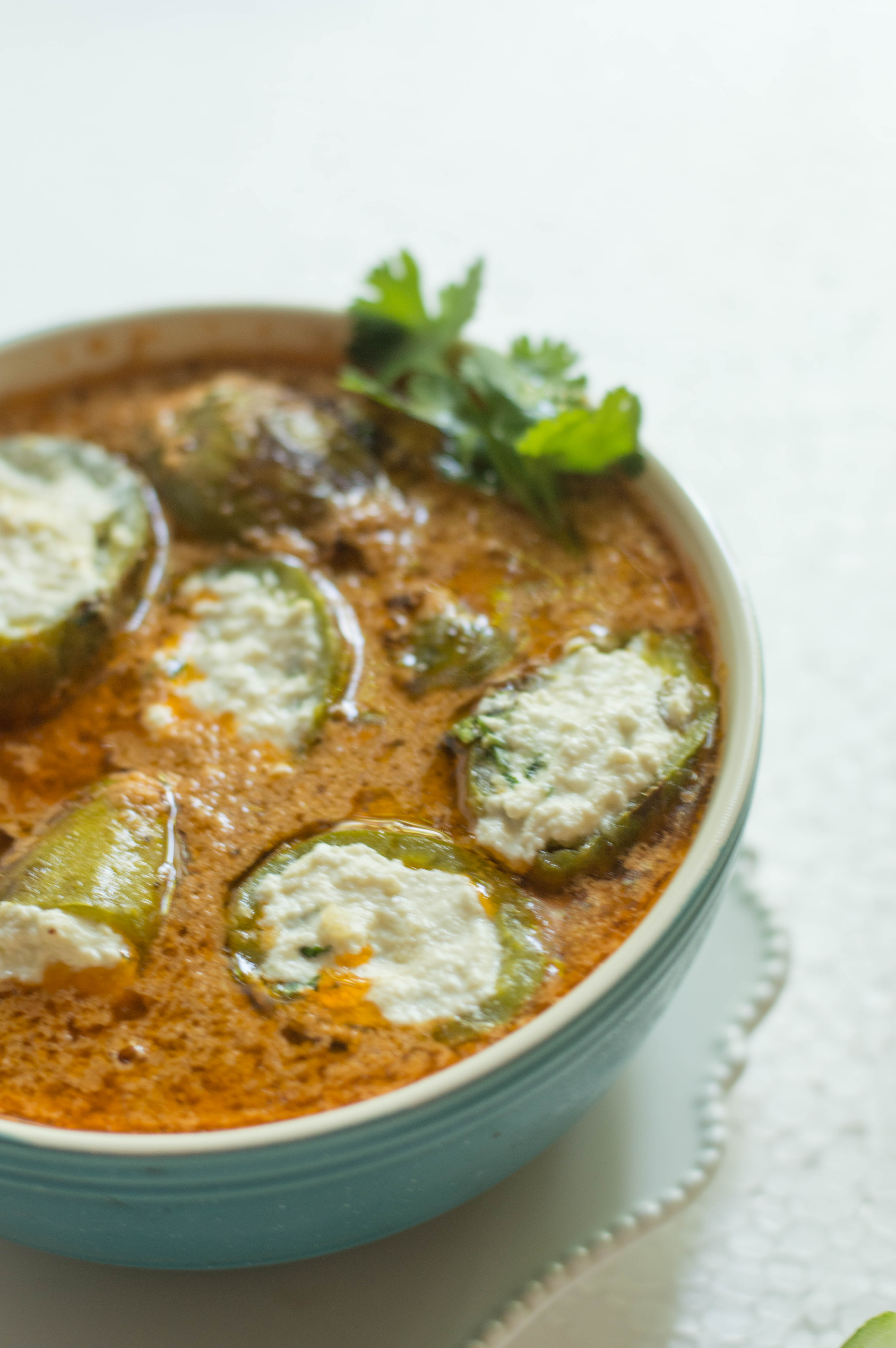 Cultivated in the eastern states of India particularly Odisha, West Bengal, Assam, Bihar, Uttar pradesh, this vine plant similar to cucumber with heart shaped leaves produces a fruit green with white stripes known as Pointed Gourd or Parwal in Hindi, Potal in Odia, Assamese, Bengali and Sanskrit, Parwal in Bhojpuri, Urdu ans Awadhi. Coloquially it is also known as green potato. This humble vegetable is found in almost every Indian household and cooked on a regular basis as it is easily available throughout the year, easy to cook and most importantly comes a little cheaper than other vegetables.
But do you know, the presence of Vitamin A, B1, B2,C and Calcium makes it not only nutritious, it also helps in lowering Cholesterol and considered as the best Ayurvedic medicine to cure gastric problems, purify blood , enhances digestion and stimulates the liver. Coming back to Parwal or Potala , many dry and gravy dishes as well as sweets are also made from it. Dishes made from Potala occupies a very special place in the Odia Thali in the form of Bhaja(Stir Fry), Dalma, Potala Kassa, Dahi Potala, Stuffed Potala, Potala Rasa to name a a few.
 Like any other children of his age, my son also gives me terrible look if I cook this vegetable more than once in a month. But looking at the benefits of this vegetable, I found a way to make it likable by my son. He is a die hard Paneer fan and vegetables are not his favorite , I decided to combine the two and give a classic twist to a very popular odia recipe which is made without onion and garlic – Potala Rasa.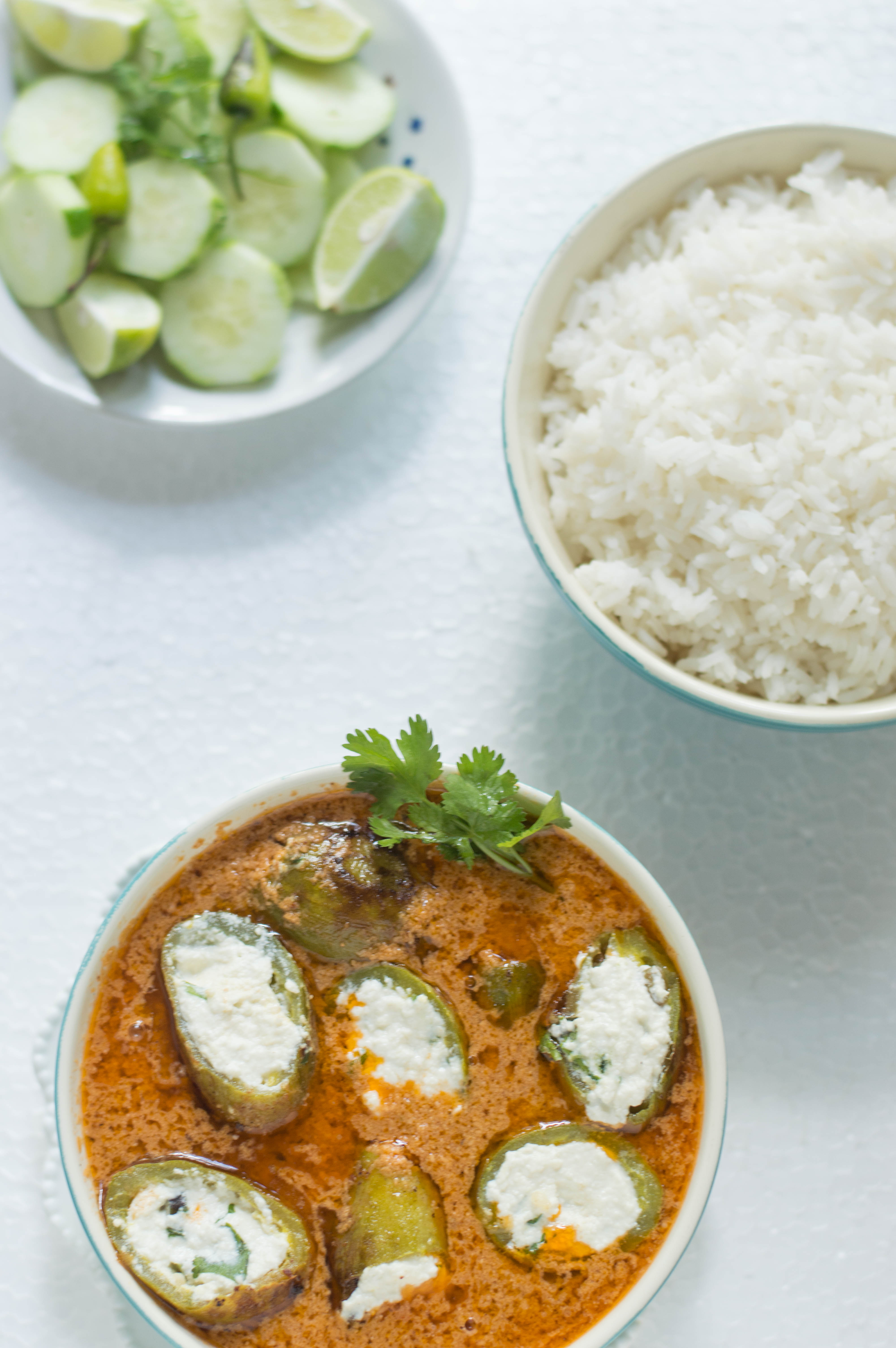 Potala as you all know is the Odia name for Parwal or Pointed Gourd and Rasa means gravy. In this recipe, Parwal is cooked with coconut , poppy seed and cashew nut gravy and all spices to give the dish a rich feel. This curry is mainly made during religious festivals when the uses of onion and garlic food is prohibited. The stuffing makes it resistible for kids to say no to this.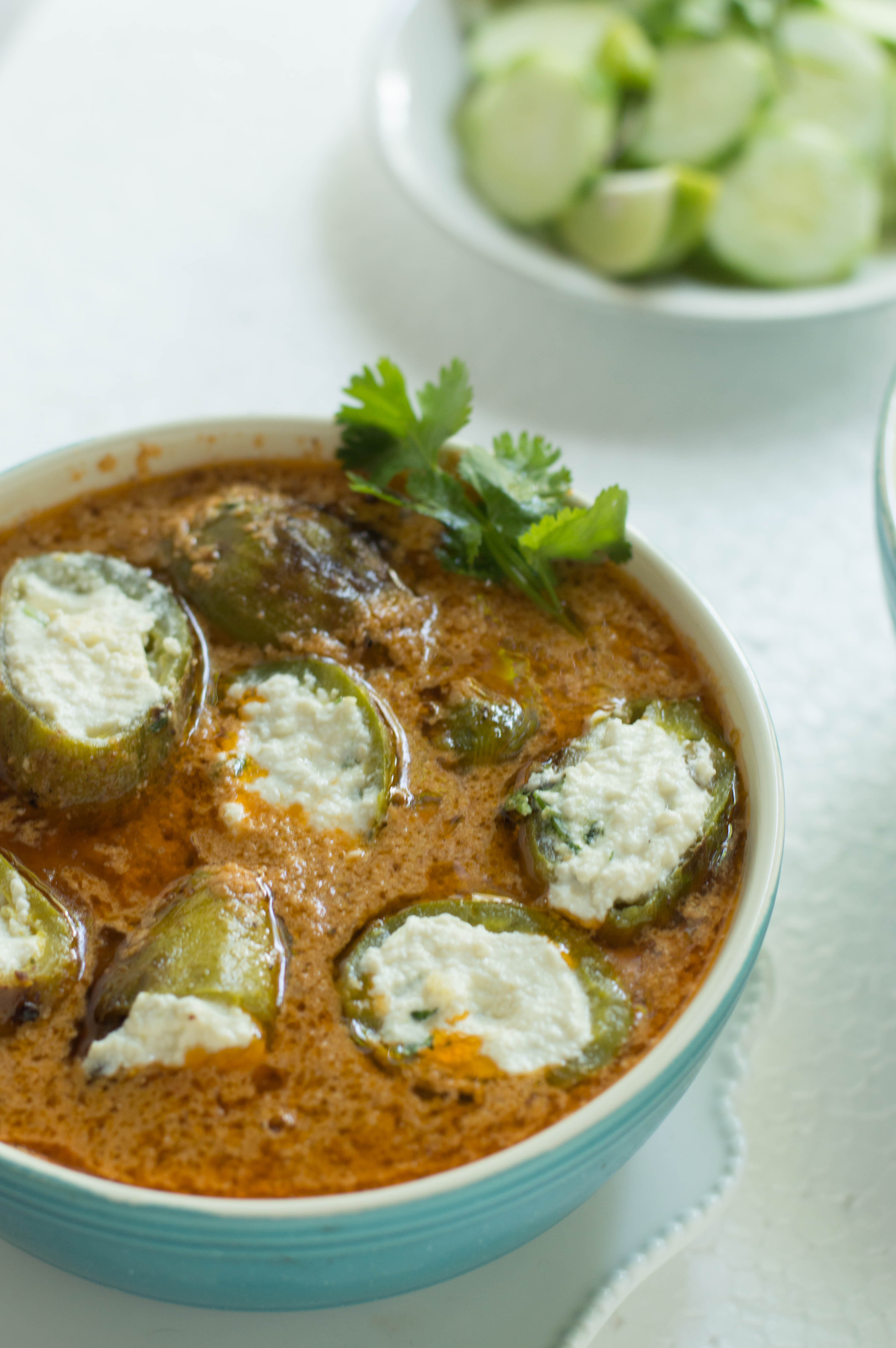 (Visited 838 times, 1 visits today)
| | |
| --- | --- |
| | |
Soak the poppy seeds, cumin seeds and cashewnuts in hot water for 30 minutes.

Grind the cumin seeds, green chillies and ginger to a smooth paste.

Grind the poppy seeds,grated coconut, cinnamon, green cardamom ,cloves, cashew nuts and make a smooth paste out of it.

Boil the Tomatoes for 10 minutes and let it cool. Once cool. remove the skin and grind to a smooth puree.

Wash and clean the parwals. Scrape the whole skin of the parwals with a knife. cut one tip a little, right from the edge and the other tip a little bigger, so that we can scoop out the seeds from inside. Rub with a pinch of salt and keep aside for 5-10 minutes.

Prepare the filling by mixing together crushed paneer, green chillies, raisins, black pepper powder, salt and coriander leaves and keep aside.

Heat 1 tbsp oil in a pan, fry the parwals or potals until lightly brown from all sides, keep aside. When parwals are cooled, stuff each one with the prepared filling. Carefully fill the parwals using your finger and try not to break them.Keep aside.

To prepare the gravy, in the same pan, add a little more oil and once hot, add the bay leaf and the cumin seeds and once it starts to splutter add the ginger , cumin and green chilli paste to it. Saute till the raw smell of ginger vanishes and add the tomato puree to it along with turmeric powder, salt and chillipowder and saute till the tomato is cooked and oil starts to leave the sides of the pan.

Now add the poppy seed, cashewnut, coconut paste to it and fry for a couple of minutes, you will notice the gravy will become thick, add the stuffed parwals to the gravy along with 1/2 cup water and simmer for 5 to 10 minutes or till you find the required amount of gravy. If needed you can add more water also.

Remove from heat and sprinkle some coriander leaves and serve with roti, paratha or rice.

NB: When you add the stuffed parwal to the gravy, lower the heat and gently stir so that the stuffing remains intact.

While serving you can serve it as a whole or can cut the parwals in diagonal shape and serve.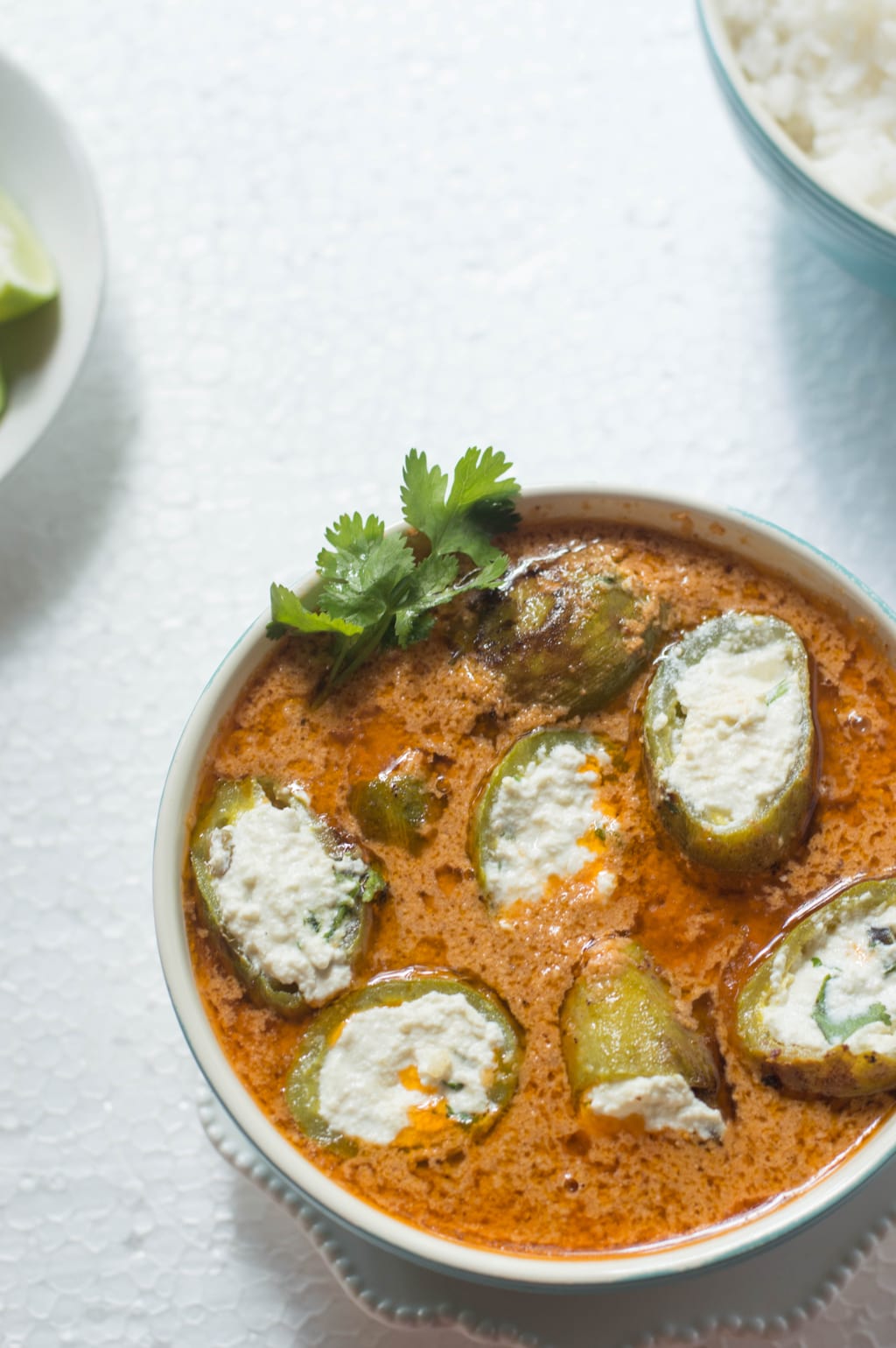 Sending this to our 59th Foodie Monday BlogHop theme called #stuffed Vegetables.