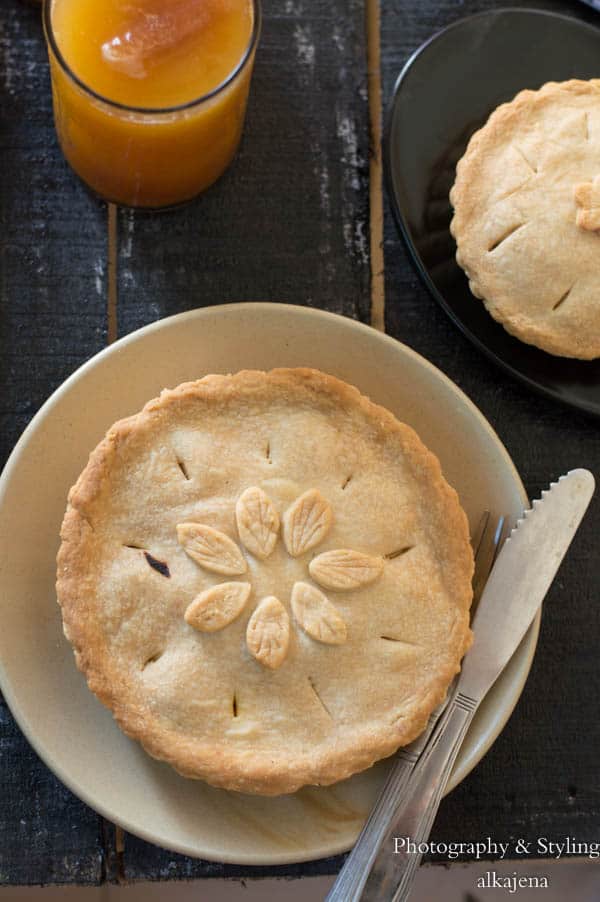 It was a pleasant surprise when I receive a request from Shaheen Ali of https://www.spoonforkandfood.com to do a guest post for her. She is a huge inspiration for me because of the way she manages her Blog. Despite being in neck deep in work, I managed to finish this post because I really wanted to be at her Blog. You have to visit her blog to believe what I say here. Shaheen isnot only a gifted food blogger who masters the art of articulating food, but also a very talented food stylist and photographer.
I am truly fascinated by her Baking skills and her creativity at that. Do check out the BLACK FOREST CAKE, VANILLA SPONGE CAKE WITH DDL FILLING AND FRESH CREAMFROSTING, BRITISH BATTENBURG CAKE, FLORAL FONDANT CAKE, WATERMELONCOSMOPOLITAN, PINK LEMONADE, BLUE LAGOON (NON – ALCOHOLIC), POMEGRANATELEMONADE to name a few.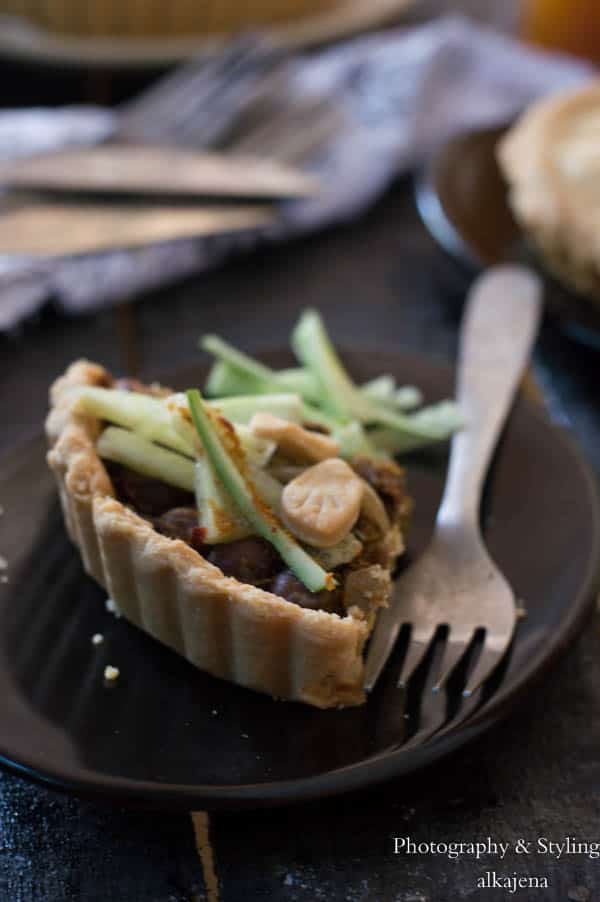 Now coming back to my dish, I just love leading a simple, hassle fee and laid back life  and sometimes the simple pleasures of life can be found in simple recipes which are close to our heart. Chickpeas are one ingredient which I can go on about making a lot of varieties with. I have decided to make a pie out of it which can be best enjoyed with some salad and fresh juice. That's it as simple as that.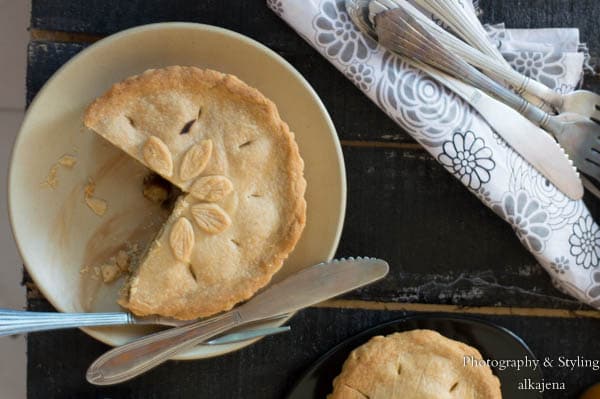 A pie is a baked dish containing a filling of various sweet or savory ingredients which is usually made of a pastry dough casing that covers it completely. The first thing that comes to our mind is the sweet, fruit-or-custard-filled pastry when you think of pie. But all pies need not necessarily be sweet. Savory pie is one of the all-time hit food with me and my family. Whether eaten in small slices for a snack or as a main course, this vegetarian pie is awesome and satisfying. When it comes to a Quick Brunch,savory pies take the lead.
Ingredients
· 500 gms
all-purpose flour
· 220 gms
butter, chilled and cut in ½ inchs cubes
· 4 – 5 tbsps
ice cold water
Let's learn how to do this recipe:
Steps
·Rub the cold butter with the all purpose flour till it resembles coarse crumbs. Add ice cold water little at a time and using your fingers, mix very gently to bring the flour and butter mixture together to form dough.
·Divide the dough in 4 parts and wrap each portion of the dough with cling film very well and freeze it for 30 minutes.
·Preheat the oven to 160 degree and Grease the tart pans.
·Take out 2 of the dough, place it between two parchment papers and roll it gently to form a circle with a thickness of about 1/4inch depending upon the size of the tart shell you require. Carefully place the rolled pastry onto the tart pan and trim the edges of excess dough. Now fill the tart with kidney beans and bake the tart crust for 20 to 25 minutes.
·Once done, allow it to cool for few minutes and very carefully remove the pie weight.
·You would yield 6 pie shells out of this.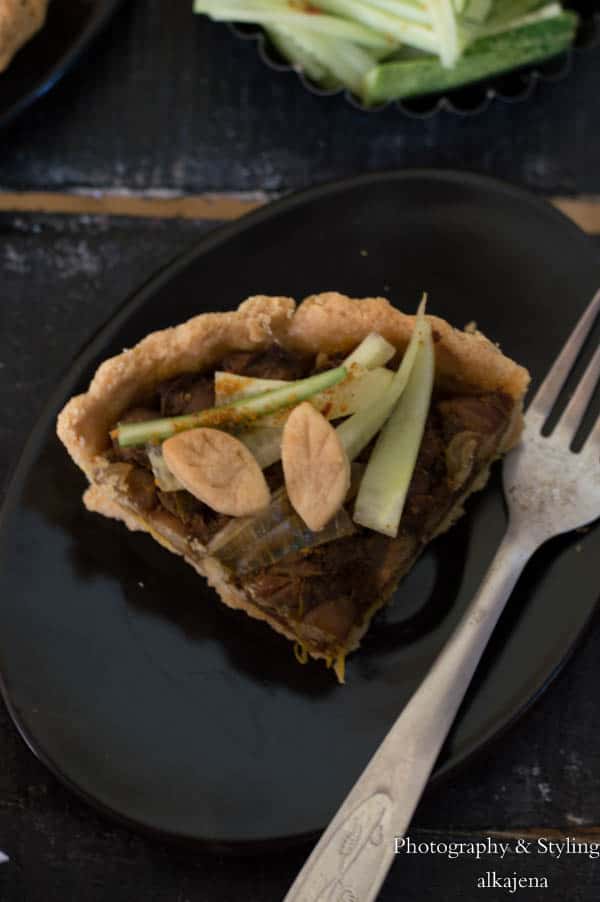 Spiced Garbanzo Beans
Ingredients
· 1 cup
dried white Garbanzo Beans
·water for pressure cooking
for making the gravy:
· 1
large onion, finely chopped
· 3
medium to large tomatoes, finely chopped
· 1.5 tsps
ginger garlic paste
· 2 to 3
green chilies, slit
· 1 tsp
garam masala powder
· 2 tbsps
chopped coriander leaves for garnish
· 1
medium onion, thinly sliced for garnishing
Steps
·Soak 1 cup dried white Garbanzo Beans overnight in water. Drain and rinse them. Pressure cook the Garbanzo Beans, black cardamoms, cinnamon, cloves and bay leaves along with tea bag and 3 cups water till the beans have softened and completely cooked.
·Heat 3 tbsp oil in a pan. Add ginger garlic paste and slit green chilies. Saute till the raw aroma of ginger-garlic goes away, then add chopped onions, stir and saute the onions on a low to medium flame till they turn golden.
·Then add chopped tomatoes and add the red chili powder, cumin powder, coriander powder and mix very well and saute till the tomatoes become mushy and you see fat releasing from the sides of the masala. Now add the cooked Garbanzo Beans and  stir very well.
·Add the dry mango powder and ½ cup stock or water. Check the seasoning and stir very well and simmer the Garbanzo Beans till the gravy thickens. Mash a few beans which helps in thickening the gravy.
·Simmer for about 12 to 14 minutes on a low to medium flame and lastly add 1 tsp garam masala powder. stir and mix very well.
·Preheat the oven to 180 degree. Take out 2 of the dough, place it between two parchment papers and roll it gently to form a thin circle out of it. Carefully place the rolled pastry onto the tart pan and trim the edges of excess dough. Make some patterns with the help of a cookie cutter and place them on the pie shells. mark some incisions with a sharp knife in few places of the coved pie shells.
·Bake in a preheated oven for 20 to 25 minutes or till you see the top becoming golden brown.
·Serve it with a salad of your choice and enjoy this treat with a fresh glass of mango juice.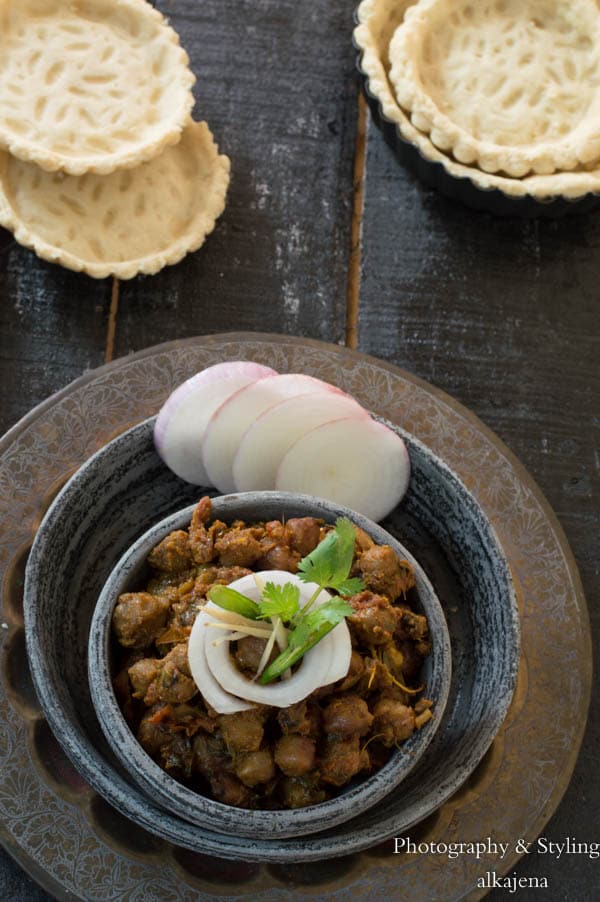 (Visited 86 times, 1 visits today)