(Visited 1,285 times, 1 visits today)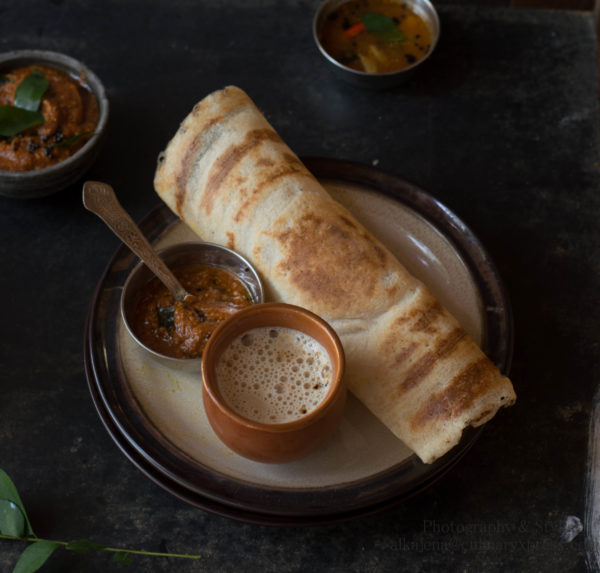 | | |
| --- | --- |
| | |
Wash rice and dal separately for 2-3 times and soak them in a separate bowl with required water. Soak fenugreek seeds separately. Cover both the bowls with a lid and soak up to 3-4 hours in a warm place.

Now add the fenugreek seeds, cooked rice to the soaked rice and grind in a mixer or grinder and make smooth batter/paste using little water . If you find it difficult to grind, try it in small batch. Do not make the batter of thin consistency, make thick but it should be able to pour smoothly. Remove it into the big vessel or big mixing bowl.

Grind urad dal and make smooth paste using little water. Add grinded urad dal paste into the rice batter, stir it, mix it well, cover it and keep aside in warm place for 6-7 hours or overnight till fermented. Mine took 24 hours to ferment properly.Before making the Dosa, add salt.

Heat an iron griddle on a wide burner to make dosa. Take the prepared batter mixture and mix it well with ladle or big spoon.

Now grease the griddle with half of a onion or potato with few drops of oil, then sprinkle few drops of water over the griddle, and if you can see the water sizzling and evaporating immediately, then your griddle is ready for making Dosa.

Pour the big full spoon of mixture over the center of griddle and spread the batter with circular motion and make thin big circle shape dosa.

Spread 1 tsp of oil or ghee on the edges of the dosa and cook it till golden brown, crispy down side. Now fold over while pressing it lightly, using a spatula to make a flat roll, repeat with the remaining ingredients to make more dosa.

Serve hot, crispy dosa with sambar, chutney and some steaming hot coffee.
 If you do not have a iron griddle, you can make dosa in a nonstick pan. The only thing you have to keep in mind is to heat the pan in medium heat and once hot, sprinkle water in it and bring the gas to a low flame to balance the temp. Then pour the batter and you can easily spread it. Do not apply oil on the pan if you are using non stick cookware.
This recipe is going to be part of our this week's Foodie Monday Bloghop theme #SouthIndian Breakfast recipes.