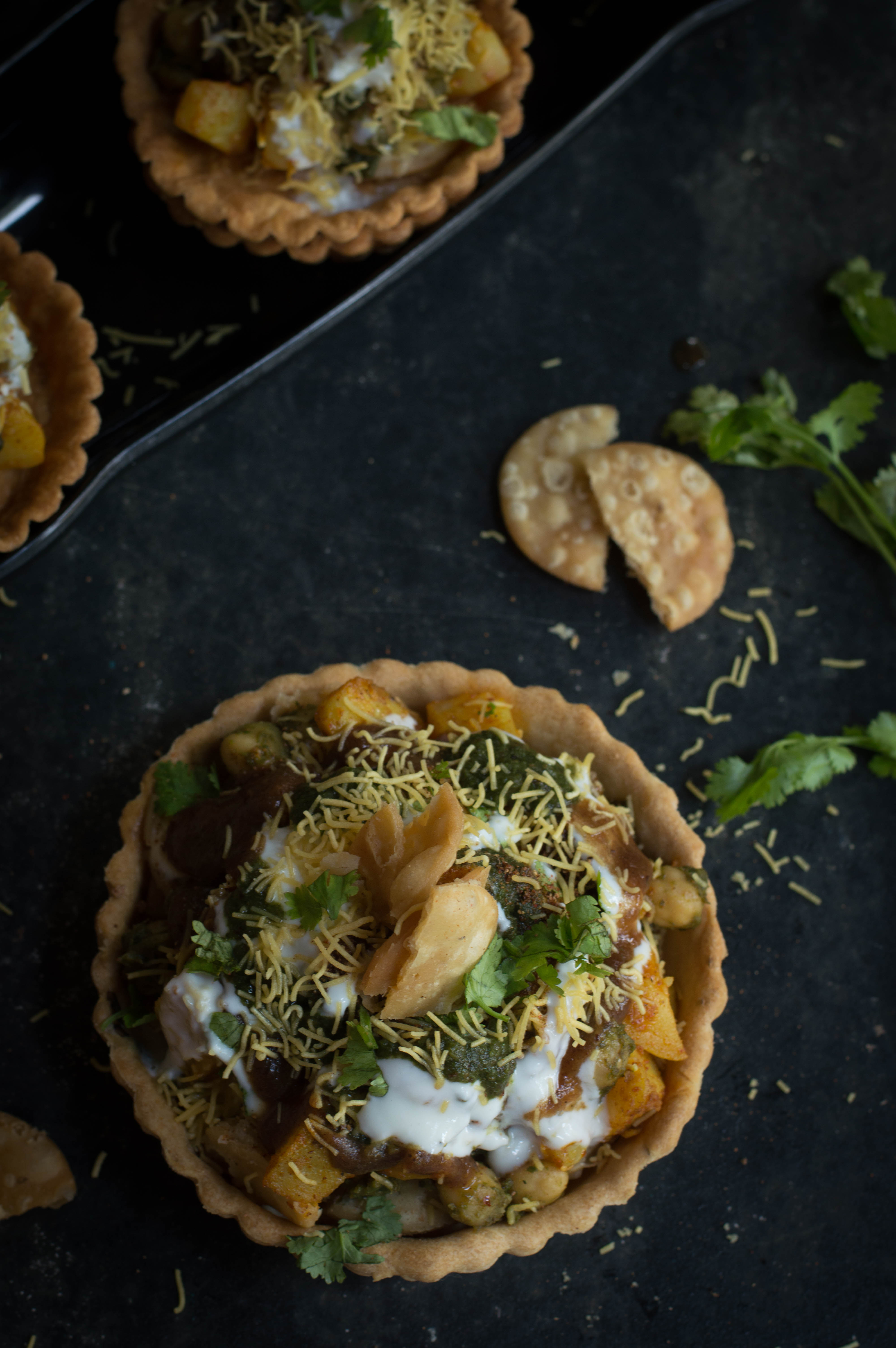 The one word on the tip of every tongue when we pass through a busy roadside food stalls is the favorite street food of India – Chaat, the mouthwatering sweet , savory, creamy and crunchy snack that has kept people from all walks of life satisfied for ages. In India , Chaat is not a snack, rather it is a way of life, which can be enjoyed anytime, be it breakfast, lunch or dinner.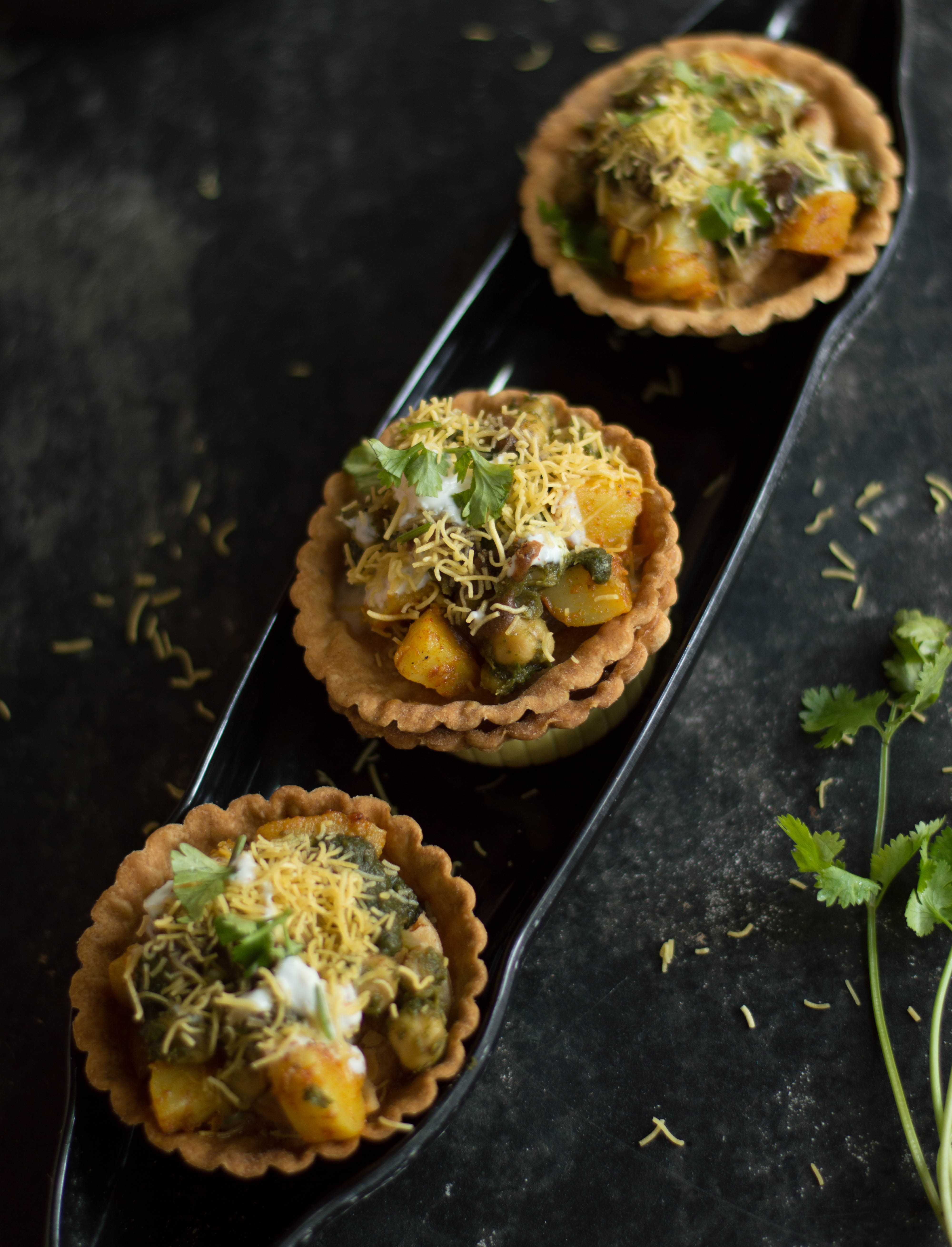 No Indian can resist this favorite street food loaded with crunchy savories, mouthwatering chutneys, Peppy spices and lip smacking veggies on a single plate that can be shared with family and friends. In a country like India with so much of regional culinary variation, Chaat has retained it's position of a common binding factor across religion and communities.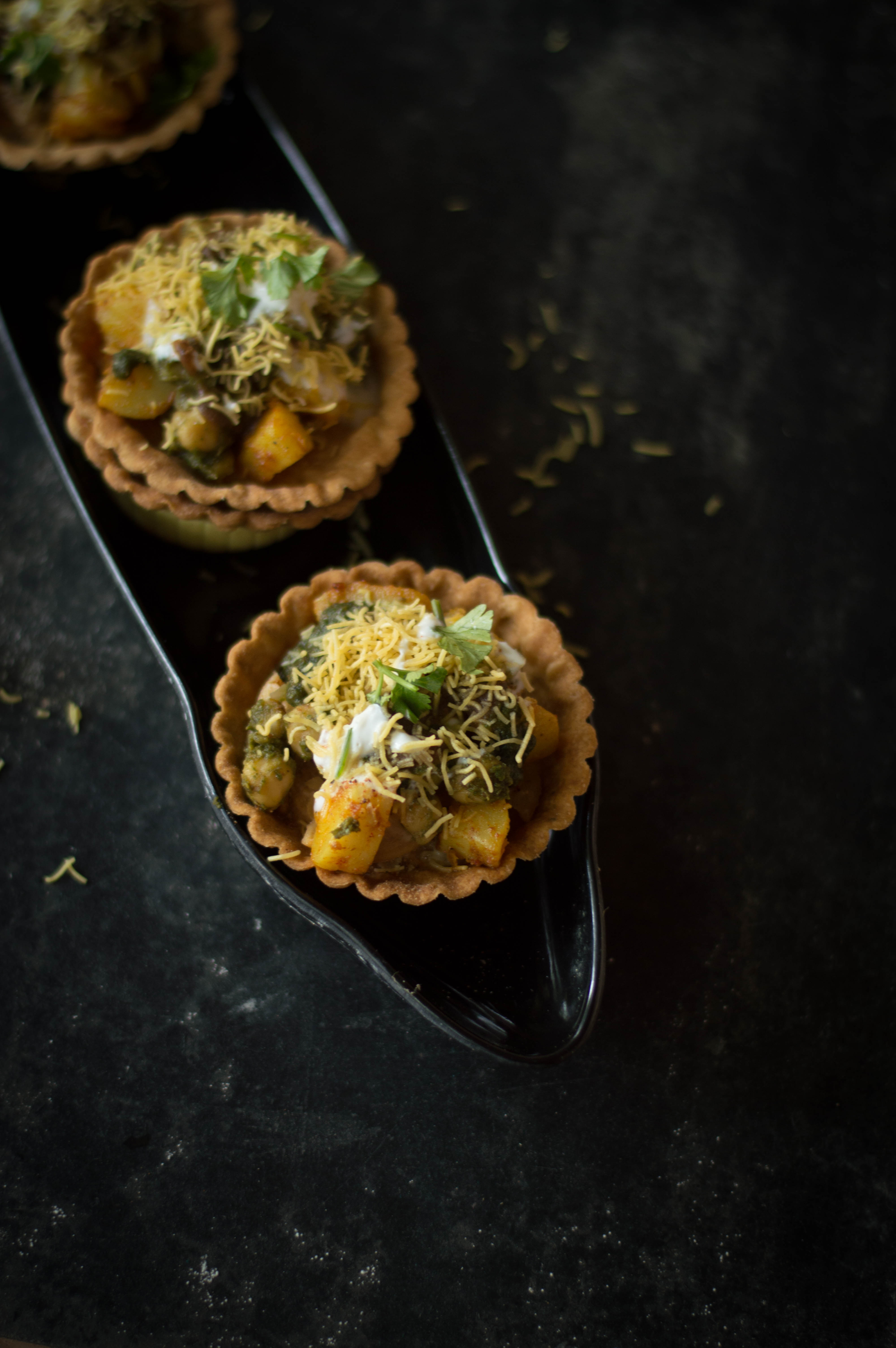 However, out of all Chaats, the crunchy, tangy, hot and sweet flavour of the papdi chaat is the all time favorite of mine. Crispy Flat puris or Papdis topped with cheakpeas, potatoes and other sprouts and flavored with spicy green chutney and sweet and sour tamarind chutney , curd and garnished with crispy sev is delicious to eat as a snack or an alternative to a full meal. You can feel the burst of flavor in your mouth as you bite into the crunchiness of the Papdi, sweetness of the yogurt, tanginess of the red chutney, spice from the green chutney and the heavenly flavor of the homemade chaat masala.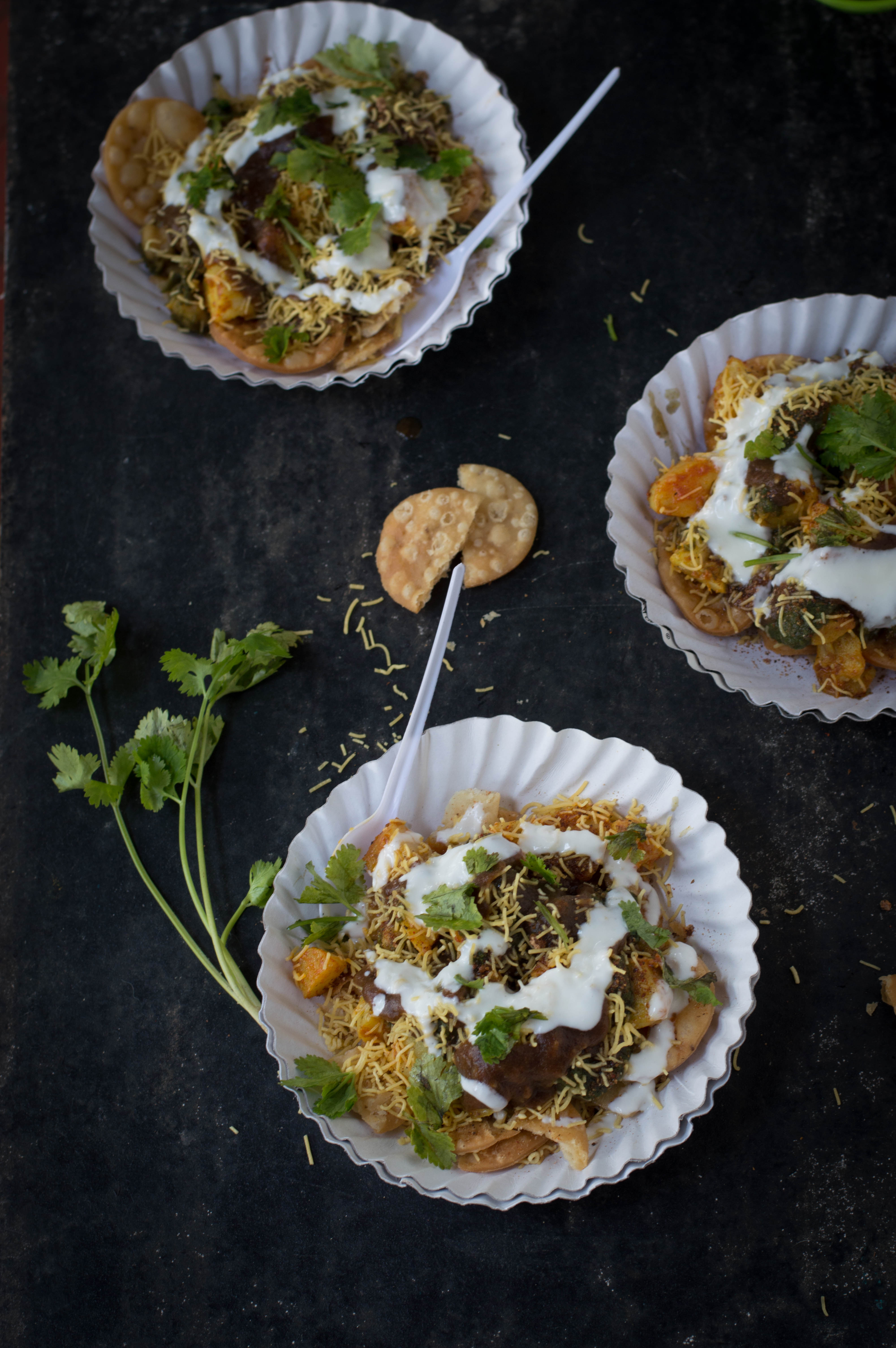 This chaat is easy to assemble once you have all your ingredients in place and is made quite often in my place because home made chaat is any day better and hygienic than it's counterpart available in the street. I have used baked papdis and sweet potatoes which many feels a very boring vegetable along with potatoes and read how I transform the the humble sweet potato and potato into a mouthwatering Papdi Chaat. The Papdi Chaat has five essential component to it, the Base which is made of APF and baked , the vegetables which add texture to it, the sauce i,e the cilantro- mint chutney and tamarind -dates chutney provides the spicy, tangy, sweet element and the thin sev lends the much needed crunchiness on the top.
(Visited 279 times, 1 visits today)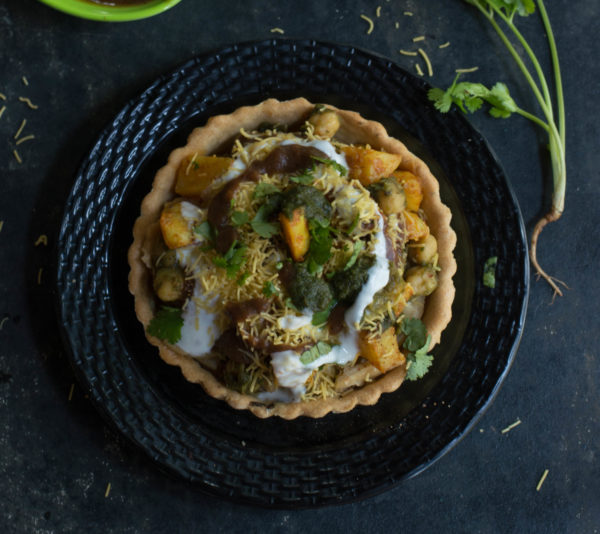 | | |
| --- | --- |
| | |
Take all purpose flour, salt, ajwain in a bowl, add oil and rub the oil and flour using your fingertips till everything is mixed well and you get a crumbly texture like bread crumbs.

Start kneading the dough by adding water little at a time to make a smooth, tight and firm dough. Cover it and let it rest for 15 minutes.

Preheat the oven at 200 degree for 10 minutes.

After 15 minutes, knead the dough once again and make lemon size balls out of it. Take a ball and flatten with the help of a rolling pin and make a big circle which should not be too thick or thin.

Prick the entire surface using a fork which prevent the papdi from puffing while baking.

Grease a tart mould and transfer the rolled out papdi to it . Take out the excess dough and repeat the process for rest of the dough.

Now fill the Tart Moulds with beans and blind bake it for 15 minutes on 200 degree . Take off the fillings and continue to bake for another 3 to 5 minutes.

Dry roast the cumin seeds, black peppercorns, cloves, dried mint leaves, ajwain and asafetida powder in a pan and remove from heat ,add rock salt and grind while still warm. Mix rest of the ingredients, cool and store in a bottle.

Rinse the coriander leaves and the mint leaves well in water and roughly chop them.

Add the chopped mint and coriander leaves, green chillies , ginger, cumin powder, chaat masala, lemon juice and salt in a grinder ,add 1 or 2 tsp water and grind to a smooth chutney.

Add very little water at a time to make a thick chutney.

For the tamarind Chutney:

Soak tamarind and dates separately in water in a bowl .

Squeeze out the pulp from the tamarind and strain the pulp and keep aside.

Grind the dates to a fine paste and keep aside.

Heat oil in a pan, add cumin seeds and let them crackle, add ginger powder, red chili powder, asafoetida and stir in the strained tamarind pulp and cook for 2 to 3 minutes.

Add the dates puree, salt and cook further for 4 to 5 minutes till the chutney thickens.

Add the boiled potatoes and sweet potatoes in a bowl and add salt, chilli powder, oil and cumin powder to it. Bake in a preheated oven at 200 degree for 15 minutes or till you notice a crisp outer coat to it. Switch off and keep aside.

In a bowl, transfer the boiled chickpeas along with some salt and some green chutney and mix everything well. Keep aside.

For assembling the papdi Chaat:

Take a Papdi tart, add some baked sweet potatoes and potatoes along with the chickpeas.

Add generous amount of curd over it. Add the green chutney top with the tamarind chutney, sprinkle the chaat masala and garnish the papdi chaat with thin sev and chopped coriander leaves.
Sending this Chaat recipe to our 60th Foodie Monday BlogHop theme of #Chaat recipes