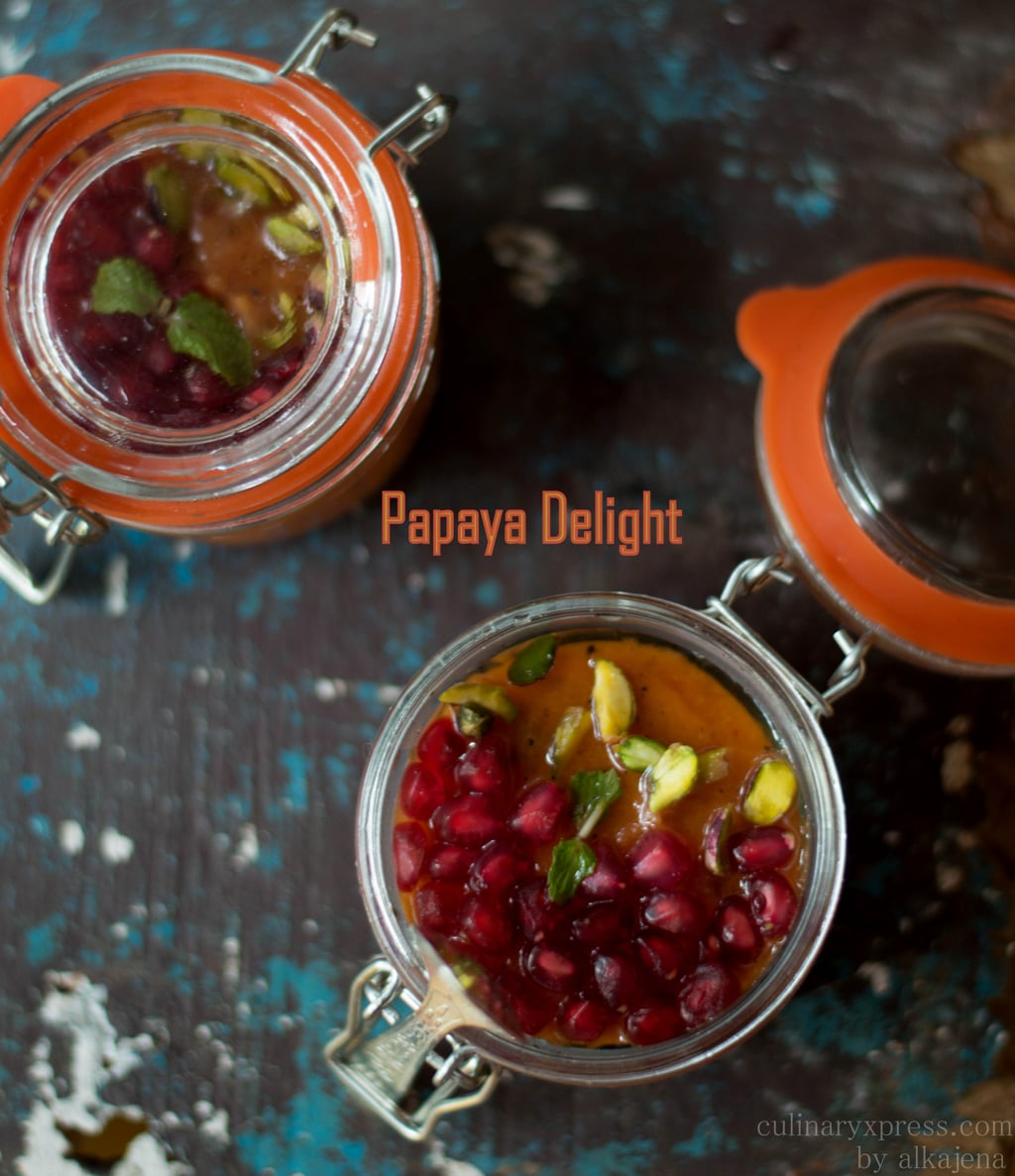 As I start writing for this post, I must tell you I am feeling relaxed, fresh and energetic after a nine day celebration of Navratri with a diet of no onion and garlic and eating lots of fruits and vegetables, salads . I love this detoxification period of the year when I allow my body to shed a good amount of toxins , I gathered during the year. It also makes me open up my mind to try various combination of flavors, textures in my food and experiment with certain fruits and vegetables which I would have never thought of using the way I did it during this nine days-PAPAYA, a vegetable when used before ripening, and a fruit once it's ripe.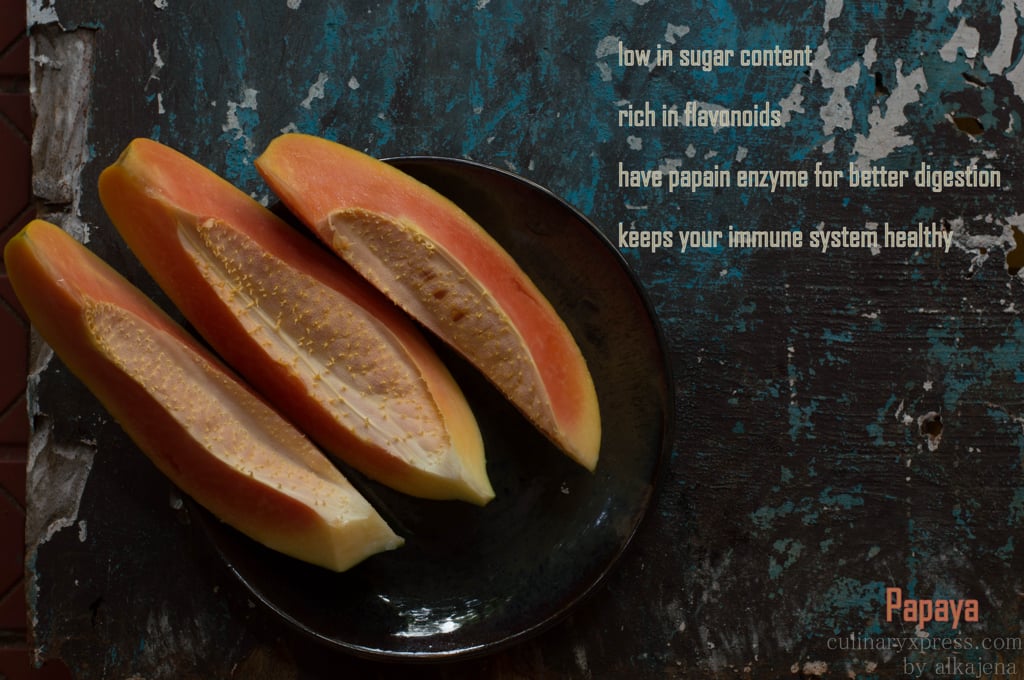 Papayas are used in both raw and ripe forms to cook a number of dishes. Papaya is fortified with powerful antioxidants , contains dietary fiber, copper, folate, pantothenic acid, magnesium, vitamin A, vitamin C, riboflavin, and thiamin. Papaya is mainly used to make halwas, smoothies, pachdi or eaten raw in India. Green papaya is the best agent to tenderize meat and is extensively used in the making of Kebabs and meat-based curries . The possibility with cooking with Papaya is versatile. You can make salads, fruit pies, smoothies, juice or even a salsa out of it. Because of it's numerous health benefits, papaya is one of the best fruits you should be eating more.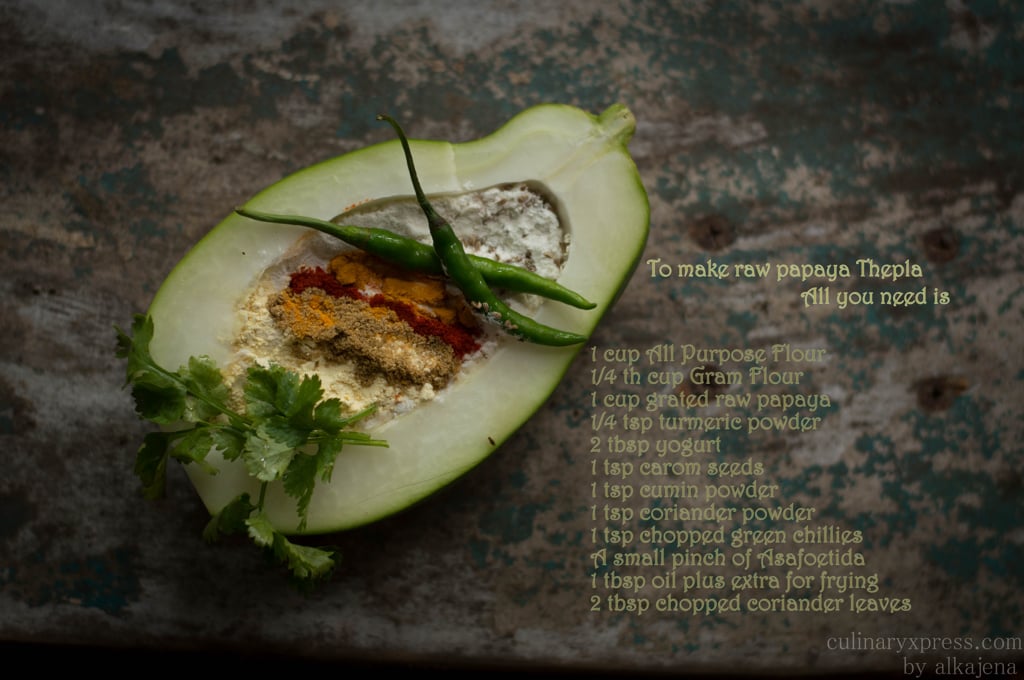 But with a kid like mine, who is so sweet and clever that he will sweet talk you not to eat anything made with Papaya , be it raw or ripe ,makes my life a little tough as how to make him see the importance of having it in our diet. He loves his food and I come up with a way to feed him Papaya which he avoids without his knowledge and both the dishes I made one savory and one dessert has passed with flying colors. The biggest motivation was when he says can you make it one more time for me Mom. I smiled and said yes I can.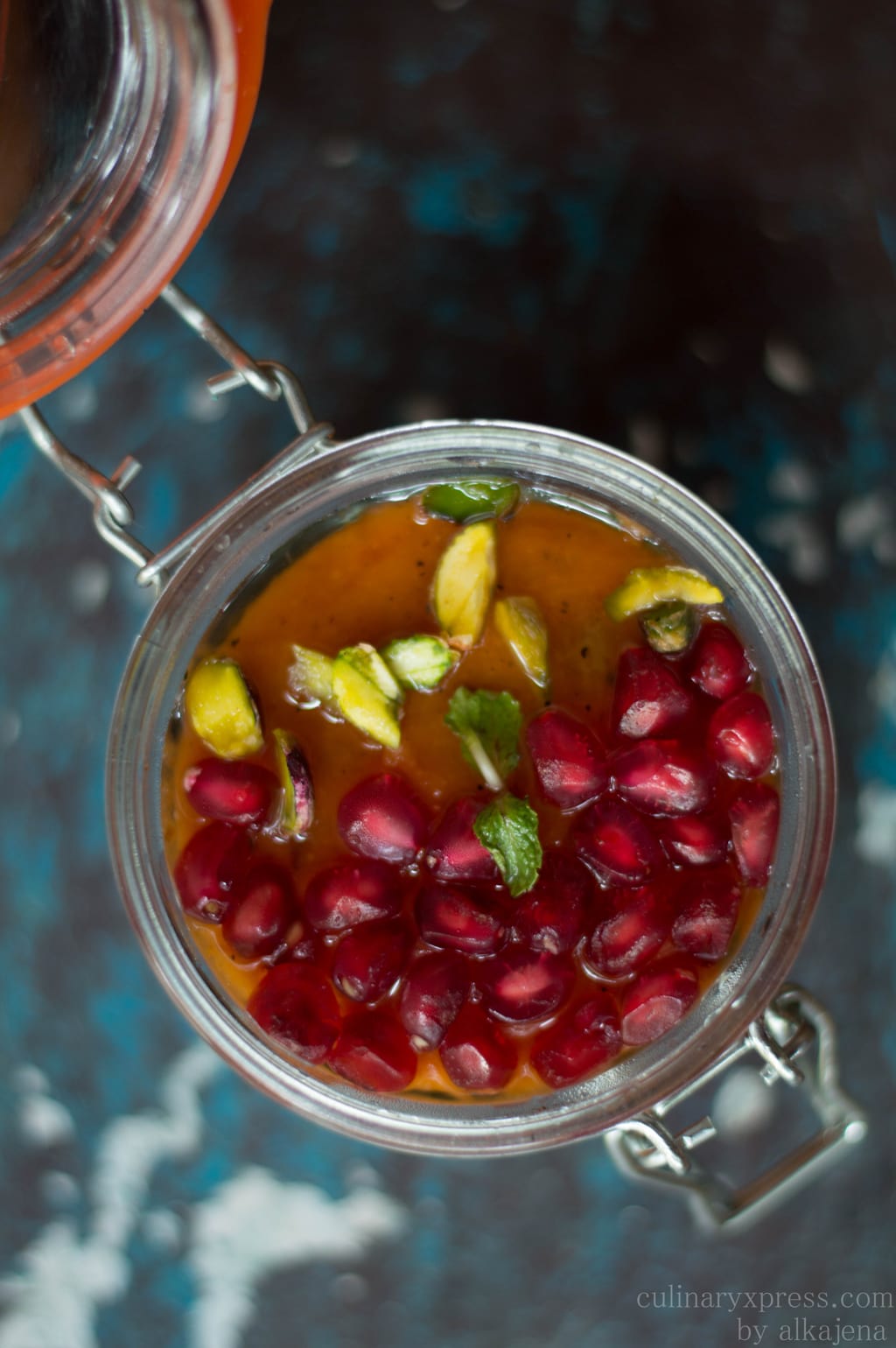 Desserts play a very major role in any festivities and when it comes to Durga Puja, it's an everyday affair. But with desserts comes this guilt of putting some extra weight which keeps us away from even trying it. Apart from this, when the whole house is filled up with guests and you can feel the festivities around , you need something simple yet exotic dessert to serve to your family and friends and still have some time to sit , chat and enjoy this dessert with them also. If you find yourself in a situation like mine,then your search should end here with this no cook exotic papaya dessert which tastes absolutely refreshing and lovely.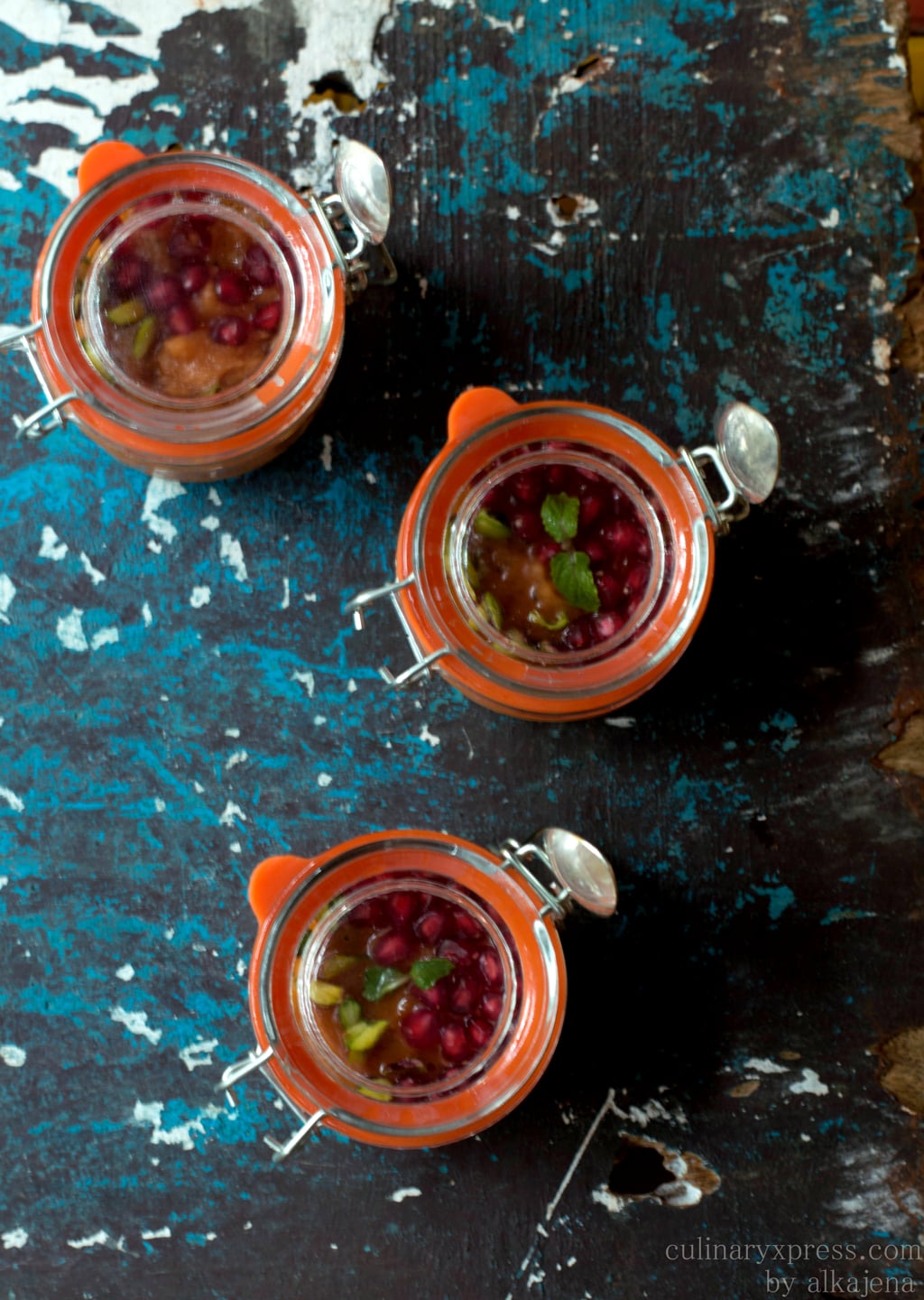 You need to try this dessert yourself to see how papayas can be made into such a delicious dessert extravaganza. The Papaya is mixed with almonds and dates and then set in the fridge to relish later with pistachios and pomegranate.

(Visited 270 times, 1 visits today)
| | |
| --- | --- |
| | |
Wash and cut the Papaya and remove the seeds. Peel and cubes it.

Put the almonds in some hot water to remove it's skin.

Place, papaya cubes, almonds, dates ,salt into a blender and blend till your mixture has a smooth consistency.

Add nutmeg powder to it, check the seasoning and pour into small jars to be chilled in the refrigerator till you want to serve it.

After 1 or 2 hour , you will notice the papaya has set in perfectly because of the presence of almond paste and dates puree in it.

Before serving, add some pomegranate seeds and pistachios on top.

Pour some honey over it and serve with some fresh mint on top to your guests.
This super healthy dessert is going to be part our 61st Foodie Monday Bloghop theme of #Navratri recipes. Have a look at what I cook for the last 9 days during Navratri. The detailed recipes is given in the link.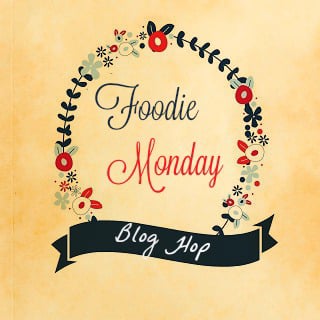 1. Curd Rice: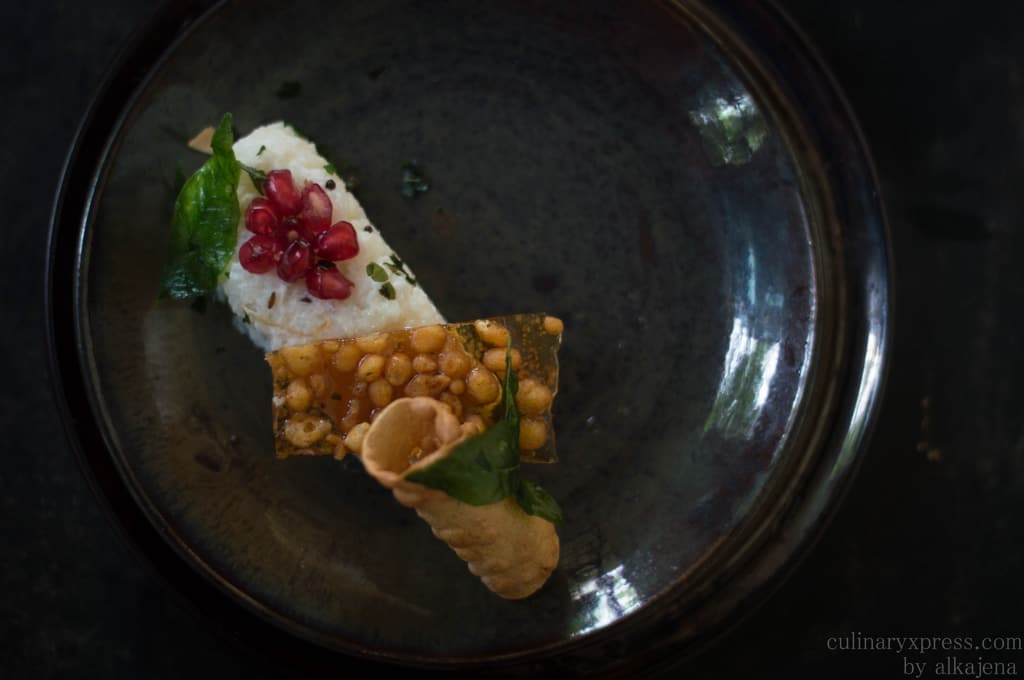 2. Paneer Matar