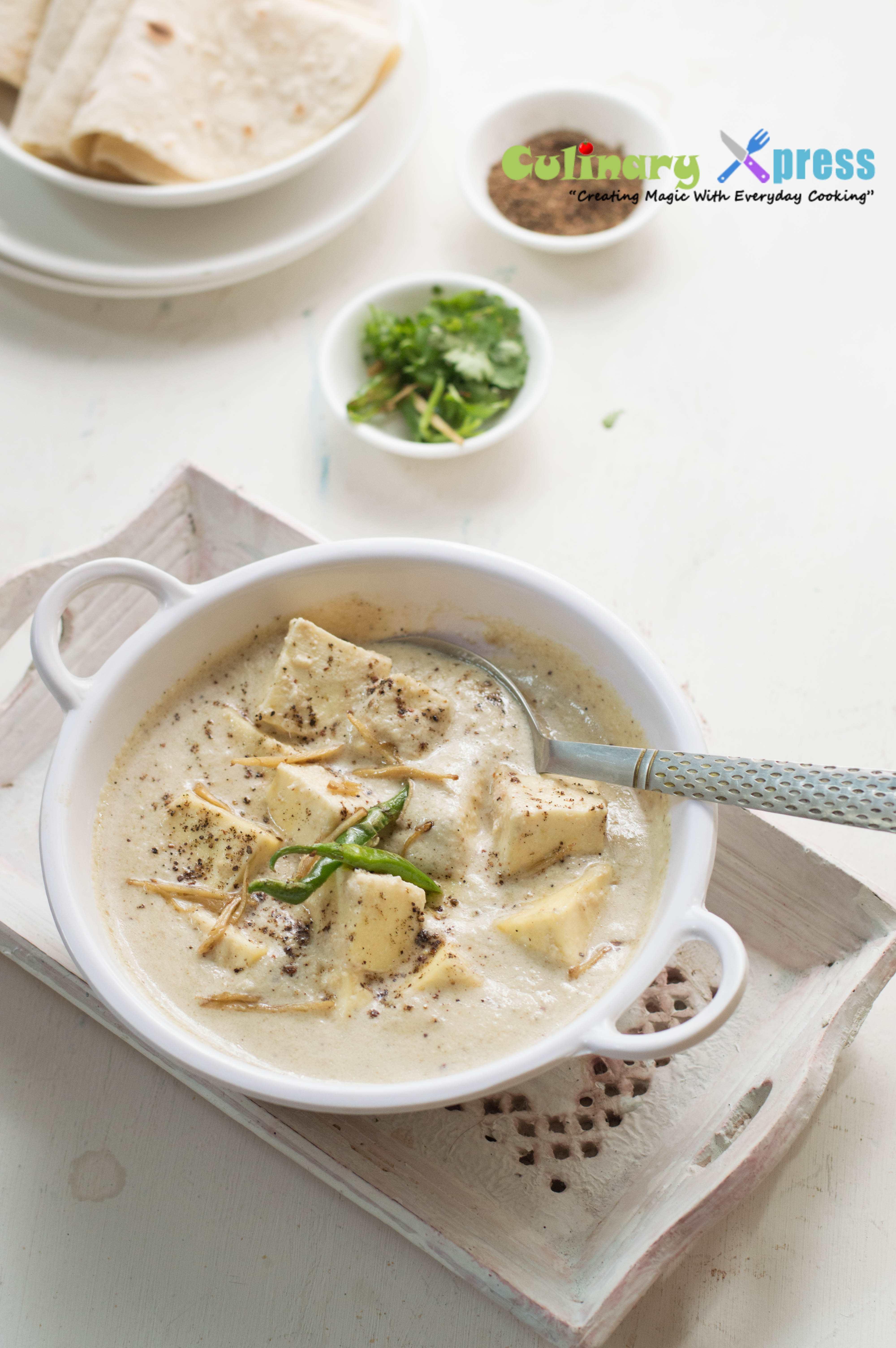 Paneer Kali Mirch is made using a combination of all spices, yogurt and fresh cream. This gravy is a typical north Indian recipe which is a lip smacking dish for all veggies as well as paneer/cottage cheese lovers. Paneer coated with all the masalas and cooked in fresh cream gives a rich and authentic texture to this side dish. Paneer cubes coated in fresh cream, cashew-onion paste and loaded with the zesty flavour of freshly ground black pepper makes the curry  irresistible that goes well with roti, naan, paratha .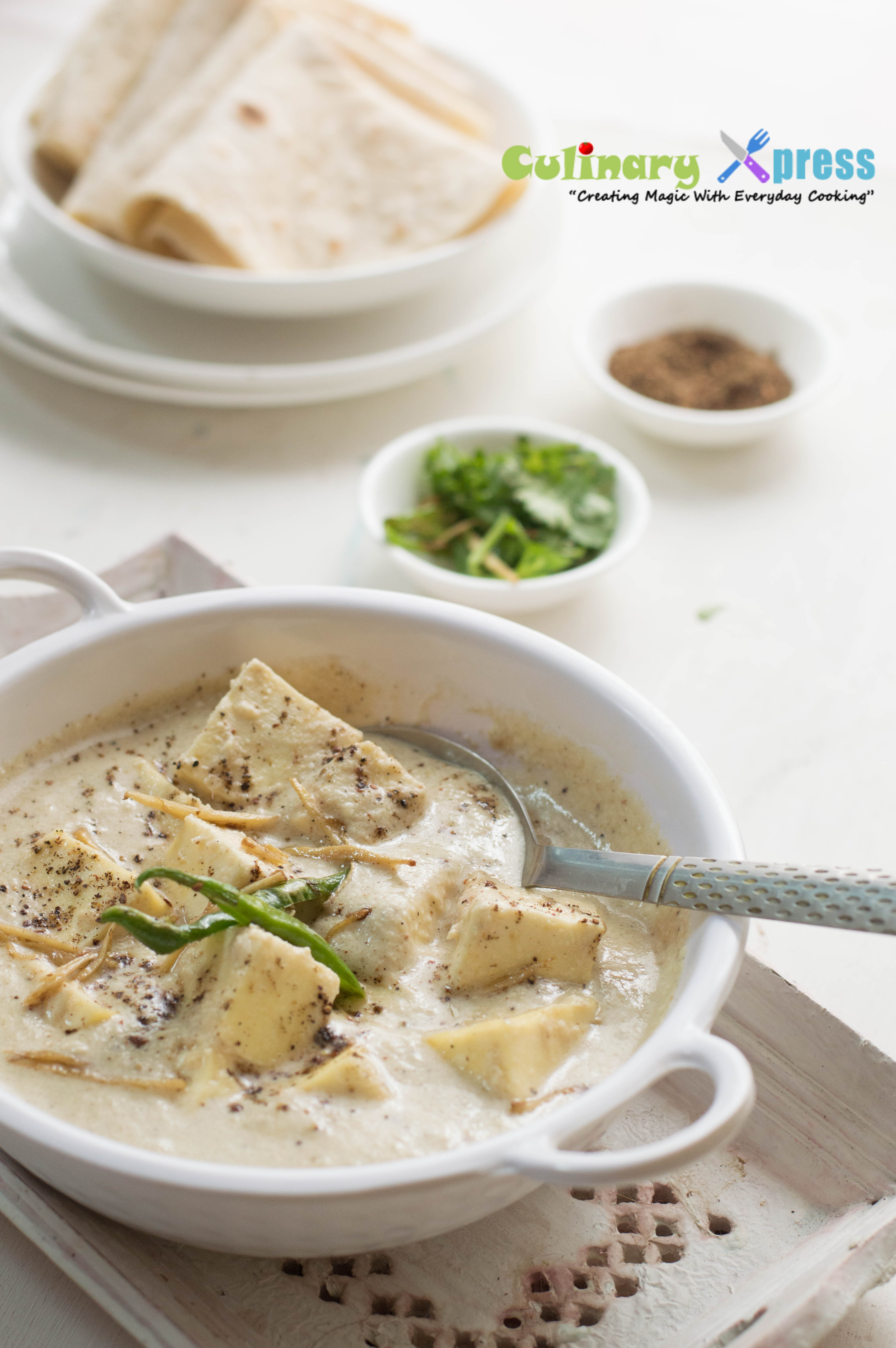 Black pepper is a spice , I just find excuses to use this wonder spice everywhere. A pinch of black pepper is added to almost every type of recipe imaginable. Once used as currency and found throughout the year,Black pepper stimulates our taste buds by alerting the stomach to increase hydrochloric acid secretion which improves digestion.Black pepper is used here for the heat instead of red chilli . This Paneer Kali Mirch is very flavourful dish which goes well with any kind of Indian flatbread like roti, naan or paratha etc.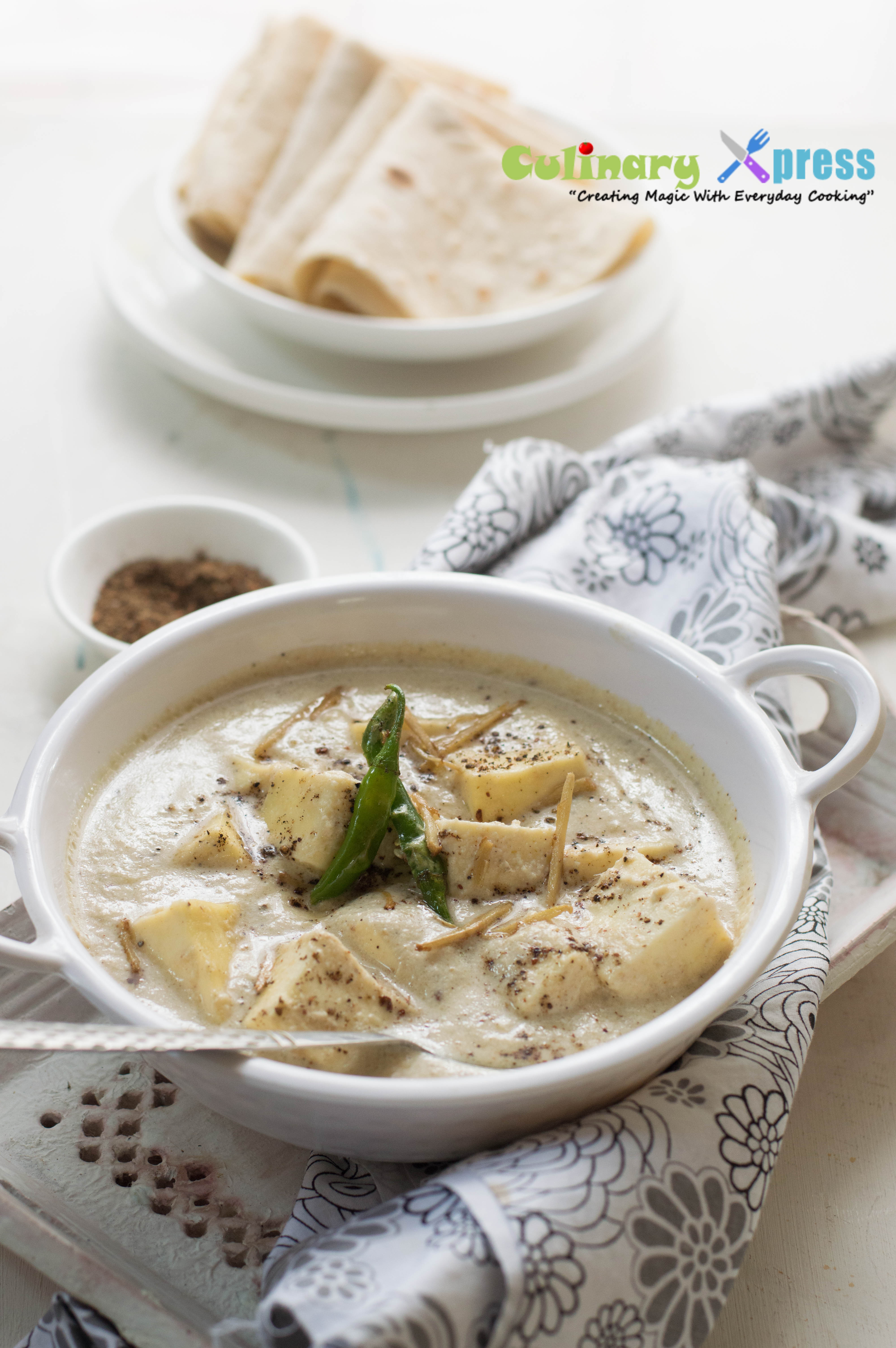 Paneer can be counted in one of the healthy dishes. Paneer is good for our healthy bones, teeth, hair, skin, during pregnancy, cancer prevention and lactation. It is a good source of calcium as it is a basic form of curdled milk. Veggies normally prefer paneer recipes during their visits to restaurants.
(Visited 565 times, 1 visits today)
http://www.culinaryxpress.com/wp-admin/post.php?post=37136&action=edit#
Soak the cashewnuts in warm water for 10 minutes. Cut the paneer into cubes and soak in the milk and keep aside. Dry roast the peppercorns and cinnamon and grind to a fine powder.

Heat 1 tbsp of oil and  fry the green chillies and ginger julienne and keep aside for garnishing.

In the same oil saute the sliced onions, ginger and garlic 30 to 40 secs and take off from the flame. Let it cool.Once cool, grind to a smooth paste along with soaked cashewnuts and salt.

Heat a pan , add 1 tablespoon of oil and cook the ground paste for 3-4 mins. Add coriander powder and slowly add the hung curd stirring continuously, add 1/2 cup of water  and bring it to a boil. Once it starts to boil ,stir in paneer pieces and let it cook for 5-8 minutes on medium flame.

Mix in cream and the powdered peppercorn and cinnamon powder,  adjust the seasoning and add little more water if you find the gravy too thick for your liking and let it simmer for another 5-6 minutes.

Turn off the flame and set the creamy Paneer Kalimirch aside for 5 minutes for all the flavors to infuse . Garnish with the fried ginger n chillies and some fresh coriander leaves

Enjoy with hot rotis, parathas.
Linking this recipes to Srivalli ofhttp://cooking4allseasons.blogspot.in/2013/10/cooking-from-cookbook-challenge-for.html