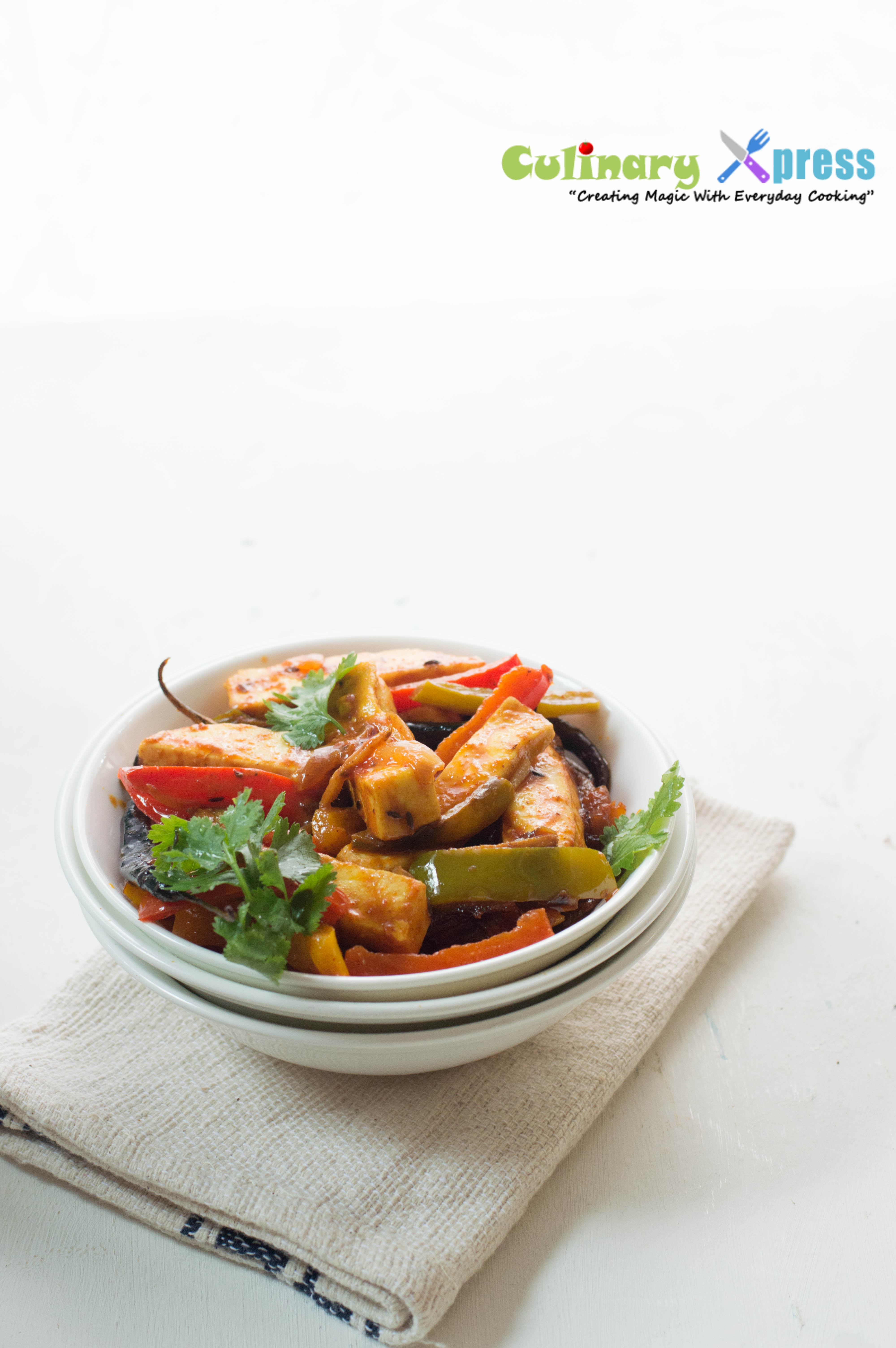 Paneer Jalfrezi is a colorful, healthy Indian Vegetarian dish and a classic among paneer recipes. A low calorie paneer dish that has contrasting textures with melt in the mouth paneer and the bell peppers provide a flavorful crunch. It makes a wonderful side dish with rotis. There are a few variations to Paneer Jalfrezi recipe but this one I prefer to make often.
This is such a versatile recipe, where you can make it either Paneer Jalfrezi or if you donot like paneer, you can make it the Vegetable Jalfrezi by just skipping the paneer. This can be served as a side dish with fresh Roti, Paratha or rice.I love food which are colorful, vibrant and beautiful natural colors rendered in a dish by colorful vegetables is none other than this Paneer Jhalfrezi. It is a delicious mixture of paneer and colorful peppers or capsicum. Paneer Jhalfrezi is a sure crowd pleaser which is also quick and easy to make.
Ingredients:
200 gms Paneer, cut into long pieces
1 large Onion, thinly sliced
1 Green Bell Pepper, deseeded and sliced
1 Red Bell Pepper, deseeded and sliced
1 Yellow Bell Pepper, deseeded and sliced
1 large Tomato, deseeded and sliced
1 tbsp tomato ketchup
½ tsp Sugar
1 tsp Ginger-Garlic Paste
1 tbsp Oil
Salt to taste
1 tsp Cumin Seeds
1/2 tsp turmeric powder
1/2 tsp red chilli powder
1 tsp coriander powder
1/2 tsp garam masala
2-3 dry red chillies
1 tbsp Coriander Leaves, finely chopped for garnishing
Let's learn how to make it:
Heat Oil in a pan, add cumin seeds and dried red chillies and saute till cumin seeds are brown. Add sliced onions and saute for 2 minutes.
Now add ginger-garlic paste and fry for 2 minutes on medium flame until the raw smell disappears.
Add the spices( Red chillies powder, turmeric, coriander powder) and toss so that the spices get mixed well.
Add tomato ketchup, sugar and salt to taste and cook for a minute.on medium flame, stirring in between.
Toss in bell pepper and cook for a minute or two. Add paneer pieces and tomato slices and gently stir them so that each paneer pieces is nicely coated with the masala.
Turn off the gas and add garam masala, finely chopped coriander leaves and mix them well.
Serve this delicious Paneer Jalfrezi with Roti, Paratha or just plain rice and enjoy.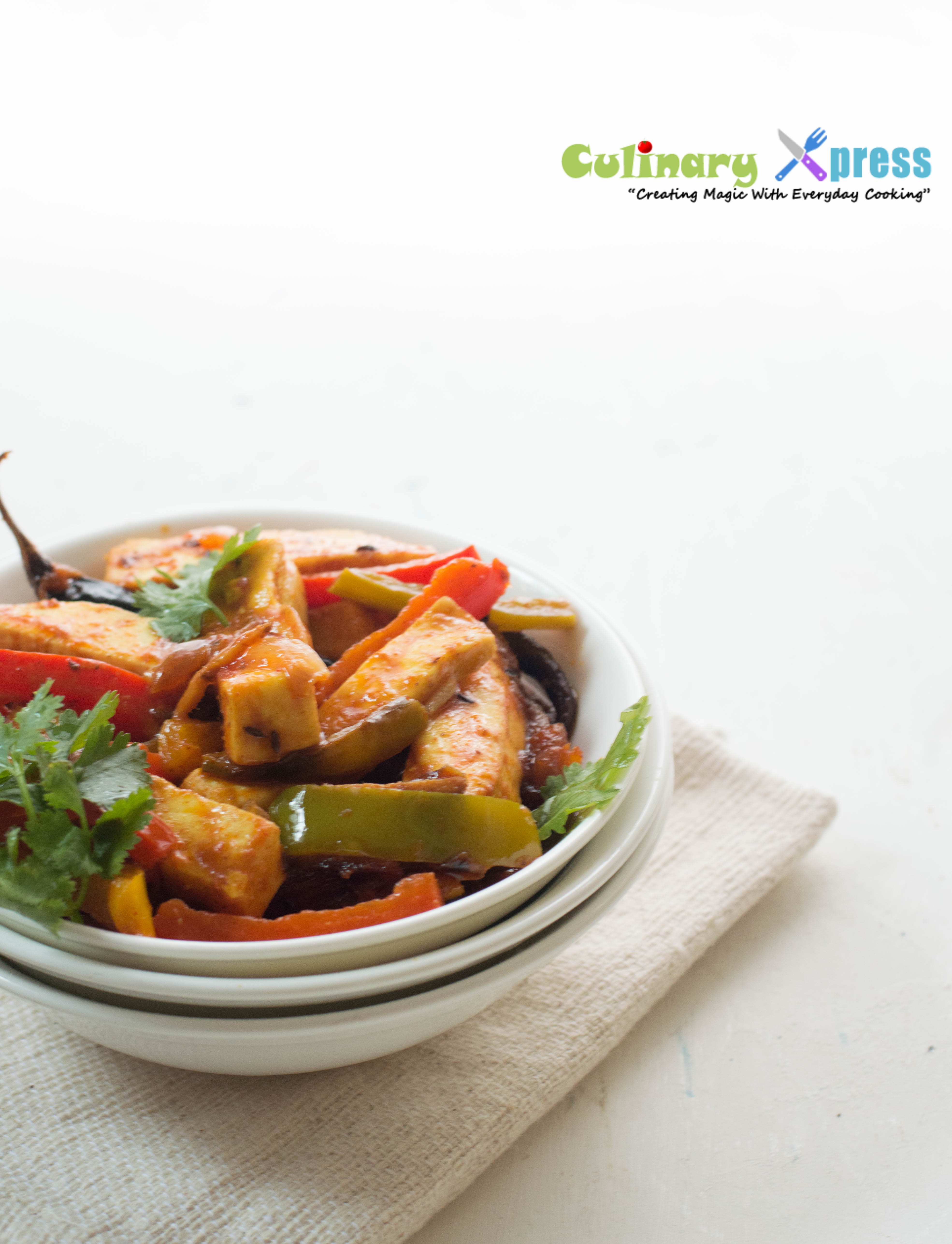 You can spread this curry in the center of thick chapati or Roti lengthwise and top it with julienne onions and sprinkle chaat masala generously,salt and pepper and a dash of tomato ketchup and roll it and serve immediately as a kathi roll.
For a normal sandwich,stuff this preparation in between two butter ladened bread slices and toast it in toaster or on a pan and serve it with ketchup.
(Visited 305 times, 1 visits today)