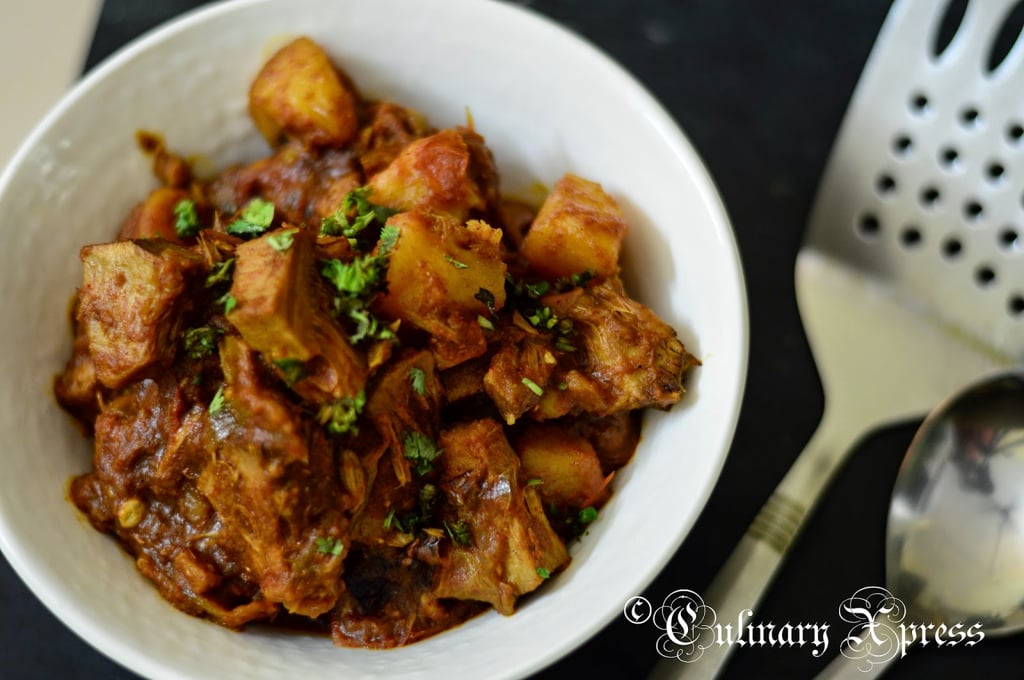 Tenderraw Jack fruit, called PANASA KATHA in Odia and Kathal in Hindi, is an exotic vegetable considered as vegetarian meat because of its meat like texture and flavor. The tender Jack fruit is used to prepare curries, Dalma, cutlets, kababs and biryani. This particular fruit is abundantly found in almost every second home in Odisha and my childhood memories associated with this fruit is the exchange of home grown vegetables and fruits were very common and Jack fruit featured quite commonly in that exchange.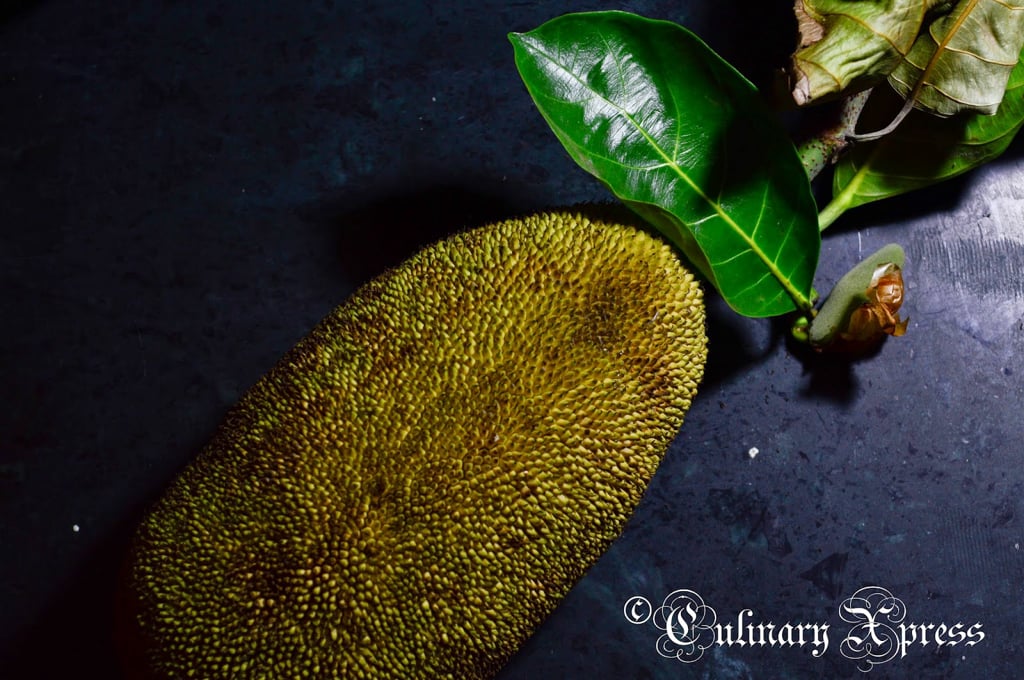 Jack fruit / Panasa /Kathal is one of its own kind of tropical fruits, recognized for its unique shape, size, and fruity flavor that can be appreciated from a distance. The fruit is also rich in energy, dietary fiber, minerals, and vitamins and free from saturated fats or cholesterol, making it one of the healthy summer treat to relish!
Jackfruit is rich in dietary fiber, which makes it a good bulk laxative. The fiber content helps protect the colon mucous membrane by binding to and eliminating cancer-causing chemicals from the colon.
Raw jackfruit has small amounts ofVitamin-A and flavonoid which play vital roles in antioxidant and vision functions. Vitamin A is also required for maintaining integrity of mucus membranes and skin. Consumption of natural fruits rich in vitamin-A, and carotenes has been found to protect from lung and oral cavity cancers.
Additionally, jackfruit is a good source of antioxidant vitamin-C, which helps the body develop resistance against infectious agents and scavenge harmful free radicals.
It is one of the rare fruits that is rich in B-complex group of vitamins. It contains very good amounts of vitamin B-6 (pyridoxine), niacin, riboflavin, and folic acid.
Raw jackfruit is a good source of potassium, magnesium, manganese, and iron. Potassium is an important component of cell and body fluids that helps controlling heart rate and blood pressure.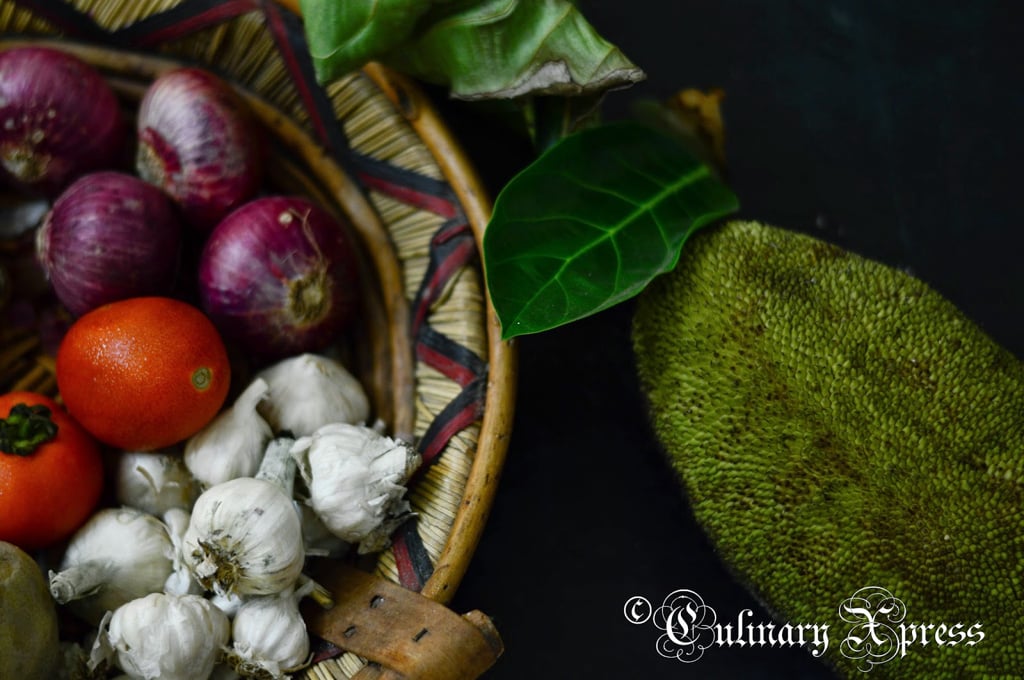 You should try this simple and delicious recipe forJackfruit Curry / Panasa Katha Kassa/ Kathal Ki Sabzi and get acquainted with the wonderful flavor and texture of a truly versatile fruit/vegetable – Jackfruit. It is similar to taste in like mutton curry. This curry is especially for those who don't like non-veg, but they can enjoy the taste of non-veg with this curry. I am sure you will love this curry. To prepare this curry in Odia style, you need to note down the following ingredients.

(Visited 5,973 times, 7 visits today)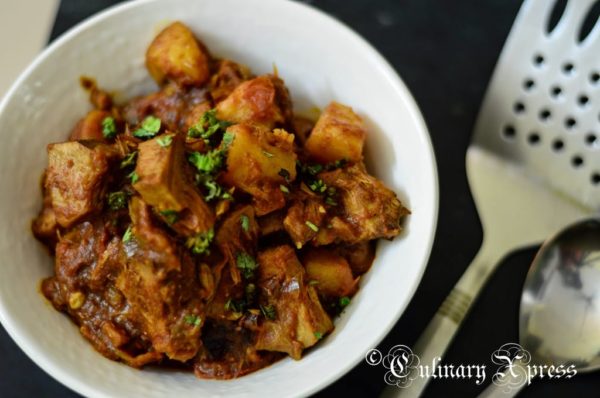 | | |
| --- | --- |
| | |
Take out the skin of the kathal/Panasa/Jackfruit first. For this, you need to oil your hands and the knife as well. The fruit exudes a milky gum-like substance which doesn't leave your hands easily. I wore the kitchen gloves as an extra precaution and applied oil to the gloves itself. Keep a small bowl of oil at your side and keep dipping you fingers in to it from time to time as you cut the Jack fruit. Cut the Jack fruit into 1 inch cubes. Discard the hard middle section of the Jack fruit as it doesn't cook.For a better understanding of how to cut the Jack fruit, you can follow: http://www.rakskitchen.net/2012/04/raw-jackfruit-curry.html .

First boil the jackfruit and the potatoes with salt and turmeric till tender. Drain the water and keep it aside.

In a pressure cooker, heat mustard oil to smoking point. Add  panch phutan , bay leaves, cinnamon, green cardamom and dry red chilies in that order. As soon as the dry red chilies turn color, add chopped onions.

Cook on low flame till the onions turn translucent. Add the ginger garlic paste and cook till the raw smell of the paste goes away.Add chopped tomatoes and cook for 1 to 2 minutes.

Now add all the dry spices: turmeric powder, red chili powder, coriander powder, and salt. Stir well and cook till oil leaves the sides of the pan.

Then add jack fruit cubes and boiled potato cubes. Cook on low flame, till the jack fruit has absorbed the spices. Add the garam masala and and 1/2 cup of water, cover the lid of the pressure cooker and cook till the cooker lets out a whistle. Switch off the heat.

Allow the pressure from the cooker to release naturally. Unlock and garnish with chopped coriander and serve hot with Rotis, Naan or Paratha.