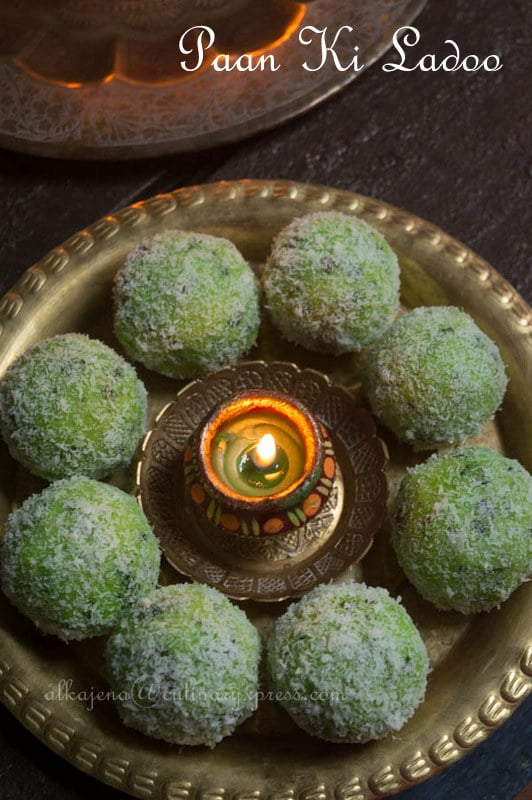 Betel leaves has got many medicinal properties and is used for last 2000 years in south east Asian countries. They helps in curing respiratory disorders like bad breath and cough, they also help during headaches and constipation and also have diuretic properties. Betal leaves are known for their aromatic stimulant properties also.Paan or betel leaves are usually served at the end of an Indian meal and ceremonies such as weddings, receptions etc. Paan can be bought in nearly every street corner in India. They are believed to help in digestion of curried foods and also act as mouth fresheners.While Paan has  symbolic value at ceremonies and cultural events , on a day to day basis it is used as a palate cleanser and mouth freshener  after a meal and offered to guests and visitors as a sign of hospitality.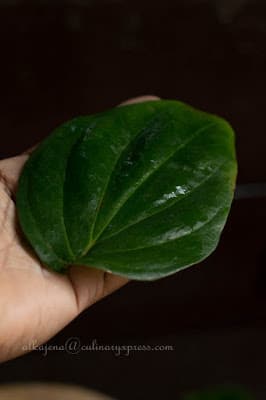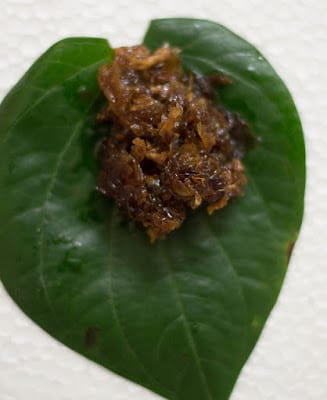 Paan or Betel is such a common and much adored after dinner mouth freshener and digestive in India.. Paan have its unique place in our culture. One can see small paan stalls selling  basic paan ,Kolkatta paan, Banarasi Paan etc…There are all sorts of special paan available these days, gold, silver, chocolate and some wedding pans that can make a hole in your pocket.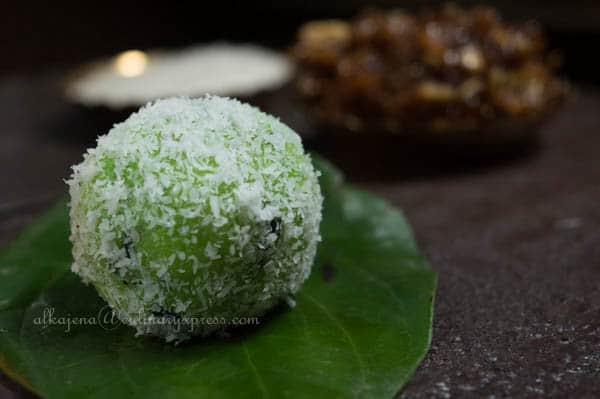 There are different varieties of paan which is popular across India and some of them are :Maghai paan, Saada Paan, Meetha Paan, Banarasi paan, Silver Paan, Gold Paan, Rasmalai Paan, Chocolate paan, Bangla Paan, Tanbaku Paan, Misti Paan, Jagannath Paan, Kalkatti Paan.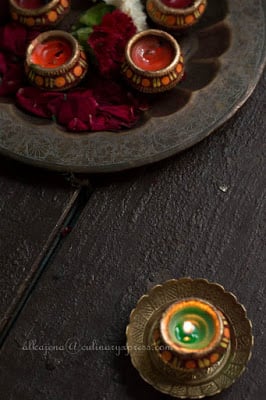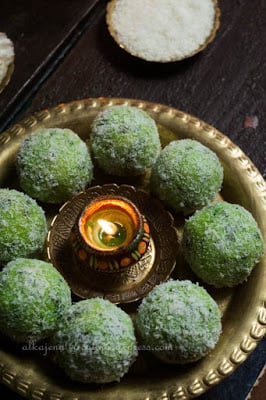 One of the most joyful and beautiful festivals to be celebrated in  India is Diwali, the festival of lights.  The very word Diwali conjures up the image of winking lights and flickering diyas. Not to forget the gorgeous array of sparkling colors emitted by the firecrackers that seems to awaken the night sky. This is a time when we share happiness, joy with our friends and relatives. In India , any festival is associated with celebration and food which goes hand in hand. Food is an integral part of celebration of Diwali which symbolizes victory of good over evil. During this coming Diwali, we the Bloggers at Foodie Monday Bloghop decided to bring forward traditional Diwali sweets made in homes across India.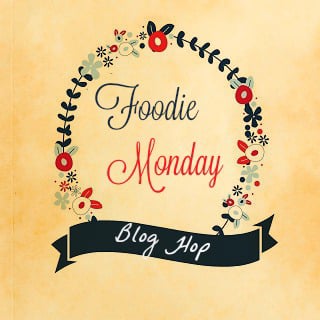 Coconut Ladoos are one of the sweets that can very easily be made for any festival. These can be made using fresh coconut or desiccated coconut.I have given This simple coconut ladoo which can be made instantly with two ingredients only i,e, condensed milk and desiccated coconut has been given a wonderful twist with the addition of Paan in it. This can be made instantly and can be relished any time of the year.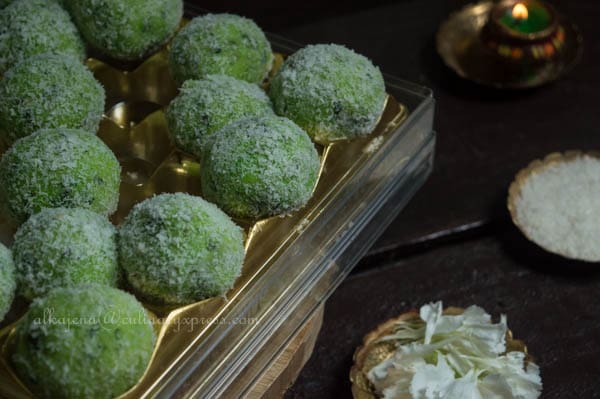 (Visited 979 times, 1 visits today)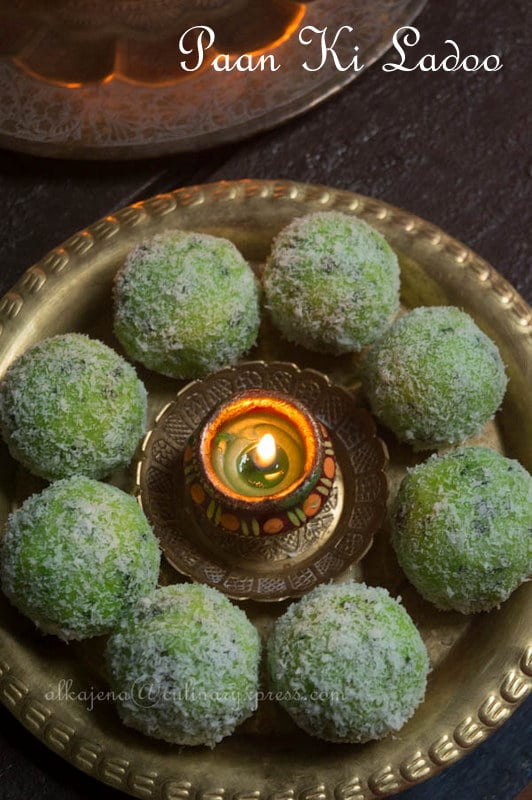 400

gms

Condensed Milk

250

gms

coconut

of dessicated plus 1 cup for roliing

a pinch

cardamom

of green powder

4 to 5

nos

paan Leaves

a pinch

of green food color
400

gms

Condensed Milk

250

gms

coconut

of dessicated plus 1 cup for roliing

a pinch

cardamom

of green powder

4 to 5

nos

paan Leaves

a pinch

of green food color
2tbsp of gulkand*( Follow below for instructions)

2tbsp of mixed dry fruits such as cashew, walnut, pistachios, almonds finely chopped

*In a Pan, add the 1 cup of rose petals, ½ cup sugar and 2 tbsp of water and stir continuously till sugar dissolves and the rose petals are cooks perfectly. Add 1 tsp of lemon juice to prevent the sugar from crystallizing. Let it cool and keep it aside. Your Gulkand is ready to be used. You can also use the store bought Gulkand in place of this also.

Let's Learn how to make Paan ki Ladoo:

In a pan, add the Gulkand and the dryfruits and cook on slow flame till it binds together. Switch off the gas and keep it aside to cool.

Roll the paan leaves together and finely chop them.

Pour the condensed milk in heavy bottom pan. Add desiccated coconut to it and mix. Cook the condensed milk and coconut mixture in the heavy bottom pan, on medium low flame. Stir the mixture continuously to avoid burning. Add the chopped paan leaves and a pinch of green food color and cardamom powder to it.

Within 2 to 3 minutes, the mixture will start leaving the sides and come together as dough.Switch off the gas and let rest for 3-4 minutes.

Grease your palms with ghee. Pinch a small portion of the mixture and make a depression with your thumb on  it and place a bit of Gulkand and dryfruits mixture inside and roll between your hands into balls like ladoos.

Roll them in desiccated coconut and keep aside.
Serve this easy and quick Paan ki Ladoo on the occasion of #Diwali2015 with pride.