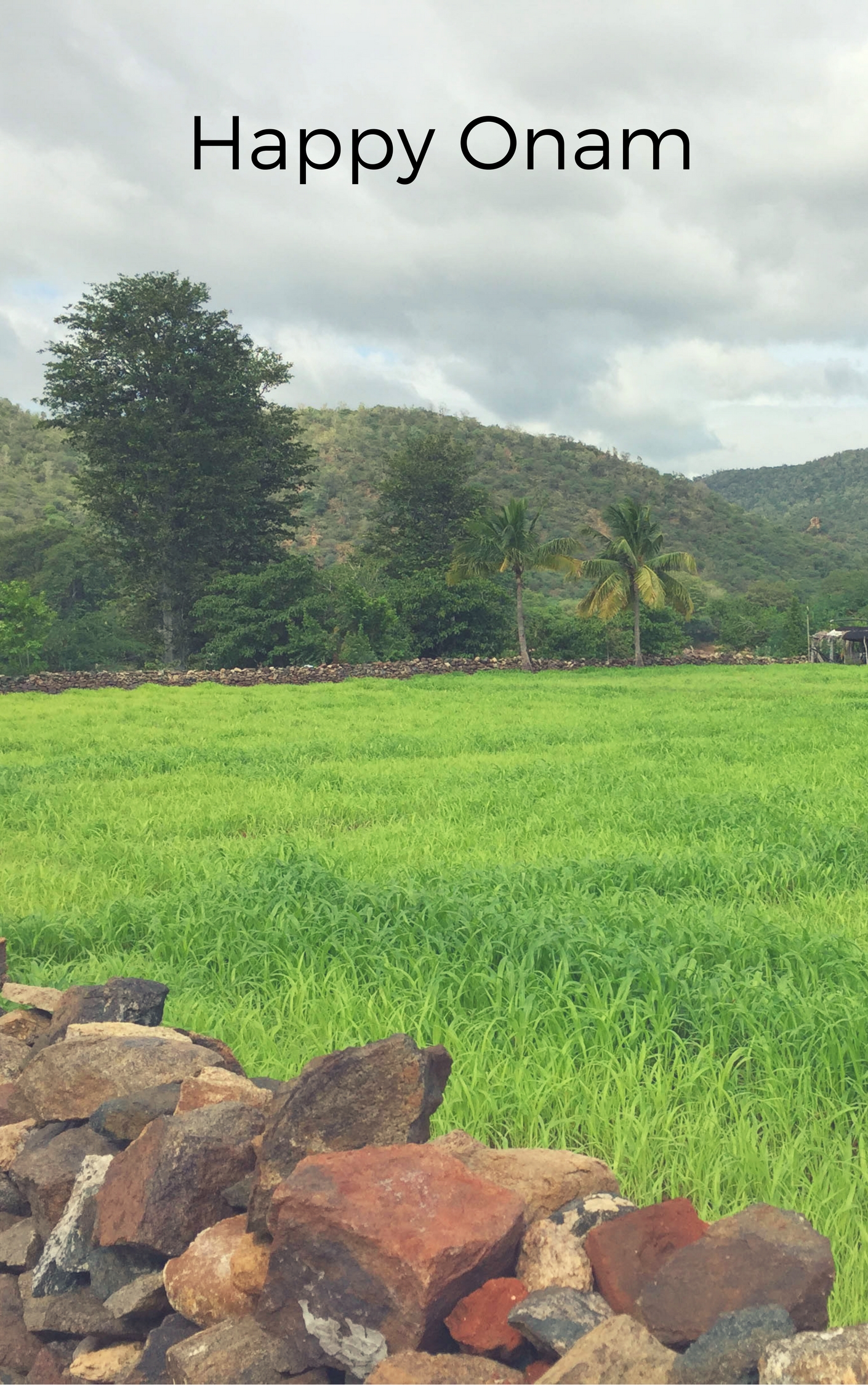 Now its the time to bring out the gigantic banana leaves and serve our Sadya spread. Let the festivities and good food over the last two posts tempt you to make these for the  Onam celebration.The 10-day harvest festival which celebrates the homecoming of the mythical King Mahabali and serves a sensational multi-course vegetarian meal on a banana leaf known as Sadya.  It's actually eaten sitting on the floor without the help of any cutlery.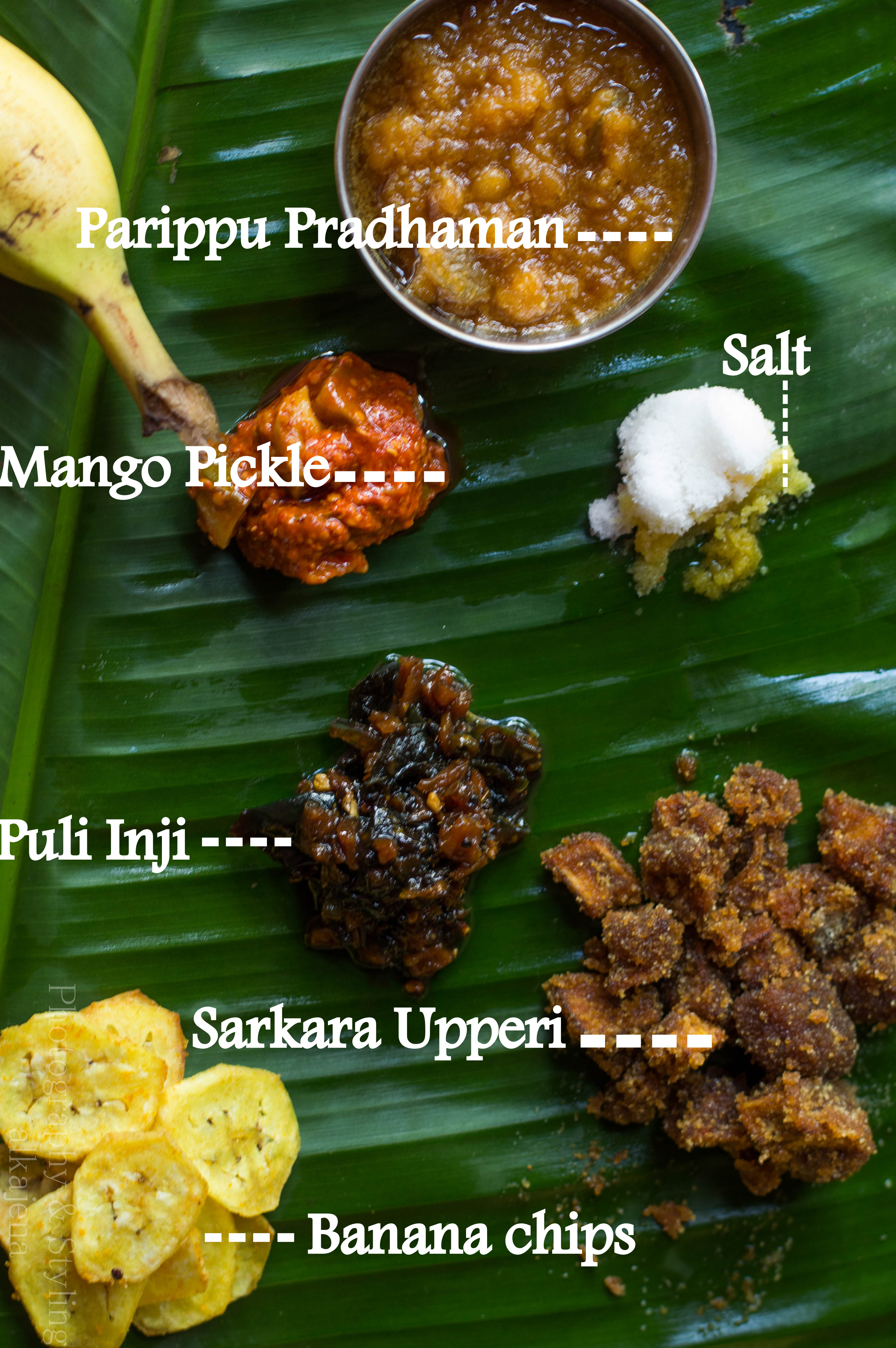 There are some customary dishes like Kichadi, Pachadi, InjiPuli, Pickles, Pappadam, Sharkara Upperi, Banana Chips, A ripe banana,Sambharam which are served along with the Payasam.
Kichadi: Sour curry made of yoghurt and usually cucumber or sliced ash gourd cooked in coconut ground with mustard seeds and seasoned with sautéed mustard seeds and curry leaves.
Pachadi: A sweet form of Kichadi, made with pineapple, pumpkin or grapes in yoghurt. 
Sambharam: A drink made from salted buttermilk with green chilli, ginger and curry leaves. Drunk to improve digestion.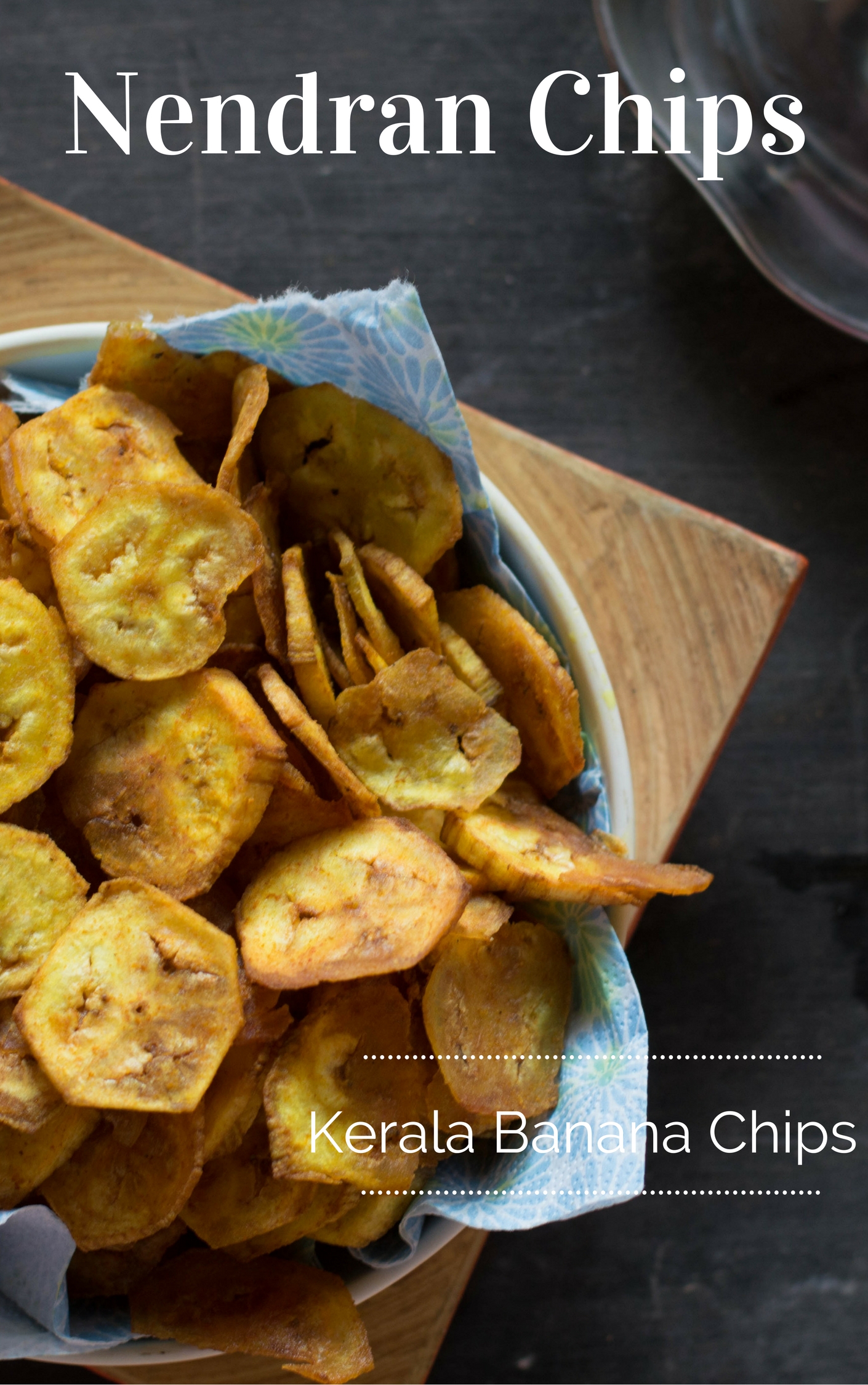 Kerala Banana Chips for Sadya:
2 nos Raw Banana
1/2 tsp Turmeric powder
Oil  to deep fry
Salt  to taste
Instructions:
Take a bowl add turmeric powder , salt and water and make a runny liquid mixture.Set aside.
Wash the bananas and pat them dry with a tissue paper.Peel the banana and cut the banana into thin slices, using a slicer or knife.
Heat oil on medium – high flame in a deep and wide pan for deep frying.  To test whether the oil has reached the correct temperature, add a single slice. If the oil starts bubbling and the slice pops to the top immediately, the oil is ready.
Reduce the temperature to low and add the sliced bananas. Make sure the pieces are not sticking together and also the pan is not crowded. Once you add enough slices for a batch, increase the flame to medium – high. Gently stir the chips using a slotted spoon.
Once the chips are almost crisp, you can hear a crackling sound. Add 1 – 1.5 tsp of salt turmeric mixture to the chips. Once the bubbling sound,settles down, cook for a min or so and start removing the chips using a slotted spoon. Drain the chips on paper towel.
Sharkara Upperi (Jaggery Coated Banana Chips) for Sadya:
Ingredients:
1 cup chopped Raw Banana
1/3 cup Jaggery
1/4 tsp cumin Powder
1/4 tsp Dry Ginger Powder
1/4 tsp  Cardamom powder
2 tbsp Rice flour
Oil  to deep fry
Instructions:
Soak jaggery in warm water, crush it well. Then heat it up until it is slightly thick .Cool down, strain and keep aside.
Take rice flour and roast for few mins without changing the color, when smoke starts to come switch off and set aside to cool.
Peel and chop raw banana into bite size pieces.Heat oil in a kadai and deep fry it until golden.Drain in tissue paper and set aside.
Heat jaggery syrup in  pan, Once the jaggery syrup nicely bubbles up and becomes thick like honey and starts to form single thread add the  jeera powder,dry ginger powder and cardamom powder, mix well and then add fried chips and keep cooking until the syrup is absorbed well may be for 2-3mins then switch off.
Finally add roasted rice flour and keep mixing till it coats the chips.Cool down and store in airtight container and enjoy.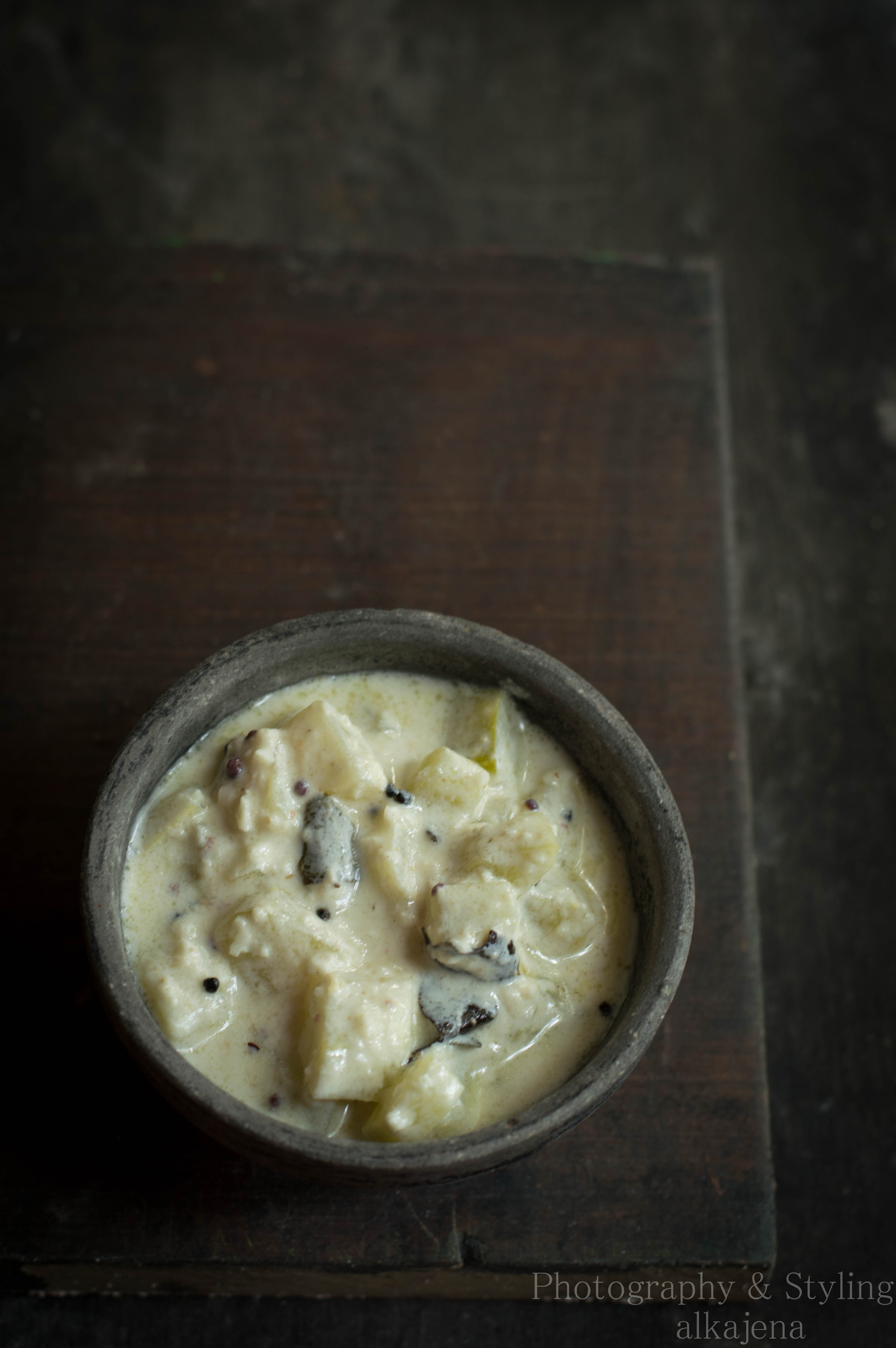 Cucumber Kichadi
Ingredients:
1 big Cucumber
1 cup Thick Curd
Salt  to taste
To Grind To A Coarse Mixture:
1 Green Chilli
1/3 cup Grated Coconut
1/8 tsp Mustard Seeds
1/2 tsp cumin seeds
To Temper:
2 tsp Coconut oil
1/2 tsp Mustard Seeds
1 broken Red Chillies
a small sprig Curry leaves
Instructions:
Wash and peel the cucumber. Chop them into bite sized cubes.
Grind green chili, coconut,mustard and cumin seeds to a semi coarse paste.
Boil the cucumber with salt till soft and then add the coarse paste to the cucumber and mix well.Saute till raw smell leaves.Switch off.
Add curd to cucumber mixture and give a stir.
Heat oil and add curry leaves, mustard seeds and red chili and pour the seasoning to the pachadi. Adjust salt if required.Serve chilled with any variety rice.
Pineapple Pachadi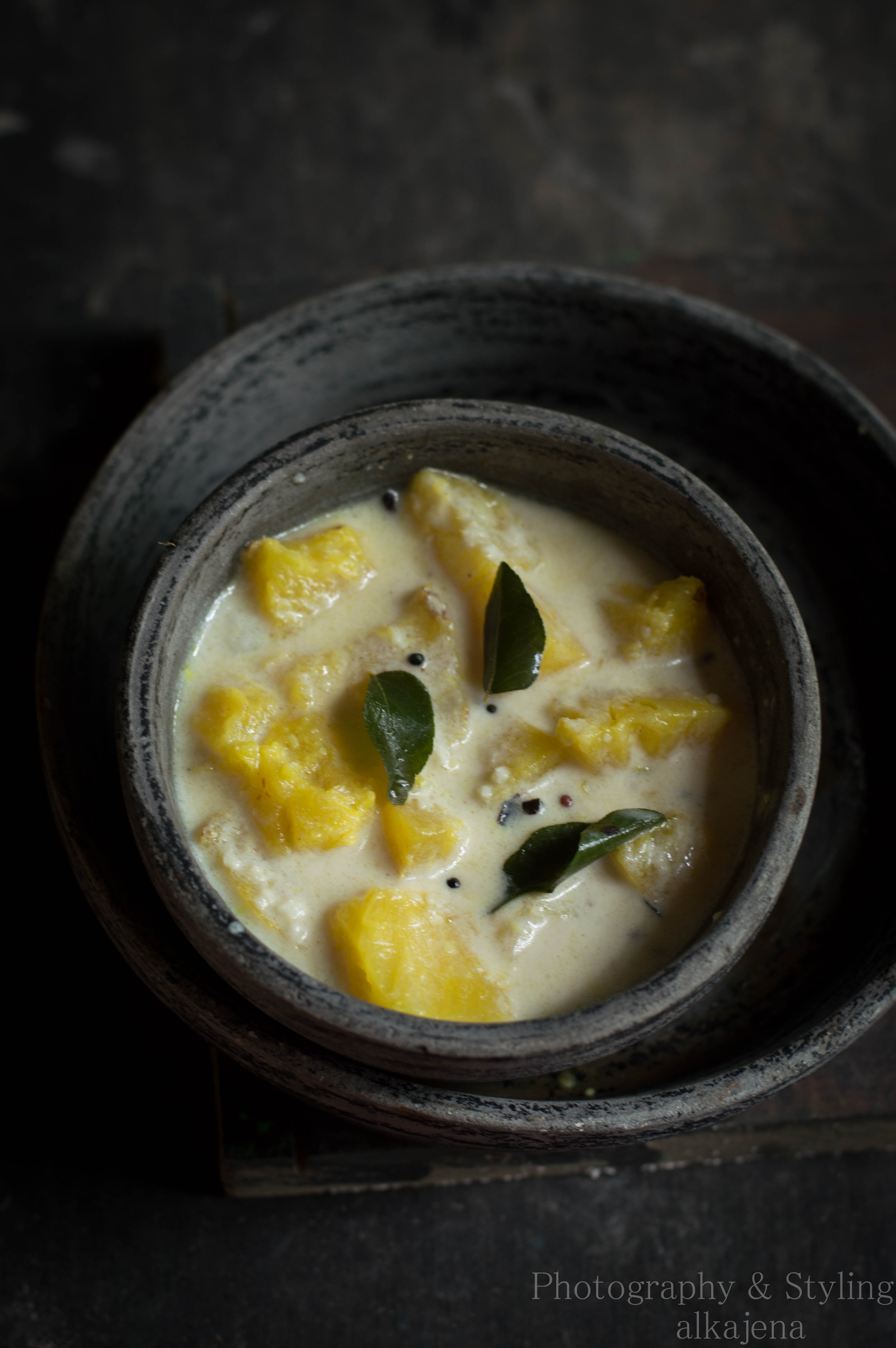 Ingredients:
1/2 cup chopped Pineapple
1/3 cup Thick Curd
1 tsp Sugar
a pinch of Turmeric powder
1/4 tsp Red Chilli powder
1 small slitted Green Chilli
Water  as required to cook
Salt  to taste
To Grind To A Paste:
3 tbsp Fresh Grated Coconut
1/8 tsp Mustard Seeds
1/4 tsp cumin seeds
To Temper:
1 tsp Coconut Oil
1/2 tsp Mustard seeds
1 Red Chilli
a small sprig Curry Leaves
Instructions:
Peel the  pineapple and chop them into bite sized cubes.Set aside.
In a mixer, add coconut,m mustard seeds and cumin seeds  with little water and grind it to a fine paste,Set aside.
In pan add chopped pineapple pieces along with turmeric powder,red chilli chilli powder,salt , sugar and little water.
Cook till it turns soft but it should be slightly crunchy enough to bite.Add coconut paste and saute until raw smell of coconut leaves.Then switch off and let it cool.
Heat oil and add mustard, chili and curry leaves to temper, let it splutter then add this to cooked pineapple coconut mixture.Add curd and mix well.Serve with rice and any curry of your choice.
Spiced Buttermilk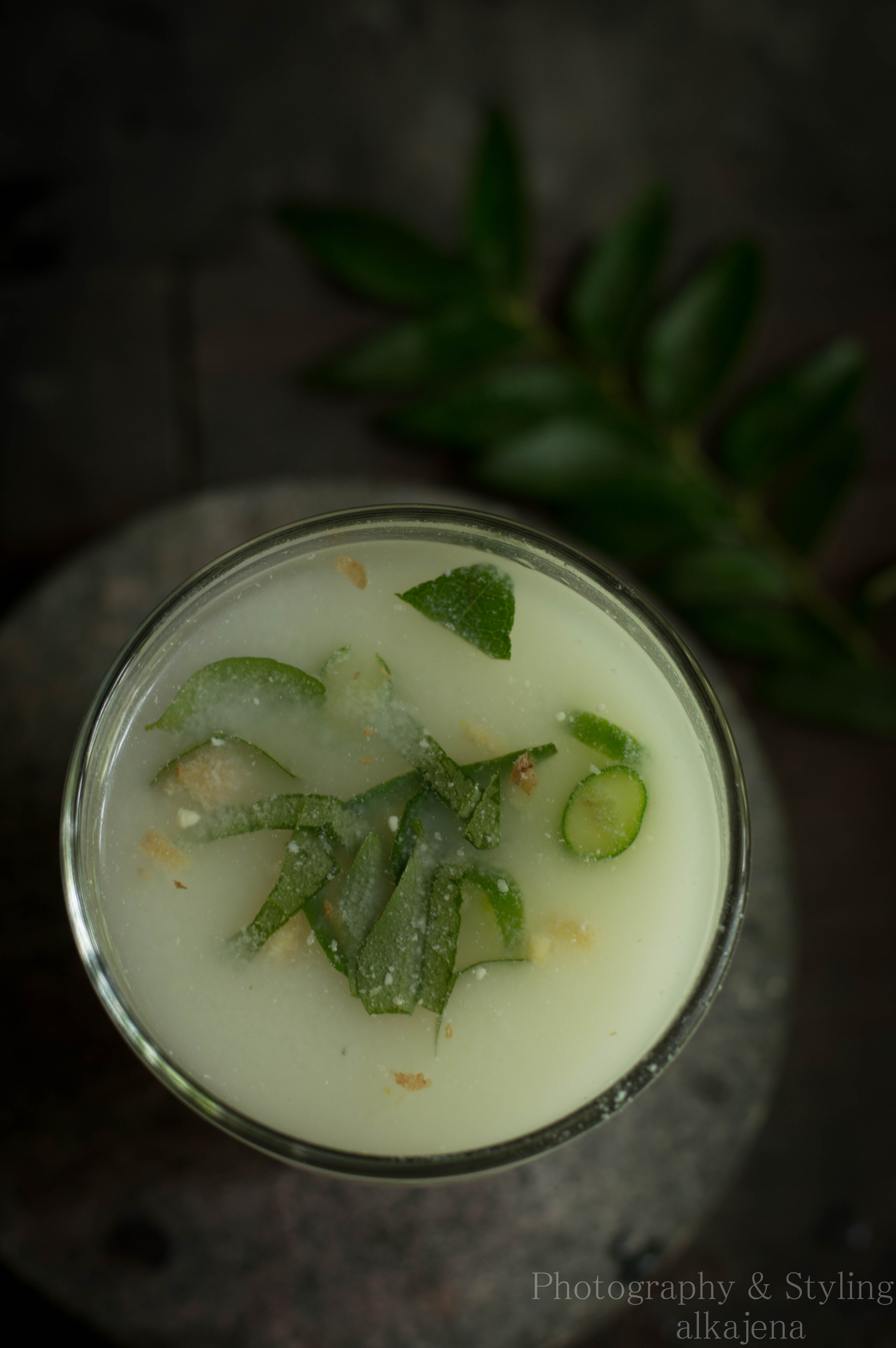 Ingredients:
2 cups chilled Thick Curd

1 cup Water

Ginger – 1/2 tsp finely chopped

Salt – to taste

1 Green Chilli 

a small sprig Curry Leaves
Procedure:
Add water to curd and whisk it well.Chop curry leaves,ginger and green chillies and add it to the buttermilk.Add salt.Whisk it well and serve.
Chana Dal Payasam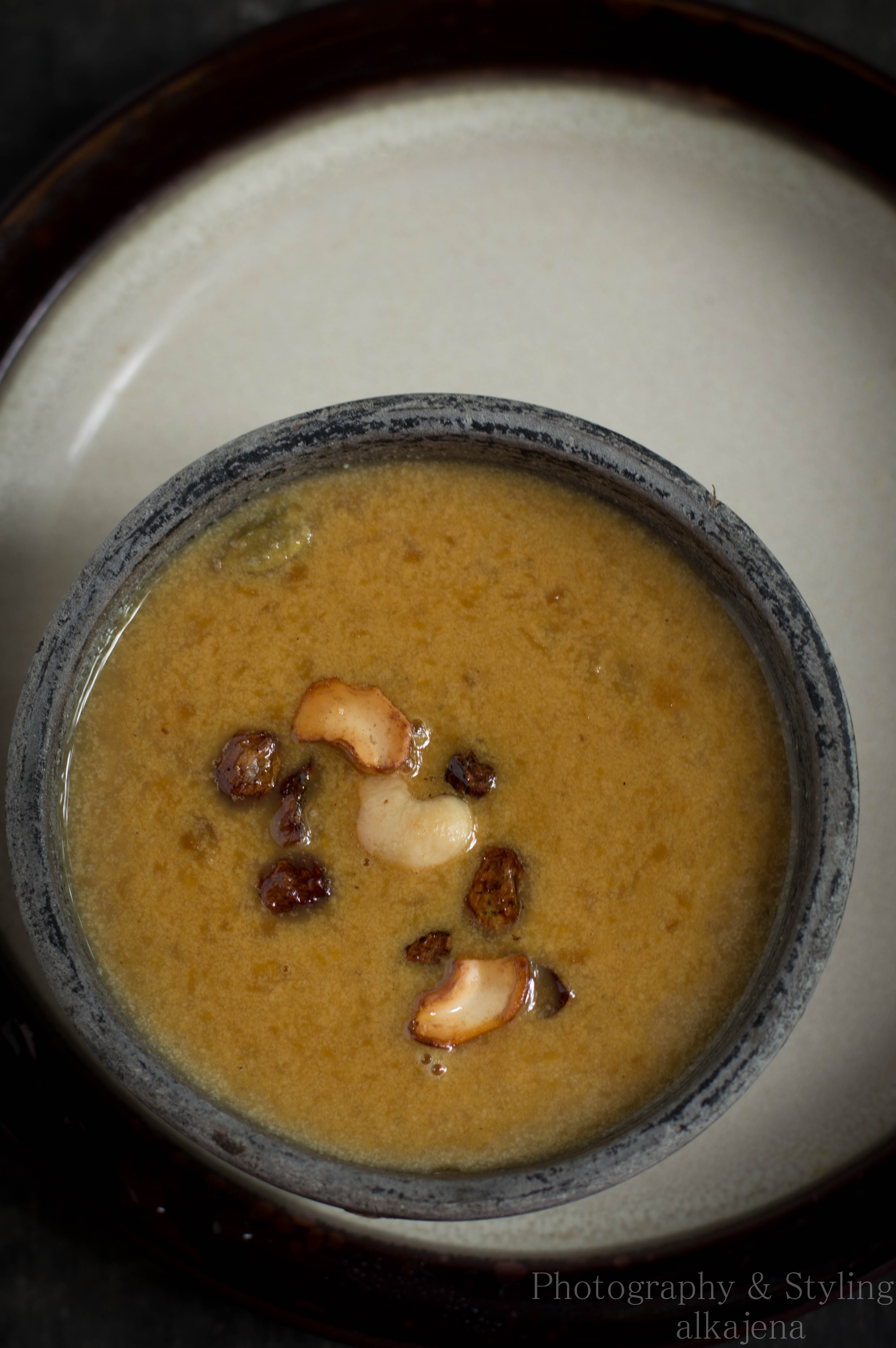 Ingredients:
1/2 cup Chana dal

1/2 cup Powdered Jaggery 

1/2 cup Milk

1 tbsp Cashews and raisins

a small pinch Dry ginger powder

2 tsp Ghee 
Procedure:
Dry roast chana dal until it turns golden brown.In a pressure cooker add chana dal with water  and pressure cook for 3-4 whistles,Set aside.
Heat ghee in a pan add cashews, raisins and fry till golden brown, set aside.
Heat jaggery for 2mins until it starts to melt completely,add chana dal and mash it up with a laddle. Once jaggery and chana dal are well combined , add milk.
Once it starts to boil, add dry ginger powder and give a quick stir. Switch off and add ghee fried cashews and raisins on top.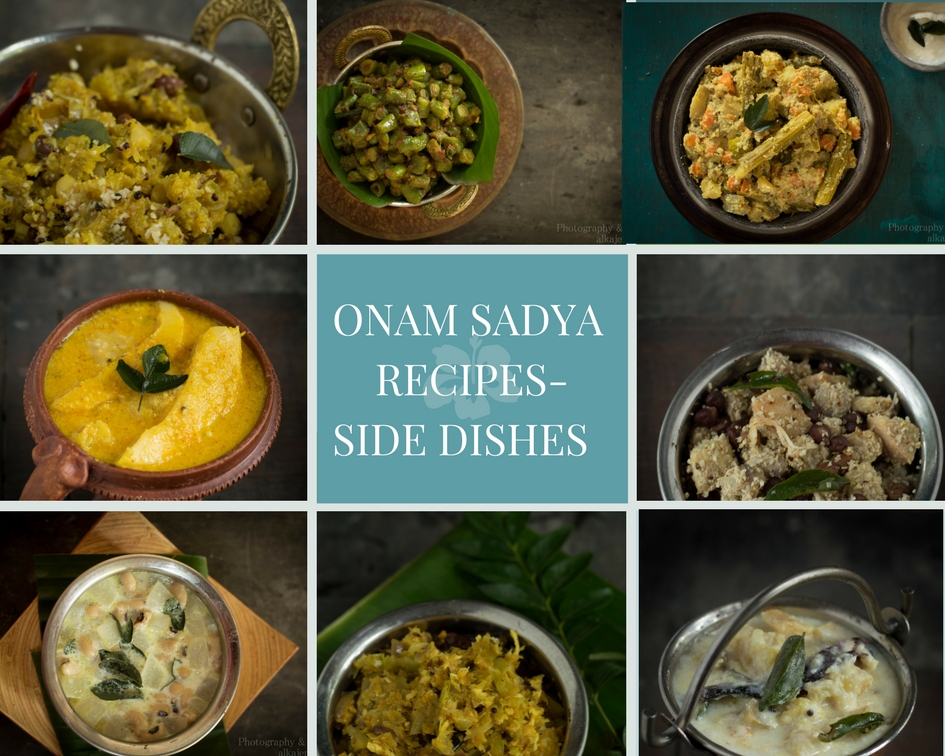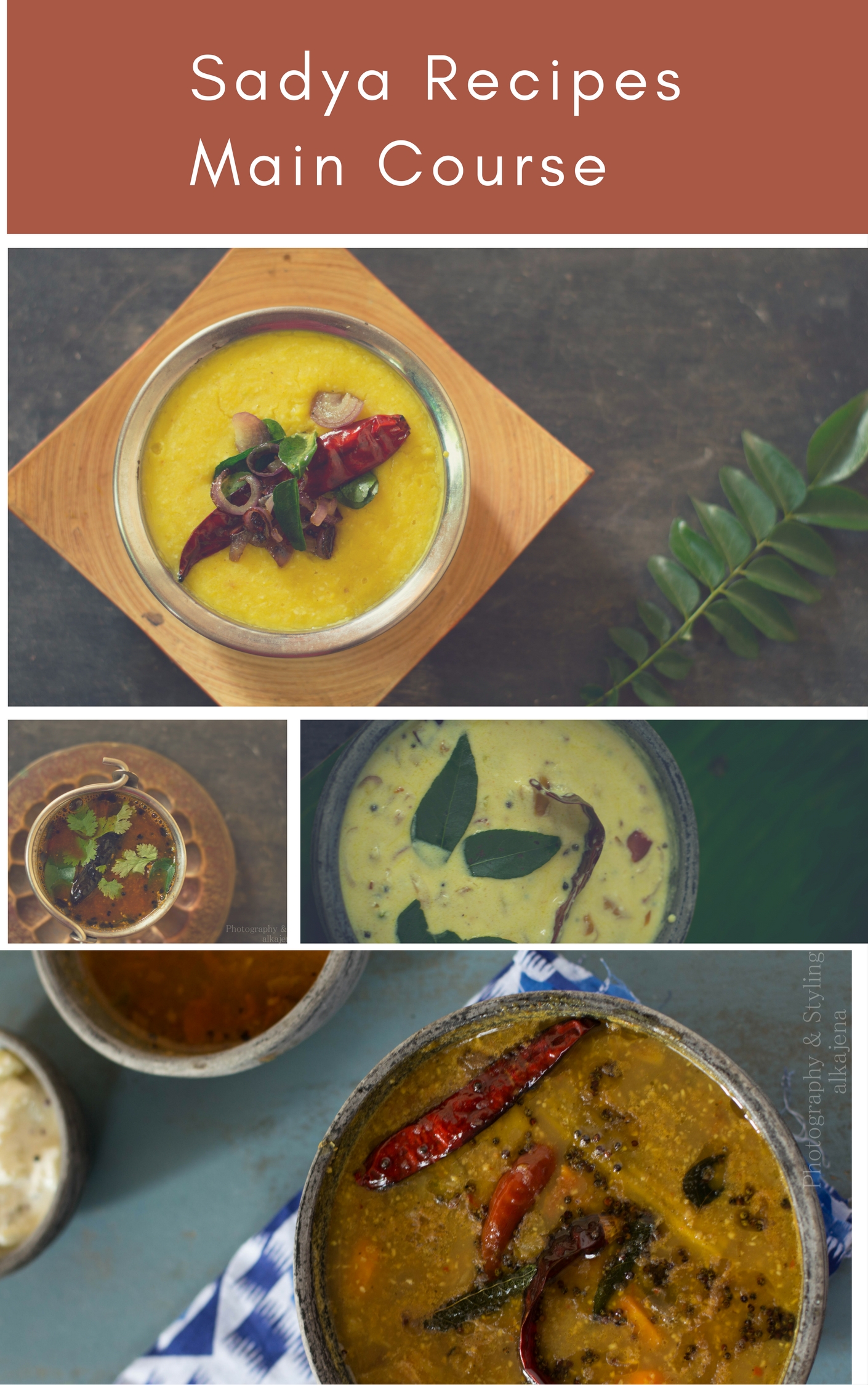 (Visited 2,698 times, 1 visits today)