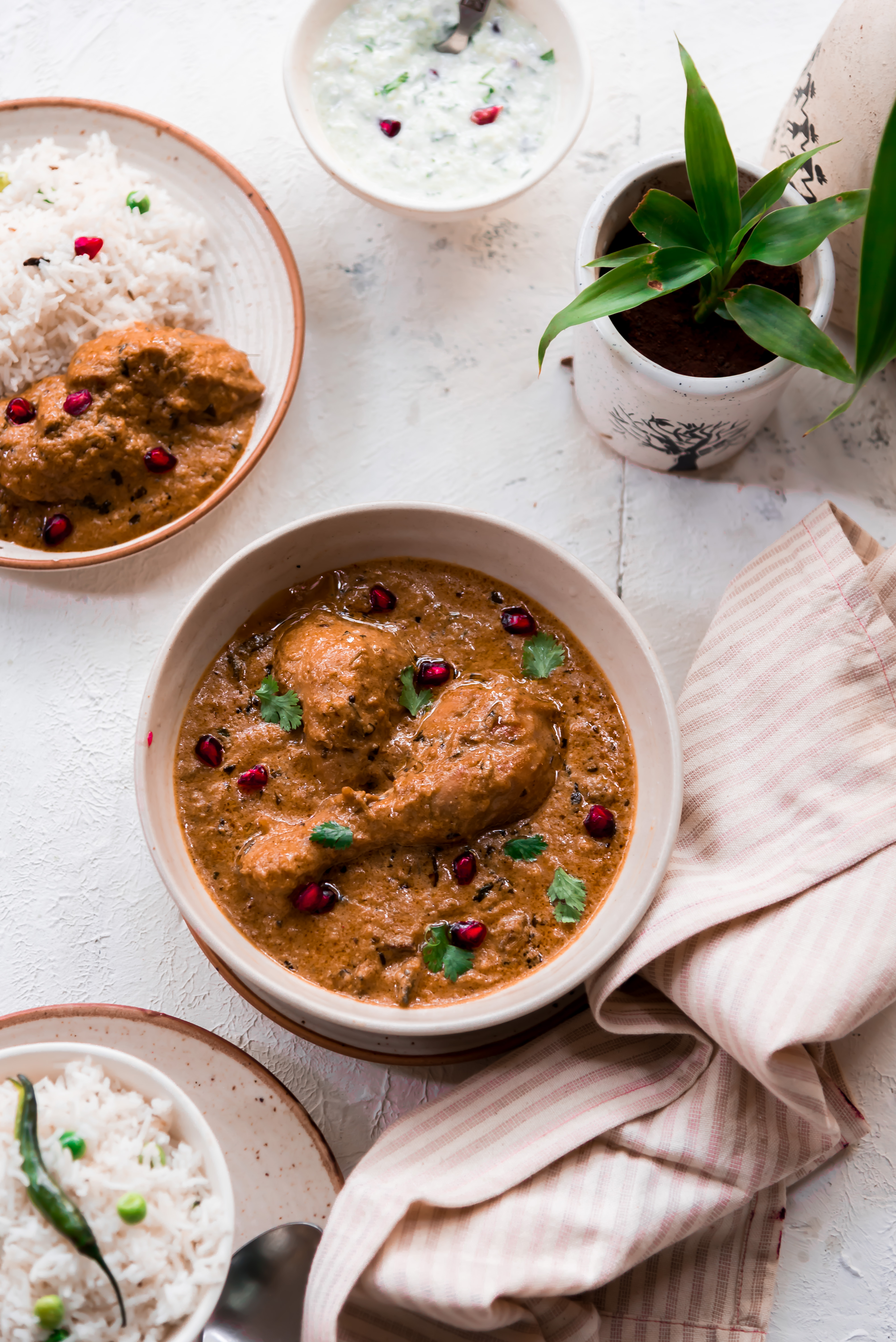 India is the land of several delicious delicacies and today many cuisines of Indian food are popular especially the Royal Cuisines which has made Indian food highly popular in the West and South Eastern regions of the globe. One such cuisine is the Awadhi Cuisine – a unique offering from the city of Lucknow in Uttar Pradesh. This unique cuisine originated from Awadh- a part of Uttar Pradesh. Today, it is still popular as it was in the ancient periods when the Royals ruled India. The cooking procedure of the Awadhi Cuisine in Lucknow is similar to those in Central Asia, Northern India and Central-South Asia.
Korma is the technique of braising meat in velvety, spiced sauces, enriched with ground nuts, cream and butter. While kormas are rich, they are also mild, containing little or no chilies. There are both vegetarian (Navratan korma) and non-vegetarian(chicken, lamb, beef & fish korma) varieties of korma. Murgh Awadhi Korma is a classic dish from Lucknow. This recipe I have  adopted from Indian Master Chef Harjeet Kumar , a brilliant chef with awesome talent. Due to non availability of certain ingredients I have skipped them.However. it hardly affects the taste and the flavour what I got had awesome taste.
Murg Awadhi Korma
Ingredients
5 tbsp

ghee/oil

1/2 tsp

black cumin

1 no

bay leaf

1 inch

cinnamon 

5 no

green cardamom 

5 no

cloves 

2 tbsp

ginger garlic paste

500 gms

chicken boneless ( thigh)Though I have used chicken with bones

Salt 

to taste

 

1 tsp

turmeric powder

1 tsp

red chilli powder

2 tsp

coriander powder

200 ml

  whisked yogurt

5 tbsp- brown onion paste (fry  3-4 onions till  brown and make a paste with water)
3 tbsp- brown cashew paste( fry the cashews and make a paste with water)
2 tbsp Amul Cream( Not in the original recipe as I like my korma to be a little sweet i have used the Cream, but if you do not like you can skip this step.)
1 tbsp milk
50 ml

Kewra water

a few

coriander leaves for garnishing
Clean the chicken, apply salt and keep aside.
Fry the onions till golden brown. Let it cool and then grind it to a fine paste and keep aside. Fry the cashew nuts and then grind it  to a fine paste.
Heat a thick bottom handi, add oil, add black cumin, bay leaf , cinnamon, green cardamom and cloves . When the spices crackle add ginger and garlic paste. Cook till raw smell disappears. Mix salt, turmeric, red chilly powder and coriander powder with little water  . Add this to the handi and cook till oil surfaces.
Cook for 2 mins and add chicken and cook for another 5 mins.  and cook with little water in between till oil surfaces.
Now increase the heat and quickly pour the whisked yogurt, stirring continuously. Do not stop until yogurt comes to a boil. Now cook again till oil surfaces.
Add brown onion paste  along with some boiling water and cook till the oil surfaces.
Stir in the cashew paste and cook under slow flame till chicken is cooked completely add  kewra water .
Stir in the fresh cream and sprinkle some coriander leaves. Serve hot with Roti, Naan or Parathas.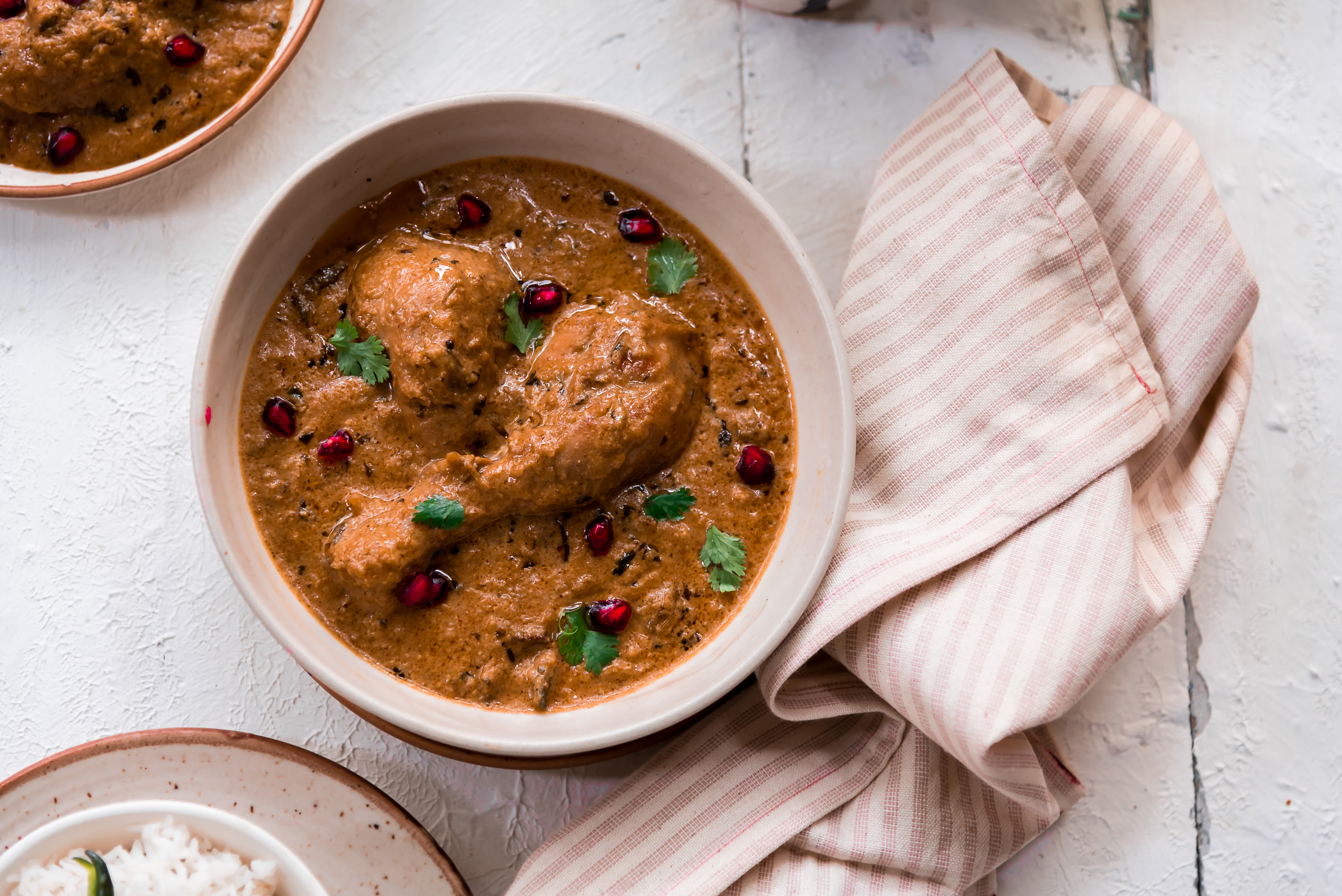 (Visited 1,214 times, 1 visits today)