The land of the Seven Sisters – Arunachal Pradesh, Assam, Manipur, Meghalaya, Nagaland, Mizoram and Tripura – is home to India's largest collection of tribals who migrated to our peninsula, through the centuries via Myanmar. The prominent tribal groups include the Nagas, Khasis, Jaintias, Mizos, Boros, Garos and Kacharis. Each group maintains its own identity and culture of language, art and culinary specialties with their integral traditions forming part of their daily lives.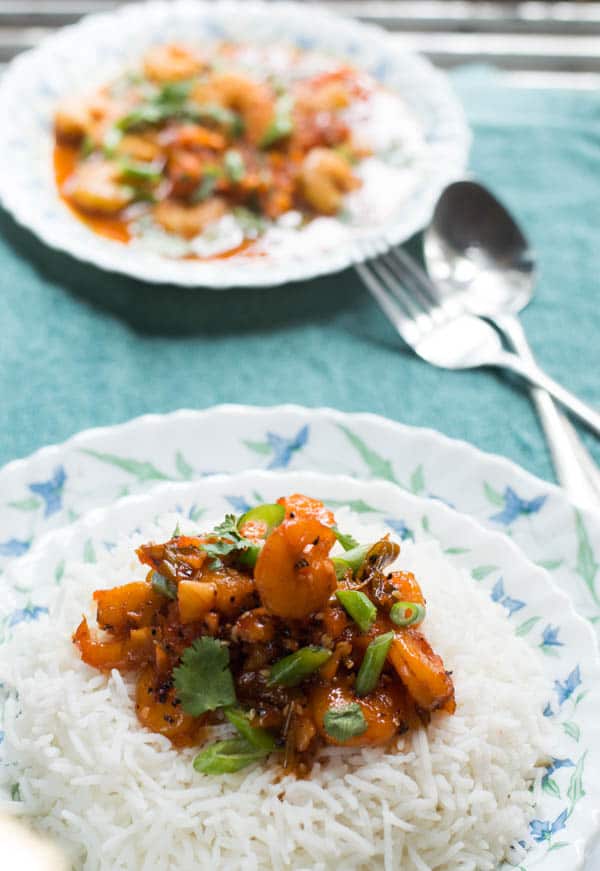 The land of the Seven Sisters still remain the lesser explored states of India. Apart from spectacular tourism, the regions are also renowned for their interesting cuisine, an experience in itself. From strong flavours to colourful dishes, the food of the northeast will definitely satiate a true foodie's palate. Northeast India is home to some of the most exclusive and special spices in the world including the world renowned raja mirchi or bhut jolokia (Ghost Pepper)which is the hottest chilli in the world according to the Guinness World records.
For this Foodie Monday Blog Hop we have decided to take up Cuisines from North Eastern States – the cuisines of the frontier states of Arunachal Pradesh, Assam, Manipur, Meghalaya, Mizoram, Nagaland, Sikkim and Tripura and  the myths that surround Northeast Indian food. With my limited knowledge, when I was searching frantically for the recipes, I realized that the very items that, for most of us, define Indian food: oil and masala and Northeastern food will have none of it. Bland, but also hot; pungent, but also aromatic; healthy, but also fatty—these adjectives can all be used to describe a meal from the Northeast, which is incomplete without a steaming platter of rice and various green vegetables. The food and lifestyle of Northeastern people are very simple. They take what is locally available and turn them into simple and tasty meals. There is no overabundant use of oils and spices. In some states, like Mizoram and to some extent Nagaland, the use of oil is almost non-existent as also that of salt.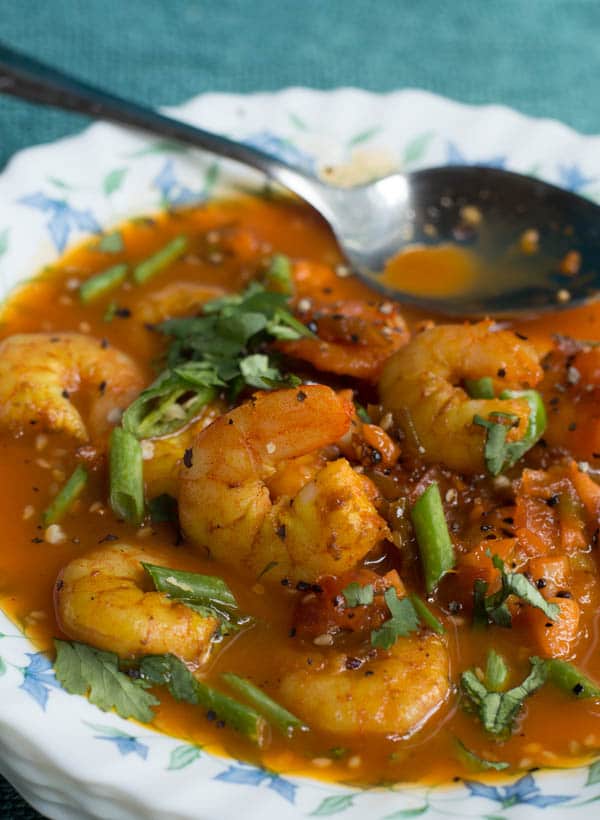 I came to realize that While Manipur is known for its fish delicacies, Nagaland is better known for its bamboo and meat fare. Mizoram mainly has boiled and subtle preparations rather than the fried foods. Sikkim and Arunachal Pradesh are more strongly influenced by our eastern neighbor  like China. This influence can easily be seen in their version of momos and noodles, but again without much influx of spices. Tripura's cuisine is evidently influenced by the mainland and is known for its bursting masalas. Assamese food is well known for its tangy flavours brought in by the extensive use of tomatoes and various citrus fruits for example Masor Tenga.
While searching for the recipes, I find very little is known about the cuisines and there are very few online resources. While I have a good knowledge of Assamese cuisine thanks to my friend who have gifted me a book on it and I found so much of similarities in our cooking style and techniques and I almost relate to all of the recipes except the use of khar (traditional alkali) which is so typical to Assamese cuisine. This time I want to explore other cuisines besides Assamese Cuisines and stumbled upon this Shrimp recipe from Mizoram and did not find any other shrimp recipes list for rest of the states. Since my son like shrimp a lot, I decided to go ahead with this shrimp dish from MIZORAM.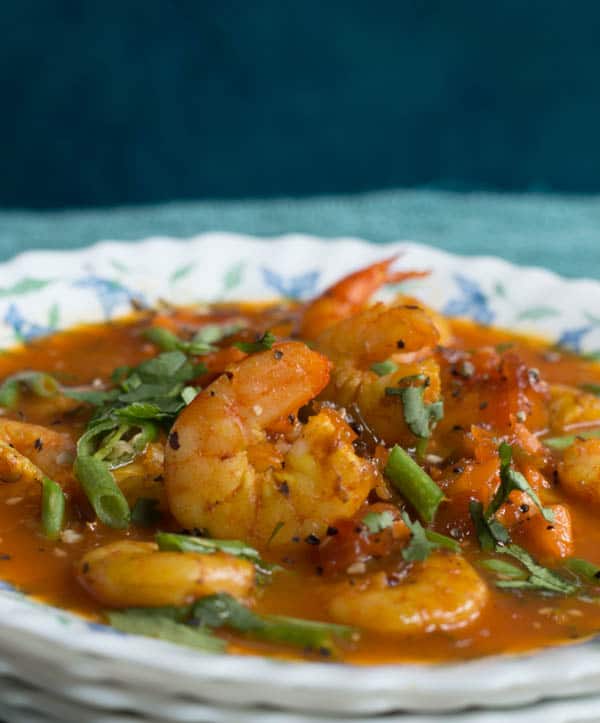 Mizoram is one of the seven Northeastern sister states sharing a border with Assam, Manipur, Tripura and an international border with Bangladesh and Burma. Mizoram means "land of the hill people", mi means people, zo means hill and ram means country.Cuisine of Mizoram is similar to that of its other northeastern sister states and different from most of the mainland cuisine. Rice is a staple food served with fish, chicken, pork and duck. Meat and seafood are added to pretty much everything that is cooked. Mustard oil is used for cooking. Very little oil and spices are used and food tends to be bland. Vegetables are also used extensively unlike the common belief that Mizos eat only non-veg.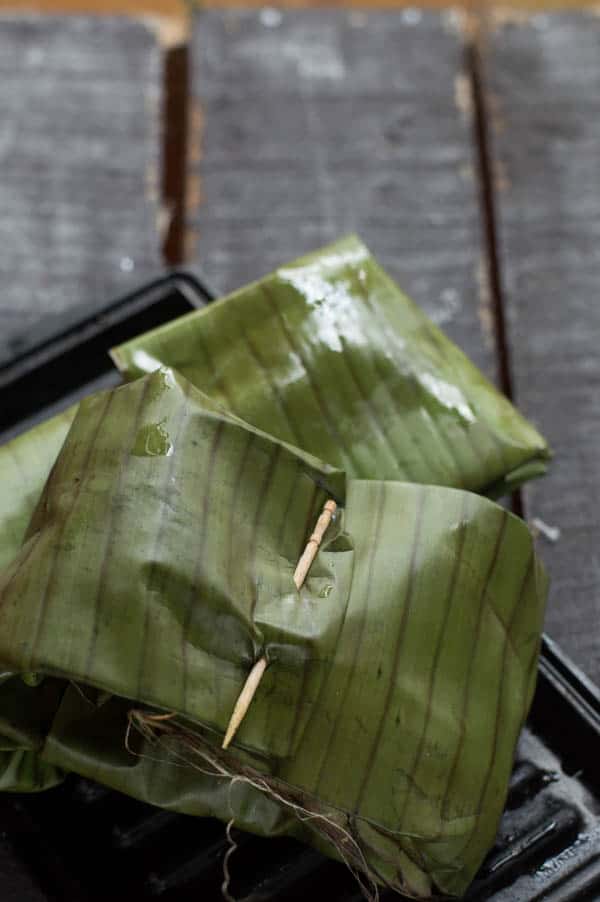 The food of Mizoram has a characteristic blend of Chinese and North Indian cuisine; thereby giving it a distinct flavour and taste. The dishes in the Mizoram food platter mostly include non-vegetarian preparations. Vegetables are also eaten along with meat. The food is served in banana leaves maintaining their age-old traditions. The local people here love to eat fish, mostly cooked or sauteed in mustard oil, which has a distinct flavour. Mizo people like bamboo in their food and also enjoy preparing delicacies made with duck meat.
Most popular dishes from this state are Misa Mach Poora, Panch Phoron taarkari, Dal with egg,Grilled shrimps. A meal in mizo will contains the following dishes for sure Vawksa ( smoked pork),Samtawk, Bai ( soup), Hmarcha Rawt ( Chilli chutney),any kind of Chhum ( Salad) and Behiiang. Chhangban Leh Kurtaisounds exotic butis a simple dish in itself. Made from rice flour and jaggery ,covered in leaf steamed into a delectable healthy and tasty treat from Mizoram.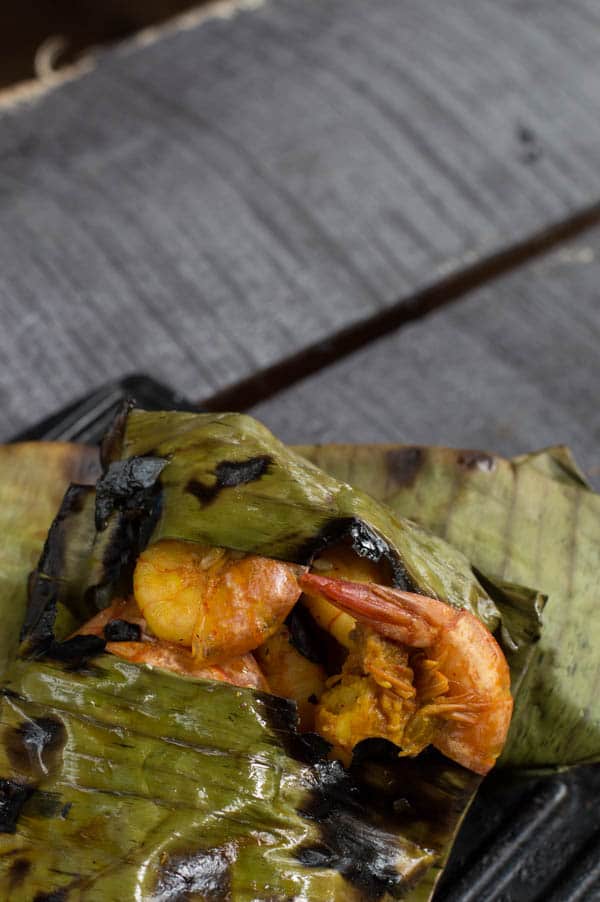 The primary staple food of the Mizoram people is rice while the most common non-vegetarian food item is fish. Mustard oil is the most preferred medium of cooking for most Mizoram food items. However, the dishes are cooked with the least amount of oil. Bamboo shoots are among the most used vegetables in Mizo cuisine and among meats, ducks have a special place.Boiling, steaming and sautéing are the most preferred cooking methods followed in Mizoram cuisine, as the whole motive is to retain the maximum possible nutritive value of the ingredients.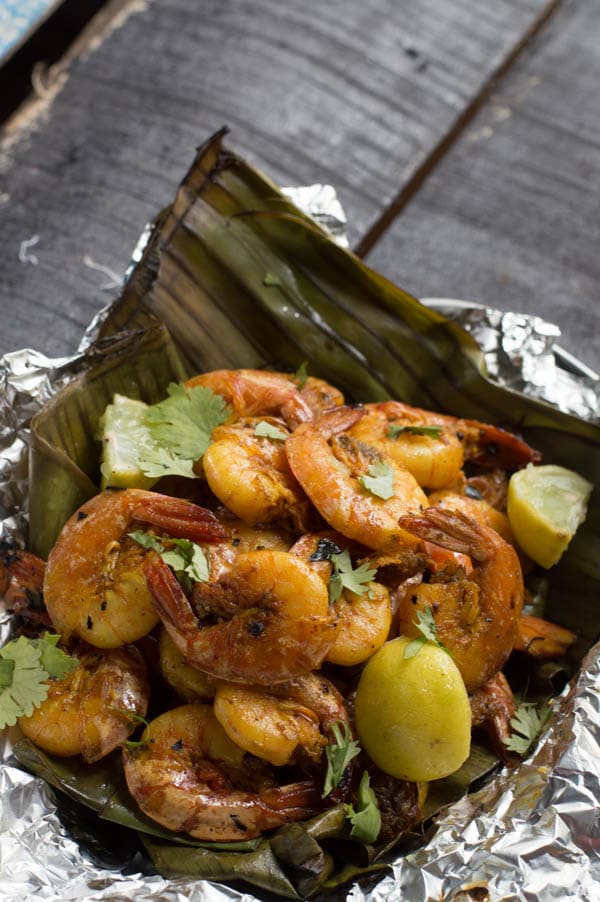 In Mizoram people do like to include plenty of vegetables but they also add a meat to each and every dish and make it Non veg.The food in Mizo is quite similar to other north eastern states , Generally mild and some of ingredients used are punget in flavor.The staple is rice here, and they don't forget t
o include fish in their meal.Zero oil or very less oil is used in most of the recipes here.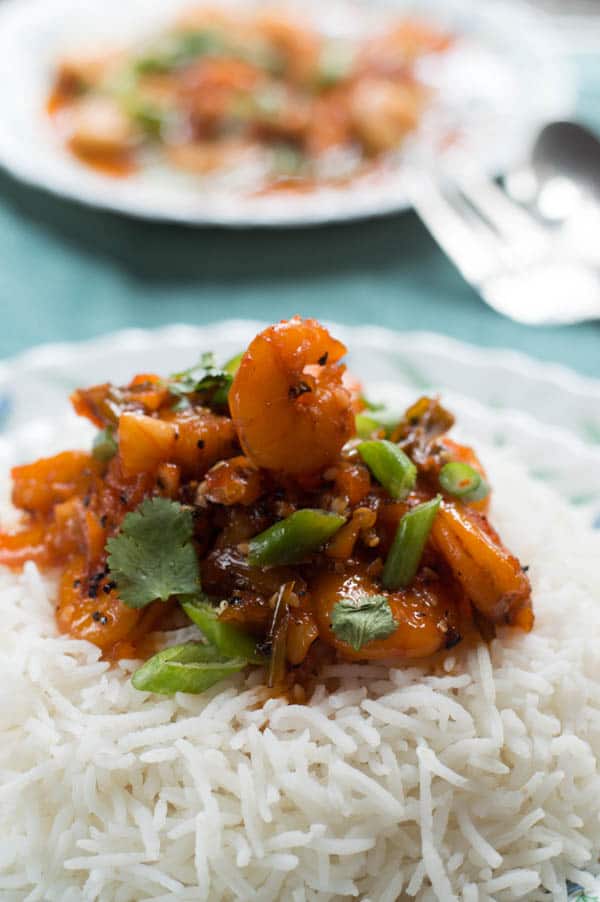 Misa Mach Poora is a popular dish from the northeast cuisine which is very easy and simple to prepare with just few ingredients on hand. Grilled shrimps are a sure way for an awesome delectable and luscious dinner; irresistibly marinated with subtle flavours, ready to be eaten with a bowl of hot rice. If you love seafood, this Mizo dish is made for you. This is a dish traditionally made by grilling or roasting the shrimp on banana leaves placed on hot charcoals. The shrimp is flavoured with local spices and served with steamed rice. The sheer simplicity of the dish is what makes it so comforting to the soul. Most of the sources for this recipe online sites had onions in the ingredient list and none mentioned it in the preparation.So I have followed the recipe of Misa Mach poora from Here. The recipe was basically of Grilled Shrimp and served with Steamed Rice. I have made the recipe as per the instruction and after that I have used the grilled shrimp to make an Orange Glazed Shrimp curry that goes very well with the hot steaming pot of rice.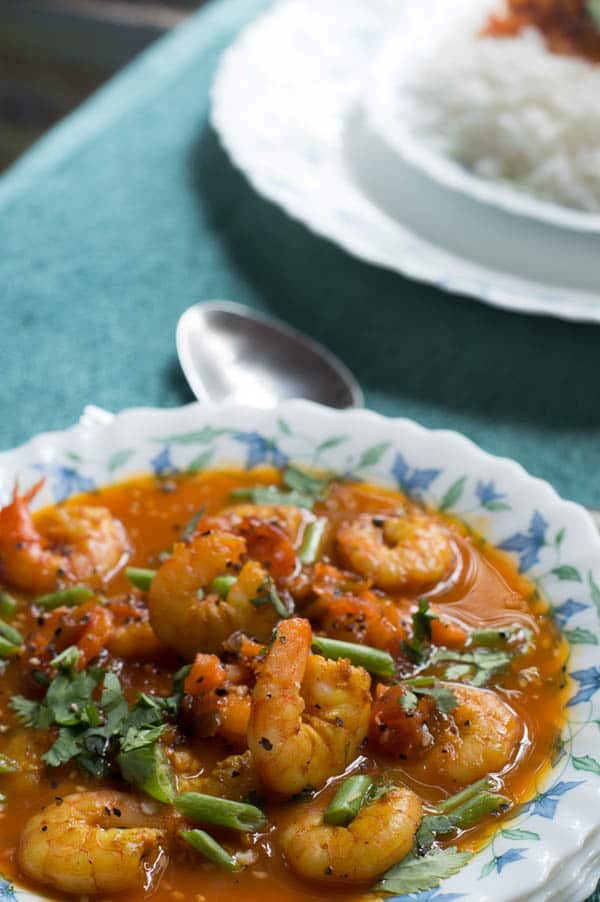 Total Time: 20 minutes

(Visited 1,041 times, 1 visits today)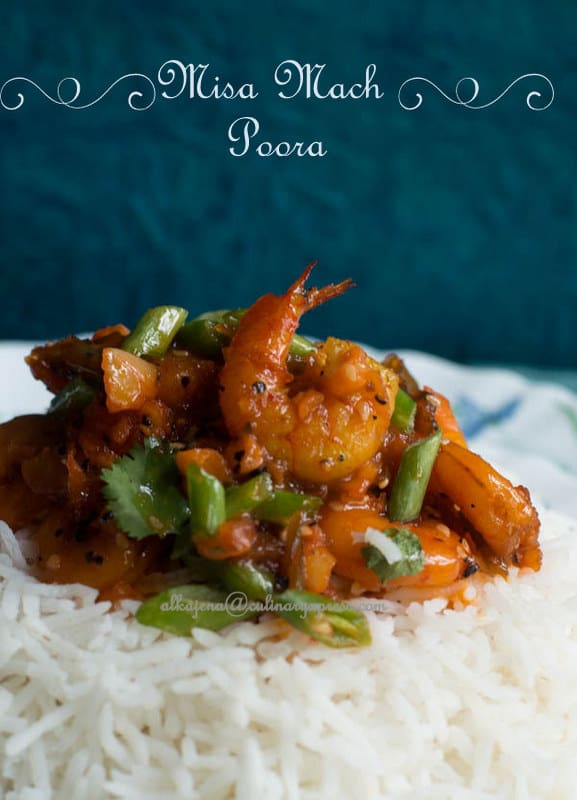 | | |
| --- | --- |
| | |
Peel, devein and clean the shrimp.

Marinate the shrimp with ½ tsp. of salt and ½ tsp. of turmeric powder. Let it marinate for about 5-10 minutes.

Boil water in a sauce pan with peppercorns . Boil just enough water to merge the shrimp in it.Add shrimp and cook for 2 minutes.

Drain the water and transfer the shrimp to a bowl.

Pour ½ tsp. of mustard oil on the shrimp, mix it and keep it aside until ready to grill.

Make a paste of coriander powder and pepper powder with the help of 1 teaspoon of mustard oil and keep aside.

Place the banana leaf over a slow fire to make it soft. Marinade prawns with coriander and pepper paste and place on the banana leaf. Wrap the banana leaf tightly and secure with a toothpick or banana stem thread.

I have wrapped the banana leaf with silver foil and placed it on the grilled rack over the stove. If you do not have banana leaf, you can place the shrimp on the pan and grill it on both sides until the shrimp is roasted. This should take about 5 minutes.

Take out the prawn after 5 minutes and open the silver foil and the banana leaf.

At this stage you can squeeze lime juice and serve it as a side dish with rice or as an appetizer or with some cocktail.

Or you can prepare a orange glazed syrup by stirring together orange zest, orange juice, lime juice, hot pepper sauce and salt .

In a pan, and some oil and stir in the sesame seeds, chopped green chillies and garlic and saute for a minute .

Add the chopped onions and fry till translucent. Stir in the orange syrup and bring to a boil until thickened, for about about 2 minutes on high flame.

Stir in the grilled shrimp along with ground pepper and toss everything well.

transfer to a plate, sprinkle spring onions and fresh coriander leaves and serve over some hot steamed rice.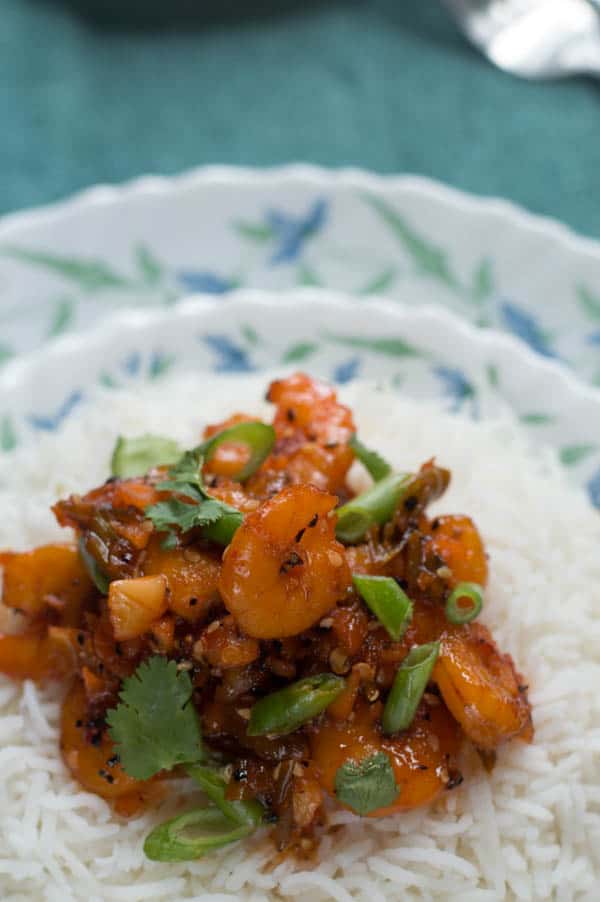 Sending this recipe of Misa Mach Poora to 29th Foodie Monday Bloghop theme of "Cuisines from North East"......