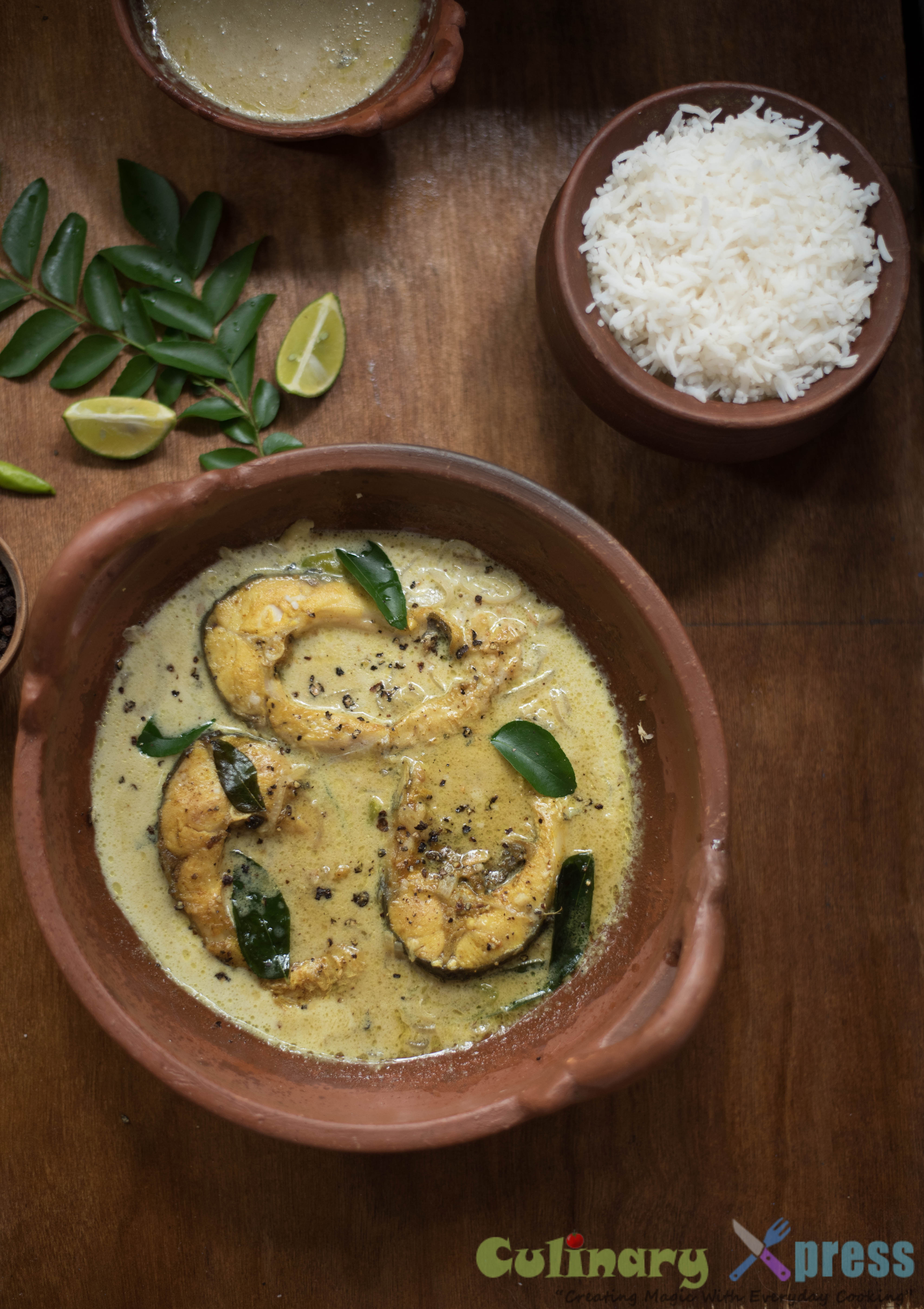 Meen Molee/Fish Molee, is a signature dish from Kerala cuisine where the fish is cooked in a generous amount of Coconut milk .Nestled between the Western Ghats and the Arabian Sea , the narrow strip of land known as the God's Own country: Kerala has long attracted visitors to it's shores from every corner of the globe since time immemorial. The land to the majestic hills, palm fringed beaches, pristine backwaters, enchanting forests and the silent valley truly justifies it's name as God's Own Country.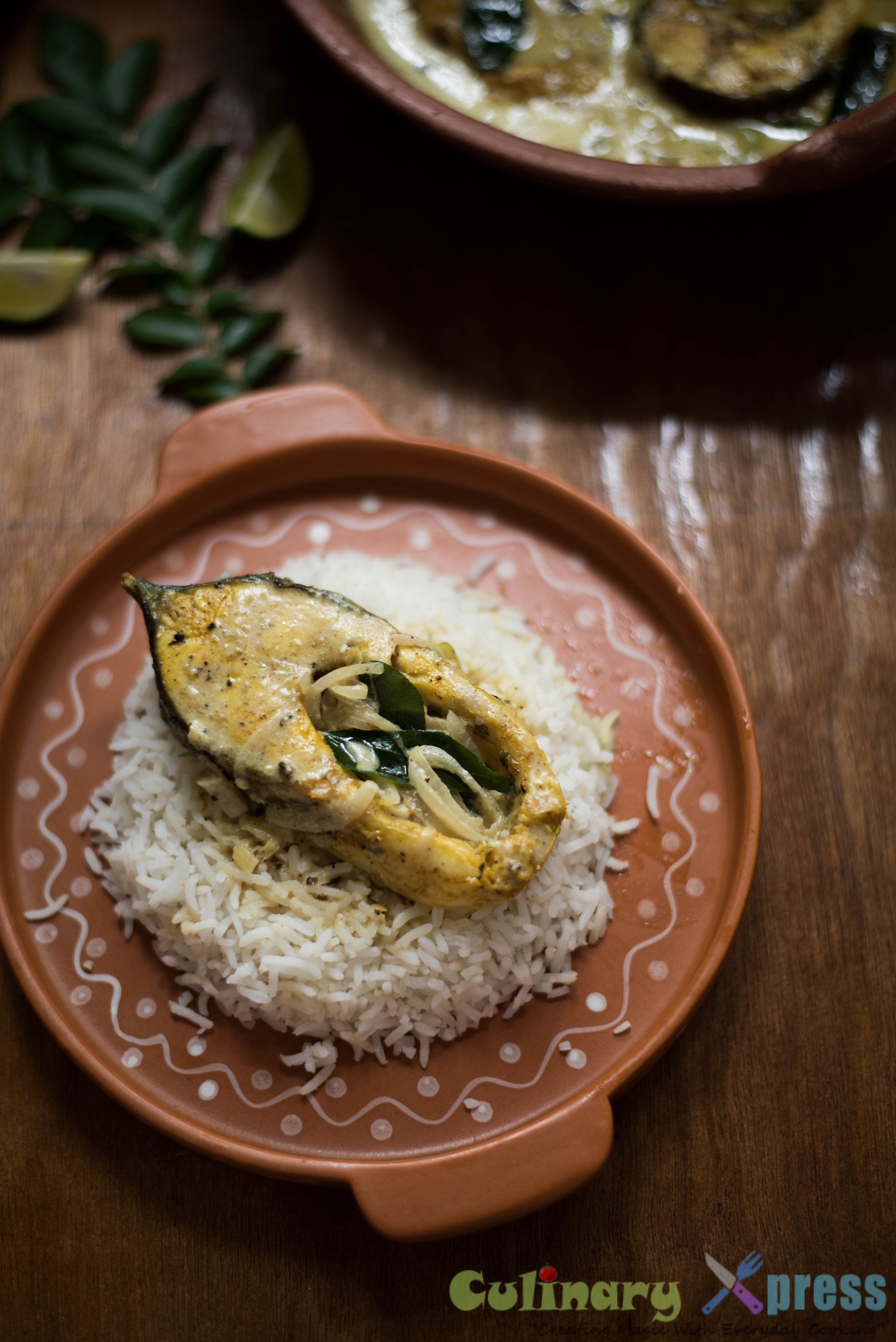 Kerala Cuisine has been influenced by Syrian Christians, Muslims, Nairs who are the warrior class and Namboodri who are the Brahmins by birth. One of the major characteristics of Kerala food is the use of coconut oil, mustard seeds, curry leaves and coconut milk in their day today cooking. Food is traditionally eaten by hands and served in banana leaves. Some of the Signature dishes from the Kerala Cuisine are soft pancake made from fermented rice batter( APPAM), steamed cake made from rice flour and steamed hallow bamboo cylinders(PUTTU), raw mangoes cooked in coconut gravy and mildly flavored with curry leaves, garlic and shallots(MANGO MAPPAS),roti made of rice flour and dipped in coconut milk before servicing(KOZHI PATHRI), unleavened layered wheat bread(POROTTA), stir-fried vegetables(THORANS), a thin stew of fish tempered with curry leaves, green chilies, ginger, garlic and cooked in coconut milk(MEEN MOLEE) to name a few.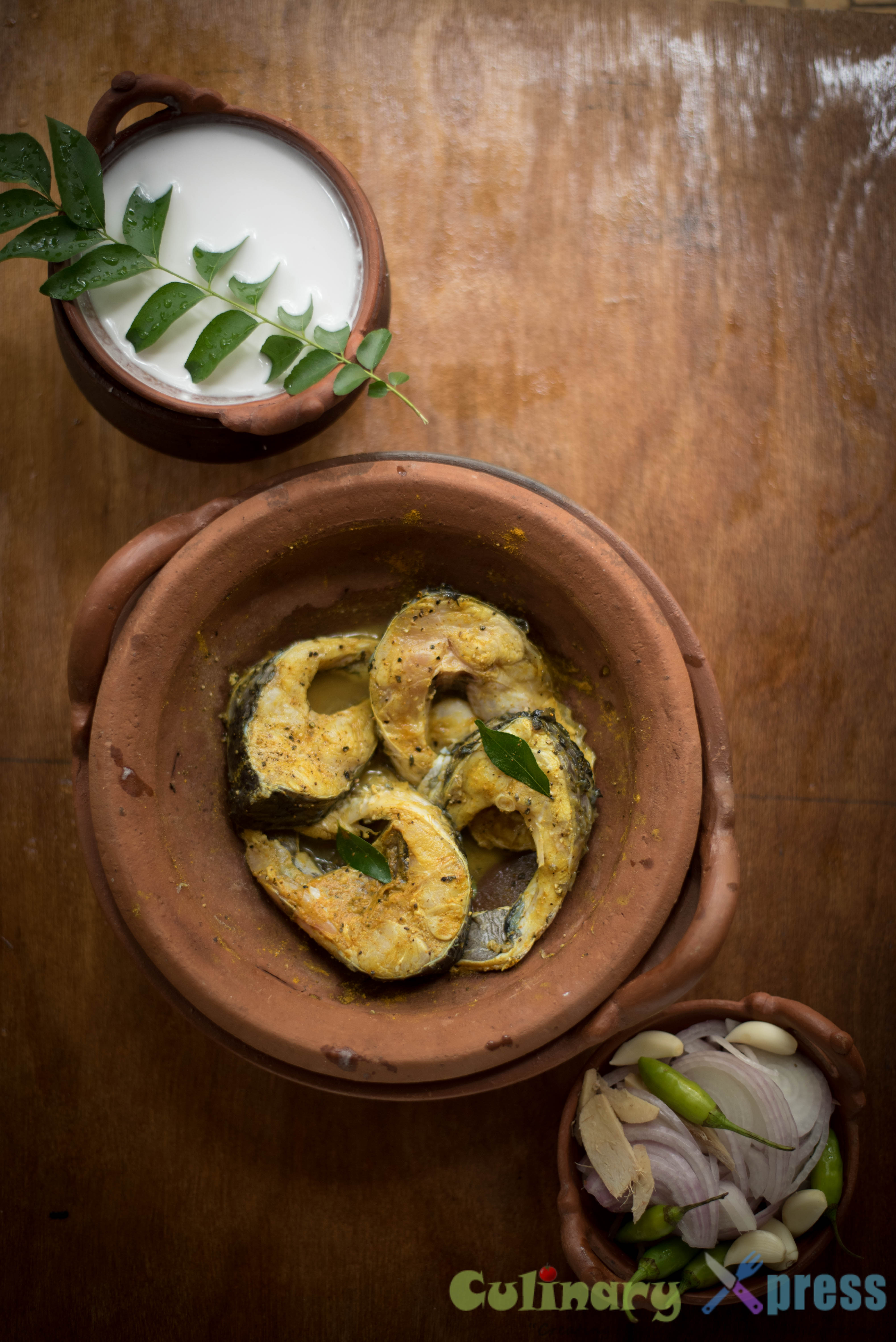 Fish Molee/moilee is a typical Syrian Christian delicacy mildly flavored to suit most palates. The curry is usually prepared in a traditional earthen vessel known as monchatti by stewing fish in coconut milk infused with fresh ginger, garlic and other delicate flavors. Fish in Malayalam language is called Meen and 'molee' is derived from a Spanish word "mole" which means stew. The traditional method of cooking this dish involves using coconut milk of different consistency added at different intervals. But I completely rely on a recipe found in the back of a coconut powder packet and have followed that recipe in preparing this Mean Molee. This curry taste awesome with some hot steamed rice .
(Visited 360 times, 1 visits today)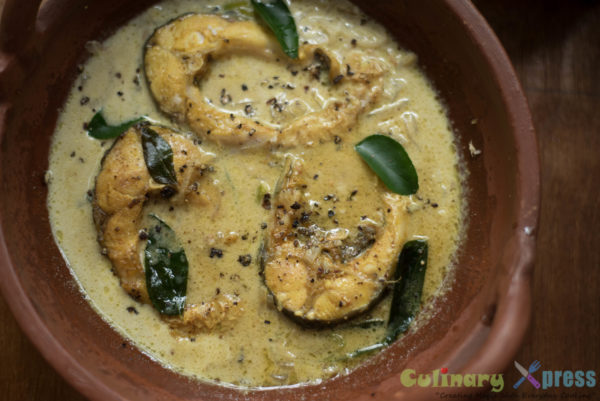 Wash and Clean the Fish and apply turmeric powder, 1 tsp black pepper powder, 2 to 3 curry leaves ,salt and lemon juice . Keep aside for 15 minutes.

Freshly grate a coconut and add 1 cup of water to it and grind in a blender. Squeeze out the coconut milk and keep aside. This is your thick coconut milk. Add 1 cup of water to the grated coconut and squeeze out the milk from this. This becomes your thin coconut milk.

Heat coconut oil in a kadhai and shallow fry the fish on both sides and keep aside.

In the same pan, add the chopped ginger, garlic and fry for a minute on medium flame. Add the sliced onion, curry leaves, slit green chilies, salt and saute till onions are soft and translucent.

Reduce the flame and the thin coconut milk to it allow it to come to a boil, simmer and cook for 10 more minutes.

Now add the fish and donot stir. cook for another 5 minutes before adding the thick coconut milk. Remove from fire and serve Hot with Steamed Rice.