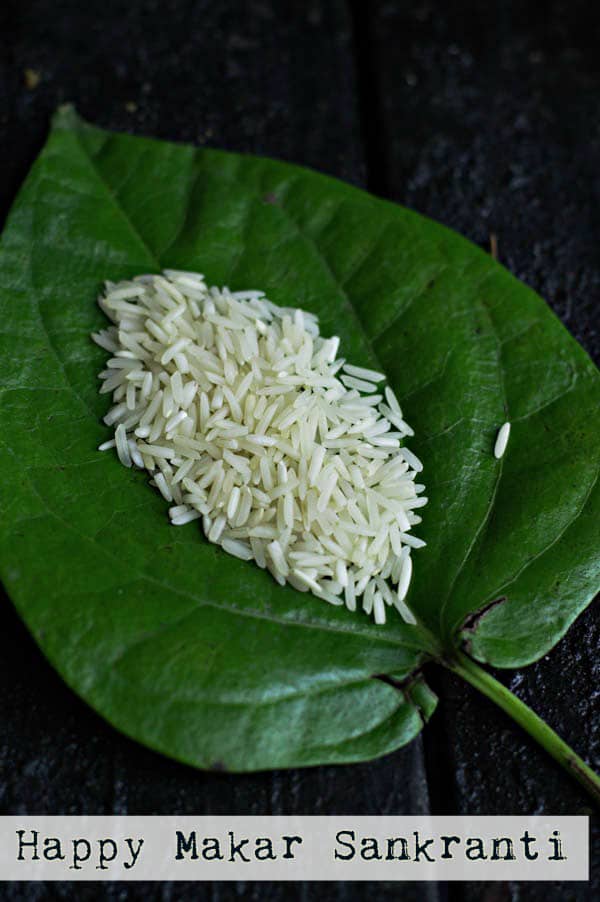 Makar Sankranti is an auspicious day and is celebrated with much fanfare and festivities across India. It marks the arrival of the spring season, bidding adieu to the chilly winters.Makar Sankranti is considered very auspicious as it signifies a new beginning. While there are 12 Sankranthis in all, the Makar Sankranti when the Sun transitions from Dhanu (Saggitarius) to Makara (Capricorn) is the most widely celebrated festival in India. Primarily a harvest and thanksgiving festival in India, each state and region has it's own way of celebrating Makar Sankranti.  It is known by different names and celebrated with different customs in different parts of the country.
Makar Sankranti:Chhattisgarh, Goa, Odisha, Haryana, Bihar, Jharkhand,Andhra Pradesh, Telangana, Kerala, Madhya Pradesh,  Maharashtra,  Manipur,  Rajasthan, Sikkim,  Uttarakhand, Bihar, and West Bengal
Bhogali Bihu or Magh Bihu: Assam
Pongal:Tamil Nadu
Uttarayan:Gujarat
Maghi:Haryana, Himachal Pradesh and Punjab. The day before, people of Punjab celebrate Lohri.
Shishur Saenkraat:Kashmir Valley
Khichdi:Uttar Pradesh and western Bihar
Makara Sankramana:Karnataka
Like every festive celebration, it is a time when mouth-watering traditional delicacies are lined up. Take a look at traditional sweets that are served on this occasion so that you can taste the best of India.
Makar Sankranti in Eastern Part of India:
Assam has a rich culinary tradition. Bihu is a Agricultural festival which is celebrated by all Assamese people, irrespective of caste , creed or religion.The celebration of Assamese New Year starts with Bohag Bihu which indicates the sowing of seeds . Bohag is also known and celebrated as Rongali Bihu. Celebration of Kati Bihu marks the completion of sowing and transplantation of paddy. During this time , people light diyas in the paddy field and in their homes to welcome Goddess lakshmi. The last form of Bihu celebration is known as Magh Bihu or Bhogali Bihu which is celebrated in winter at the end of the harvest period.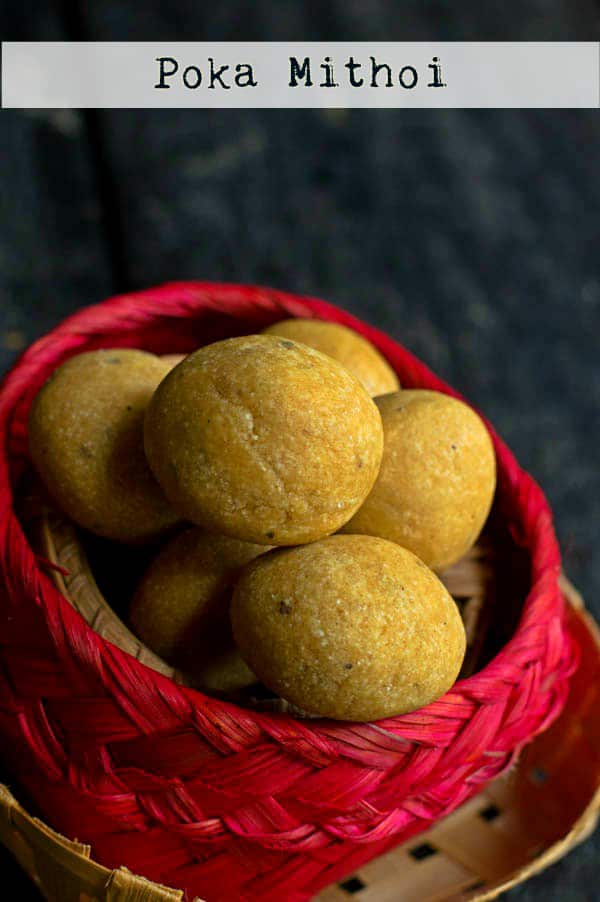 In Assam, Makar Sankranti assumes the name of Magh Bihu or Bhogali Bihu. It is one of the biggest festivals of the Hindu population in Assam. Celebrations start on the night before the festival. Known as Uruka, it is a night of feasting, praying, exchanging of sweets, and building of huts with thatch, dry leaves and bamboos. These makeshift huts are called Mejis. People gather round the Mejis and sing devotional songs to the accompaniment of dhols. The next morning starts with an early bath for purifying themselves, and then the Mejis are burned as part of the ritual. Rice cakes or pithas and betel nuts are thrown into the burning huts as offerings to the gods to get blessings for the new harvesting year. Burnt remains are then taken to throw among fruit trees so that they bear abundant products. The rest of the day is spent watching or participating in cock-fights, buffalo fights and other such diversions.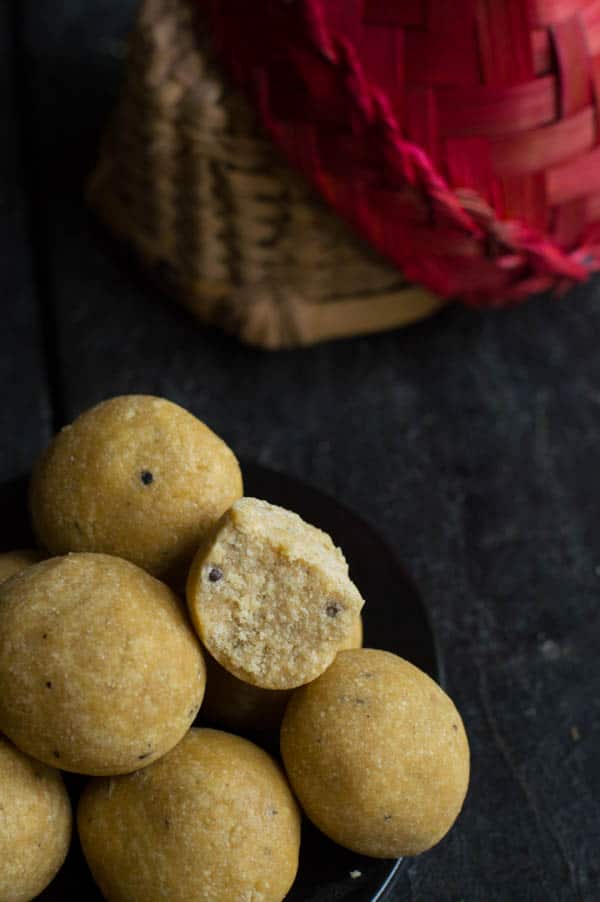 Assamese cuisine is never complete without the mention  of Pitha which is basically a snack made from rice. During Magh Bihu, when the granaries are overflowing with harvested crops, ladies of the Assamese households prepare a varieties of Pithas. Bora chual( Sticky rice) is considered one of the most valuable ingredients for the people of Assam for preparing a varieties of Pithas.
Ingredients
1 teaspoon
freshly ground pepper
Let's learn How to make it:
Steps
Soak the rice for 3-4 hours. Drain well. spread on a kitchen towel to dry up.
Pound the rice to a  fine powder. Seive with a very fine seive. keep in an airtight container for further use.
Roast the rice powder in a heavy bottomed kadai till you get a sweet aroma coming out of it. make sure to stir it continuously.
Remove it from the fire and mix freshly ground pepper to the roasted rice powder.
Make a syrup of the jaggery and water on slow flame and mix a little of this syrup to the rice powder to make firm round balls.
Dust the balls with roasted rice powder.
Store in an airtight container.
Bhogali Bihu is not complete without a special mention of Til pithas , a special mouth watering assamese snack made of roasted sesame seeds pounded coarsly and mixed with jaggery and rolled it on rice powder. If you have not tasted this awesome recipe , you donot know what you are missing.This is one type of pancake made with sesame seeds. It is made extensively in festive days in Assamese households. The ingredients used to make these delicious dishes are glutinous rice, black Sesame seeds, jaggery and water. These sesame seeds are roasted and pounded and mixed with jaggery. The grounded  rice is used to make pancake batter and the jaggery and seeds mix are used as stuffing.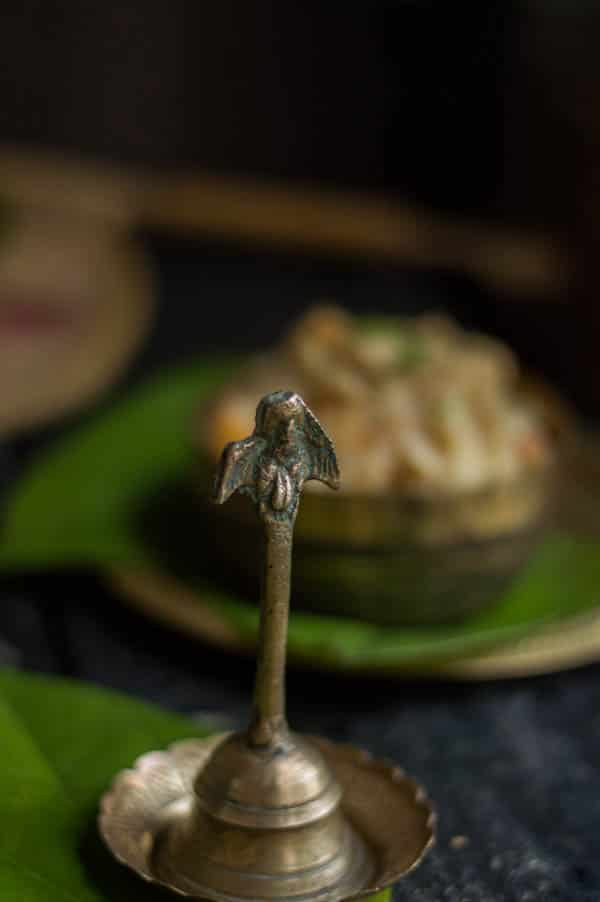 Arunachal Pradesh holds a special place in the hearts of Hindus when it comes to Makar Sankranti. It is recorded in as many as three ancient Hindu texts – Kalika Puranas, Srimat Bhagwata and the Mahabharata, that the sage Parsurama immersed himself in the waters of the Lohit Lake, a district located in Arunachal Pradesh, to cleanse himself of his sins. This lake, now called Parasuram Kund, thus has religious significance for Hindus, who come in large numbers every year from all over the country to take a dip in its holy waters.
Tripura attracts a large volume of Hindu pilgrimage during this festival, which sometimes referred to as Poush Sankranti. In the district of South Tirthamukh, two rivers, Raima and Sarma, merge to form the Gomati River. It is to the banks of this river that the pilgrims come, to wash away their sins on the auspicious day of Makar Sankranti and to pray to Surya Dev, the Sun-God of Hindu pantheon. They  also perf
orm Shradha, Tarpan and Pinda Daan rituals for their dead forefathers.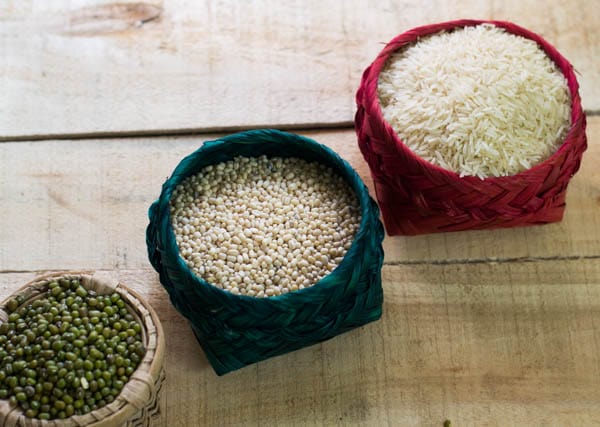 In Manipur, the Hindus of the Meitei community mark the ascendancy of the sun with a puja at home. Many offer baked sesame cakes called kangsubi to deities – some pray to Lainingthou, the supreme god residing in the house, and others conduct the puja in front of the tulsibong (basil plant temple) in the courtyard. These sesame cakes are then consumed to purify the soul.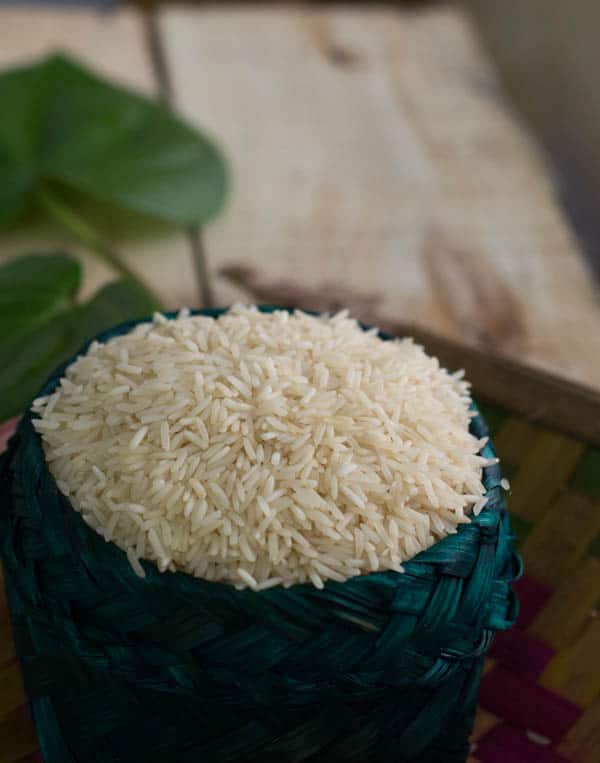 This festival is observed largely in Odisha by both the tribal and non tribal people. Since this occasion falls just after the harvesting of the paddy crops is over in Odisha, it is observed largely among all with joy and ceremony. Tribal groups lit bonfires, danced and organised feasts on the eve of Makar Sankranti in various places of Mayurbhanj, Balasore, Keonjhar and Sundergarh districts. Kite-flying competitions were organised in places like Cuttack and other towns with fun and enthusiasm.In Ganjam district, which has a sizable Telugu population, people decorated the front of their houses with colourful rangoli and celebrated Pongal.
Preparations for Makar Sankranti start much earlier. People clean their houses and whitewash it. On the day of festival, all members of the family wear new cloths, have different kinds of 'pithas' and men and women consume country liquor. The Kudumi community also ends the "Tusu Festival" on Makar Sankranti. Young girls of this community worship "Tusu", a female deity and immerse it in the water on this day after a fortnight of worship by singing special songs and dancing.
"Makar Bhoga" is made of newly harvested rice and sugarcane mixed with jaggery, grated coconut, banana, chenna (cheese), Khua , various fruits, dry fruits and milk to the presiding deity, the Sun-God & lit solemn pyre for satisfying the evil elements plaguing household.In Jagannath temple at puri this festival is observed as Uttarayana Yatra and Uttarayan Vandapana of lord Jagannath .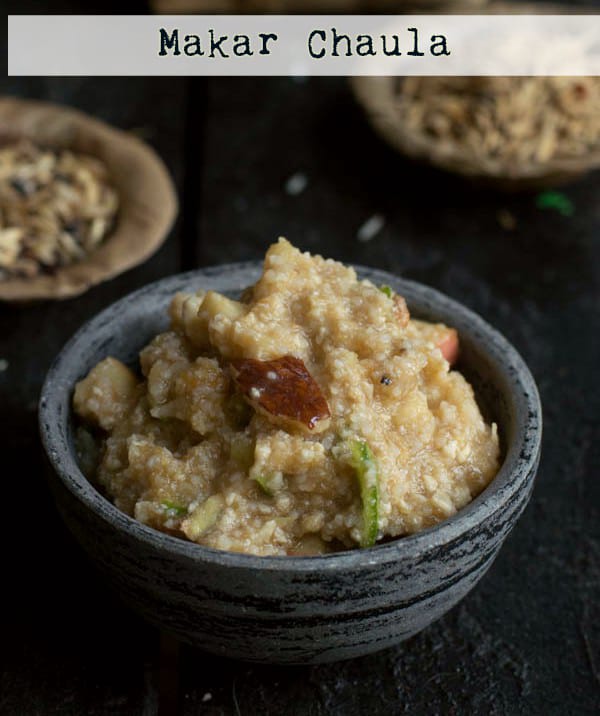 Ingredients
½ cup
freshly made chenna
1/4 cup
freshly grated coconut
a small piece of sugar cane
a pinch
of coarsely ground black pepper
1 teaspoon
of grated ginger
Let's Learn how to make Makar Chaula:
Steps
Soak the rice overnight. Wash and drain. Spread on a kitchen towel and  allow to dry at room temperature.Grind the rice coarsely  and transfer to a bowl.
Cut the apple, cucumber, banana into small pieces along with the orange and sugarcane.
Add the banana, apple, cucumber, orange, jaggery, chenna, milk, pepper powder,grated coconut, sugarcane and ginger and mix well. Peel and crush the banana. Add to the mixing bowl and mix well.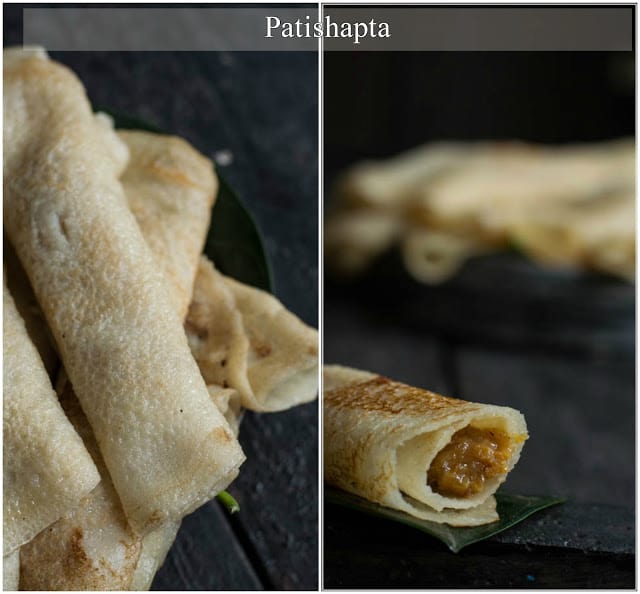 In West Bengal, it  is celebrated as a harvest festival Poush Parbon. The freshly harvested paddy along with the date palm syrup  is used in the preparation of a variety of traditional Bengali sweets made with rice flour, coconut, milk and 'khejurer gur' (date palm jaggery)  known as 'Pitha'.Millions of people take a dip in places like Ganga Sagar. Bengalis celebrate Makar Sankranti by eating their hearts out with traditional sweetmeats. Varieties of sweets like Patishapta which is a kind of sweet crepe or pancake that's stuffed with a mix of khoya, coconut and nolen gurer or date palm jiggery, available only in this season.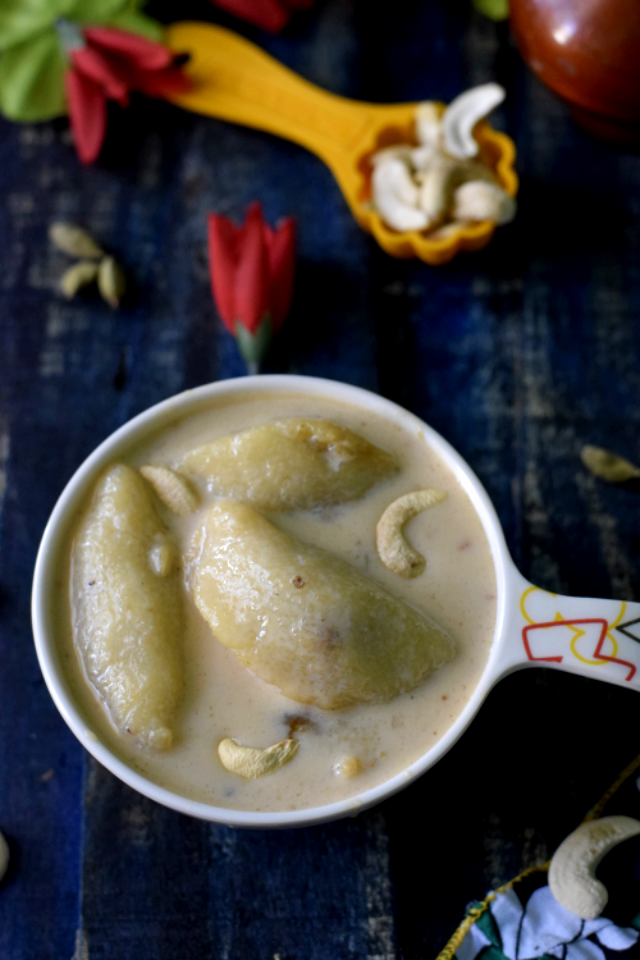 Doodh puli which is a traditional bengoli sweet prepared with semolina dumplings with coconut filling cooked in cardamom flavor milk. Doodh puli tastes out of the world when its made using date palm jaggery. Date palm jaggery or Nolen gur is only available in winter.
Makar Sankranti in Western Part of India:
Makar Sankranti is a big kite festival in most parts of India. In Rajasthan, particularly in Jaipur, skies are filled with kites. In Jodhpur, the Desert Kite Festival is held during Makar Sankranti.
"Makar Sankrati" or "Sankrat" in the Rajasthani language is one of the major festivals in the state of Rajasthan. The day is celebrated with special Rajasthani delicacies and sweets such as pheeni (either with sweet milk or sugar syrup dipped), til-paati, gajak, kheer, ghevar,  pakodi, puwa, and til-laddoo.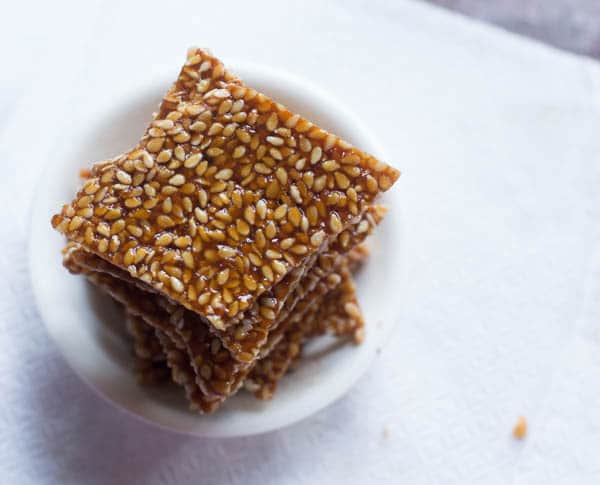 Ingredients
Let's Learn how to make Til Ki Chikki:
Steps
Wash sesame seeds in water and spread them on a clean kitchen towel till they are at least semi-dry.lightly Roast them on a medium flame. Take them off heat.
Grease a sliver foil and a rolling pin with ghee.Heat jaggery on medium flame because jaggery gets burnt very easily. Take little water in a plate and add a drop of the jaggery in it. The jaggery should sit like a drop without getting diluted. That shows it has reached the required consistency.
Add the sesame seeds and Mix well. Take off the heat.Add the cardamom powder. Mix again.Pour mixture over previously greased silverfoil.Quickly roll the mixture flat using rolling pin.
Make vertical cuts with knife while spread is still hot.When cooled, break it into pieces and store in airtight container.
Specially, the women of this region observe a ritual in which they give any type of object (related to household, make-up or food) to 13 married women. The first Sankranti experienced by a married woman is of significance as she is invited by her parents and brothers to their houses with her husband for a big feast. People invite friends and relatives (specially their sisters and daughters) to their home for special festival meals (called as "Sankrant Bhoj"). People give out many kind of small gifts such as til-gud (jaggery), fruits, dry khichadi, etc. to Brahmins or the needy ones.
In Gujarat there is a special significance attached to the celebration of Makar Sankranti as the Kite Flying Day. The clear blue sky seems to beckon everyone and the people surrender themselves to the joys of kite flying.In Gujarat Sankranti is observed more or less in the same manner as in Maharashtra but with a difference that in Gujarat there is a custom of giving gifts to relatives. The elders in the family give gifts to the younger members of the family. The Gujarati Pundits on this auspicious day grant scholarships to students for higher studies in astrology and philosophy. This festival thus helps the maintenance of social relationships within the family, caste and community. Undhiyu (spicy, baked mix of winter vegetables) and chikkis (made from til (sesame seeds), peanuts and jaggery), Methi Daal Dhokli are the special festival recipes savoured on this day.
In Maharashtra, happy feelings of camaraderie is symbolized by the distribution of til-gur – sesame seed and jaggery. The sesame seed (til) brimming with fragrant and delicious oil, stands for friendship and comradeship and jaggery (gur) for the sweetness of speech and behavior.In Maharashtra on the Sankranti day people exchange multi-colored tilguds made from til (sesame seeds) and sugar and til-laddus made from til and jaggery. This is a special day for the women in Maharashtra when married women are invited for a get-together called 'Haldi-Kumkum' and given gifts of any utensil, which the woman of the house purchases on that day.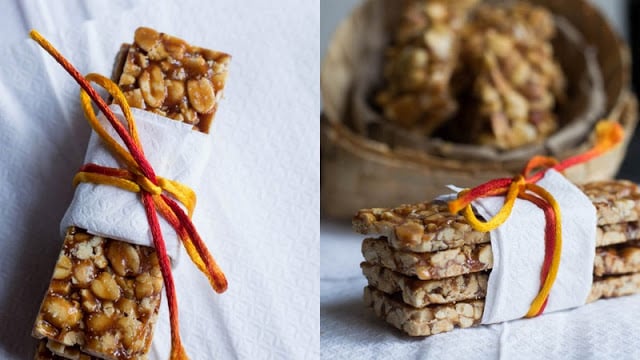 Peanut Chikki is a healthy, delicious traditional sweet made from peanuts and jaggery. This recipe uses jaggery to make crispier chikkis in easier way. However, you can also make these chikkis with sugar as well.
Ingredients
let's Learn how to make Peanut chikkis: 
Steps
Roast peanuts in a pan on medium flame for approx. 5-6 minutes. Stir constantly to prevent burning.Let it cool for 3-4 minutes. Remove its skin while they are little warm and break them into halves.
Grease a sliver foil and a rolling pin with ghee.
Heat ghee in a heavy bottomed pan over low flame. Add jaggery and stir continuously on low to medium flame.When jaggery dissolves, stir and cook for approx. 4-5 minutes on low flame.Check consistency of dissolved jaggery by dropping a small drop of it in a bowl filled with water. If jaggery drop turns into a solid drop and sits at the bottom of bowl, then it is cooked otherwise cook it for some more time and repeat the check.
Turn off flame and add peanut halves. Mix until all peanut halves are coated with dissolved jaggery.Pour mixture over previously greased silverfoil.
Quickly roll the mixture flat using rolling pin. Make vertical cuts with knife while spread is still hot.When cooled, break it into pieces and store in airtight container.
Makar Sankranti in Northern Part of India:
In the northern states of India as the winter is at its peak, people get busy preparing for Lohri which is a long-awaited bonfire festival which is celebrated in honour of harvesting the rabi (winter) crop. The festival is celebrated with much singing and dancing. In the evening, with the setting of the sun, huge bonfires are lit in the harvested fields and in the front yards of houses and people gather around the rising flames, circle around (parikrama) the bonfire and throw puffed rice, popcorn and other munchies into the fire and sing popular folk songs. This is a sort of prayer to Agni, the fire god, to bless the land with abundance and prosperity. After the parikrama, people meet friends and relatives, exchange greetings and gifts, and distribute prasad which comprises of five main items: til, gajak, jaggery, peanuts, and popcorn.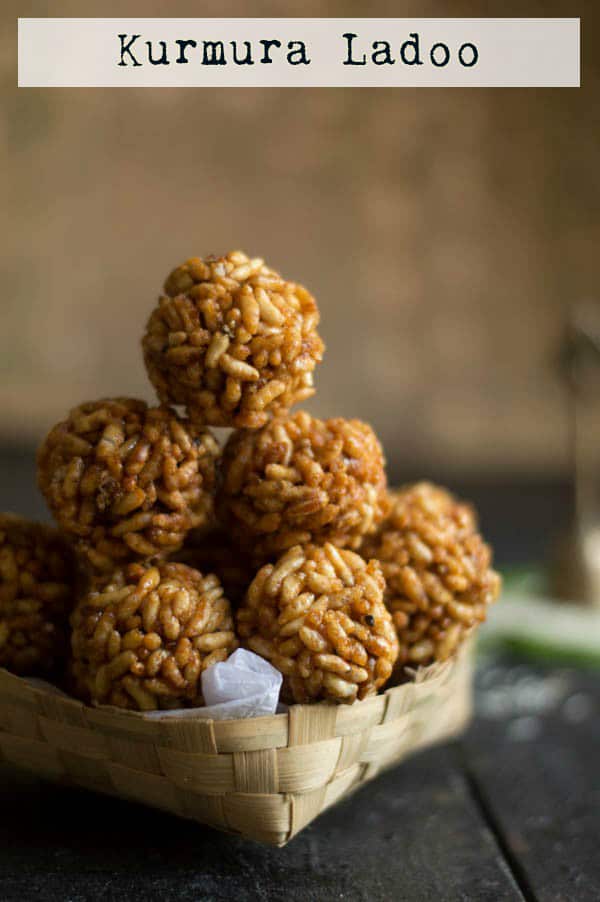 Ingredients
1 1/2 cups
puffed rice (kurmura)
1/2 cup grated jaggery (gur)
1 teaspoon of freshly ground pepper
Steps
Place the puffed rice in a microwave-safe dish and microwave on high for 1 minute. Cool slightly, cover and keep aside, to prevent the puffed rice turning soggy.
Heat the ghee in a Kadai and add the jaggery and freshly ground pepper and mix well. Heat jaggery on medium flame because jaggery gets burnt very easily. Take little water in a plate and add a drop of the jaggery in it. The jaggery should sit like a drop without getting diluted. That shows it has reached the required consistency.
Remove from the heat and make small ladoos out of it when it is still hot but bearable to the palms.Cool completely and store in an air-tight container
In Uttar Pradesh, Sankranti is called 'Khichiri'. Taking a dip in the holy rivers on this day is regarded as most auspicious. A big one-month long 'Magha-Mela' fair begins at Prayag (Allahabad) on this occasion. Apart from Triveni, ritual bathing also takes place at many places like Haridvar and Garh Mukteshwar in Uttar Pradesh, and Patna in Bihar. A special khichdi is made and served with its four traditional companions, "char yaar" (four friends) — chokha (roasted vegetable),papad, ghee and achaar. Since such a rich khichdi is generally made on this festival, the festival is often colloquially referred to as "Khichdi".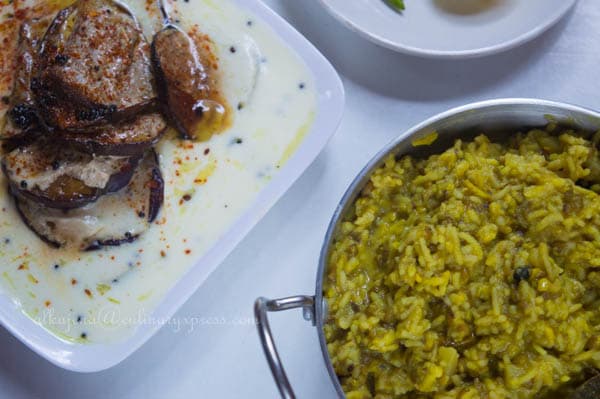 Makar Sankranti in
Southern Part of India:
InAndhra Pradesh, the celebrations start a month in advance. Bhogi is the day preceding Sankranti and Kanumu is the day after. On Bhogi day, in the early morning, a bonfire is lit up with waste before the traditional special bath. Pongali (rice pudding with milk) is an important item during this festival. Special dishes, like ariselu (sweet rice cakes), are prepared. On Kanumu day animals are decorated and races are held, sometimes the banned cockfights and bullfights are included. Sun, Mahabali (a mythological Dravidian king) and Godadevi (Goddess Goda) are worshipped during this harvest festival.
For this festival all families prepare Chakinalu, Nuvvula Appalu, Gare Appalu or Katte Appalu or karam appalu, Madugulu (Jantikalu), Bellam Appalu, kudumulu, Ariselu, Appalu (a sweet made of jaggery and rice flour) dappalam (a dish made with pumpkin and other vegetables) and make an offering to God.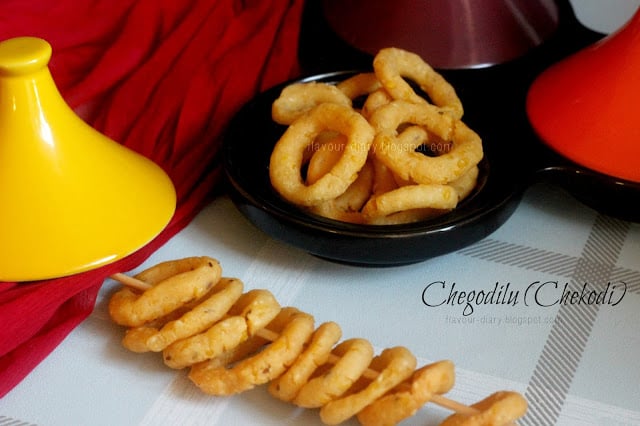 Chegodilu (Chekodi) are one of the yummiest snack from Andhra Pradesh and specially made at home during festive season. You can even get these from Sweet Shops in the South India. These are so yum that you can't stop eating it until its all gone. Find this Interesting Recipe Here.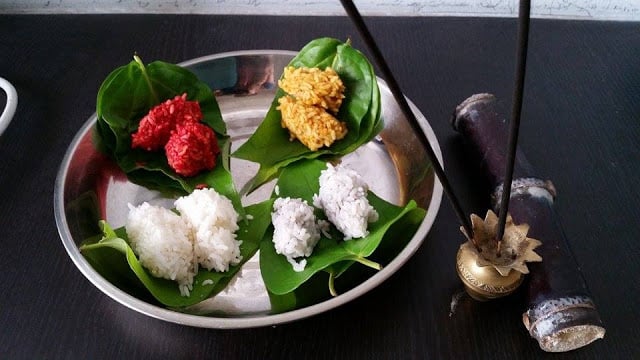 Pongal inTamilnaduis celebrated to mark the withdrawal of the southeast monsoons as well as the reaping of the harvest. Pongal is strictly a rural festival. The Sun is worshipped for its rays are responsible for life on earth. It is the biggest harvest festival, spread over four days. The name of the festival is derived from Pongal, a rice pudding made from freshly harvested rice, milk and jaggery.
The first day, Bhogi Pongal, is a day for the family. Surya Pongal, the second day, is dedicated to the worship of Surya, the Sun God. The third day, Mattupongal is for worship of the cattle.  Community meals are made from the freshly gathered harvest and enjoyed by the entire village.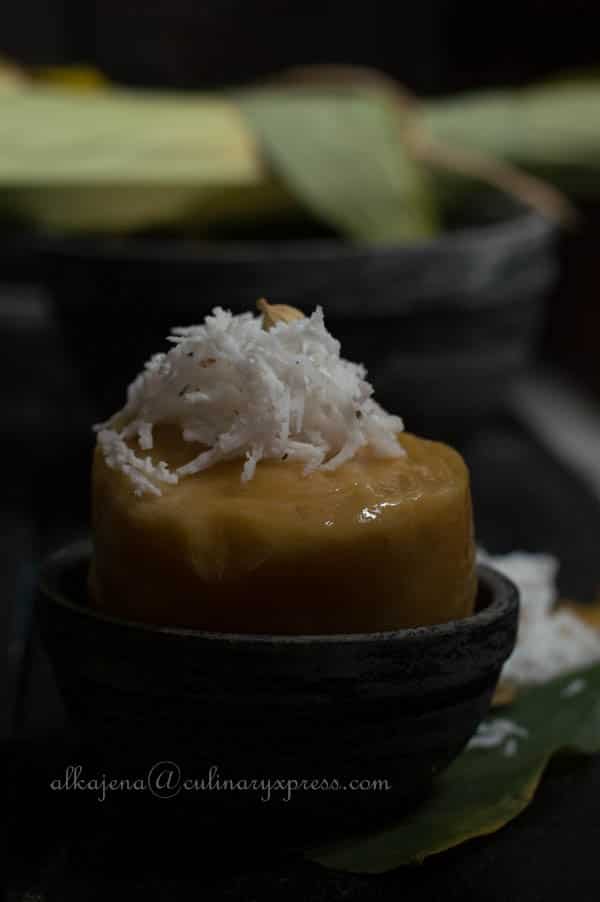 Pongal is a popular rice dish in Tamil Cuisine. In Tamil, the word pong or pongu means to " boil over" or "spill over". There are two varieties of pongal, Sakkarai  Pongal which is a sweet, and Ven Pongal which is savoury.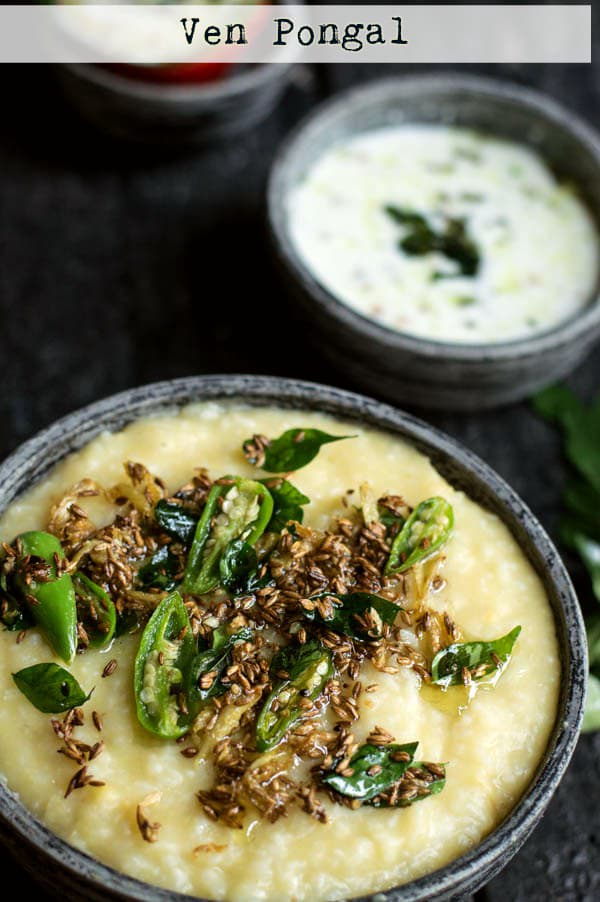 Ven Pongal
Ven Pongal is a spicy and savory rice pongal that is rich, healthy, delicious and savory. Specially prepared during the harvest festival of Sankranti in South India, Mixed with moong dal and spices, the dish celebrates the grain which signifies a new harvest.The Ven pongal dish can be considered a one-pot meal, and enjoyed with coconut raita and achar.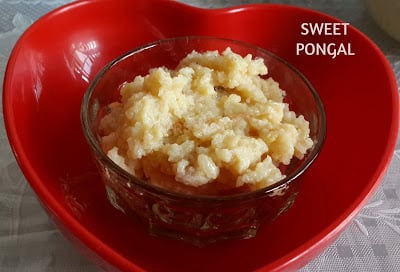 On Pongal, the women of the family would all make Sakkarai Pongal together in a very big clay pot for the entire family. Thisis a delicacy made from newly harvested rice. It is cooked with jaggery, ghee and cashew nuts and is offered to sun god. Please find the detailed recipe of how to make Sweet Pongal recipe Here.
Kanu pongal is one of the auspicious celebration in a Tambrahm household. A special occasion for all the ladies. Fresh turmeric is applied on the forehead of all ladies and young girls and youngsters will seek the blessings of the elders .They are not expected to take any food or drinks till they come out of the Kanu Peedai.Sisters in the family will pray for the welfare and wellbeing of their brothers. Coloured rice is made and offered to the sun god and crows.
People of Karnataka celebrate Sankranti by preparing Sweet  (with the first harvest) at home and also give TilGul to at least 5 married woman.Families with daughters usually follow this tradition without fail. This is given or exchanged so that happiness prevails. The TilGul mixture consists  of Til, roasted peanuts, jaggery, roasted chana, colourful peppermints, dry coconut. These along with haldi kumkum(as a handmade rose), Fruits, Sugarcane, Blocks made of sugar syrup( called as Sakkare Achu in Kannada),Fresh Flower like  rose or Jasmine mala  and a gift or blouse piece placed on the beetal leaf with nut  and some shagun(money) are given by saying Ellu Bella tindu olle matadi(meanseat the mixture of sesame seeds and jaggery and speak only good).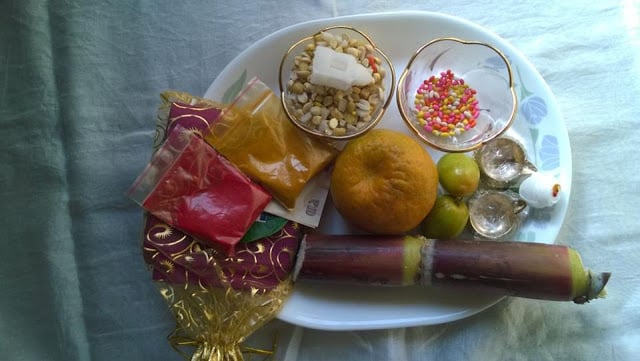 In Kerala, on Makar Sankranti evening, at the hill shrine of Sabarimala, lakhs of pilgrims witness a star-like celestial light of incredible splendour appearing on the horizon. Known as Makara Jyothi, this miracle occurs at the time of the evening Deeparadhana. Pilgrims consider it a great moment of fulfillment. Lord Ayyappa is adorned with special jewels known as Thiruvaabharanam. Legend has it that these jewels were donated to the Lord by the erstwhile Pandalam Maharaja, considered the foster father of the Lord.
Note:
This is an honest attempt on my part to understand this diverse country and it's culture through the celebration of food. Through this article I came to know about a lot of traditions that is being followed in celebrating this Makar Sankranti. I would like to extend my sincere thanks to the following friends who have helped me in writing this article.
Preethi Prasad from https://preethicuisine.wordpress.com/
Krithika C Sekaran from  http://akshayam21.blogspot.in/
Habeeba Nisa from http://flavour-diary.blogspot.in/
Shibani Hota from http://goldenspices.co.in/
Waagmi Soni from http://cookingisfunn.blogspot.in/
and a no of friends who have guided me in understanding the recipes I cook for this article. I am highly indebted to each one of them for their cooperation and help.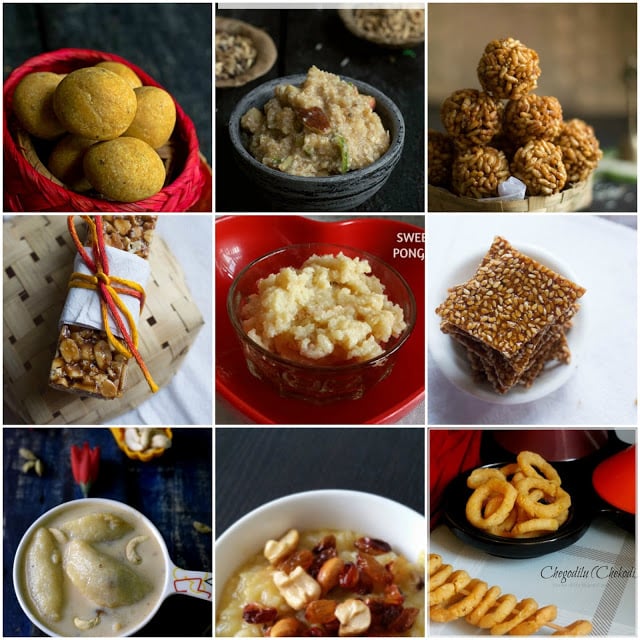 Sending this collection of Recipes to 22nd Foodie Monday Blog Hop theme of Makar Sankranti recipes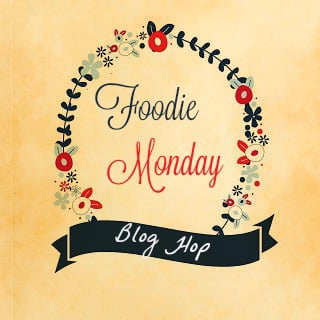 (Visited 391 times, 1 visits today)