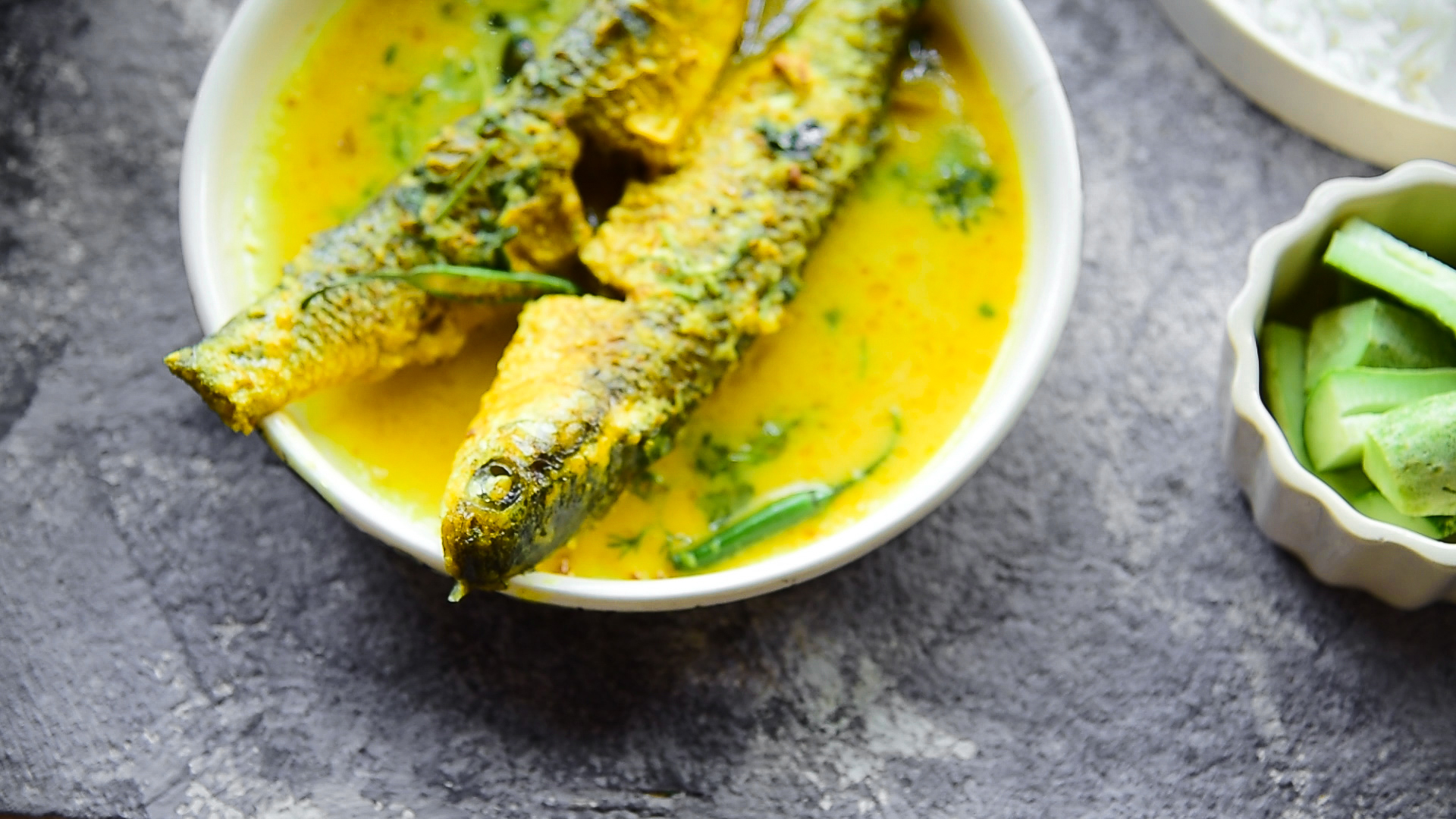 Macha Haldipani is not a simple fishcurry from Odia kitchen rather it has my whole childhood memories woven around it. As a child , I love having fish, its always, rice, dal, and fish fry after coming back from the school. During those days, we used to have morning school and I would come back around 11 in the morning and straight head to the kitchen to check what my mother has cooked for lunch. The lifting of the lid and the aroma of he food always lingers in my momories, the simplicity of her recipes cooked with so much love for the family members have till inspired me to cook my meal at home.
Summer in Odisha is very harsh and it affects the way we eat our food. The bowl of Pakhala replaces the hot steamed rice of the winter. To combat the scorching summer heat, she would serve my siblings a variety of vegetarian dishes along with the Pakhala bowl but for me always this Macha Haldipani because I was always a sick child and eating Pakhala was a strict no for me.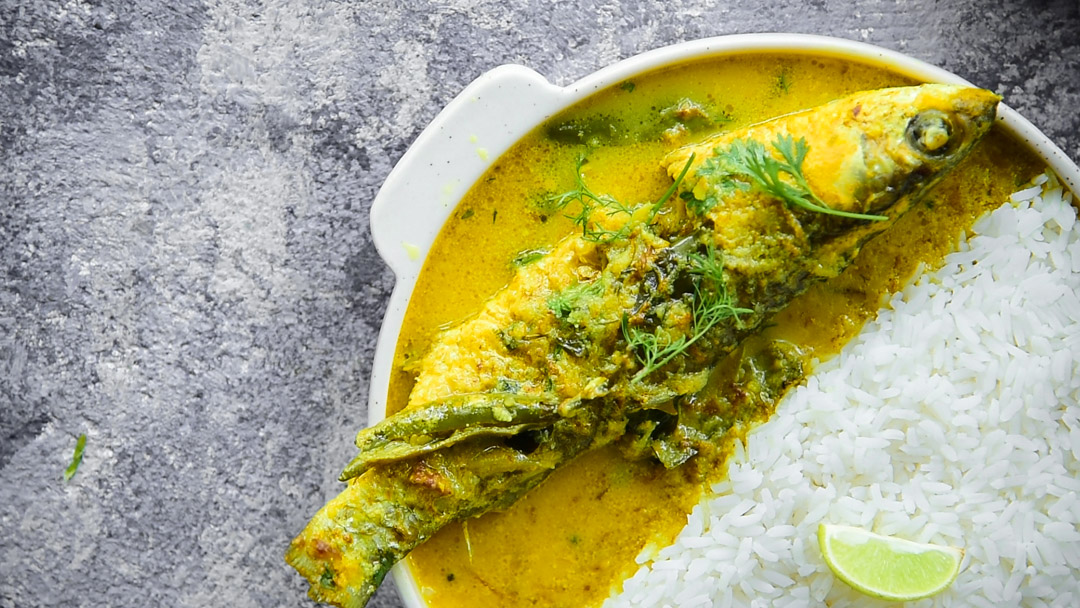 My mother makes this curry specially in hot summer months because at that time our body requires something light and nutritious . While many families shy away from preparing non veg during summer, she used the locally available ingredients and suits it to her convenience to prepare this curry.
For this recipe ,my father would bring only fresh water fishes because it is sweet in taste and the meat is soft . Mom would then wash and smear salt and turmeric to it and pan fry them in mustard oil , as this would enhance the flavor and allow the fish to absorb the spices better. She never deep fries her fishes as it makes it hard and chewy. But if you do not have access to river water fishes, you can use any fish you have.
This simple fish curry made with fresh turmeric root and buttermilk is so thin and light which would just be suffice enough to enjoy the true flavours of the fish. To bring sourness to the curry, Torani(fermented rice water) is used, but I have replaced that with buttermilk to make it suits to our pallet.
Ingredients
500 gms Fish(I have used Pohala here)
2 Tsp salt
1/2 tsp turmeric powder + 1 Tsp grated turmeric root for the curry
400 ml thin butter milk
1/2 tsp panch phutan
4 nos green chilies
6 to 7 curry leaves
1 tsp garlic, crushed
1 large onion, ground to paste
4 Tsp mustard oil for cooking + more for pan frying the fish
a handful Coriander leaves, chopped
Instructions
Wash and clean the fish pieces, smear them with salt and turmeric. Leave aside for 10 minutes.
In a wide pan, heat enough mustard oil to fry the fishes.Fry the fish as lightly as possible, because over frying will spoil the taste of the fresh fish. Just two minutes on each side and its done.
Heat 4 tsp oil, add panch phutan. Once it starts spluttering , add the minced garlic.
Add the green chilies, curry leaves and then the onion paste.Keep sautéing till the onion leaves its raw smell and looks brown, add salt, turmeric roots/ powder and fry lightly.
Once done, add 400 ml buttermilk and give it a good stir. Let it comes to a boil and add the fish pieces carefully and let it simmer for five more minutes.
Adjust the seasonings and stir in the chopped cilantro leaves.
Switch off the heat, close the lid and let it stand for five more minute before serving it with steamed rice.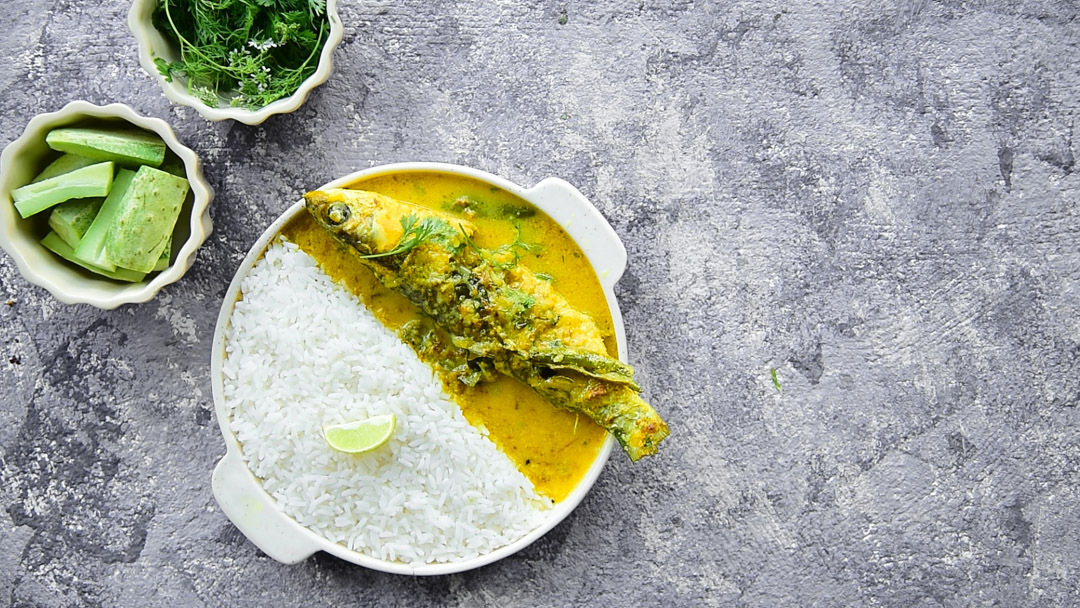 (Visited 20 times, 1 visits today)