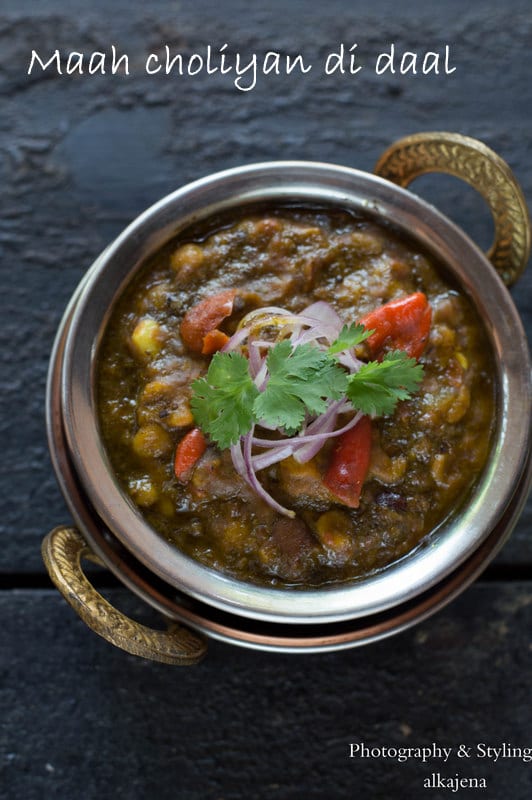 Maah di Dal, Kaali Dal or Urad Dalwith skin – ThisDaal has so many different names which only indicates how widely loved and popular it is.  "Maah di Daal" is a famous lentil curry savored with rice or roti in the Northern parts of India. Made with black lentils, mainly Urad, and flavored with flagrant spices, is indeed a treat to be enjoyed. The typical Punjabi name for this daal is "Maah choliyan di daal" is almost same as kaali dal except it is made from split urad dal and chana dal. Maah means urad dal and chole dal means chana dal i.e. a combo of Urad dal (Maah/split black gram) and Chana dal (Choliyan/bengal gram). Traditionally this daal is prepared in earthen pots on a clay stove which impart an earthy taste and creamy texture to it.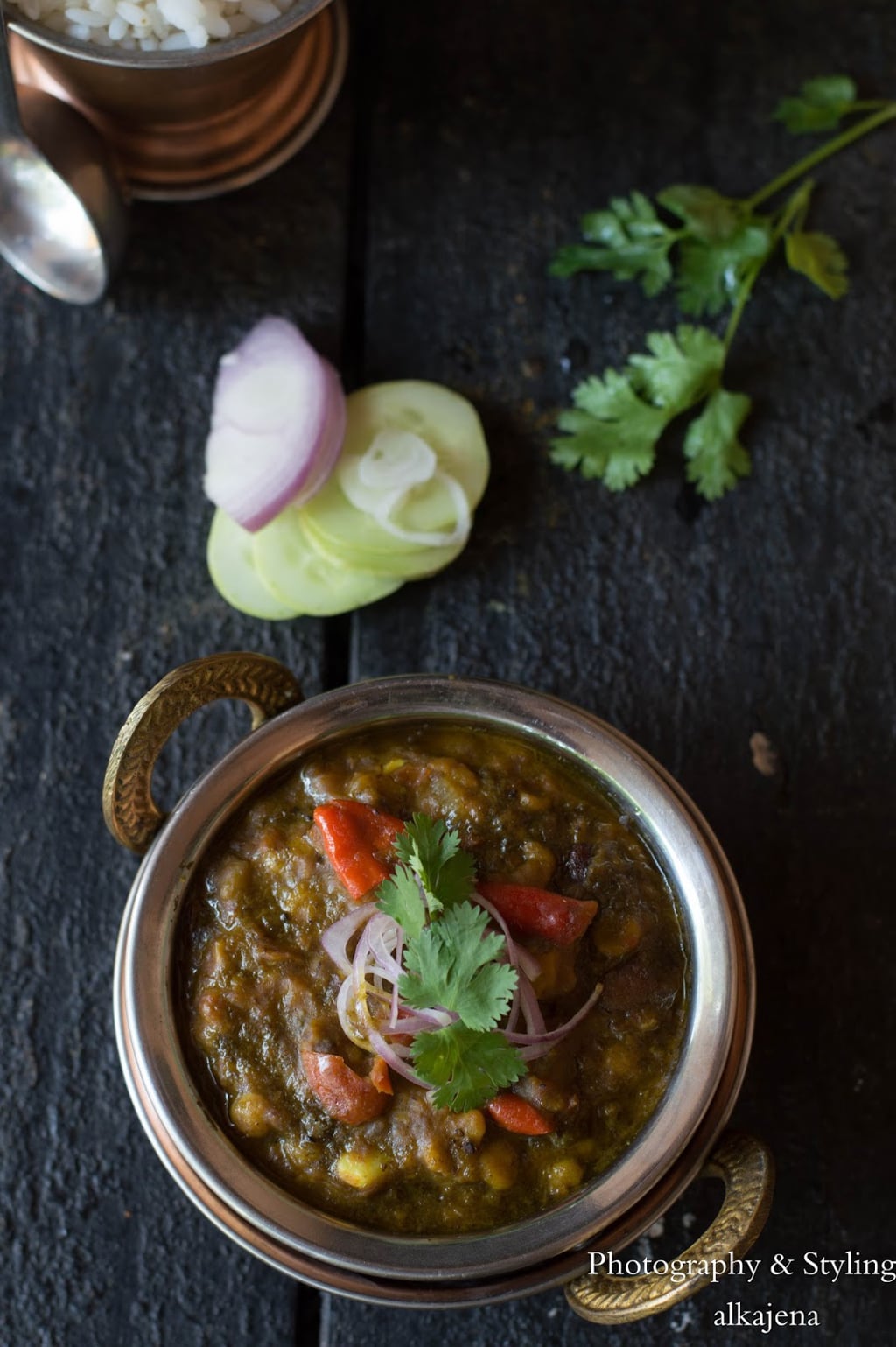 Maah choliyan di daal is similar to Dal makhani in many ways as it uses the same lentils. However this daal is much lighter in terms of its preparation and gets most of its flavors from the slow cooking over hours.There are as many variations of Maah di Daal found on the internet — there is a great deal of confusion over what exactly goes into it. Some recipes use cream, others use butter, and most use ghee. But every version out there uses urad dal  as the lentil base but some use whole lentil, others use the split lentil, but with the black skin on. Some add a second lentil to it, usually chana dal, and yet others confuse it with its more famous cousin that's often found on Indian restaurant menus, the lusciousDal Makhani, which has rajma or kidney beans added to it. The Chana dal  adds a bit more texture and a slightly different flavor to this daal.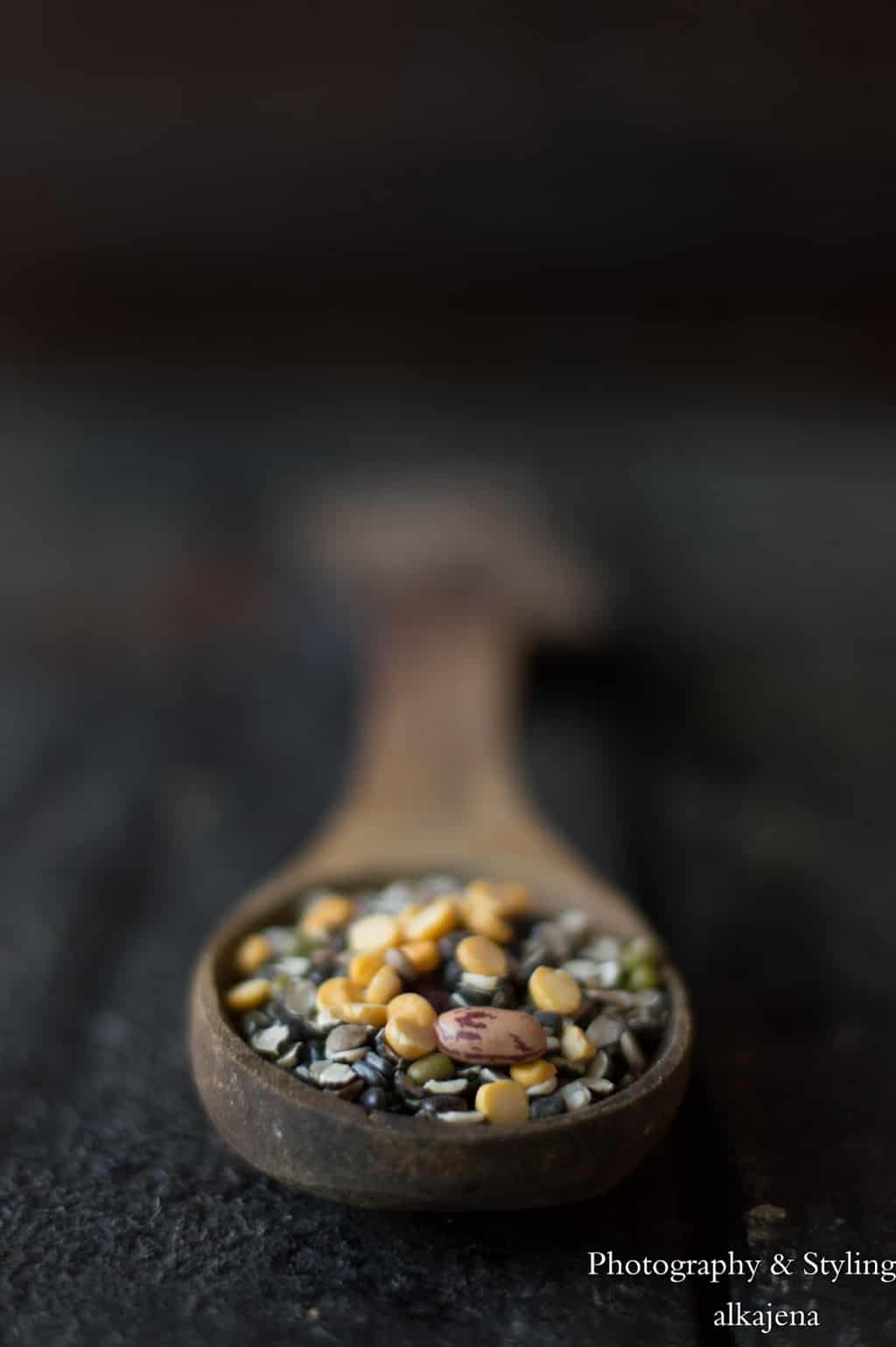 This daal  isn't a commonly made Daal in eastern parts of the country . So my association with this daal before is with "restaurant" food .For a long time, I hadMaah Di Daalin dhabas and restaurants only.I can completely understand if a lot of you will not associate with the way I have made this recipe, without a lots of butter or cream, but this is the way I have been making this daal on a regular basis without feeling guilty and keeping as much as the creamy texture and taste without going overboard with cream / butter.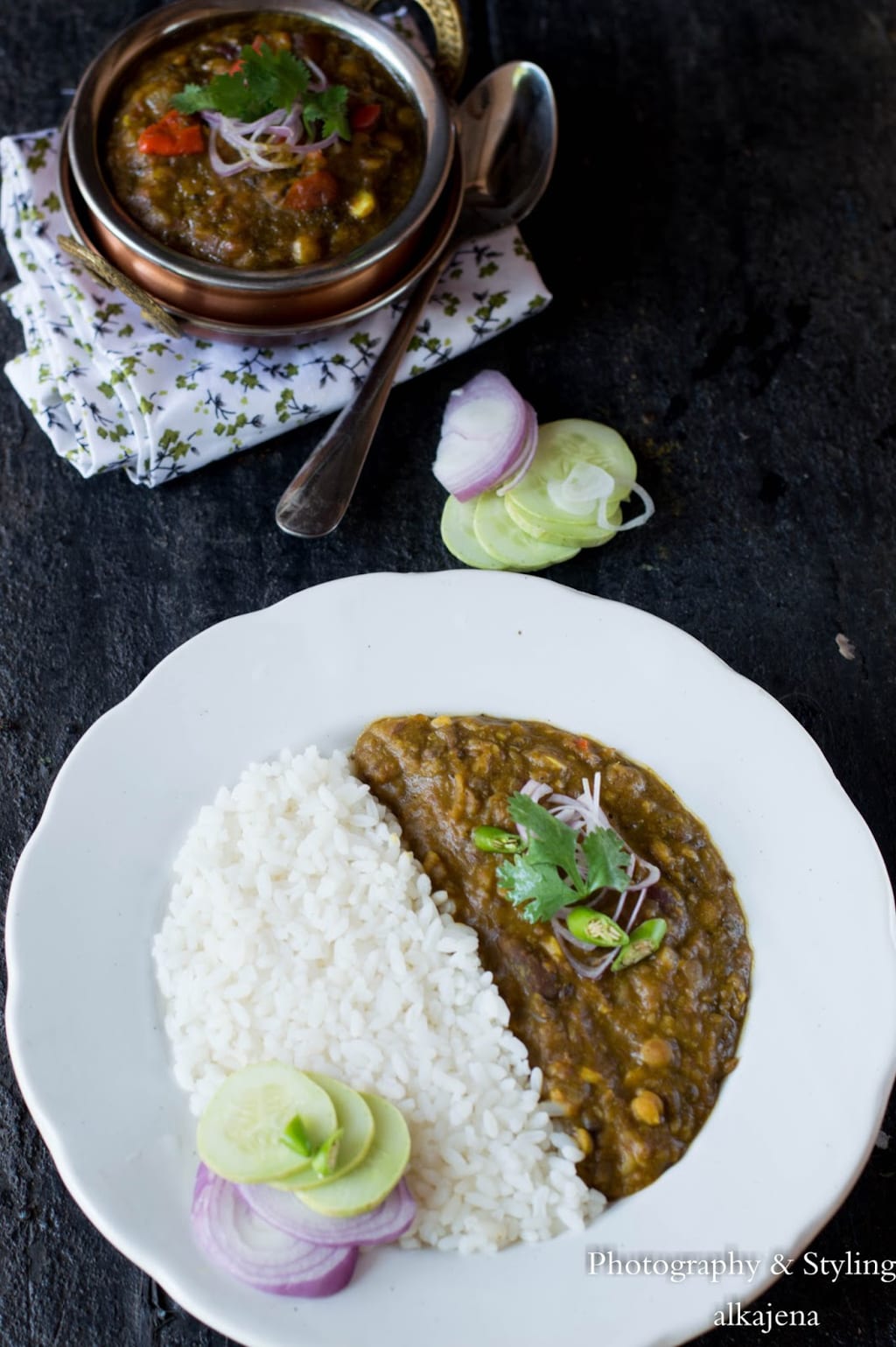 Lentils not only are an excellent source of protein for vegetarians , they also make low fat and low calorie meals and they are super tasty.Typically, the ginger-garlic paste is not added to this daal,but chopped and fried with lots of onions till everything caramelize together. The use of Kasuri methi (dried fenugreek leaves) really bring in an amazing flavour to this daal and not to forget the garnish of  fresh coriander leaves.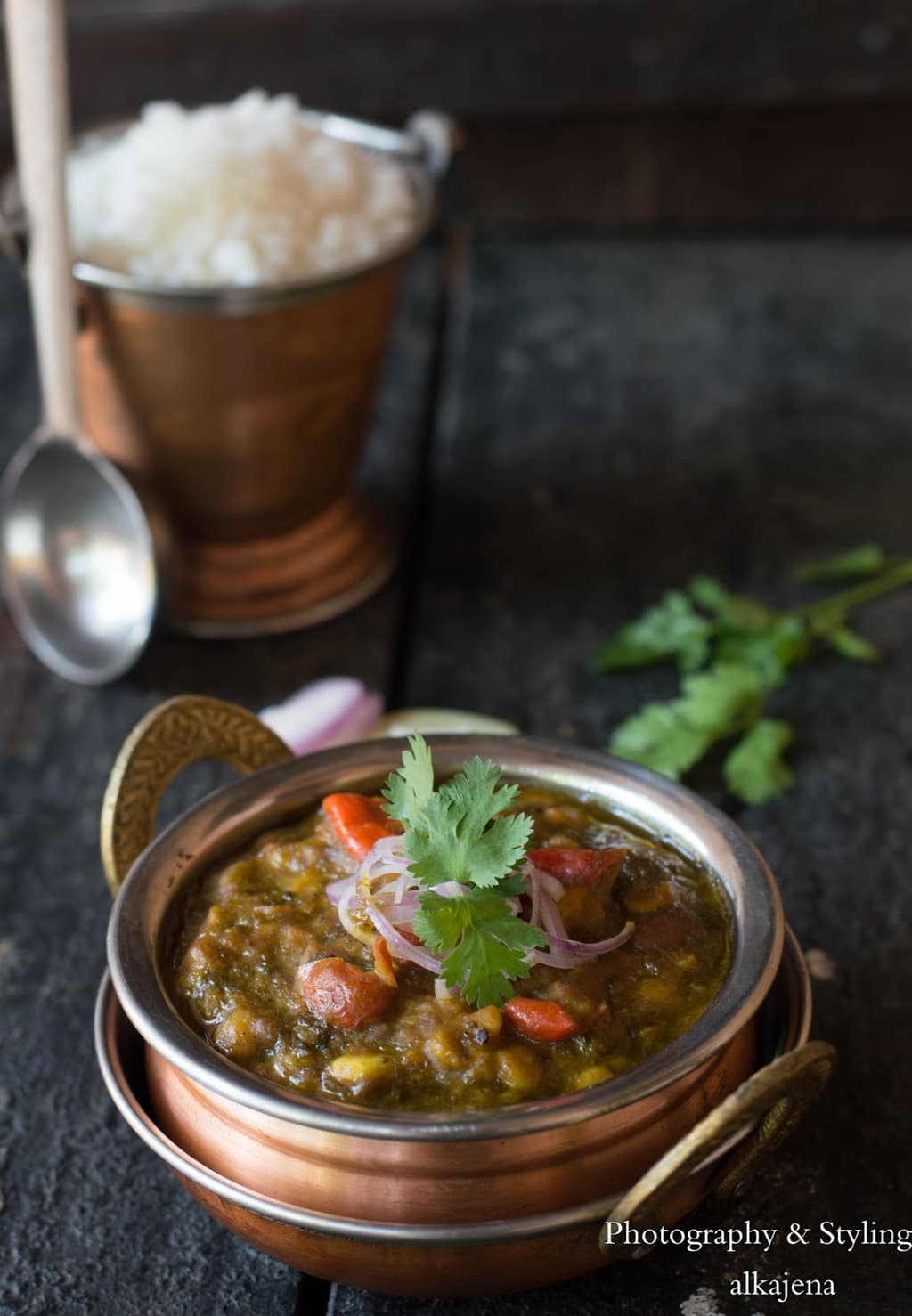 (Visited 323 times, 1 visits today)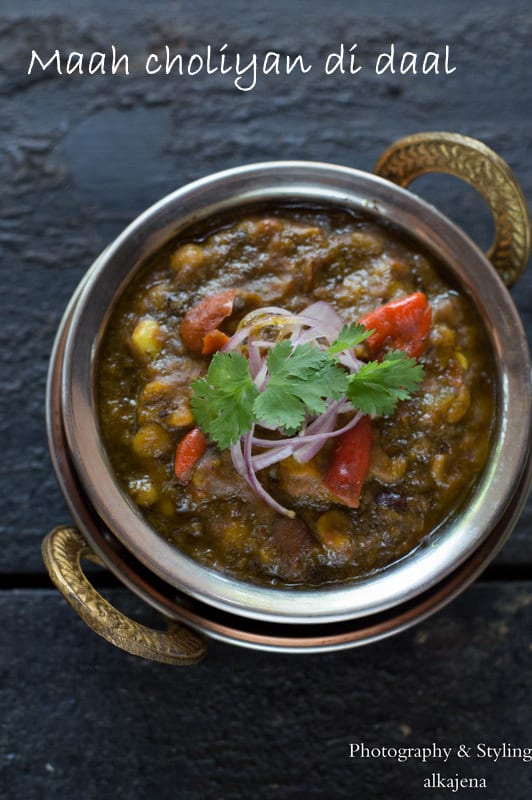 | | |
| --- | --- |
| | |
Soak the two lentils together in hot water for almost an hour. Drain  rinse well and keep aside.

Chop the onions, green chillies, ginger and garlic and keep them ready.

Puree the tomato and keep aside.

Pressure cook the dal with turmeric and salt and 3 cups of water till 3 whistles. Turn to slow heat and keep on the gas stove for another 5 to 7 minutes. Turn off and let it cool.Open the cooker when the pressure eases off. Check the consistency of the dal, it should be thick and should get mashed easily when stirred.

In a wide and heavy bottomed pan, heat the oil. Add cumin seeds in it and let them splutter. Add bay leaves, green cardamoms, cinnamon sticks, pepper and let it release it's aroma for 10-12 seconds.

Add in chopped ginger, garlic and green chilies. Let them fry for half a minute on low flame. Take care not to burn them.

Add in chopped onions, mix and let everything cook for 5-6 minutes till onions turn little brown in colour. Keep the flame on medium so they don't stick and keep stirring frequently. Its an important step so have patience and let onion gets cooked properly.

Now add in tomatoes, turmeric, red chilli powder, coriander powder and mix well. cook the paste, covered for about 3-5 minutes till tomatoes get mushy and cooked.

Once tomatoes are cooked and the raw smell of the spices is vanished, add cooked daal into this and mix well. Check the seasoning at this point and adjust accordingly.

Let daal simmer for another 10-12 minutes. Add garam Masala and turn off the gas.

Garnish with fresh coriander leaves and sliced onions and serve hot with Naan, Paratha, roti or plain boiled rice.

This daal is traditionally made thick so you could eat it with chapatti or roti. If you want to have it with rice, adjust the consistency accordingly.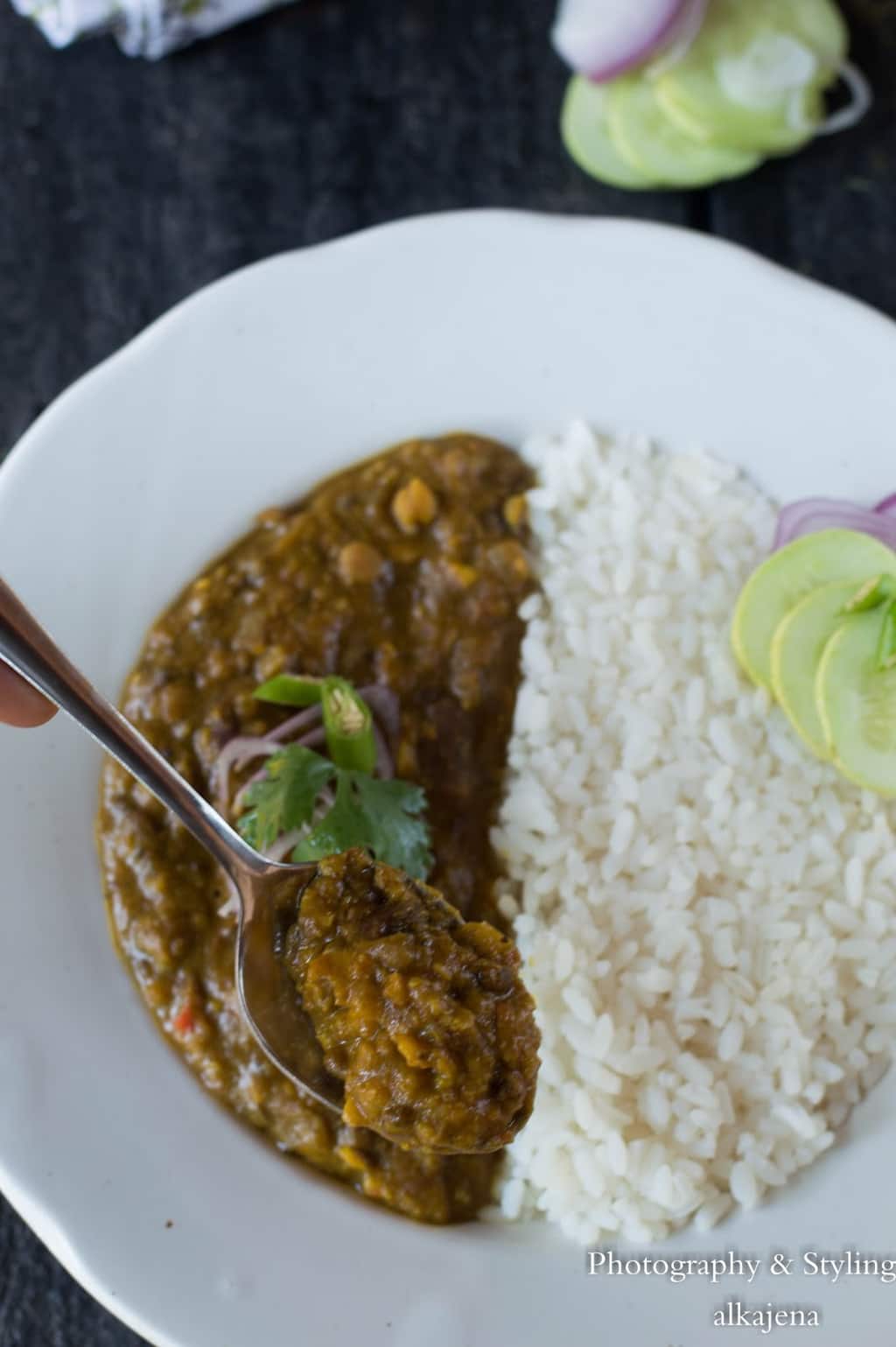 Sending this beautiful Maah choliyan di daal to our 38th  Foodie Monday Blog Hop theme of # daldelight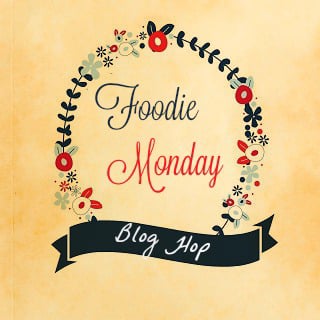 Note:
I usually mix both the whole black daal and the split blak daal along with some rajma when I make this daal. If you like , you can skip adding rajma to this.
If you are cooking in a pan, soak both daals for at least 2 hours . Cook for 40-45 minutes covered with  a lid. And after mixing with the tadka, let it cook for another 15-20 minutes to reach it's creamy consistency.