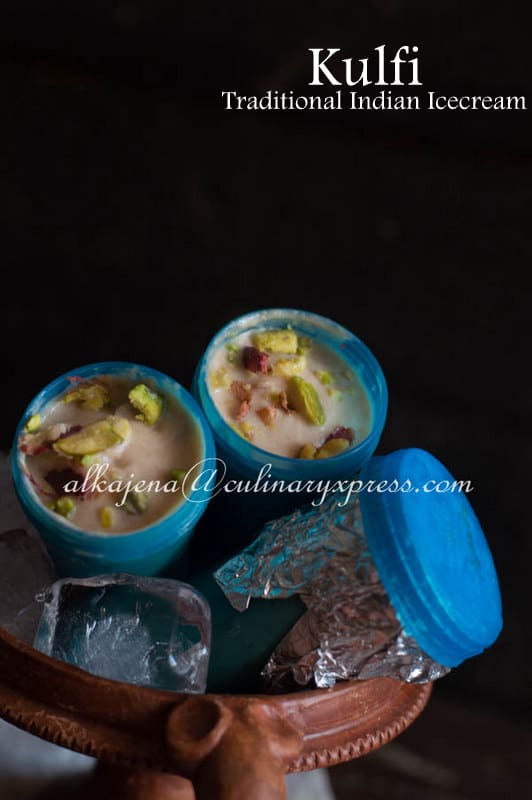 Kulfi is a creamy traditional Indian Ice cream that has been India's best dessert on a stick. Kulfi recipe has similarities to ice cream in appearance and taste, however it is denser and creamier than the ice cream. Kulfi comes in various flavours and is quite popular in India, Pakistan, Bangladesh, Nepal, Myanmar and the Middle East. Unlike the Ice cream, kulfi is not whipped that is why it resembles a dense frozen dessert. Due to its density, kulfi takes a longer time to melt than ice-cream.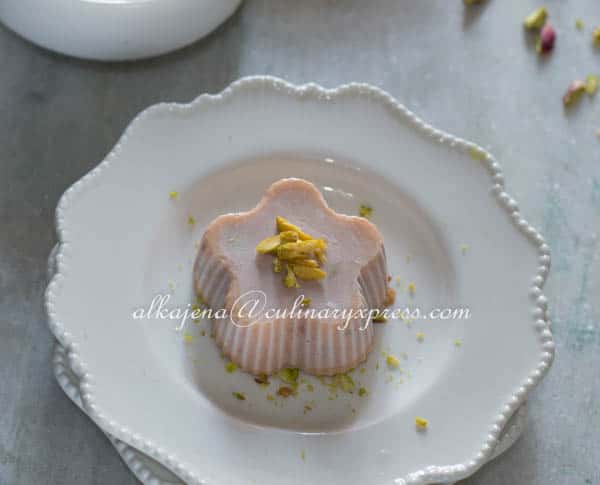 Keeping the long hot summer season in mind, homemade kulfi recipe seems to be the best possible option. Come summer and every household would start making their kulfies in kulfi moulds, matkas or even in Ice cream trays to keep the ever demanding children busy during their summer vacations. The authentic Kulfi recipe calls for the use of full fat milk, sugar, cardamom  and chopped pistachios which  are added to the milk to make this rich frozen dessert.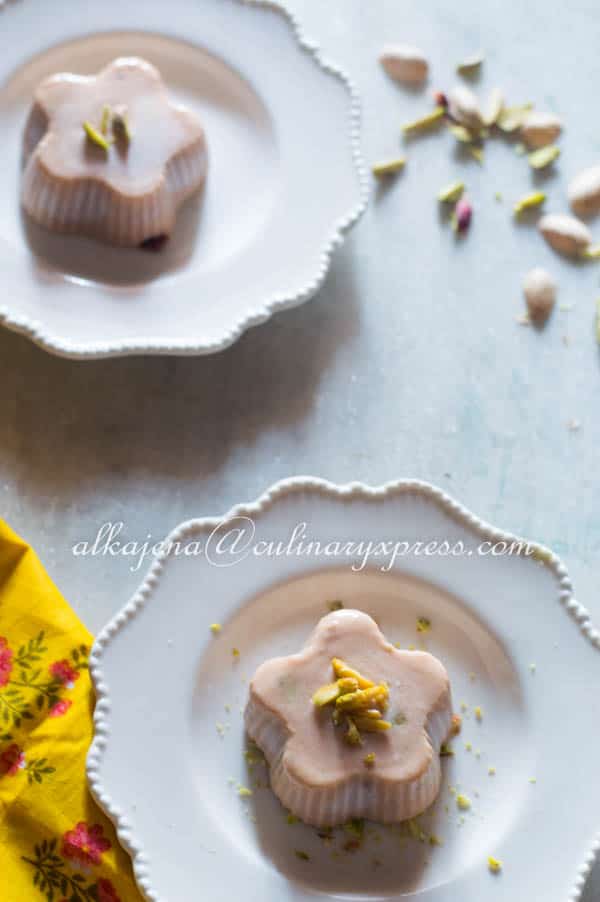 Kulfi is traditionally prepared by evaporating the flavoured milk via slow cooking until its volume is reduced by a half, thus thickening it, increasing its fat, protein, and lactose density.  This thickened milk has a distinctive taste due to caramelization of lactose and sugar during the lengthy cooking process. This mix is then frozen in tight sealed moulds or matkas to speed up the freezing process. Kulfi prepared in this manner is called Matka Kulfi.(Source-Wiki)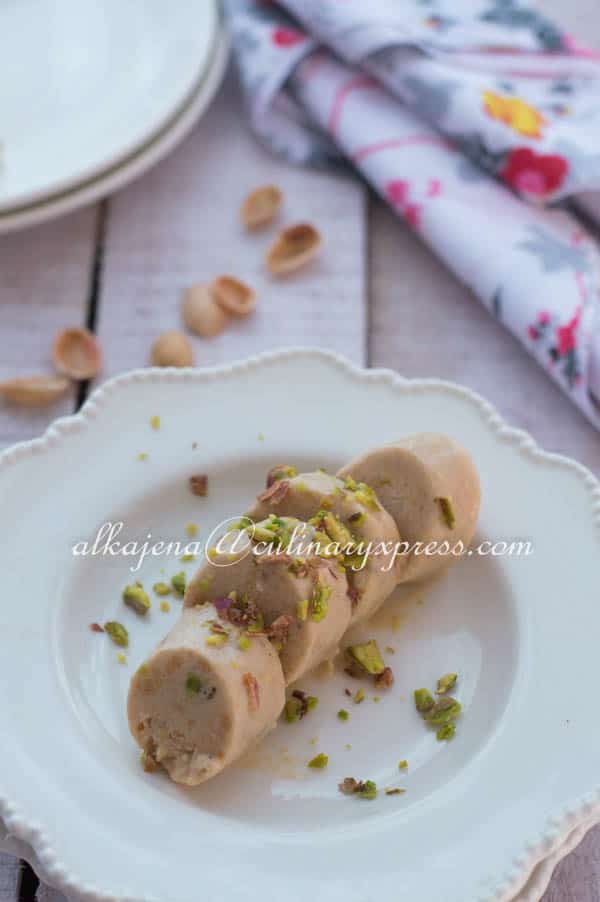 The secret to this lovely dessert is the right amount of caramelization of milk which requires patience but the results are worth making it.
Kulfi was on my to do list of desserts for this summer and what could have been a better opportunity than #NoCookNoBake theme for our 34th Foodie Monday BlogHop event.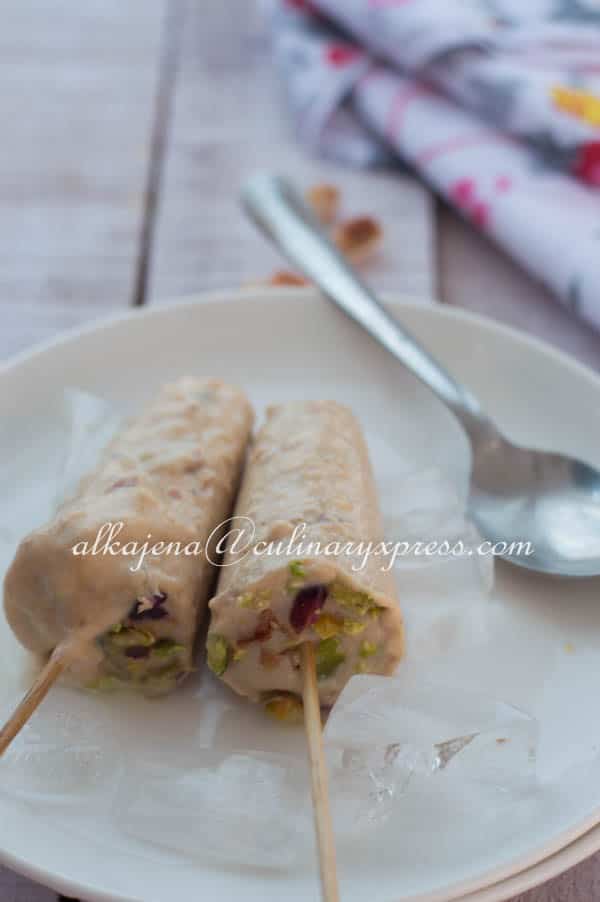 Keeping with the theme of #NoCookNoBake , I have decided to make this instant versions of  kulfi with condensed milk, evaporated milk , Mawa and cream and nuts like almonds and pistachios  which gave a nutty texture to the kulfi. The difficulty with this theme is that we cannot  use the gas stove and having access to tinned evaporated milk here in Bhubaneswar is a distant dream. To reach the right consistency of evaporated milk which is nothing but the slow cooked thickened milk, I have used chilled banana to thickened the milk. I have used mawa to give the kulfi a rich flavour and the abundantly available fruit in summer  which is instantly recognizable by its unique, sweet and aromatic flavour – bael fruit , a fruit whose sarbat and Pannas  is also believed to be good for the digestion.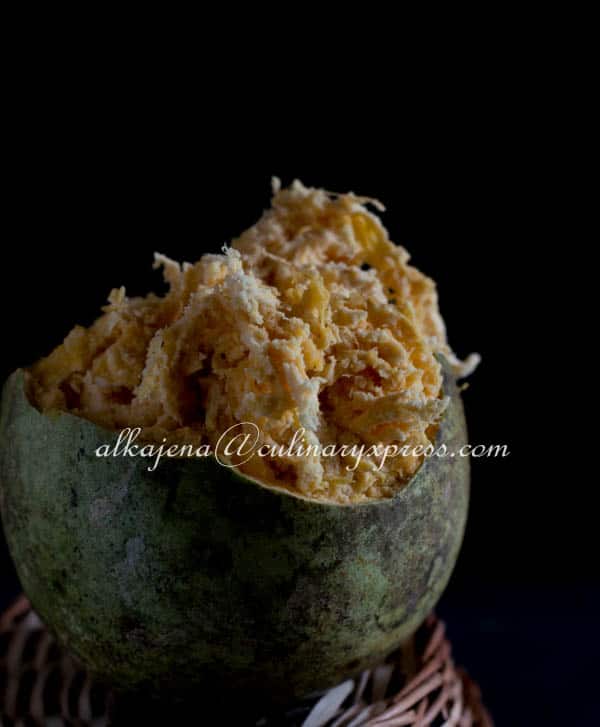 Bael, known as wood apple gets it's name because of its hard wooden shell.The wood apple tree is native to India. It is also cultured in the southern parts of Asia. It is also found in some parts of Sri Lanka and Thailand. The rind of the woodapple must be cracked with a hammer to get the pulp out which can be eaten raw with or without sugar, or blended with milk and palm sugar syrup and drunk as a beverage, or frozen as an ice cream.The pale green with yellow, brown or light orange hi-lights of the hard covering of ripe bael fruits bears a contrasting shade to the orange pulp inside.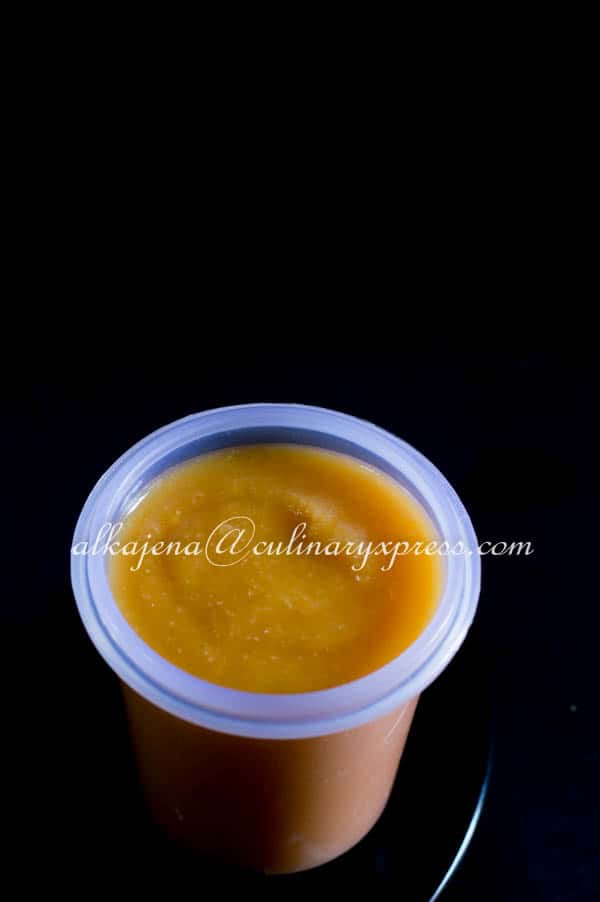 Recipe source:Own

(Visited 343 times, 1 visits today)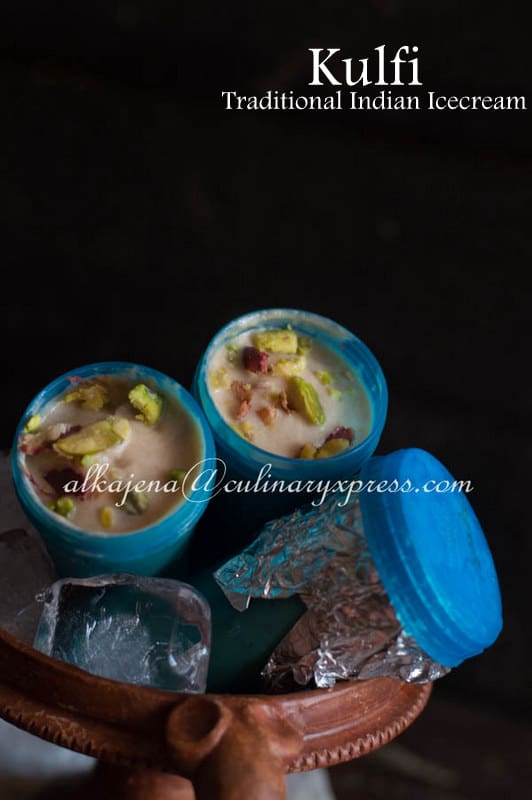 | | |
| --- | --- |
| | |
First break the Bael fruit and scoop out the fruit pulp with the help of a spoon. Discard the skin.

Mash the pulp and add a cup of water to the pulp and sieve the soaked pulp from heavy strainer by pressing it with the help of spoon.

Remove seeds and discard the fiber. Collect the pulp and keep it for later use.

Chop the banana and keep in the deep fridger wrapped in clingfilm overnight. The Banana need to be firm for use.

Add the banana and chopped almonds in a blender and give short whisks so that it blends well.

Add the full fat milk and condensed milk together and whisk well.Add mawa, cardamom powder, bael puree and blend till smooth.

Add the cream and mix everything well.Add the crushed pistachios and give a good stir.

Pour the kulfi mixture in kulfi moulds or small silicon moulds so that you can take it out and serve conveniently.

cover with a lid with aluminium foil and keep in the freezer for the kulfi to set.

Once set, to remove the kufi, place the kulfi moulds under running water for some seconds or rub them between your palms. with a butter knife, gently remove the kulfi.

Serve the kulfi sprinkled with crushed pistachios.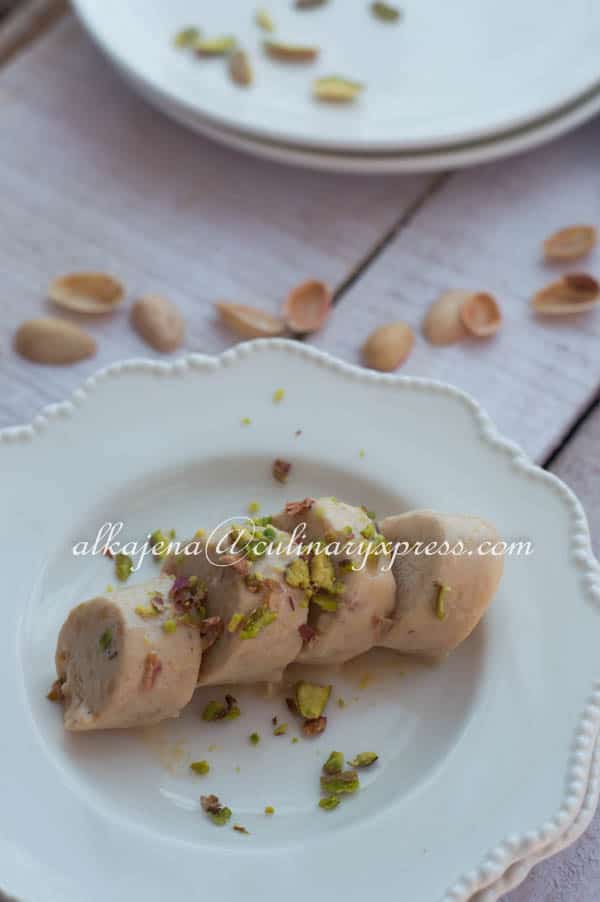 Sending this to our 34th Foodie Monday Bloghop theme of #NoCookNoBake recipes.