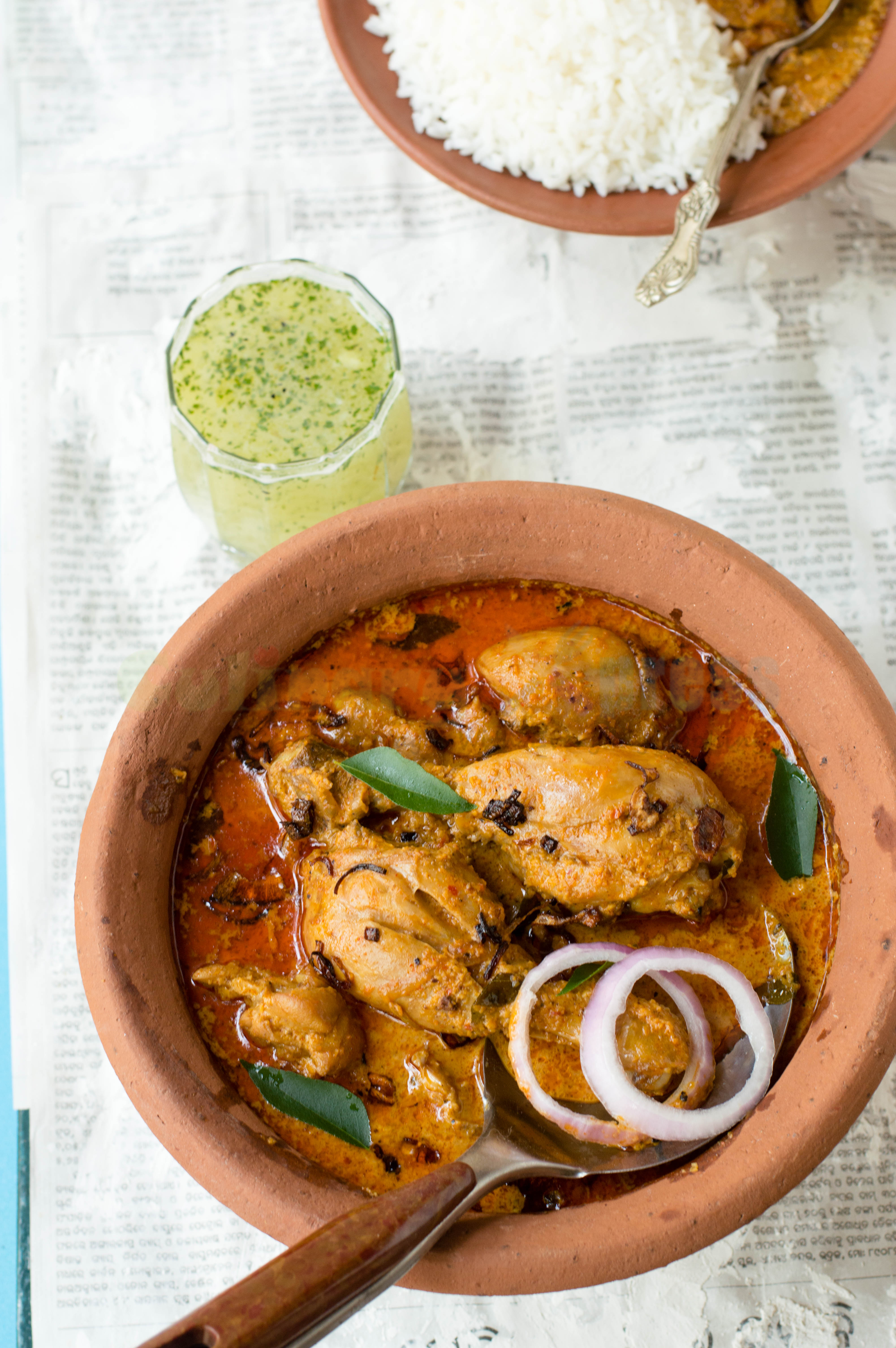 Kori Gassi(Mangalorean chicken curry ) is a delicious coconut and red chilli based curry from the coastal region of Mangalore. In Tulu language,Chicken is called Kori and Gassi is known as curry.  This curry has a lovely blend of different fragrant spices, which is quite unique to Mangalore's cultural heritage. Mangalore cuisine is mostly influenced by Tulu speaking Bunts,the Kannada speaking Brahmins, Konkani speaking Catholics and Goud Saraswat Brahmins to name a few.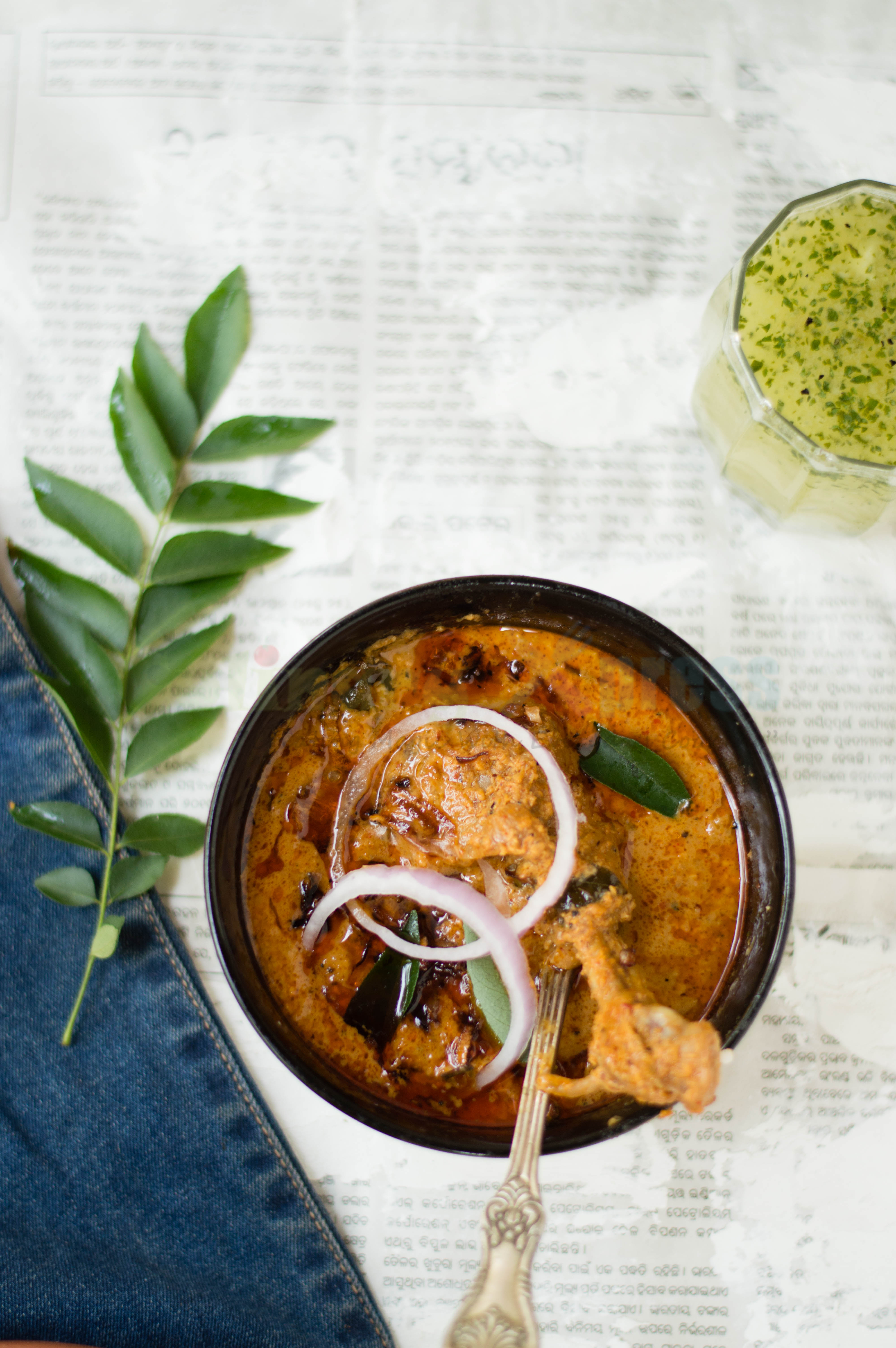 Coconut plays an important part in Mangalorean cuisine and the main ingredients in the Kori Gassi is the coconut. The sweetness of the coconut milk balances the spicy flavors from the red chillies, peppercorns , cloves and the bitterness from the fenugreek seeds.Traditionally, Mangalorean chicken curry is served with Kori Rotti – a traditional and unique crispy flatbread made from rice flour, Neer Dosa or Simple Rice Pancakes, Kottige (Idlis Steamed in leaves of Jackfruit ) and simple rice.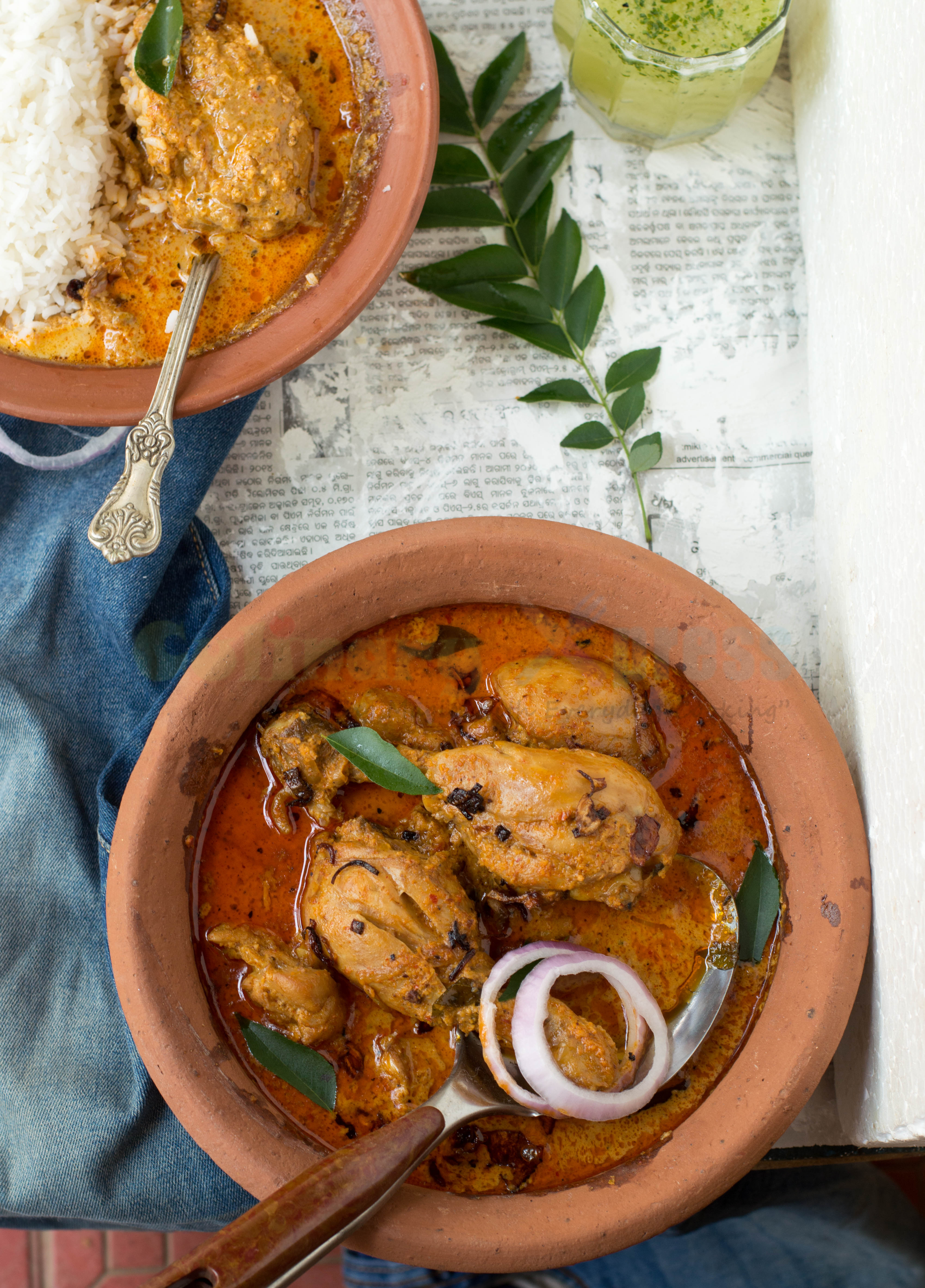 You must be wondering why am I sharing this Mangalorean chicken curry because I have never tasted or cooked this recipe before. When we decided to try some recipes using Coconut milk which is our theme for the 86th Foodie MondayBlogHop, I thought of trying some authentic cuisine from the south coast. Before this I had made Malabar Prawn curry which was awesome in taste.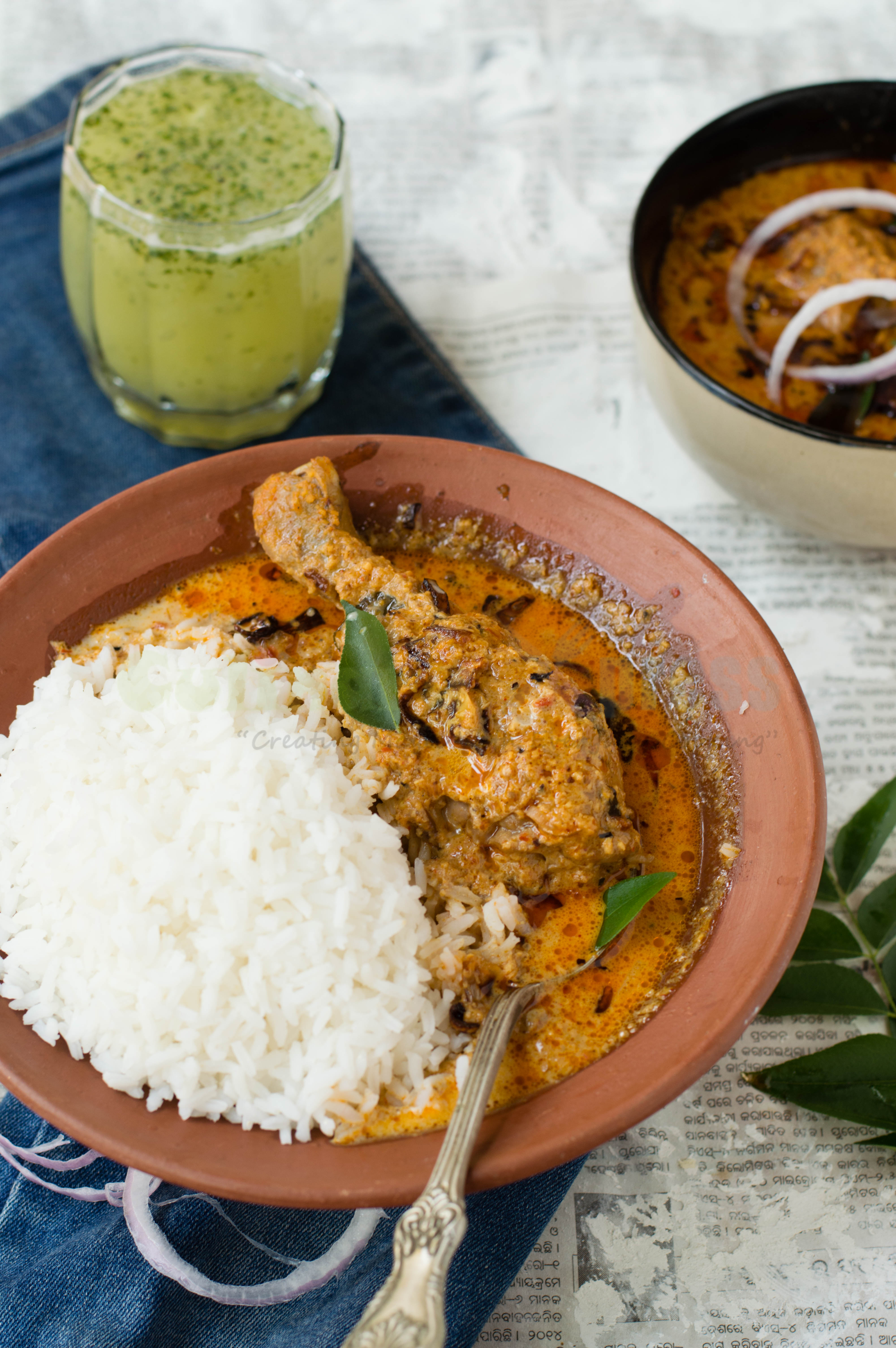 Coconut milk plays an prominent role in the southern cuisines and  I would find a lot of recipes to try from this region. So I decided to try Mangalore cuisines which I have never tried, but saw many of my friends posting on social media . Without a recipe and lack of knowledge about the cuisine always poses a challenge for us to try something new. I talked to many of my friends who are from Mangalore and got this recipe from one such friend Sunil Shenoy who guided me step by step in cooking and cleared most of my doubt regarding this wonderful Kori Gassi.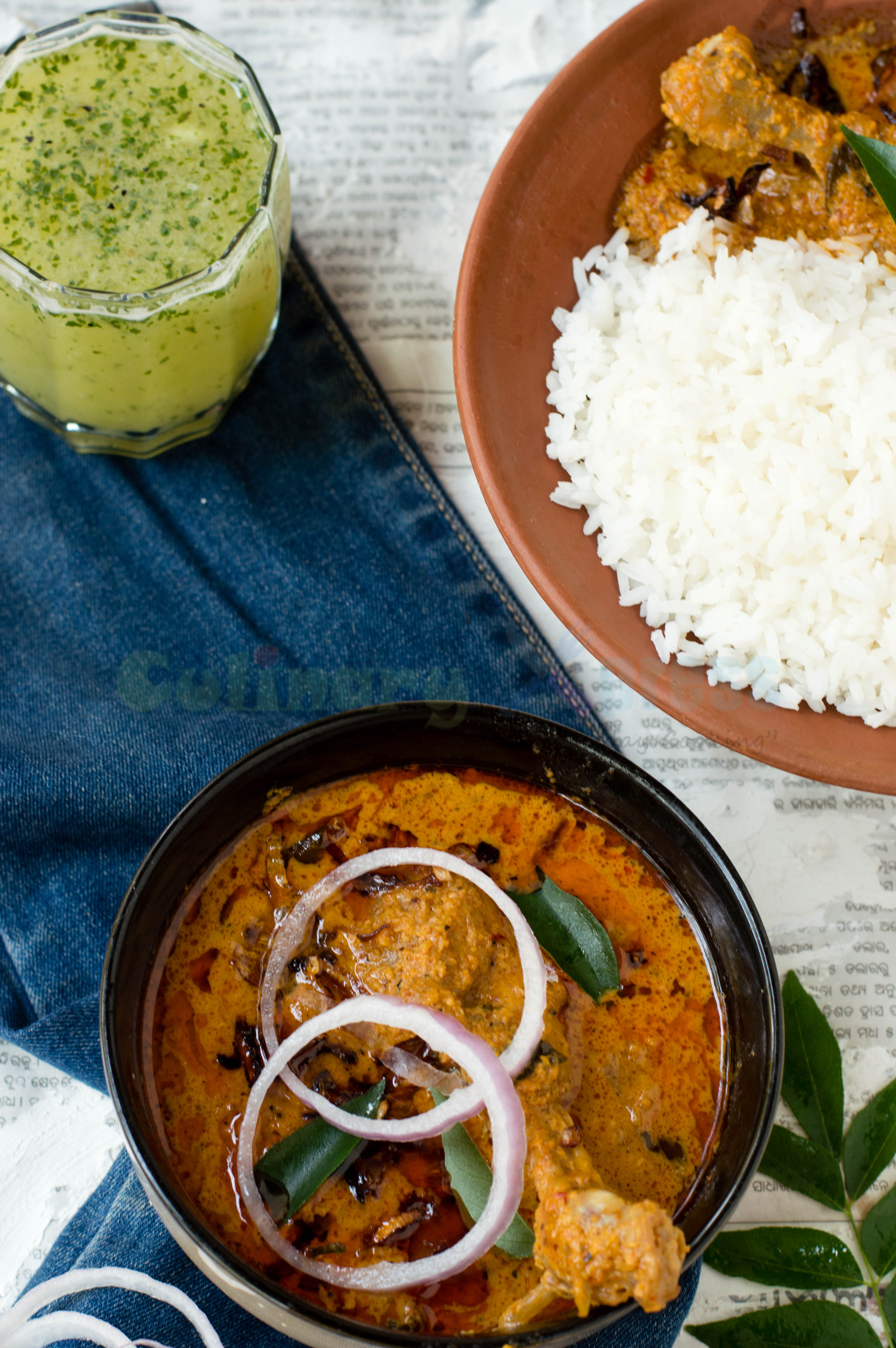 The one ingredient  which brings the beautiful color to this dish is Byadagi Chillies from Karnataka which are long in shape and looks wrinkled. These chillies are not too hot but renders a beautiful dark color to the curry. Since I donot have access to this chilli, I have used Kashmiri chillies for taste and small local red chillies for heat.
(Visited 1,581 times, 1 visits today)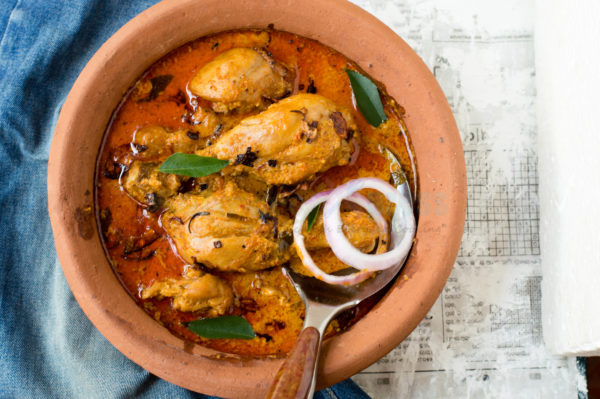 | | |
| --- | --- |
| | |
Wash the chicken pieces well. Add 1 teaspoon salt, mix well. Cover and let it sit for 15 minutes. Soak the tamarind ball in hot water for 10 minutes.

In a Pan add 1 teaspoon ghee. Roast coriander seeds, cumin seeds, fenugreek seeds, dried red chilies, pepper corns one by one until fragrant. Be careful to roast on a low flame so as not to burn the spices.Once roasted remove from pan and set aside to cool.

In the same pan, add sliced onions, garlic and roast until onions start to turn brown. Now add freshly grated coconut and continue to roast until coconut start to turn golden brown. Remove from pan and set it aside.

Squeeze out the water from the tamarind and throw away the seeds.Once all the roasted spices and onion-coconut mix has cooled, add them all to a blender and blend into smooth paste along with the tamarind water

Now add remaining ghee/ coconut oil to the pan. Add cinnamon, cardamoms, cloves and saute till fragrant. Add sliced onions and sauté for a minute. Add curry leaves, mix well.Add the ground masala paste along with turmeric and cook until oil/ghee separates from the sides of the pan.

Add the chicken pieces and give it a good mix so that thl chicken is coated uniformly with the masala. Continue stirring for 5 minutes. Now add thin coconut milk and salt to taste, bring it to boil Reduce flame to medium, cover and cook until chicken well done.

Once chicken is cooked well, add thick coconut milk, reduce to simmer. cook for a minute or two and turn off the flame. Do not let the curry come to boil as the milk might curdle.

Serve with plain steamed rice. But traditionally it is served with Kori Rotti – a traditional and unique crispy flatbread made from rice flour.
Note:
To make thick coconut milk, grate a coconut and add 1 and 1/2 cup water to it. Grind in a blender to a smooth paste. Sieve the ground coconut paste through a strainer and squeeze all the liquid. This is called thick milk.Keep the coconut for the next process.
Add another 1 and 1/2 cups of water to the coconut extracts after the thick milk has been separated and blend  for another 2 minutes. Sieve the ground mixture again through a strainer and squeeze all the liquid. This is known as thin milk.