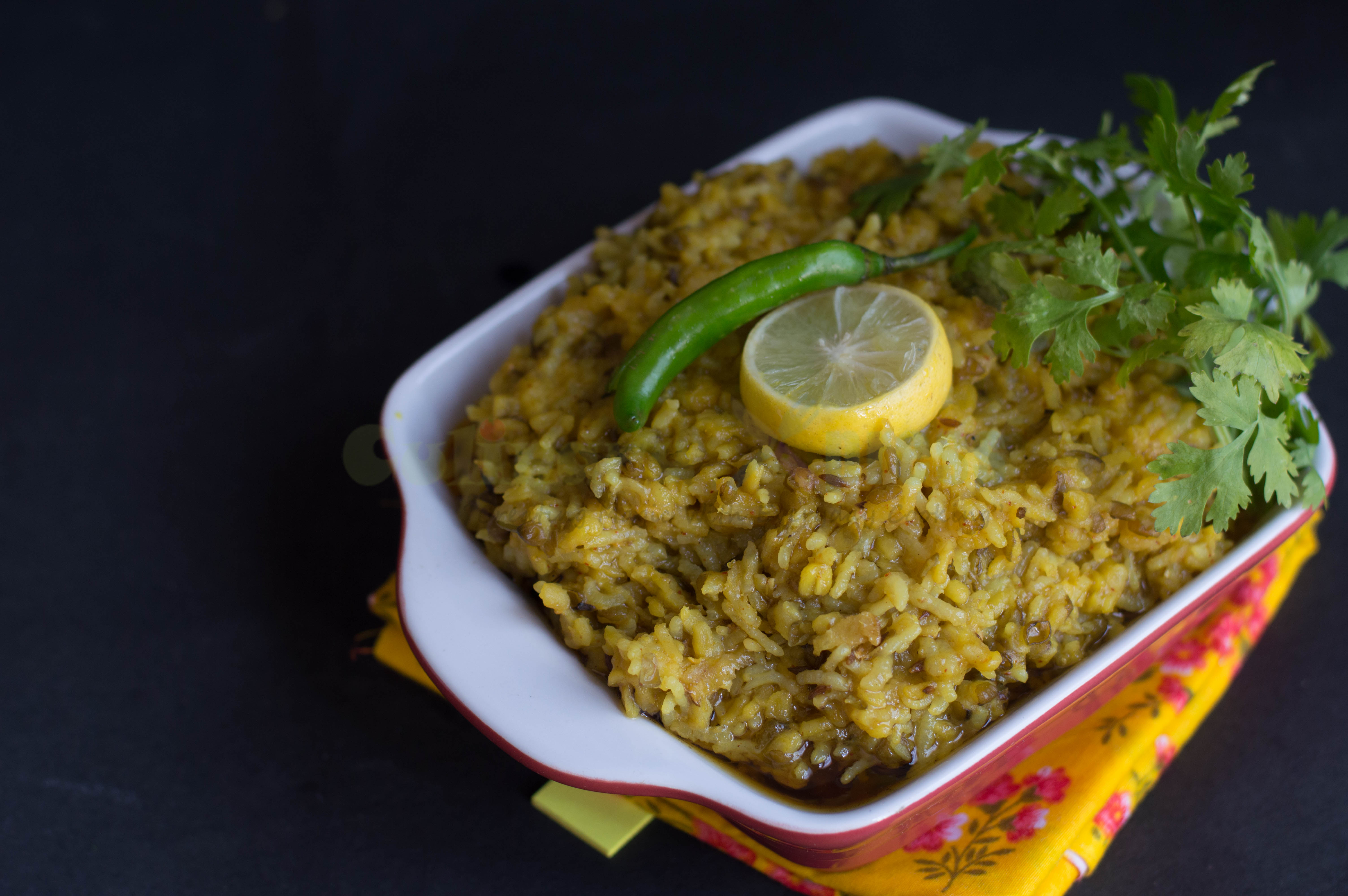 khichdi  or khichri or Khechudi evokes a medley of emotions in many of us. By the mere mention of the name, one either loves or hates it. Almost every state in India has it's own name for this humble one pot meal, and has it as part of their regular meals. It is called khichuri in West Bengal, Adahengu khichdi( ginger-asafoetida khichdi) in Odisha which is a part of the famous Chapan Bhog of the Lord Jagannath temple, Pongalin Tamil Nadu, Bisi bele bath in Karnataka and Khichri in Bihar and UP.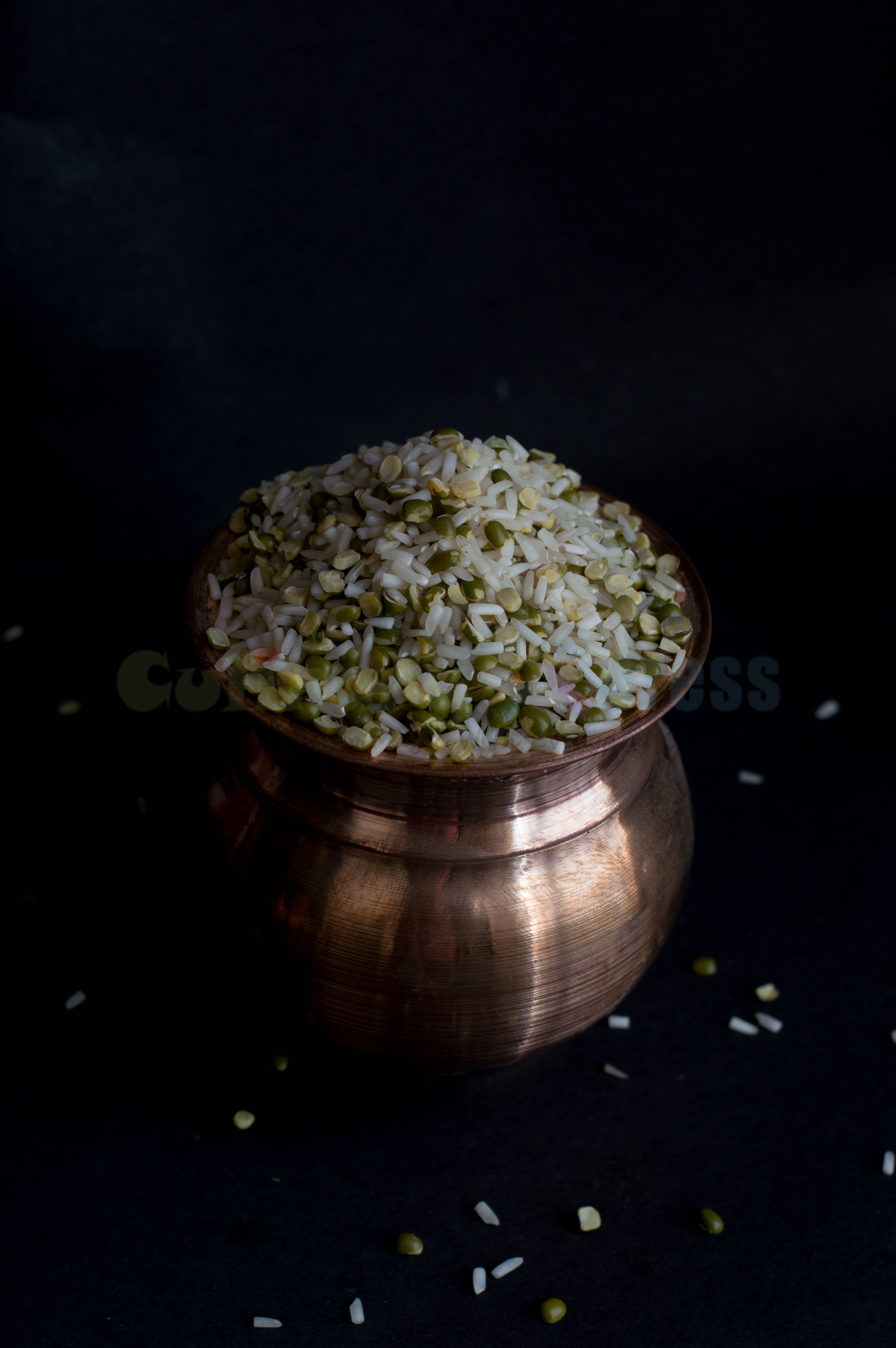 This humble one pot meal which is a part of the famous Chapan Bhog of the Lord Jagannath in Odisha is cooked with rice, dal, seasonal vegetables and served with curd  to the devotees.This temple food is the ultimate lesson in slow fire cooking where nine earthenware pots placed one atop another. The steam moves from one pot to the next, cooking the ingredients inside the successive pots.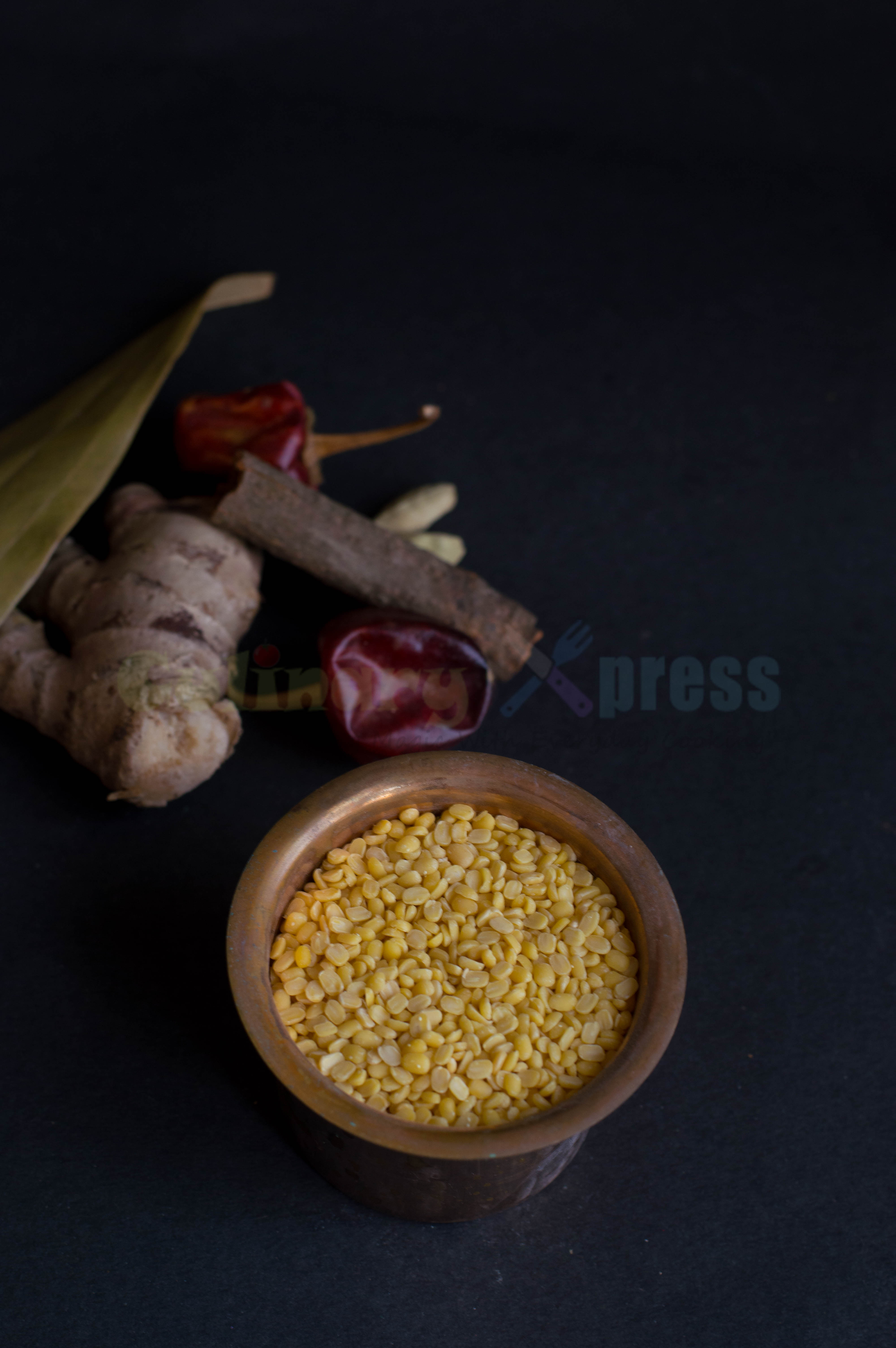 The Indian wisdom of medicine, Ayurveda,also recommends Khichdi for all body types as a cleansing regimen. Khichdi is also the first solid that babies are introduce to, Rice and Lentils are simmered till mushy, seasoned with Turmeric and salt, and fed to infants to introduce them to adult food as it is soft , easily digested, and has no spices.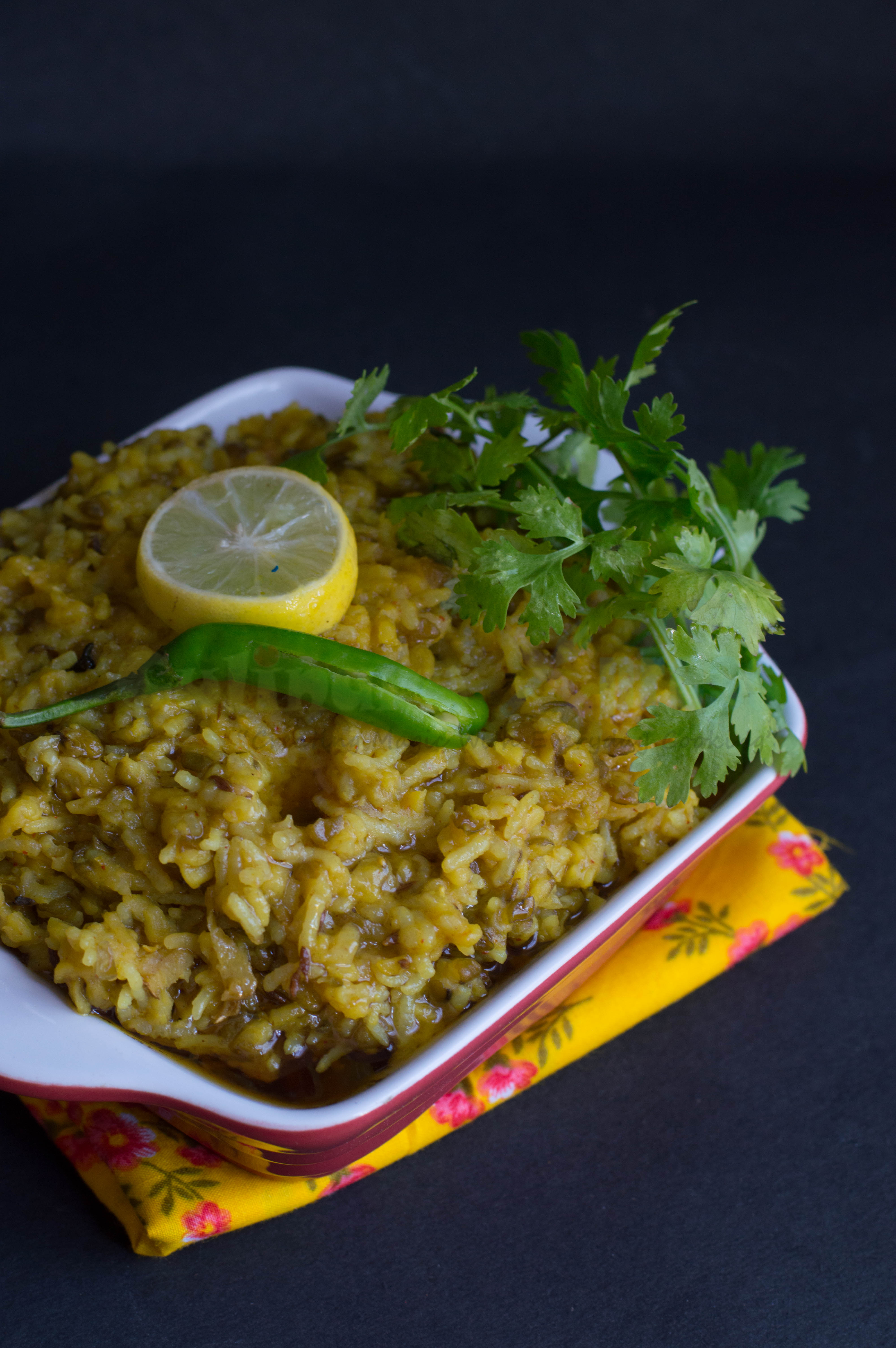 The khichdi  refers to a nutritionally balanced stew of rice and pulses, usually made with high quality grains, easily digestible lentils, fresh vegetables, exquisite spicing and homemade ghee, making it adequate, luscious and comforting.I, for one loves it and enjoy this soothing comforting bowl of earthy goodness. To cope with the blandness, khichri is usually paired with tangy and piquant partners, khichri ke char yaar, dahi, paapad, ghee and achaar.
(Visited 1,236 times, 1 visits today)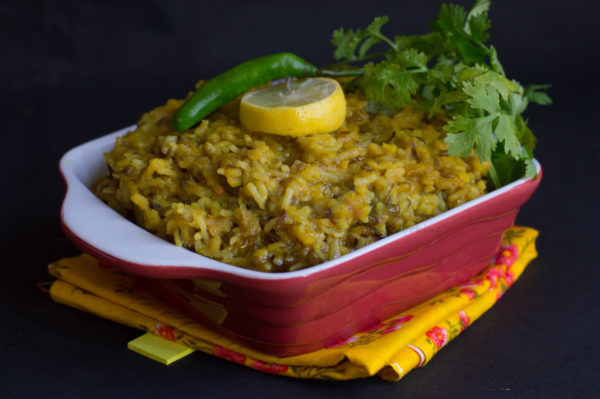 | | |
| --- | --- |
| | |
Rinse and wash Rice and moong lentils together. Soak both of them for 30 minutes in water.

Heat 1 tbsp ghee in pressure cooker add cumin. When it starts to splutters then add bayleaf, dry red chillies, green cardamom, cinnamon,grated ginger and asafetida.

Saute for 10 to 15 seconds and add the drained the rice and moong lentils to the pressure cooker. Stir for a minute .Pour 3 cups of water, turmeric powder and salt.

Close the lid tightly and pressure cook the khichdi on a medium flame for 1 whistle. Once the whistle comes, turn the flame to low and cook for 5 minutes. Turn off the heat and wait till the pressure is released and you can open the lid.

Serve the Khichdi with ghee on top  and garnish with coriander leaves, green chillies and a wedge of lemon.
This type of Khichdi taste  great with curd/yogurt, papad or pickles to balance the blandness.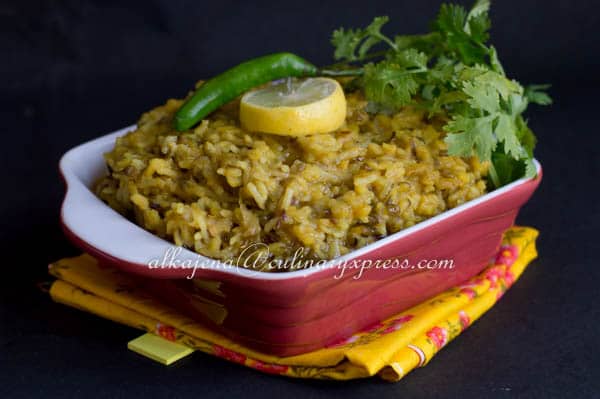 Sending this recipe to 33rd Foodie Monday Bloghop theme of celebration of everyday cooking with #Rice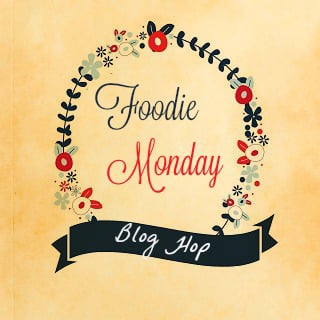 You may also try out other preparation made with rice from the following links:
KANIKA - FAMOUS ODIA SWEET RICE
HEALTHY FENUGREEK PULAO - METHI PULAO - METHI PILAF