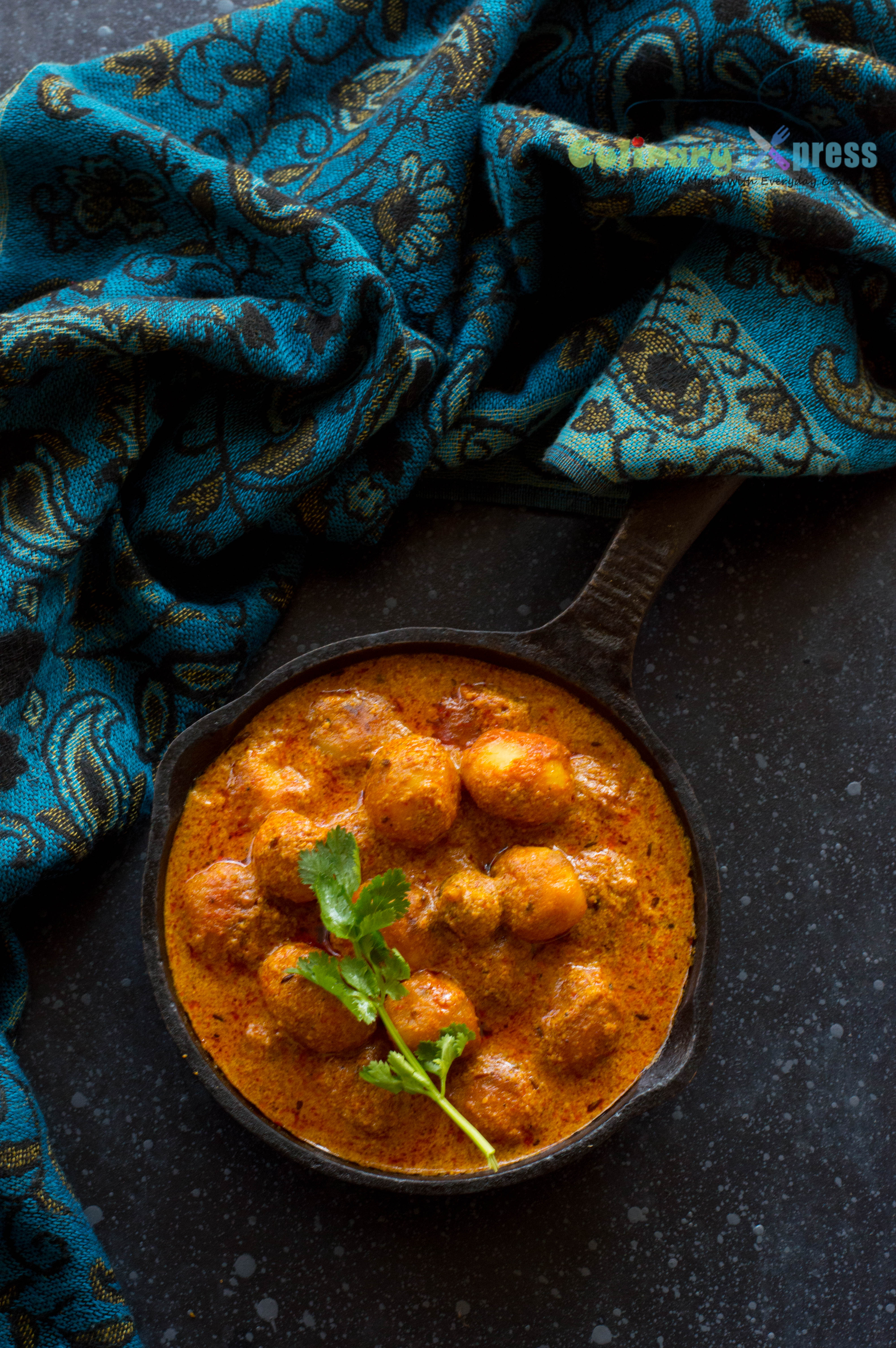 Kashmir is not only known for it's beauty ,but also for its food. Kashmiri cuisine is rich in taste and exotic in flavor.  While most of the Kashmiri dishes are non-vegetarian, Kashmiri Dum Aaloo or Dum Olav is one of the most famous Kashmiri food. Kashmiri Dum Aaloo is cooked with yoghurt, ginger powder, fennel powder and garam masala to give it a unique flavour and aroma.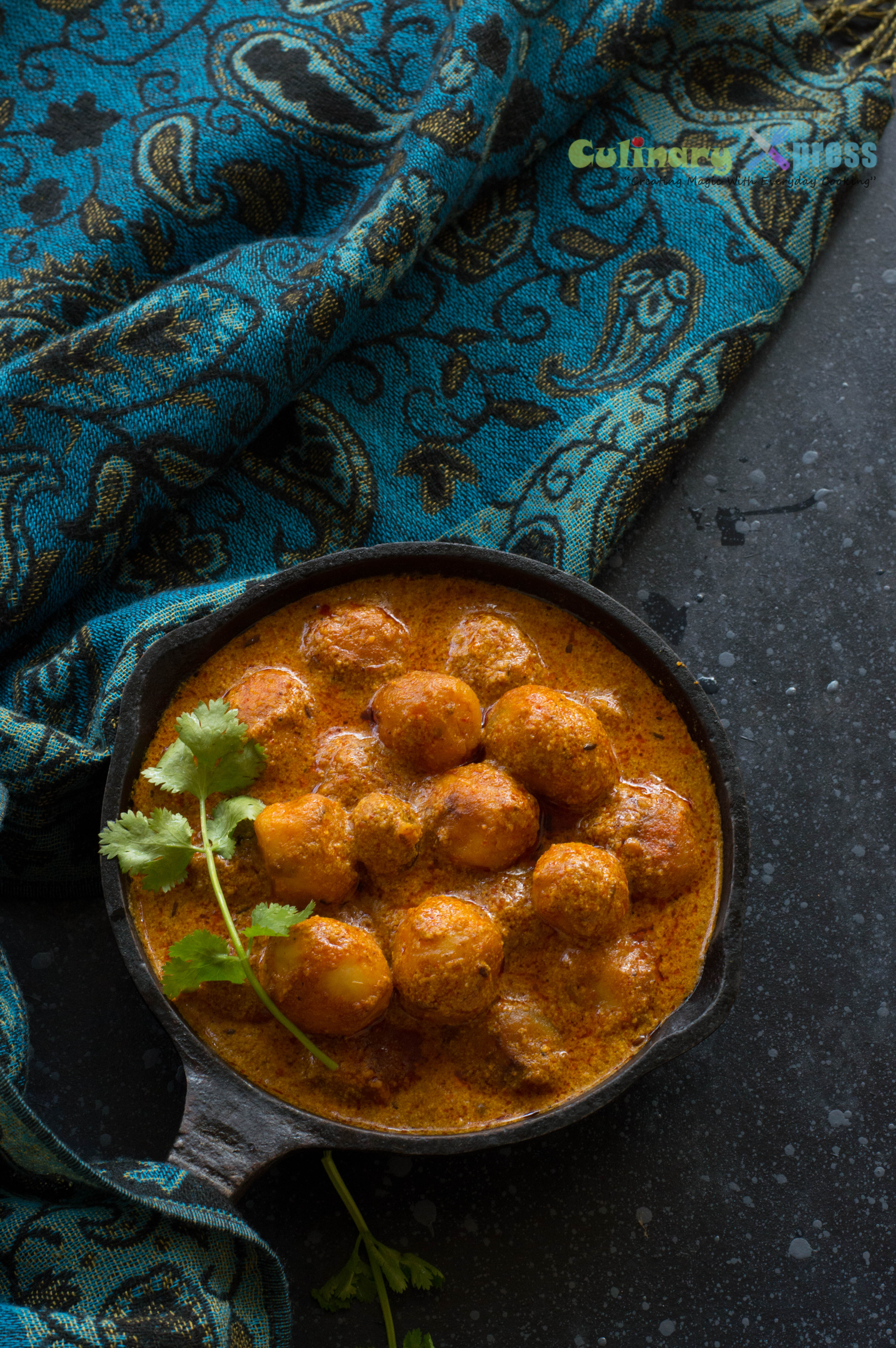 Kashmiri Dum Aaloo is a staple in a Kashmiri household and is mostly prepared on festivals, marriages, birthdays. The preparation is simple but takes a lot of time and patience to cook. Unlike other Indian recipes of Dum Aloo,  garlic and onion are not used in this Kashmiri Dum Aloo. The use of curd in the preparation gives the dish a creamy touch. Other addictive spices used are dry ginger and fennel seed .
Key features of Kashmiri food:
Kashmiri food is mild in taste and rich in flavor with high use of hot spices like cardamom, fennel, ginger, cinnamon and cloves . Kashmiri cuisine makes extensive use of turmeric, chili powder and yoghurt. Use of mustard oil and desi ghee is one more interesting part of this cuisine. The liberal use of spices adds warmth and comfort to Kashmiri curries.The famous Kashmiri red chillies are less pungent than the regular ones but can liven up any regular dish.The fragrance of spices like saffron and saunf sets Kashmiri meals apart. Kashmiri dishes make a regular use of dry fruits, especially in the preparation of curries.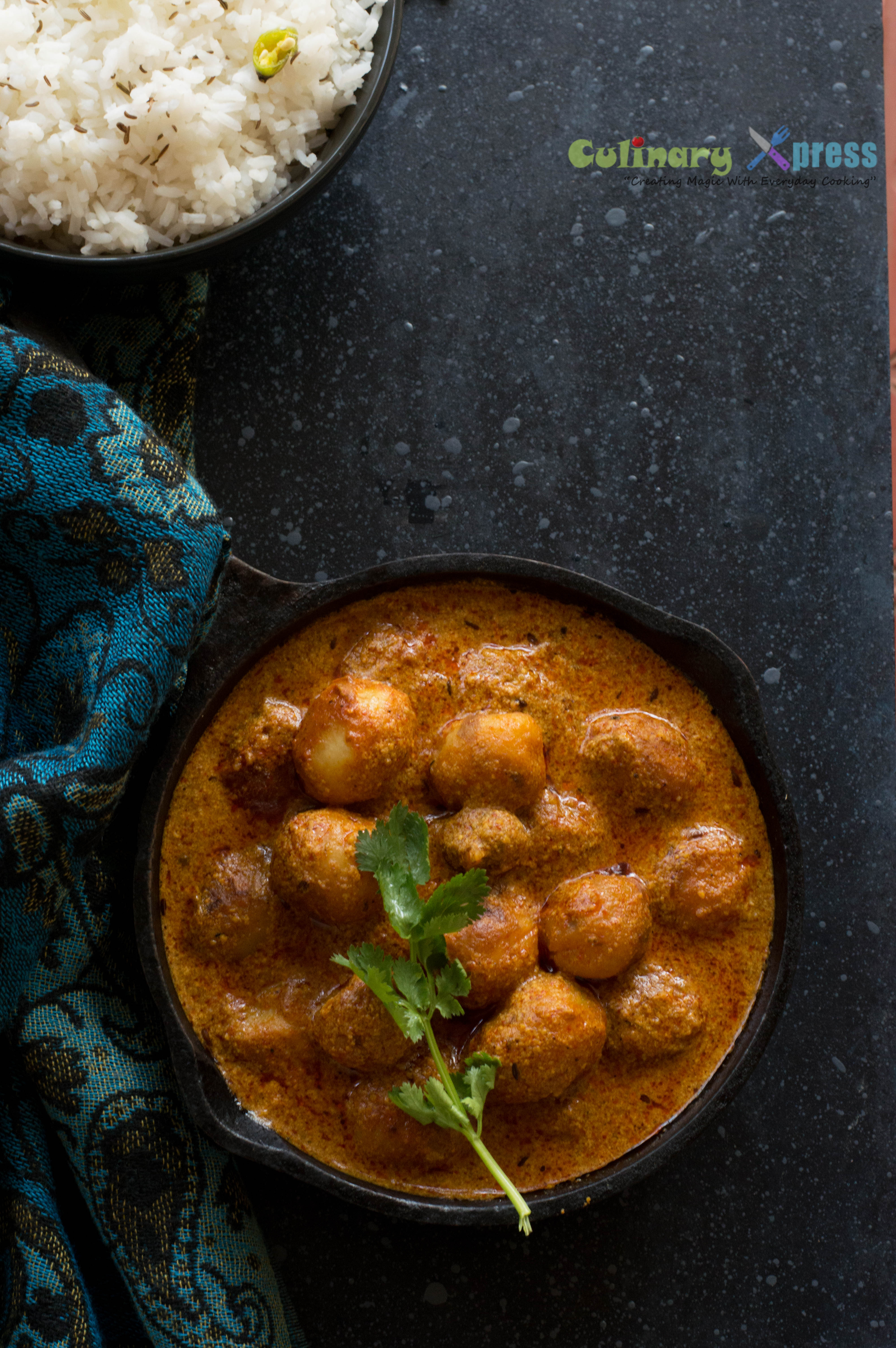 For this week's  theme  of #regionalcuisines  for our Foodie Monday BlogHop, I choose to learn Kashimiri cuisine and prepare a recipe that's easy and extremely satisfying. I have used most of the spices used in Kashmiri cuisine, like fennel powder, dry ginger powder & asafoetida along with whole garam masala in this curry. You can make this with regular potatoes if baby potatoes are not available.
You can have it with chapatis or naan or Kashmiri rice which is also quite aromatic and light and thus liked by all.
(Visited 405 times, 1 visits today)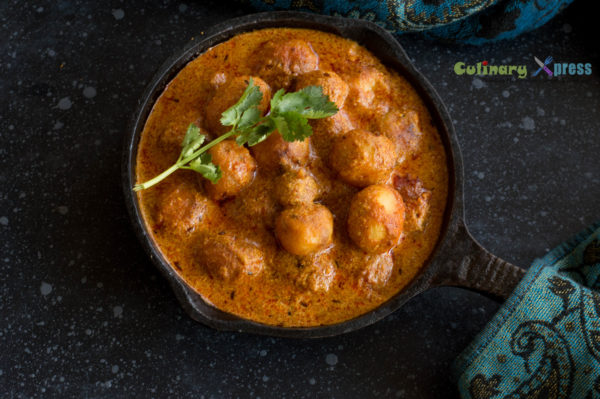 | | |
| --- | --- |
| | |
Wash the potatoes well and prick them all over. Soak them in salted water for 30mins.Boil the pricked potatoes till 80% done. Peel them. In a pan, heat 2 tbsp of oil till smoky. Reduce the heat, add boiled potatoes and fry them well till golden brown.

Make a paste of red chili powder, turmeric, garam masala powder and fennel powder with water. Whisk the curd and keep aside.

In the same pan, add bay leaf, cloves, green cardamom, cumin seeds and fry till the cumin crackles.

Add a pinch of hing, masala paste and sauté well till the spices start leaving oil from the sides of the pan. Take the pan off the stove and add whisked curd gradually. Keep whisking till mixed well.

Place the pan back on the gas stove and cook till the curd gets a boil. Keep stirring continuously to avoid curdling of the curd. Add fried potatoes, salt and ginger powder, mix well.

Add ½ cup of warm water and allow it to simmer for 10 to 15 mins on low heat.

Serve with some Jeera rice or naan or Paratha