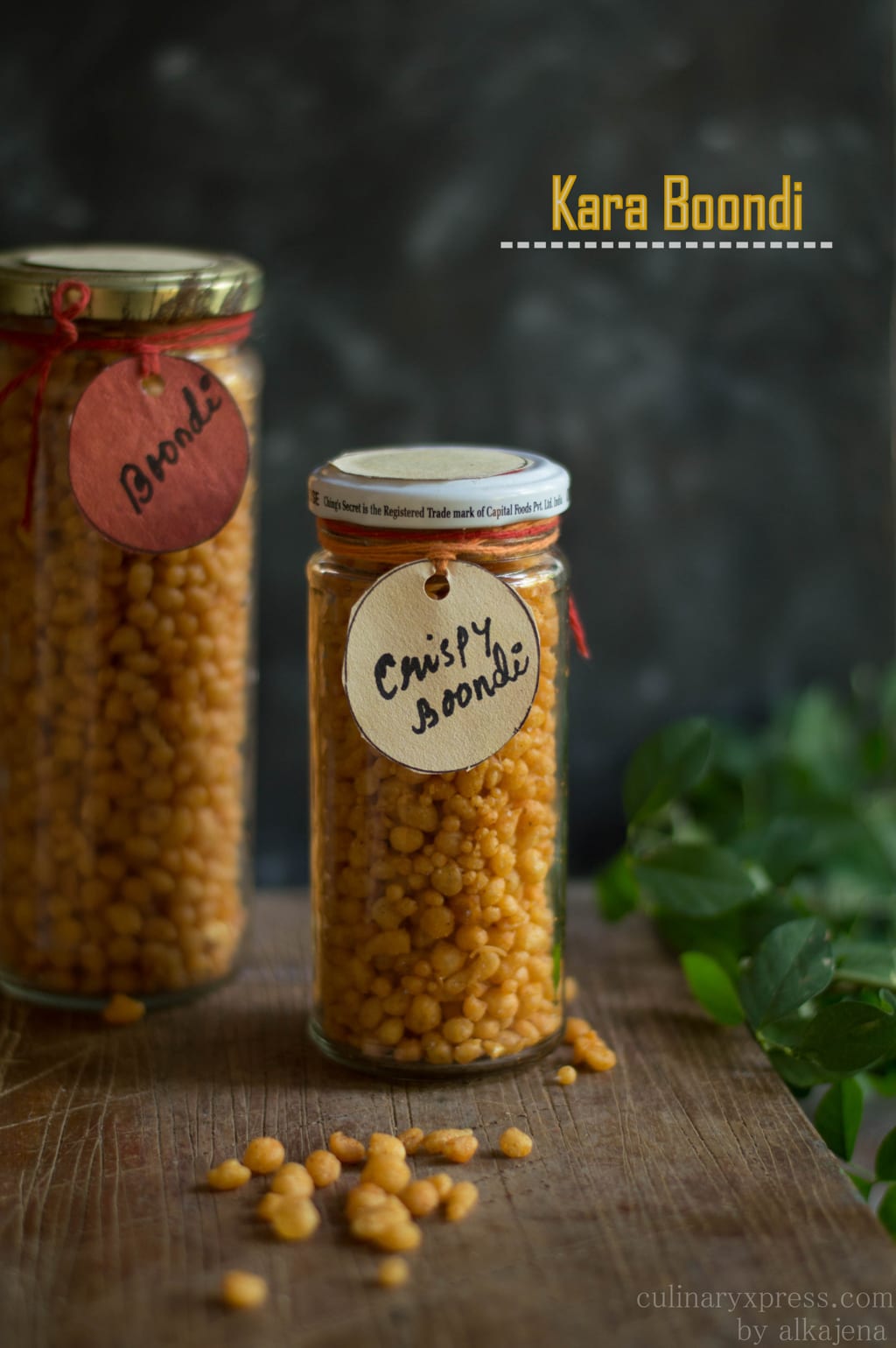 Kara Boondi or Spicy Boondi is an extremely crunchy and savory version of boondi which is generally made during festivals with with gram flour, cashewnuts, curry leaves , chilli flakes and other spices . The term Kara means Spicy and Boondi refers to crispy fried balls made out of gram flour, rice flour and other spices .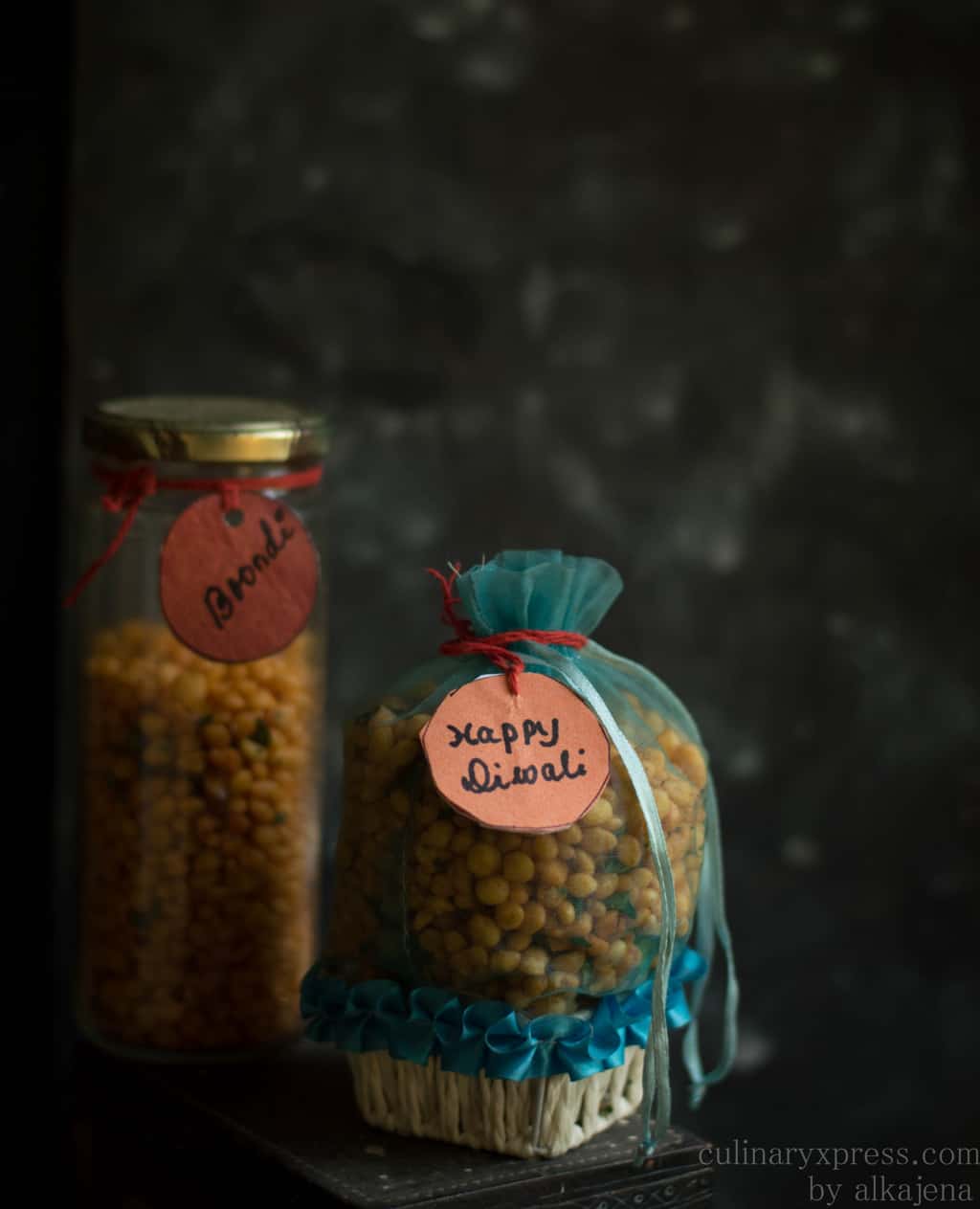 You can have these kara Boondi as such or mix it with other ingredients to make mixture, boondi raita etc and can be stored in an airtight container for more than a week. This is an easy and quick anytime snack and is very popular in southern parts of India. This Kara Boondi is so yummy and crunchy that I have used it in my Curd Rice recently as Boondi brittle.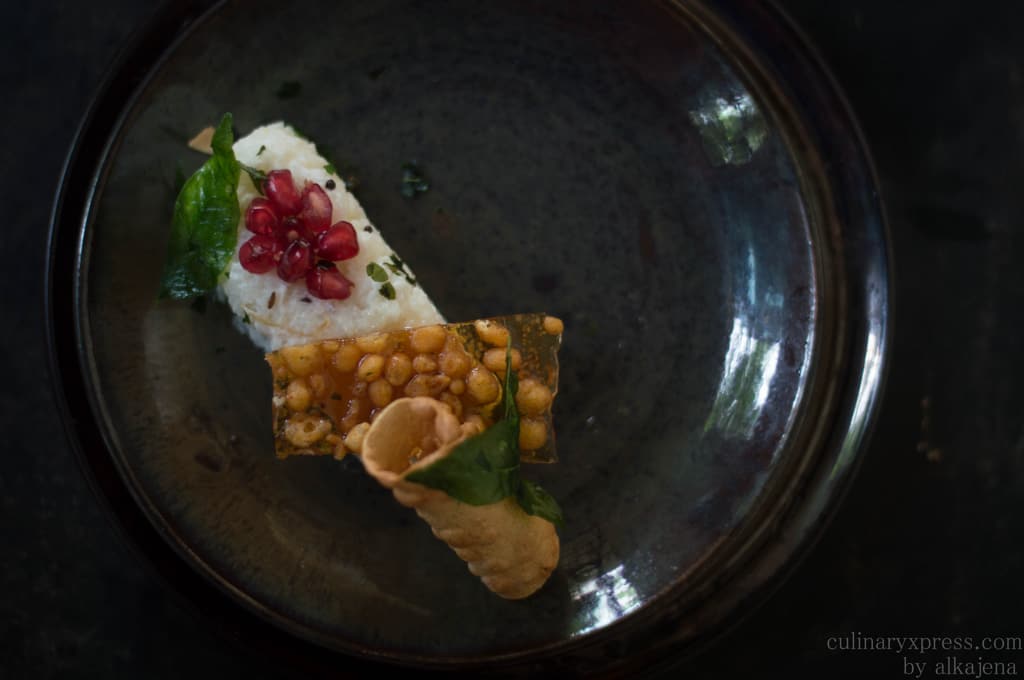 With the festival of lights around the corner, when all family are busy planning ideas on sweets and savories that can be prepared ahead, do give this tiny, crunchy and perfectly seasoned Kara boondi which is a wonderful savory dish. This Kara Boondi has great favours that you could send as gifts to add a personal touch.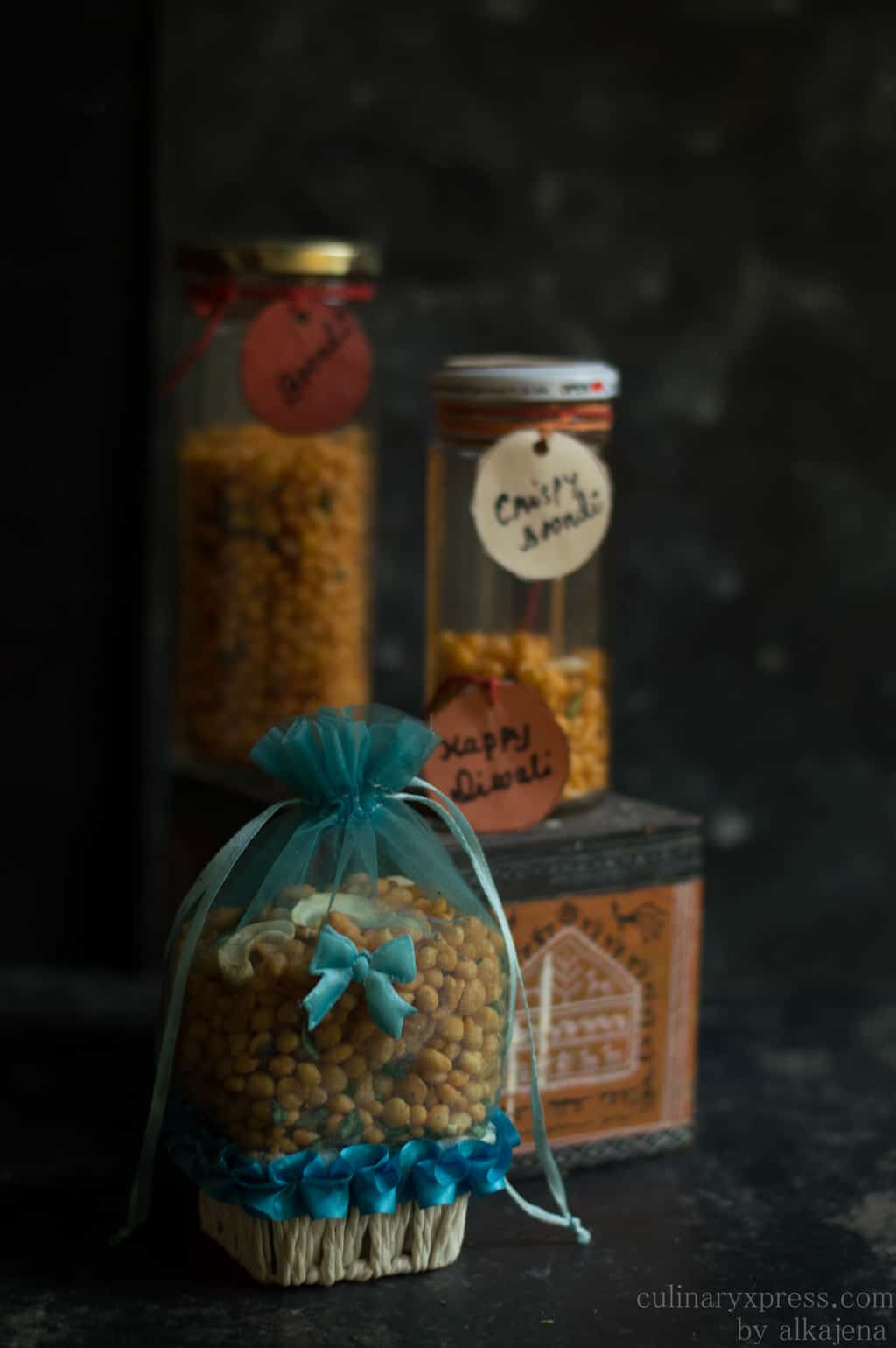 (Visited 247 times, 1 visits today)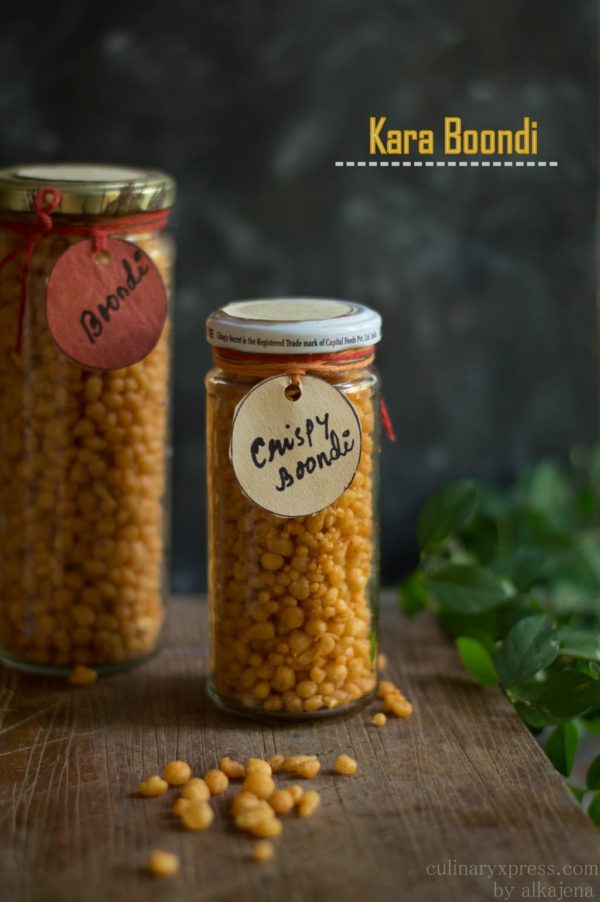 | | |
| --- | --- |
| | |
Make the Green chutney by grinding the mint leaves, coriander leaves, green chilli and salt with little water to a smooth paste and keep aside.

Now sift the Besan and the rice flour separately till no clumps is found in the flour.Combine the rice flour, gram flour,green chutney, salt, chillipowder, asafoetida,baking soda till well combined.

Add water little by little to make a thick yet flowy batter. Make sure to make a thick batter in the beginning and gradually add water.

Heat oil for deep frying till it reaches med-high heat.

Dip the stem of a spoon into the boondi batter and letting it drip into hot oil to see if the boondi shape is round and perfect. if it is falling flat , then the batter is too watery and you can add a tablespoon of besan and it will be perfect .

Place a ladle with lots of holes on the Kadhai and pour a ladle of batter . Tap the ladle so that you will find the batter dripping at a steady pace into the oil.Make sure you do not add excess batter to the oil to avoid the oil from bubbling up and down the sides of the pan. Just add enough to accommodate the size of your pan.

Fry until the oil stops sizzling around the boondi and it turns golden in color.Remove and drain on a paper towel.Repeat for the remaining batter.

Dry roast the cashews and the curry leaves and set aside. Once done crush the curry leaves with the help of your palm.

Now add them to the fried boondi. Mix until combined.Once cooled, store them in an airtight container so that it remains crispy.

Serve as snacks along with some Tea or coffee.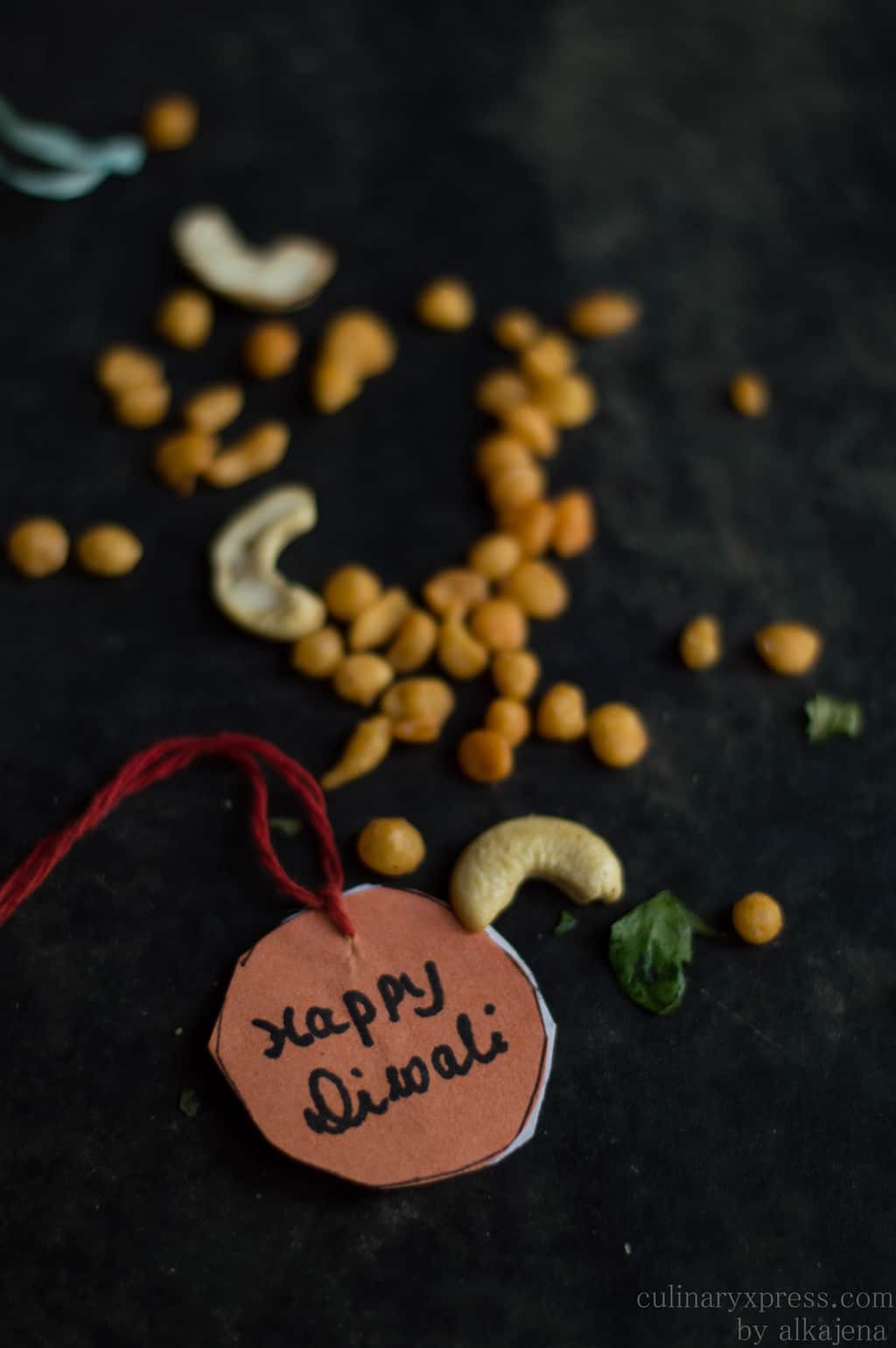 Sending this Kara Boondi recipe to our 62nd Foodie Monday BlogHop event theme of #DiwaliSpecial-Savories