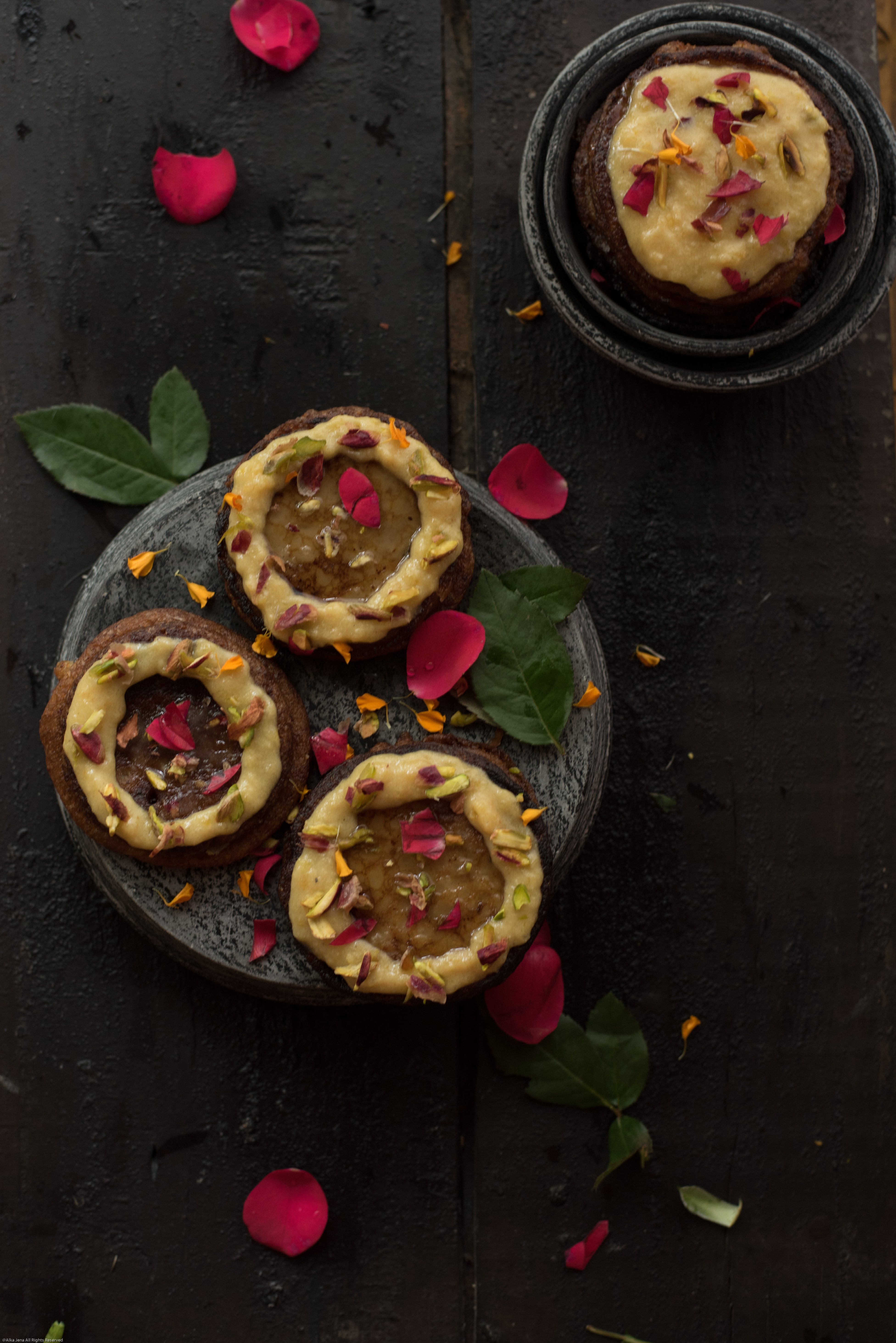 janmashtami is an auspicious occasion when it becomes a customary ritual for family to prepare some traditional sweets and savories. Since Lord Krishna was very fond of milk and milk products, devotees would make various dishes of milk to offer the Lord. Many families observe fast on janmashtami and consumes fruits, sweets and curd only.  Try this mouthwatering recipes to get the festival feel and offer them to Lord Krishna, and consume the same with your family and friends.
Malpua is a traditional indian sweet,  fluffy and yet crispy pancakes coated with sugar syrup and served with rabdi to complete the festive feal. This sweet dish is easy to make and are served with a topping of chilled rabdi. For this janmashtami, try the traditional malpua and rabdi with  twist where I have made malpua with pureed apples and rabdi with apricot puree.
Ingredients for Rabdi
1 litre

full fat milk

a pinch

of green cardamom powder

250 gms

Apricot puree

1 cup

powdered sugar
Soak the apricot in warm milk for 2 to 3 hrs. Grind it to a fine paste with a little milk at a time and if needed u can add some sugar just to balance the sweetness of the paste.
Heat the milk on a heavy bottomed pan and bring it to a boil. Now simmer the gas and let it boil. Add the green cardamom powder and boil till it reduces 1/3 of its original quantity. Make sure to stir it at regular intervals to avoid sticking at the bottom. Scrap the sides of the pan and mix it with the milk to make it thicker. Once the milk reduces to half of its quantity, add sugar and keep stirring till it reduces to a very thick consistency.
let it cool completely. Once cool add the apricot puree  and put it in the refrigerator to chill. Take out before serving.
 Ingredients for Sugar Syrup
3/4cup sugar
1/3cup water
1/2 tsp lemon juice
a pinch of saffron
a pinch of green cardamom powder
Lets learn how to do it:
Mix sugar and water in a pan and stir over medium heat till sugar dissolves and the syrup has reduced to half of its quantity . add the cardamom powder and saffron in it. Take a drop of sugar syrup between two of your fingers and start pulling your fingers in opposite direction, if you find the syrup to be of a thread like consistency, then your sugar syrup is done.
Add the lemon juice and turn off the heat. the lemon juice is added to stop the crystallization process.
Ingredients for Malpua
3 nos Red apple, Peeled and pureed
1 cup all purpose flour
A pinch of baking soda
salt
1/2 tsp green cardamom powder
1 tbsp sugar
½ cup water
1 tsp fennel seeds
green pistachios for garnishing
Ghee for frying
Let's learn how to make it:
Take a mixing bowl and add water, flour, pureed apple, salt, sugar, baking soda, cardamom powder and fennel seeds to form a lump free batter. Keep aside.
Heat oil in a flat frying pan . Pour 1 small ladle of batter to make a small, flat malpua about 2-1/2"- 3" in diameter.
Once the sides start to crisp and brown a little, flip the malpua over and cook for a minute or so.
Fry till both sides get evenly browned.
Remove and soak in syrup for ½ minute. Remove from syrup. Arrange on a shallow plate. Top with rabri and nuts and serve hot.Relish the twist to this beautiful desert.

(Visited 106 times, 1 visits today)