Happy Diwali Friends.
With Diwali being just a day away, I wanted to share a traditional homemade and instant crispy jalebi recipe with you all. Jalebi can be made in a number of ways. The traditional way in which the batter is fermented to get a sourness, which is a distinct characteristic of this Indian dessert or the instant version where there's no fermentation required. Though I always make Jalebis in the traditional way, but due to time constraints many people shy away from making this dessert in the traditional manner. So this diwali give this instant version of Jalebi.
If you go through my previous posts you will know, this year I am incorporating fruits in traditional desserts for Diwali.  This instant version of Jalebis are made with Red Pear or Anjou Pears. Red Anjou Pears are almost exactly like Green Anjou Pears, but are glorious rusty red in color. It has a mild flavor and a firm texture, while still being sweet and juicy. These Anjou pears are great for eating out of hand or for cooking and are usually available from May to October .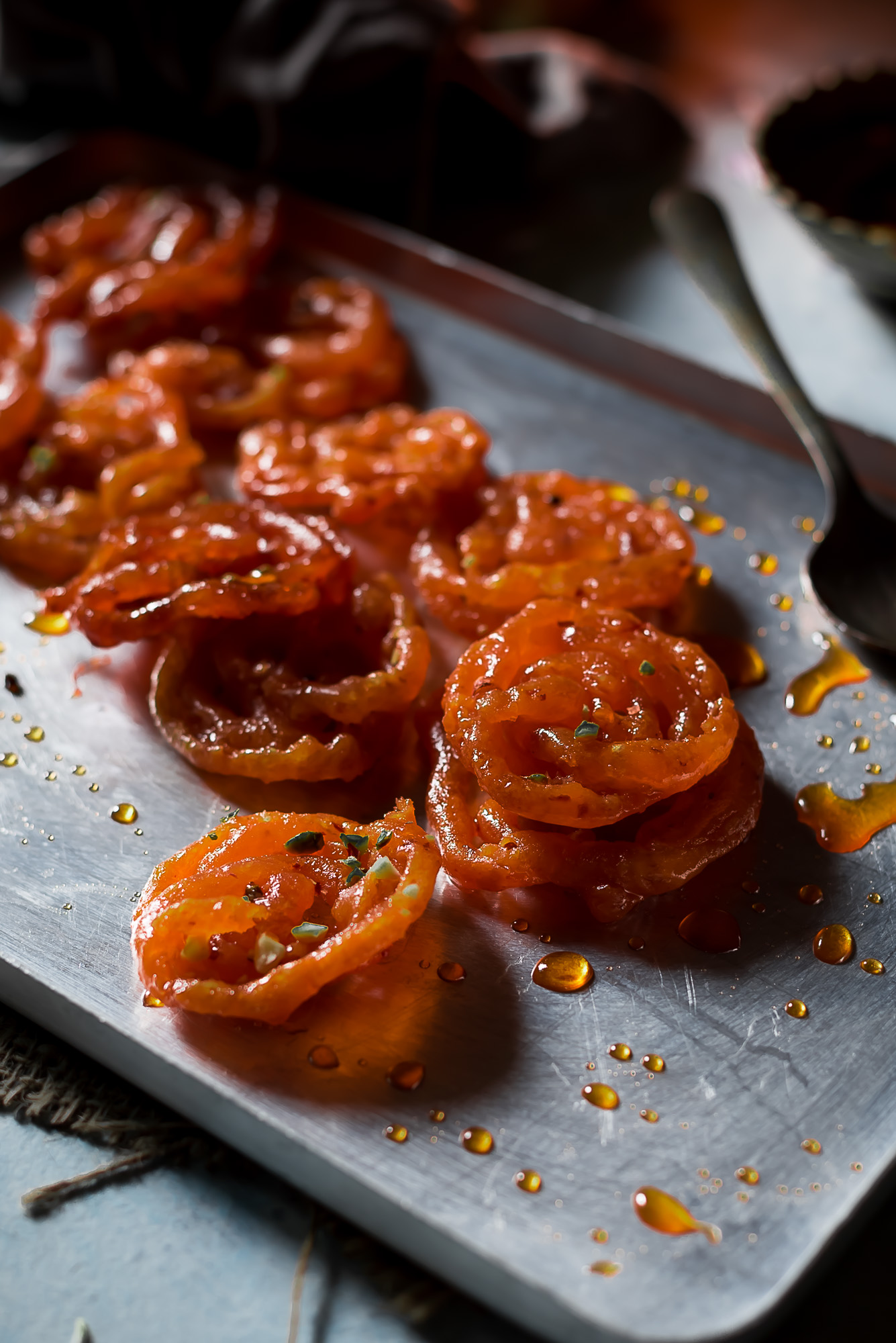 Jalebi is a spiral shaped traditional Indian sweet made with flour basically mixed with little chickpea flour and yogurt . The batter is fermented and then deep fried and dipped in sugar syrup.
Ingredients:
1

 

cup

 

all purpose flour

1/4

 

tablespoon

 

chickpea flour

1 tbsp ghee
1 1/2 tsp fruit salt or ENO

Less than 3/4th cup water

1  pear, pureed

oil or ghee

, to fry jalebi
Sugar Surup
1

 

cup

 

sugar

1/2

 

cup

 

water

1/4

 

teaspoon

 

cardamom powder

few saffron strands

orange food color

, optional

pistachios for garnishing.
In a large bowl mix flour , chickpea flour , ENO . Add the ghee and mix till it well. Now add the pear puree  Add water to form a flowing consistency batter.The batter should not be too thick or thin. You may need up to 3/4 water depending on quality of flour and chickpeas flour.

Meanwhile add sugar to a pan. Add water and mix with sugar and let it all come to a boil.Once it comes to a boil, add cardamom powder, saffron strand . Let it simmer till syrup becomes sticky and form a one string consistency.

Transfer jalebi batter into a piping bag. Meanwhile Heat oil or ghee in a pan on medium-low heat.

make jalebis by squeezing batter in hot oil, making spiral motion from inside to outside. Remember to keep at low heat else you won't be able to form the shape. Once you have made the spiral shape with the batter, increase the heat to medium-high.

Fry till crisp from both sides. Remove from oil and immediately dip in warm sugar syrup, few seconds on each side is good enough.

Remove jalebis from the sugar syrup and transfer to a serving plate. Enjoy homemade jalebi on this Diwali.

Garnish with chopped pistachios.
(Visited 67 times, 1 visits today)