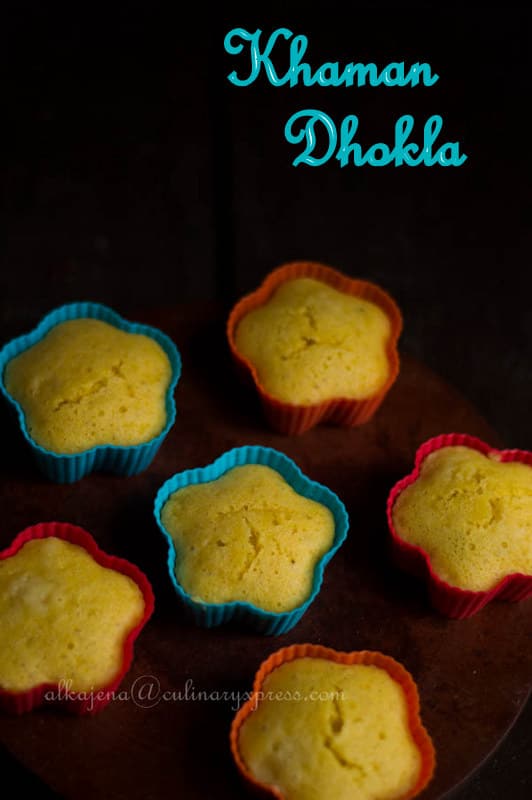 Dhokla is originated from the western part of Gujarat many years ago. It is known all over as a popular Guajarati dish and a favorite vegetarian snack. A Dhokla is a spongy savory cake made of gram flour, suji (semolina) or rice powder. Dhokla recipe is a very popular Guajarati dish prepared in almost every household in India. The dfferent types of dhoklas are : Besan Dhokla, Suji Dhokla, Chawal Dhokla or Khaman Dhokla. The basic art of preparing this recipe lies in the accurate timing in steaming. Dhokla can be served as breakfast, evening snack. Garnished with split green chilies, mustard seeds, grated coconut and coriander leaves, this dish can be served with tamarind chutney accompanied with green coriander or mint chutney. This recipe is generally healthy as it is steamed and a very less amount of oil is required.
Preparation  Time:10 minutes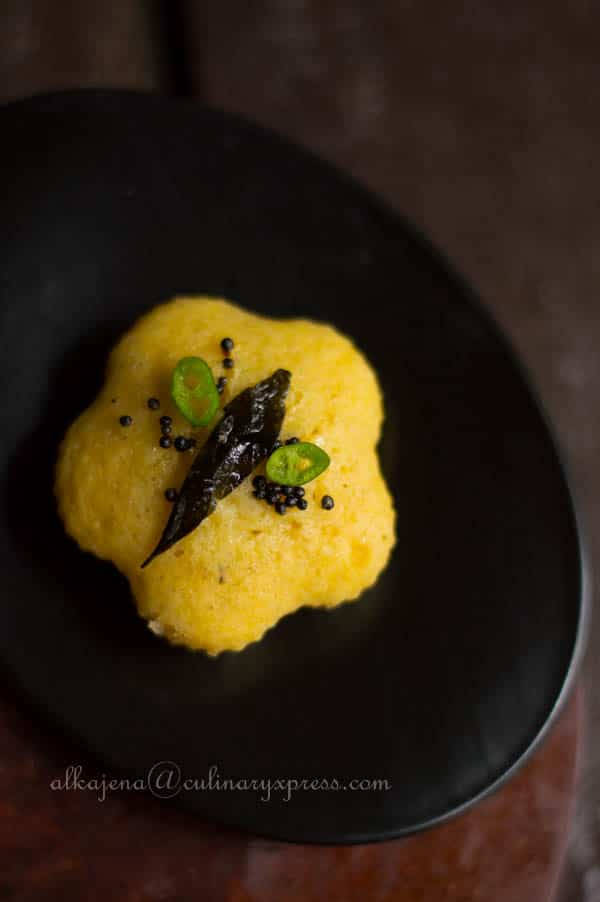 (Visited 250 times, 1 visits today)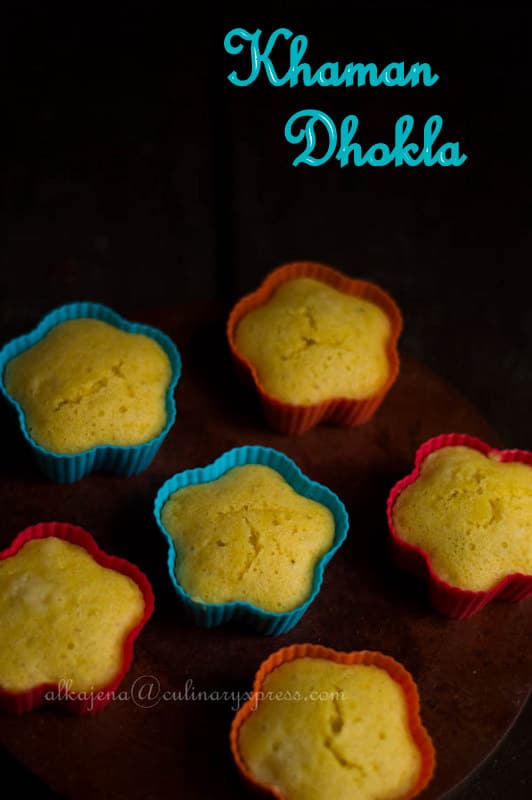 | | |
| --- | --- |
| | |
Sieve the gram flour 2 to 3 times so that no lumps are found. Now add semolina, sugar, ginger green chilli paste, lemon juice, salt and make a smooth batter with 3/4 cup of water .The consistency of the batter should neither be stiff nor runny.

Now put the steamer or Dhokla maker with water for boiling. Grease a dhokla plate or any plate with a fender to be put inside the steamer for steaming. Here, I have used the Muffins Mould to prepare these cute Dhoklas. Once the water starts boiling , then add fruit salt to the batter and stir vigorously in one direction. You will immediately notice that the batter has started rising.

Immediately pour the batter on the greased muffins mould. Then put it in the steamer for cooking.Steam the Dhokla in the steamer for 7 minutes if you are using a steel plate and 10 minutes for a glass plate or Muffins mould as in this case.

After opening the steamer , insert a knife to check, if it comes out clean, then it is is ready. Keep in the steamer for 5 minutes more before taking it out. let it cool completely and then turn it upside down onto a plate.

With the help of a knife . cut the dhokla into square pieces.Heat 1 tbsp of oil in a pan. once heated, put mustard seeds, green chillies, curry leaves and hing ( optional) onto the pan and pour over the dhokla immediately. If you like you can add 2 tbsp of sugar and 1/2 cup water to the tadka and pour over the dhokla to make it moist. The dhokla will immediately absorb the water.

Serve with tamarind chutney or any sweet and savory chutney.
Serve with tamarind chutney or any sweet and savory chutney.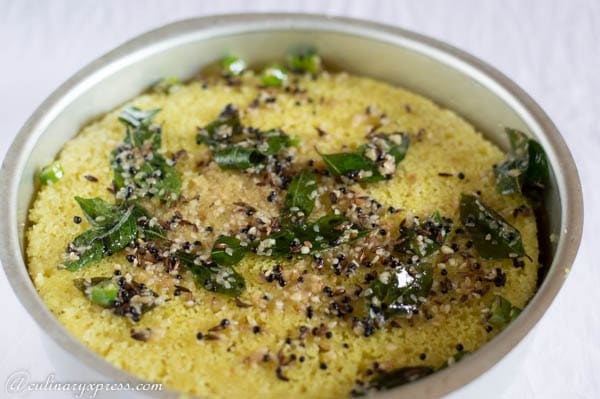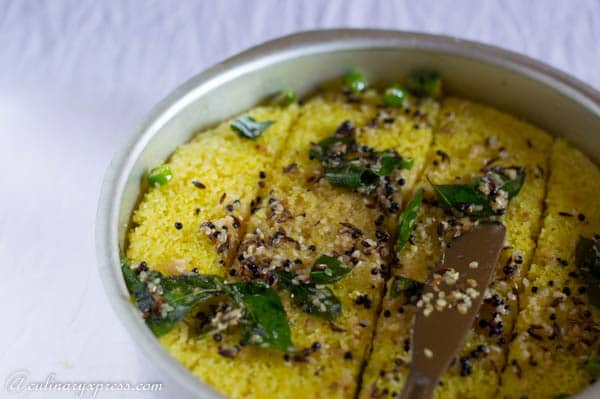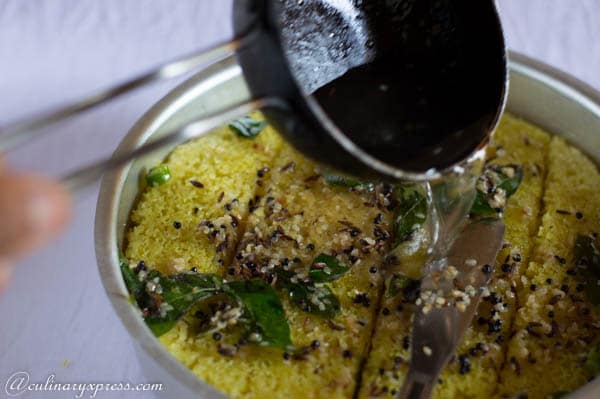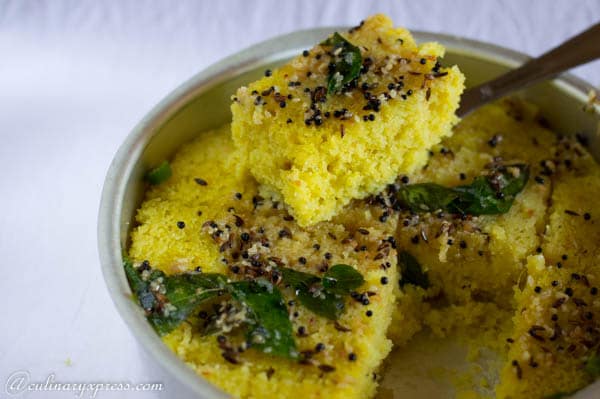 Note: If you have so me green chutney left in the fridge you can also add in the middle layer of the dhokla.