A wonton is a type of dumpling commonly found in a number of Chinese Cuisine. Wontons are made by spreading a square wrapper, dough made of flour, egg water, and salt, placing a small amount of filling in the center, and sealing the wonton into the desired shape by compressing the wrapper's edges together with the fingers. Adhesion may be made by moistening the wrapper's inner edges, typically by dipping a fingertip into water and running it across the dry dough to dissolve the extra flour. As part of the sealing process, air is pressed out of the interior to avoid rupturing the wonton from internal pressure when cooked.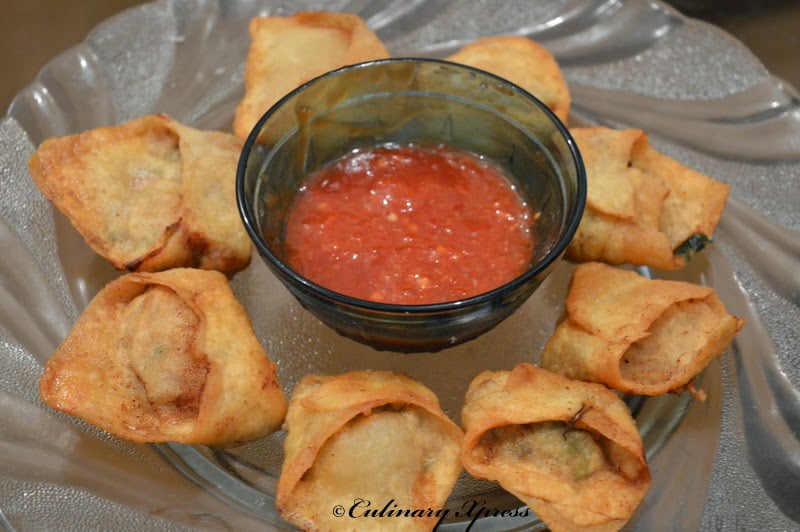 For this fried wontons recipe, I used minced chicken. Fried wontons always come out delicious regardless of the protein used. Here is my easy fried wontons recipe that you can make at home. Enjoy! This recipe is perfect for entertaining. They are the perfect little appetizer, and once you get going, it really is one of the easiest foods to make out there.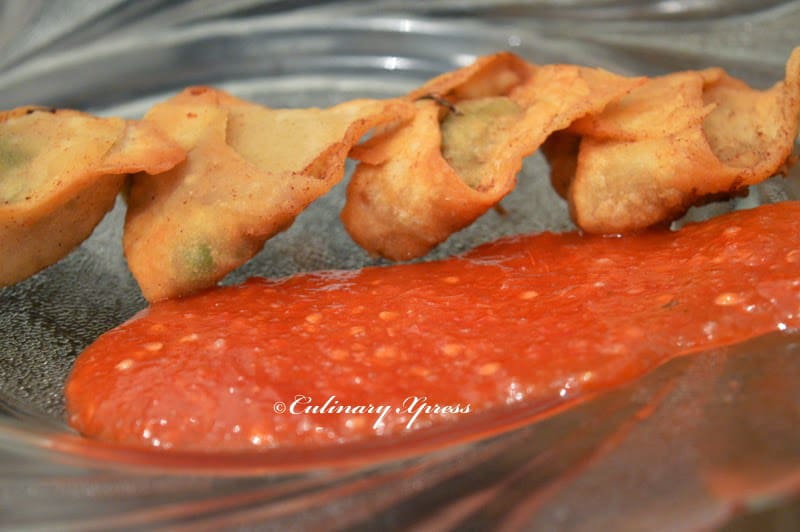 Fried Wontons  are commonly served as an appetizer and comes with a sweet and sour dipping sauce. Everyone loves fried wontons…they are crispy and filled with savory meat or meat and seafood filling, and the sweet and sour sauce makes them even more appetizing. Wontons come in small parcels and are available in many forms: deep-fried, boiled, steamed, or in soup. Whenever I have a craving for something appetizing, I would make fried wontons. They are so pretty and delicious, and it takes less than 30 minutes to make them!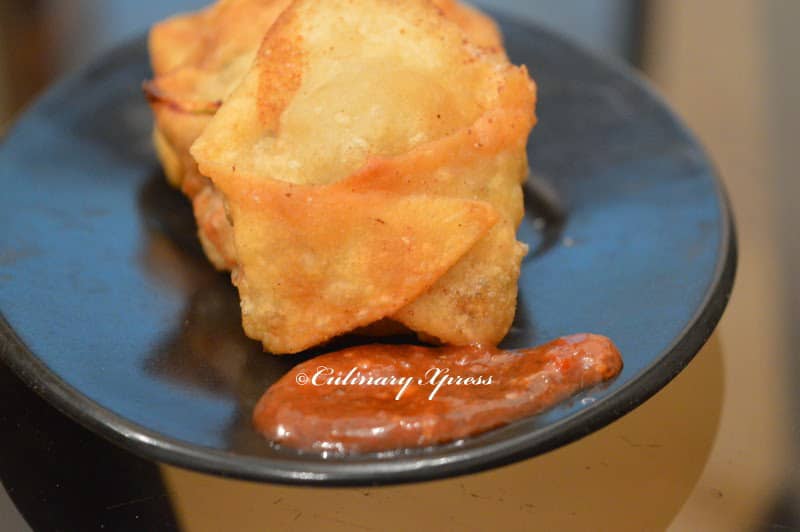 Ingredients
For the filling
1 tablespoon
chopped fresh ginger
2 cloves
garlic, finely minced
2 nos
of green chillies finely chopped
1 bunch
of freshly chopped coriander
For the Wonton wrapper:
2 cups
of all purpose flour
Steps
Lightly beat the egg with the salt. Add 1/4 cup of water to it and mix well.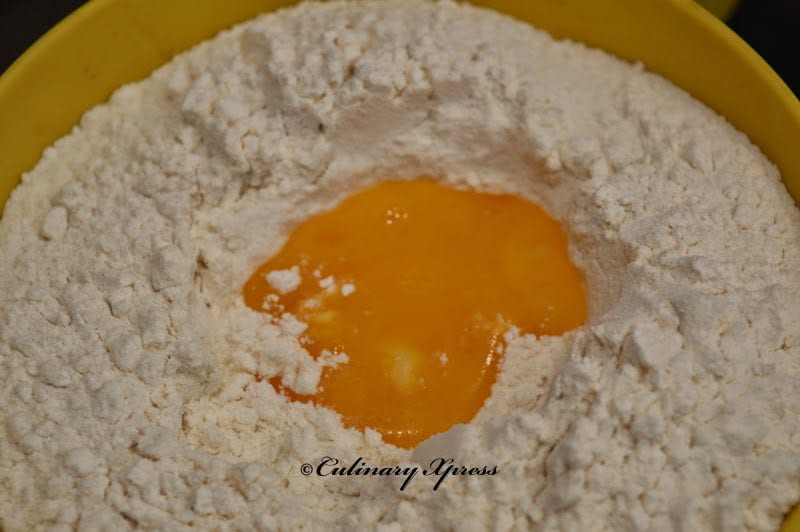 Now sift the flour into a large bowl. Make a well in the middle and put the egg mixture into it. Mix it with the flour. Add as much of the remaining water as necessary to make  a smooth dough.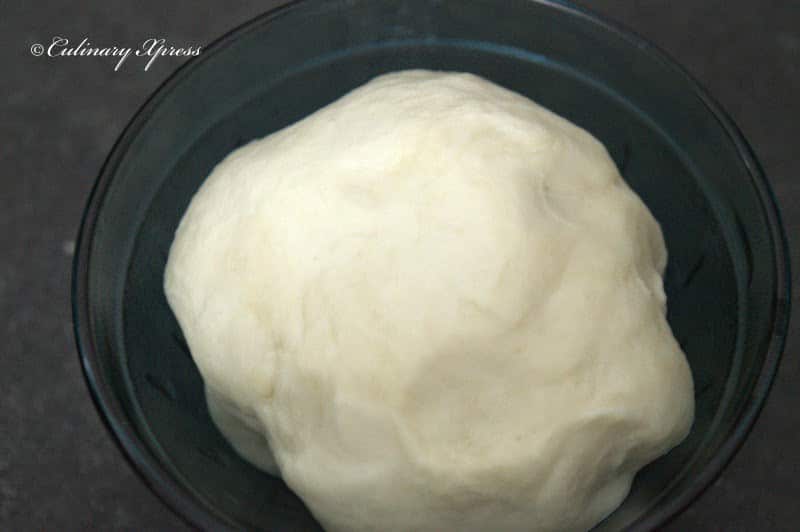 Cover and let it rest for 30 minutes. You can keep the dough wrap in a cling film and refrigerate for future use also.
Roll the dough into thin sheet and cut squares pieces out of it.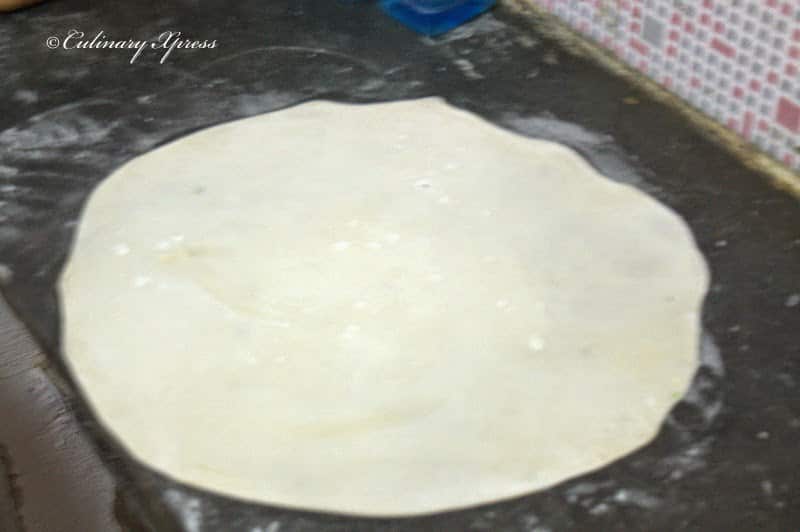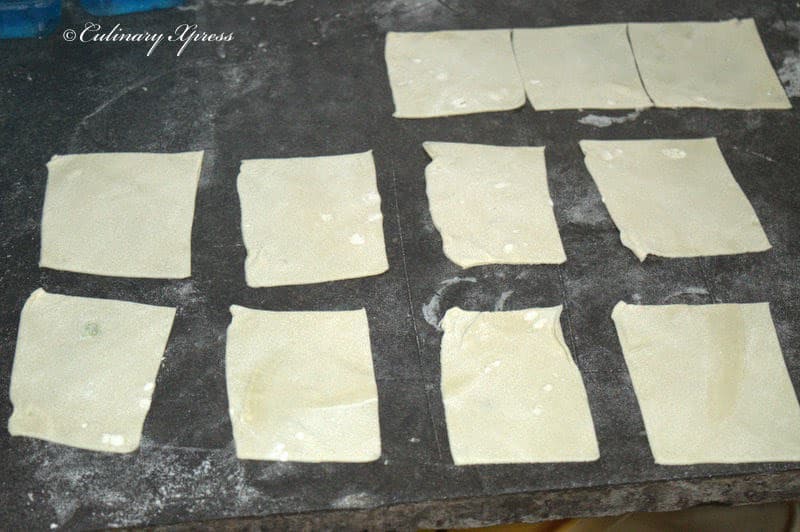 In a large bowl, add the minced chicken, ginger, garlic, green chillies, onions, soy sauce ,salt, coriander leaves and 1 tbsp of oil and mix well to combine.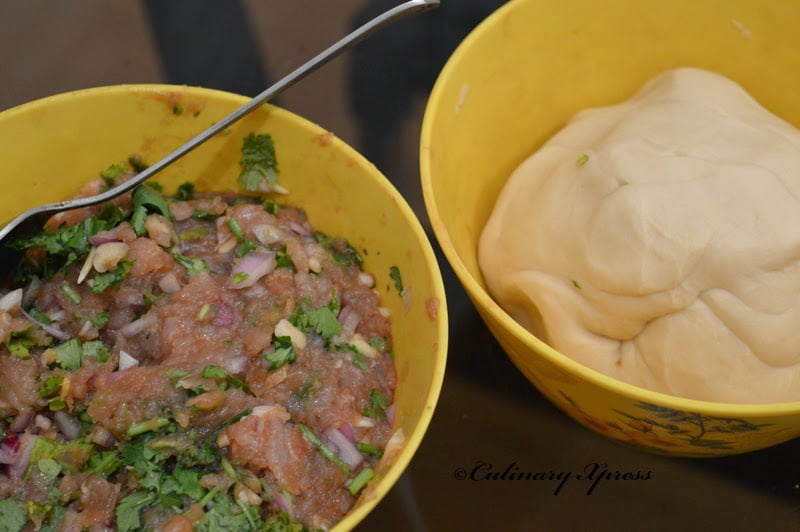 To assemble the wontons, place a wonton wrapper flat in the palm of your hand.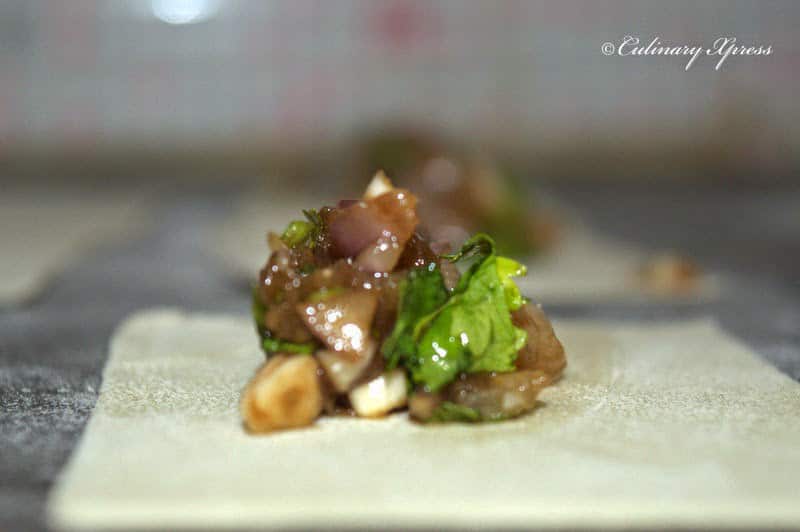 Add 1 tbsp of mixture to the centre of the wrapper.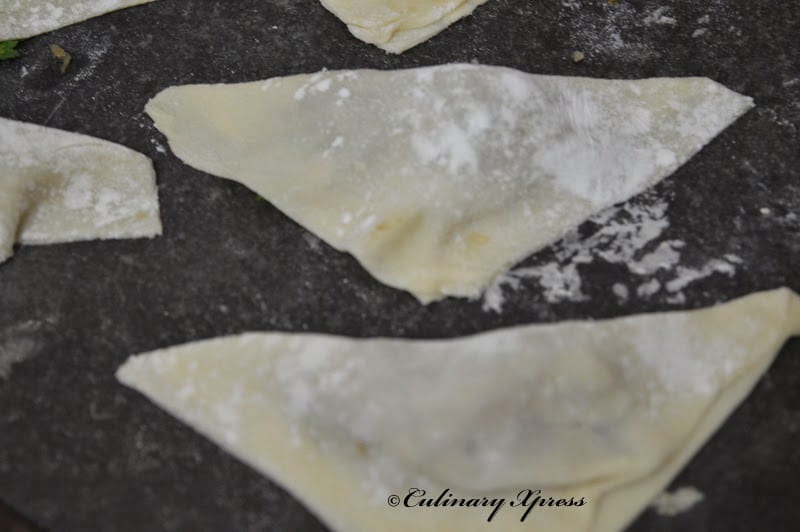 Fold the wonton in half, corner to opposite corner to make a triangle. Seal tightly all around. Make sure there are no a
ir pockets or holes in the wonton. Fold the longer two triangle points together and seal to make the wonton shape.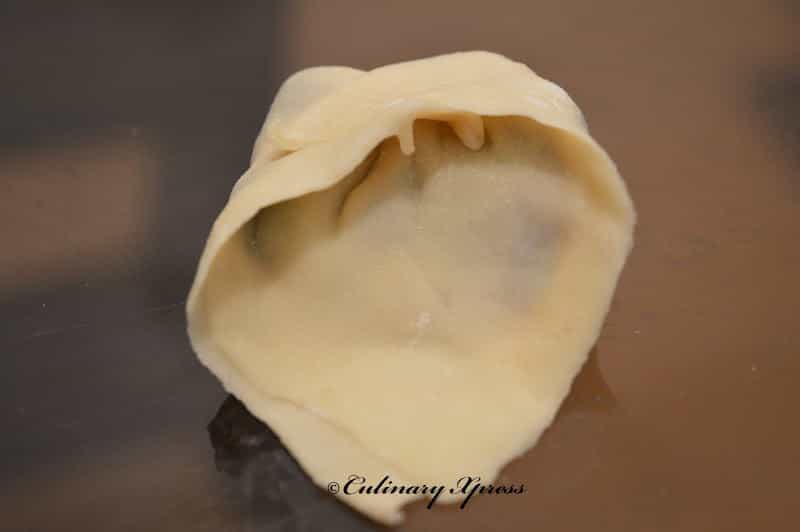 Place folded wonton on a clean, dry plate or baking sheet and cover with plastic wrap to avoid drying out. When wontons are all folded, you can store or freeze.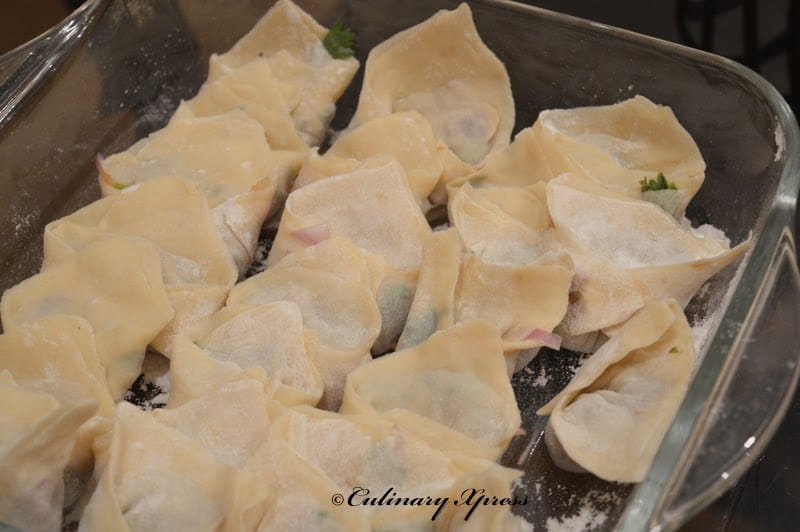 To fry wontons, Heat the oil. Add a few wontons to the oil to fry on medium heat, turning occasionally until they are golden brown. Remove them to a draining rack placed over a baking sheet so they can drain excess oil.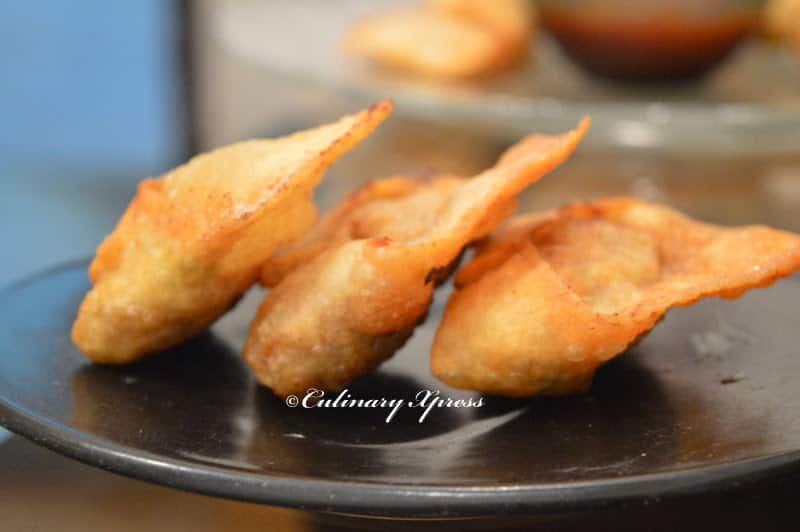 Ingredients
1 teaspoon
freshly ground red chilli paste
Steps
Put all ingredients together in a small bowl and mix it until the sugar is dissolved. Serve with fried wontons.
I am sure most of you would like to give it a try t home ……and do let me know your feed back of this wonderful, crispy fried wonton recipe. Till then Happy Cooking……
(Visited 173 times, 1 visits today)