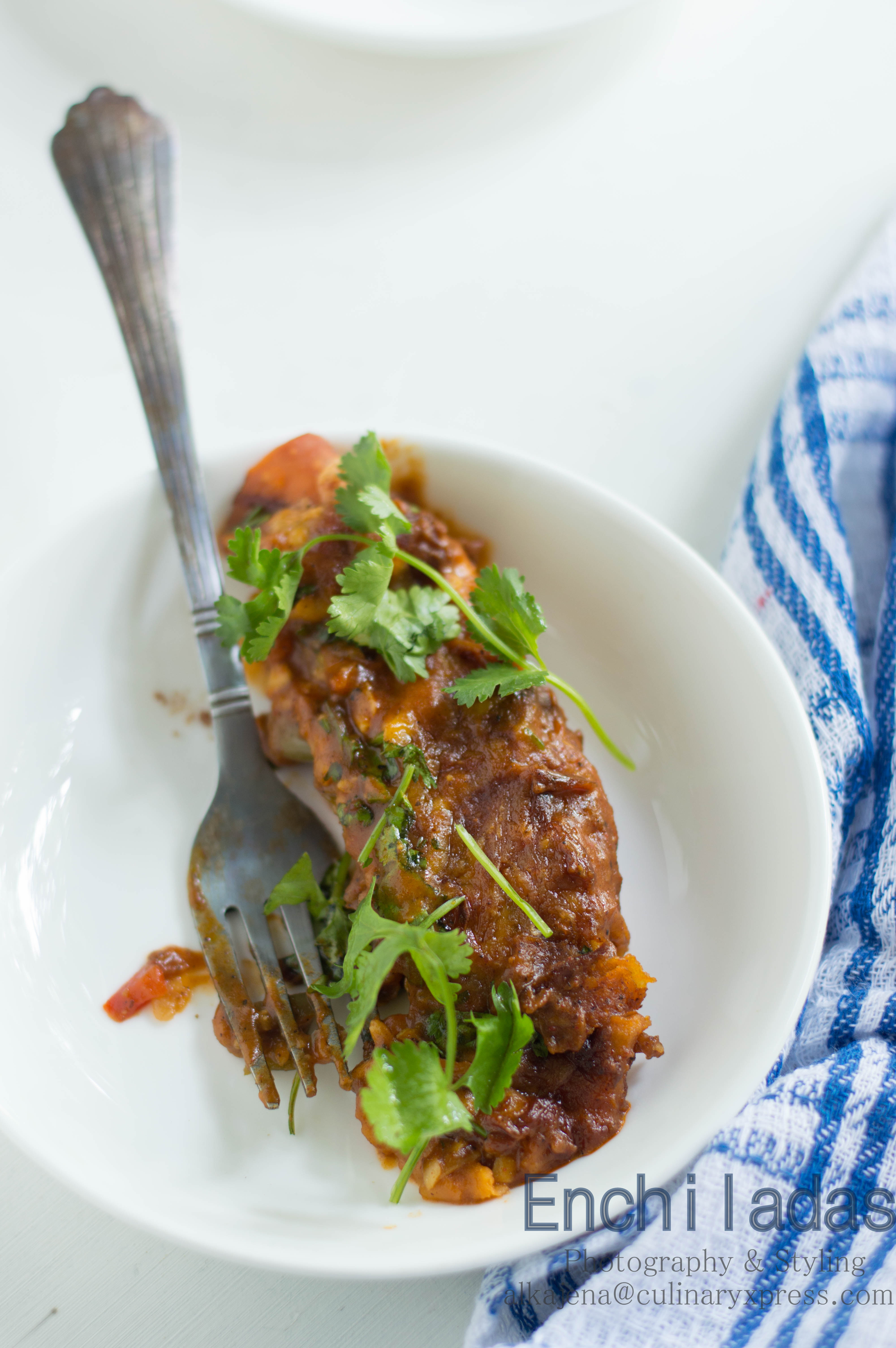 Enchiladas is a popular Mexican dish where Soft and succulent tortillas are stuffed with a delicious mixture of corn and veggies in a spicy red sauce. In Mexico, these are eaten for breakfast , lunch or as a way to use  leftover  meats / vegetables and  tortillas .
There is nothing like having a plate of Enchiladas, dripping with melted cheese and bubbling with spicy sauce in a Mexican restaurant. But the thought of making them at home without the availability of maximum ingredient can be intimidating. This is what exactly happened with me when I had to make these for our Foodie Monday Blog Hop theme .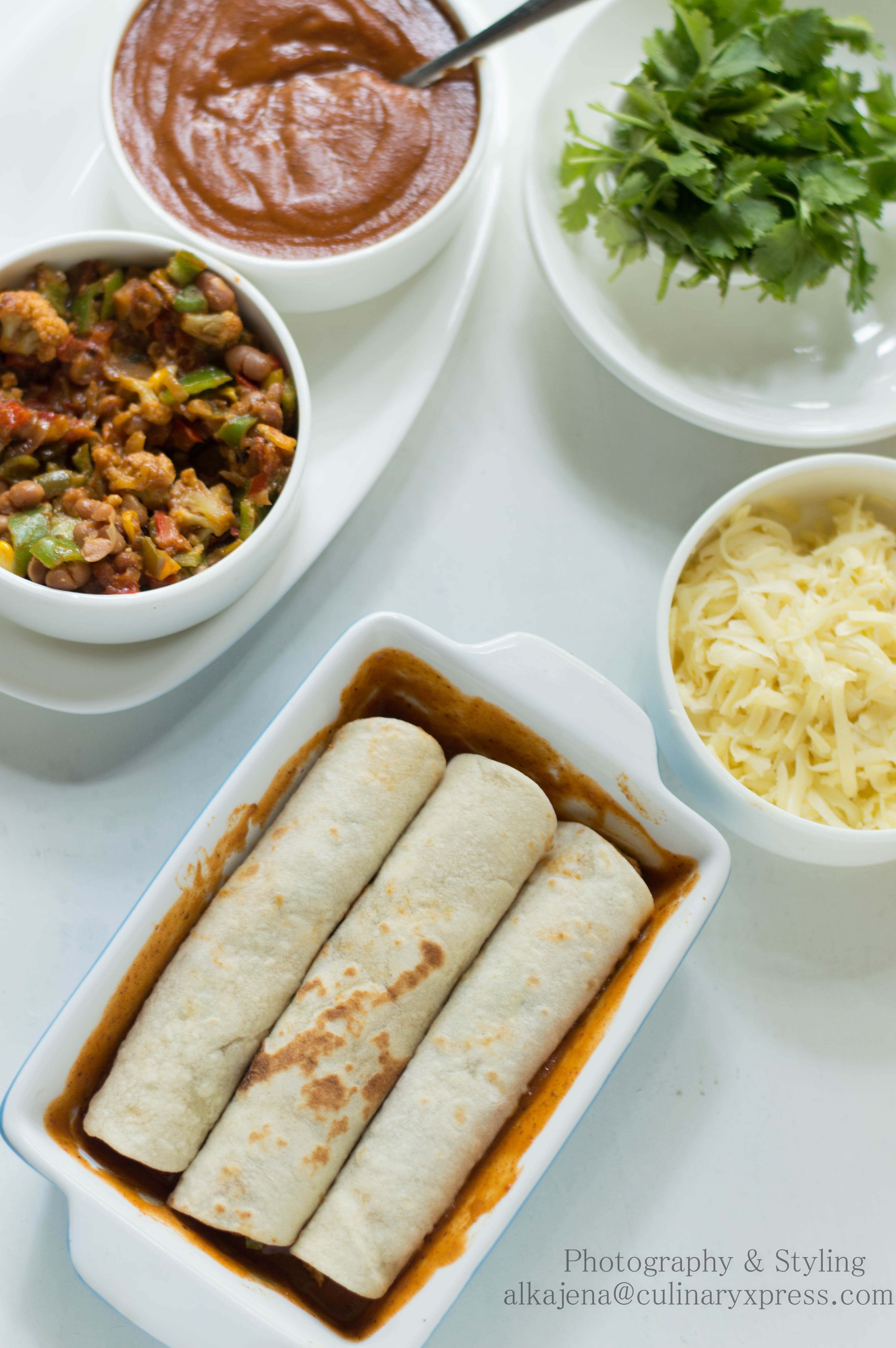 A  perfect recipe requires Corn Tortillas, Sauce and Cheddar cheese to bring in the authentic Mexican flavor. Living in a town, with limited access to most of the ingredients required for the recipe, led me to start doing everything from scratch. It was at this stage, when co Bloggers like Pushpita, Rupal and Sashwati  guided and encouraged me  and I cannot thank these girls enough for their timely support.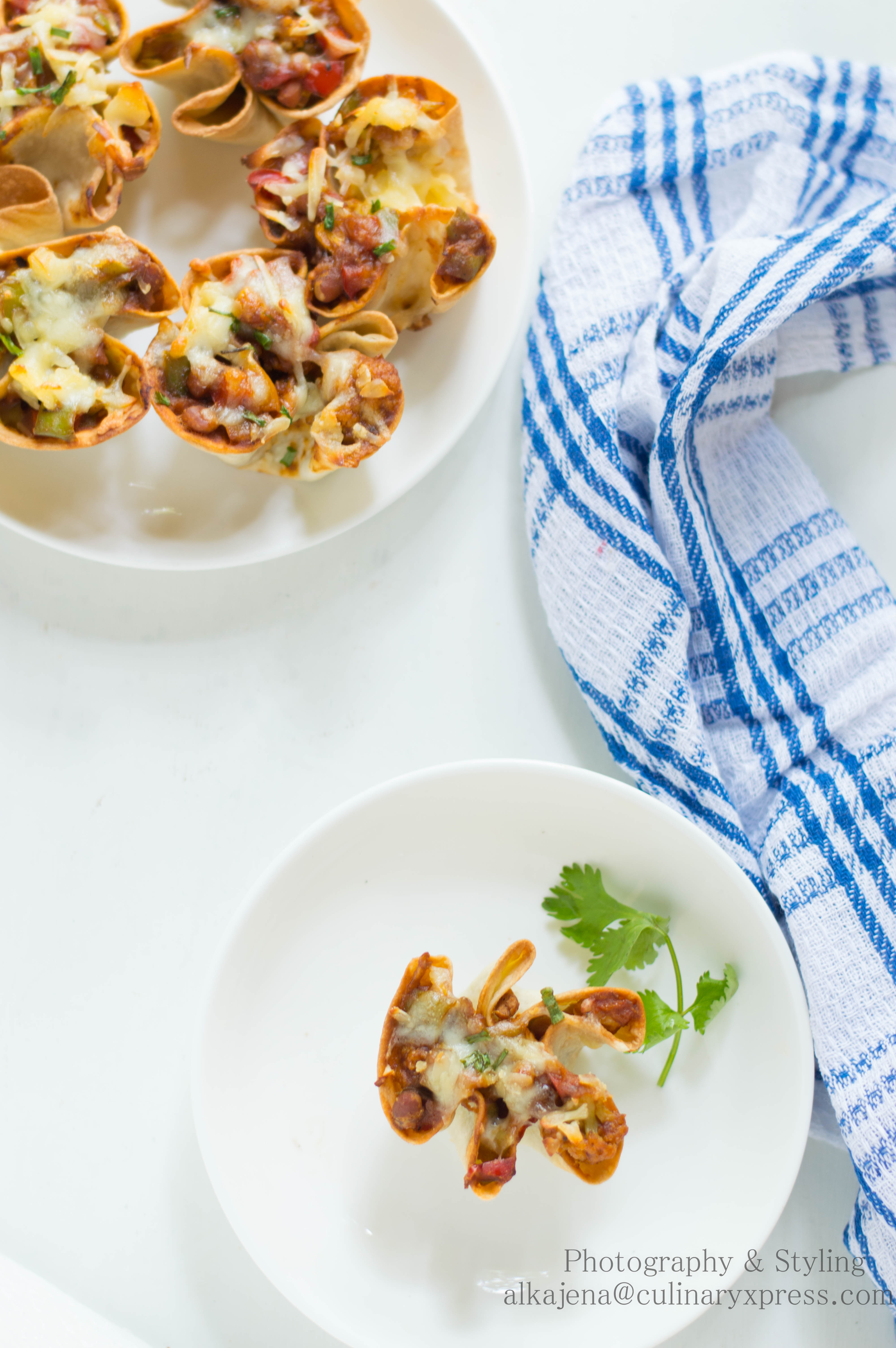 To start with I made my own flour tortillas and the Enchiladas sauce before proceeding for the final assemble. A lack of availability of cheddar cheese prompt me to mix both mozzarella and Britannia cheese Cubes  for the recipe. Since I had never made these before, I was apprehensive for the sogginess of the recipe with so much sauce to cover it. But to my surprise my enchiladas turn out to be a hit with my kid.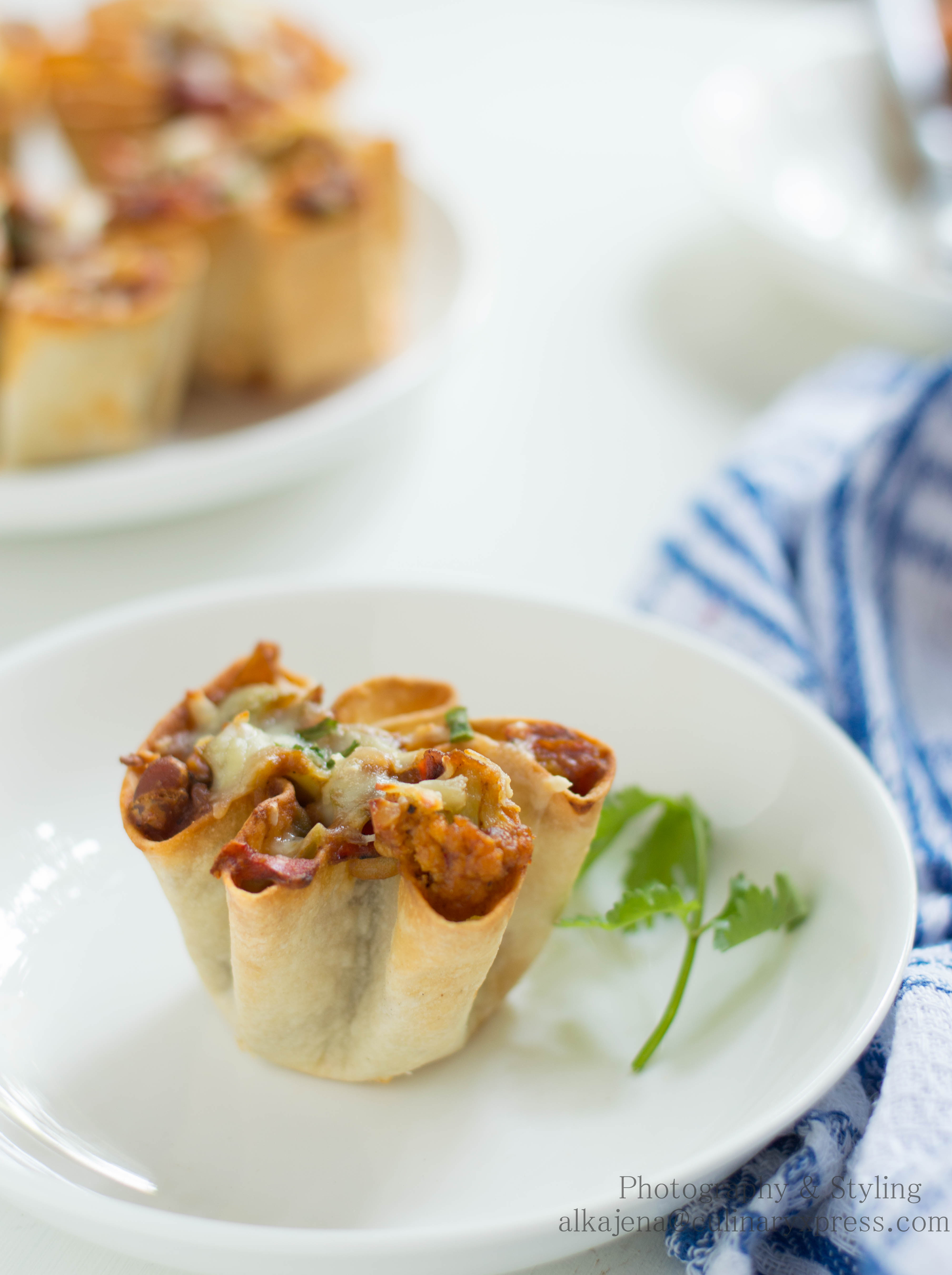 This is such a versatile recipe, that you can make it in any form you like. I have made some Enchilada cups which is a perfect party appetizers also.These Enchilada Cups are quick and simple to make with your favorite enchilada ingredients and it taste totally delicious.
Enchiladas Cups:
Heat oven to 180°F.
Tuck each of the tortillas into the cups of a standard-sized muffin pan, gently pleating the edges of the tortillas so that they fit snugly inside each cup, careful not to let the tortillas fold too closely into the middle (since we'll need an opening for the filling later).  Bake for 10-12 minutes, or until the tortilla cups have hardened slightly on all sides.  Remove and set aside.
While the tortillas are baking, combine the enchilada sauce, fillings together in a large mixing bowl.  Toss until the ingredients are evenly combined.
Once the tortilla cups are ready, carefully spoon the filling into each cup until it is filled nearly to the brim.  Place a pinch of cheese on top of each tortilla cup.  Then return the pan to the oven and bake for 15 minutes, or until the cheese is melted and the filling is warmed through.
Remove from the oven, and sprinkle the top of each cup evenly with cilantro and green onions.  Serve warm.
Whether it is the Enchilada casserole or the cups , both way it is a hit.  Enchiladas are perfect on  its own but you can have it  with Mexican Rice for a complete meal feel.
(Visited 134 times, 1 visits today)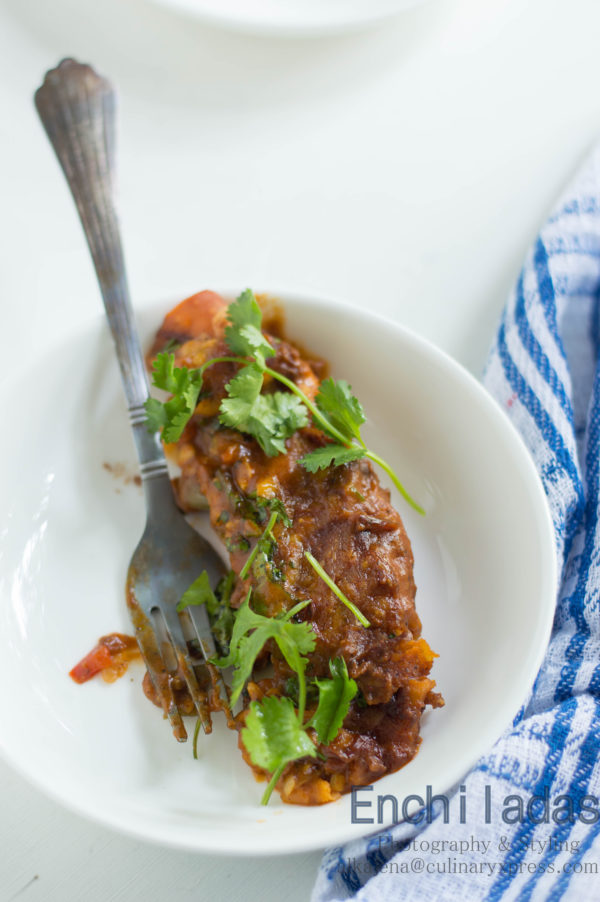 | | |
| --- | --- |
| | |
For the Enchilada sauce: Keep all your ingredients near the stove before preparation.

Heat a pan and warm the oil until it's it's hot enough so that a light sprinkle of the flour sizzles on contact.

pour in the flour and spice mixture. While whisking constantly, cook until fragrant and slightly deepened in color, about 1 minute. Add the tomato paste into the mixture, then slowly pour in the stock while whisking constantly to remove any lumps.

Increase heat to medium-high and bring the mixture to a simmer, then reduce heat as necessary to maintain a gentle simmer. Keep whisking often, for about 5 to 7 minutes, until the sauce has thickened a bit .

Remove from heat, then whisk in the vinegar and season to taste with a generous amount of freshly ground black pepper.

For the Homemade Tortillas: Bring the water to a boil.Take all the ingredients except water in a mixing bowl. Mix well.Add water slowly and mixing well.Knead to a very soft and smooth dough.Rest the dough for 30 minutes. Divide the dough into 12 portions.Heat a skillet,Take one portion of the dough and roll into a thin disc. Place on the hot skillet and cook from both sides till slight golden spots appear. Repeat for other tortillas and keep aside.

Preheat oven to 200 degrees Centigrade and lightly grease a baking pan with olive oil or cooking spray.

Heat olive oil in a skillet over medium heat, add the onions and a pinch of salt. Cook, stirring often, until the onions are tender and translucent, about 5 to 7 minutes. Add the chopped cauliflower, bell pepper, stir, and reduce heat to medium-low. Cook, stirring occasionally, for about 8 to 9 minutes, or until the vegetables are cooked yet firm in shape .

Add the cumin and cinnamon to it and cook until fragrant, about 30 seconds. Transfer the contents of the pan to a medium mixing bowl. Add the drained beans, sweet corns, ¼ cup cheese and a drizzle of enchilada sauce . Season with ½ teaspoon salt and some freshly ground black pepper, to taste.

To assemble the enchiladas: Pour ¼ cup enchilada sauce into your prepared pan and tilt it from side to side until the bottom of the pan is evenly coated.

To assemble your enchilada, spread ½ cup filling mixture down the middle of a tortilla, then roll tightly to make a wrap. Place it seam side down against the edge of your pan. Repeat with remaining tortillas and filling.

Drizzle the remaining enchilada sauce evenly over the enchiladas, leaving the tips of the enchiladas bare. Sprinkle the remaining shredded cheese evenly over the enchiladas.

Bake, uncovered for 20 minutes until the cheese is sufficiently golden and bubbly.

Remove from oven and let the enchiladas rest for 10 minutes (they're super hot!). Before serving, sprinkle chopped cilantro down the center of the enchiladas. Serve immediately.