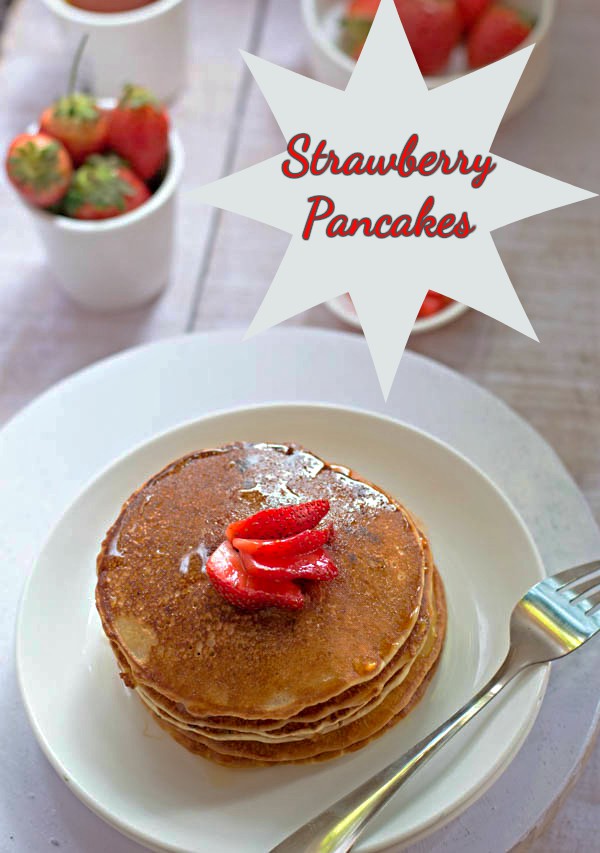 Apart from providing us with energy, breakfast foods are good sources of important nutrients such as calcium, iron and B vitamins as well as protein and fibre. The body needs these essential nutrients and research shows that if these are missed at breakfast, they are less likely to be compensated for later in the day.What's better than a hot, warm stack of pancakes to start the day off with? A favorite of adults and kids alike, nothing feels cozy like a fresh batch of pancakes, preferably with a couple hot cups of coffee or a glass of fresh juice. If you're tired of your bowl of typical bowl of oatmeal or cereal, these pancakes are a delicious treat to enjoy .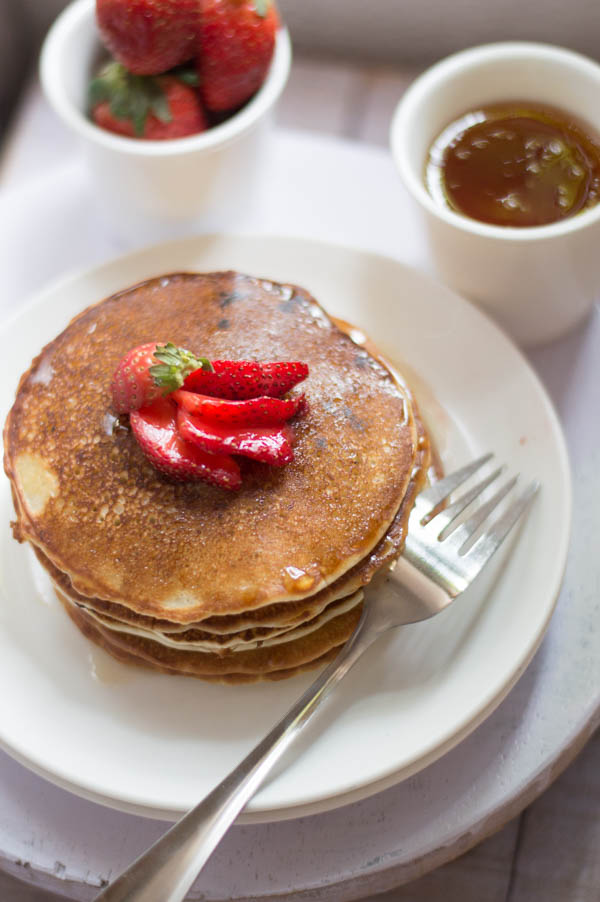 Adapted from The New York Times Cookbook, these pancakes are fluffy on the interior and crispy on the exterior. These are those thick, spongy American pancakes that are often eaten with warm maple syrup and crisp fried bacon. You can easily cook these pancakes by dolloping the batter onto a hot griddle  or heavy based pan.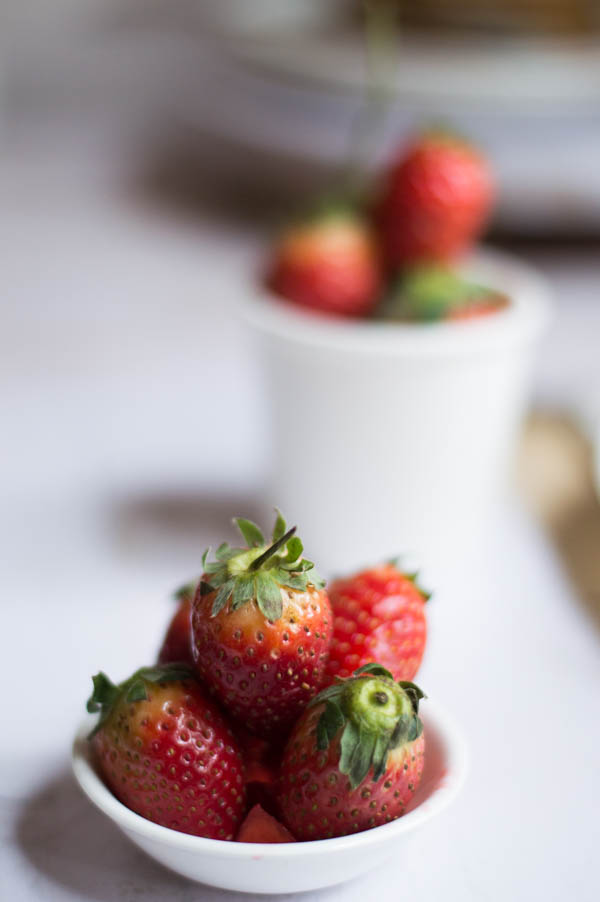 Strawberries are an excellent source of vitamins C and K as well as providing a good dose of fibre, folic acid, manganese and potassium. They also contain significant amounts of phytonutrients and flavanoids which makes strawberries bright red.I wonder what is so special about these Strawberries that make them so desirable.  Is it the delicious smell, the taste, beautiful rich red color? I don't know the reason but they sure make me feel special. With a Pancake cravings so high, I decided to make these Strawberry filled Pancakes for my breakfast. The strawberries, along with the melted butter, give these pancakes that little something extra. So much so that you don't even need toppings except for some delicious honey .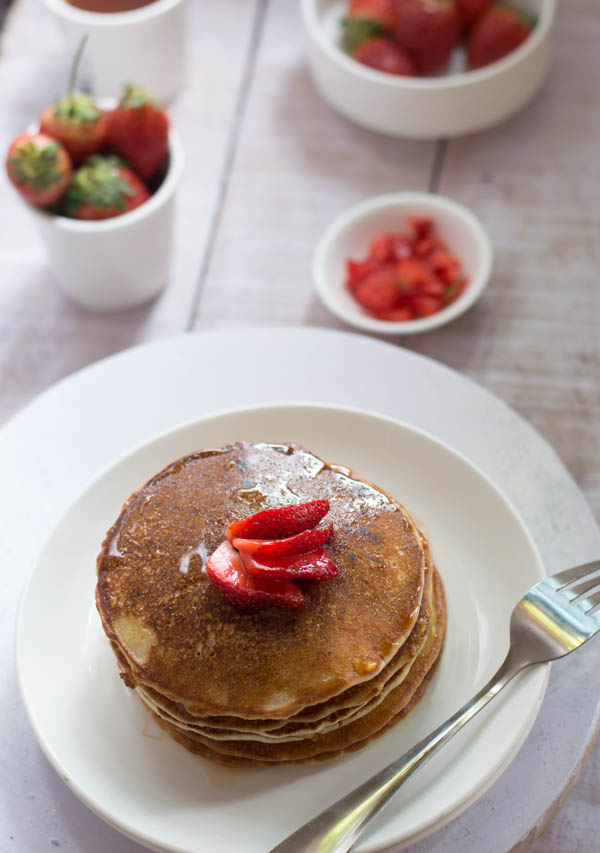 While most pancake recipes do call for eggs, it is possible to make delicious pancakes without them also. This is an easy to make recipe with goodness of fruits.

(Visited 634 times, 1 visits today)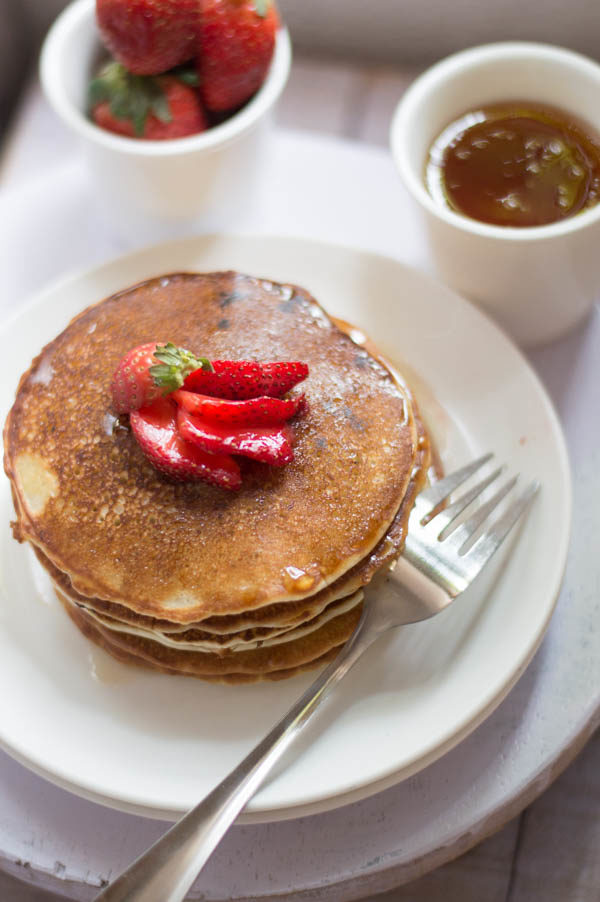 | | |
| --- | --- |
| | |
Mix Plain flour,Baking Powder, Baking Soda, Salt and sieve it for 2 to 3 times.

In a bowl add together the flour, baking powder, baking soda  and mix well with a whisk to evenly mix all the ingredients.

In a bowl add the yogurt and beat well without any lumps. Now add the sugar and salt and beat well until dissolved. Add the oil and beat well.

Add the flour mixture sifted and kept a scoop at a time and mix well. Once the mixture starts to become thick add some milk and loosen the batter. Add milk and flour alternatively till the whole lot finishes.

The consistency should be that of an pouring batter .Using the whisk mix well without any lumps and set aside for 10 -15 minutes to ferment the batter.

Heat a nonstick pan and add half a teaspoon of butter and once the butter melts add a ladle full of batter and do not spread the batter. Sprinkle some chopped strawberry on top.

Close with a lid for even cooking once the top of the pancakes forms air bubbles slightly flip the pancake using a ladle.Cook the other side till golden colour appears.

Serve it with some chopped Strawberries on top and pour some honey over it.
Sending this recipe to Cooking From Cookbook Challenge