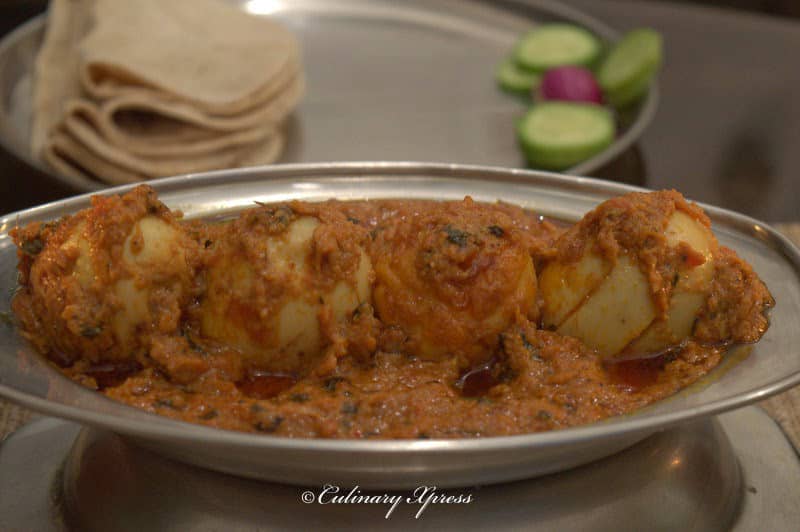 Egg korma is a delicious, creamy and flavorful dish which goes very well with Naan and Paratha. Kormas typically have a gravy made of onions, lots of tomatoes, Cashew nuts and whole spices like cinnamon, cardamom, cloves, coriander, cumin, etc. Korma is a dish that can be made with yoghurt, cream, nut and seed paste or coconut milk which is usually considered a type of curry. Korma can be either vegetarian or non-vegetarian. Some of the very popular Korma recipes prepared at most of the Indian homes and available at most of the restaurants are Chicken Korma, Mutton Korma, Egg Korma and Vegetable Korma.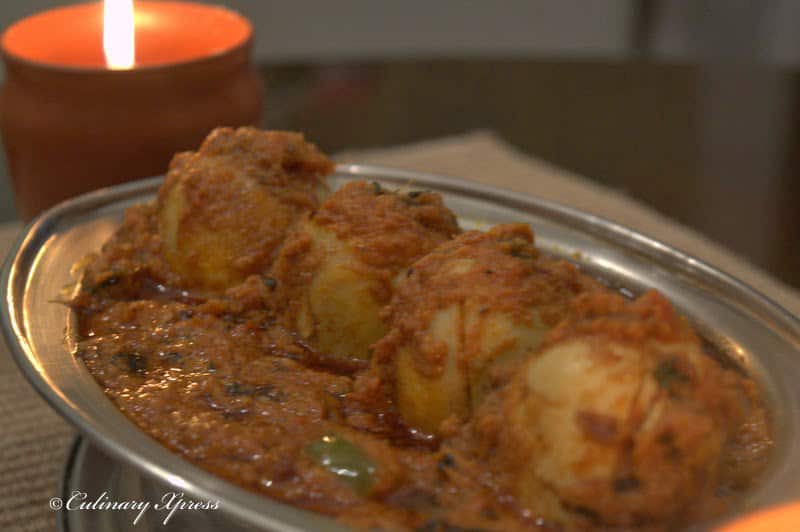 Traditionally the korma originated from the Mughlai cuisine and spread to the modern day India and Pakistan. There are many techniques and styles of preparing the korma. The taste of Korma is based on the mixture of spices used and the onion-tomato gravy base spiced with ginger garlic paste and green chilies makes it flavorful and spicy. The natural sweetness of Cashew nuts makes the Korma soft, creamy, thick and rich. The korma dish can be mildly spiced or fiery as per ones choice and taste.There are three types of Korma bases.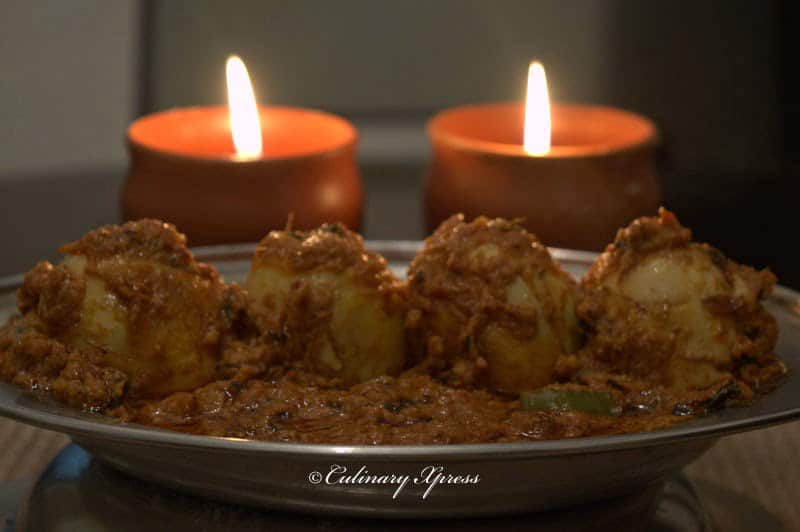 North Indian Korma
is also called as Qorma, or Mughlai Korma. The Almonds, Cashews, and Dahi or yogurt are ground together to make the creamy base. The saffron and cardamoms are used for aroma. North Indian Korma has two variants known as Mughalai, and Shahi. The Mughalai Korma has Khoya and the Shahi Korma contains Malai or cream.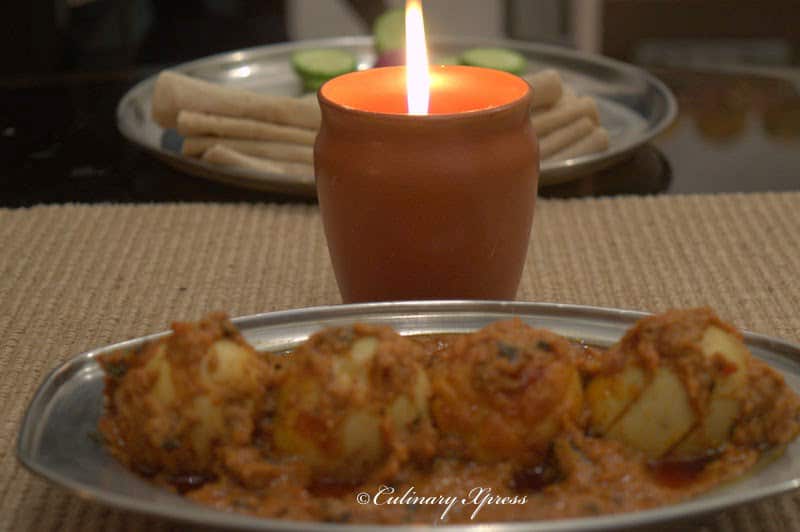 [if !supportLineBreakNewLine]
Korma Kashmir
The Almonds, Cashews, Dahi or yogurt, and milk are ground together to make creamy base. The saffron, cardamoms, and aniseeds are used for aroma. Dried fruits are added beforecooking.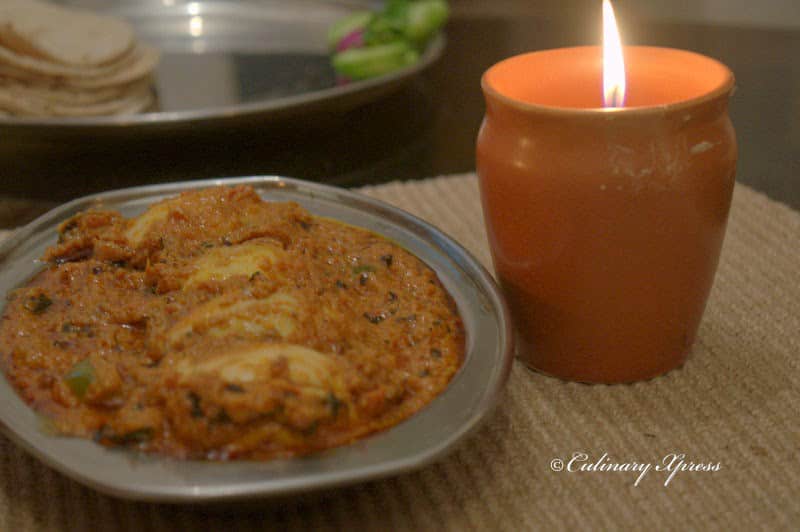 South Indian Korma
Fresh coconut and coconut milk are used to make the base. Almonds may be added. Kari Patta and Fennel seeds are used for aroma. Unlike North Indian or Kashmir versions, heat is added by cayenne peppers.

(Visited 503 times, 1 visits today)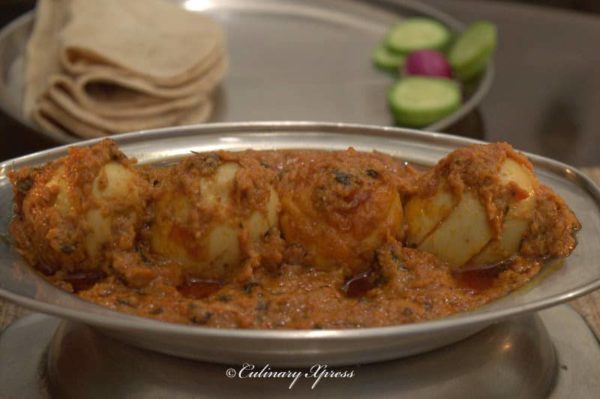 | | |
| --- | --- |
| | |
Make a small, shallow lengthwise slit at the top of each boiled egg. Keep aside for later.

Fry the onions till almost pale golden brown and grind to a smooth paste.

Make a paste of the cashew nuts, green cardamoms, black cardamoms and cinnamon and keep aside.

Heat Oil in a pan . Add the bay leaf ,cumin seeds, Once Hot, add the ginger and garlic pastes and fry for 1 minute. Stir often to prevent burning.Add the onion paste and cook for 1 to 2 minutes.

Add the tomatoes, salt to taste and fry till the tomatoes are cooked  Stir often to prevent spices burning. Do not cook on high heat. Once tomatoes are cooked and started leaving the sides of the pan, add Coriander Powder, turmeric, chilli powder and cook for another 1 to 2 minutes.

Now add the cashew paste and fry till the oil begins to separate from the masala (spice mix). Stir often to prevent burning. If required, sprinkle a little water from time to time to prevent the masala from burning.

Now, add the boiled eggs, stir gently to cover the eggs completely with the masala and cover the pan and cook for 5 minutes.

After 5 minutes, remove pan from heat and put Korma into a serving dish.

Garnish with chopped fresh coriander. Serve piping hot with Rotis or Naan or Parathas.