A lot of what I cook evokes memories, of course, good ones. Egg biryani is one such deliciousrecipe that has rice and boiled eggs flavored with aromatic spices. I love this egg biryani which is easy to make. it makes a very good one pot meal and so a simple raita will be good enough as sides. It is the best main course dish to serve at any time. Biryani is one of the most popular Indian rice dishes and just the name of it can make you hungry with the wonderful aroma that comes from this flavored rice. It is said that Biryani has a Persian origin. In India, it takes different looks, forms and taste in every corner of the country.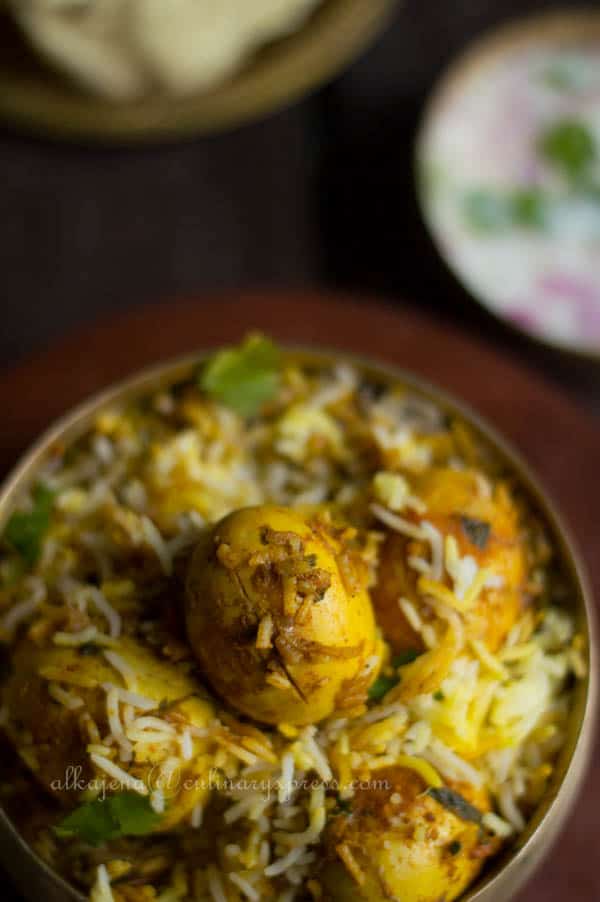 (Visited 318 times, 1 visits today)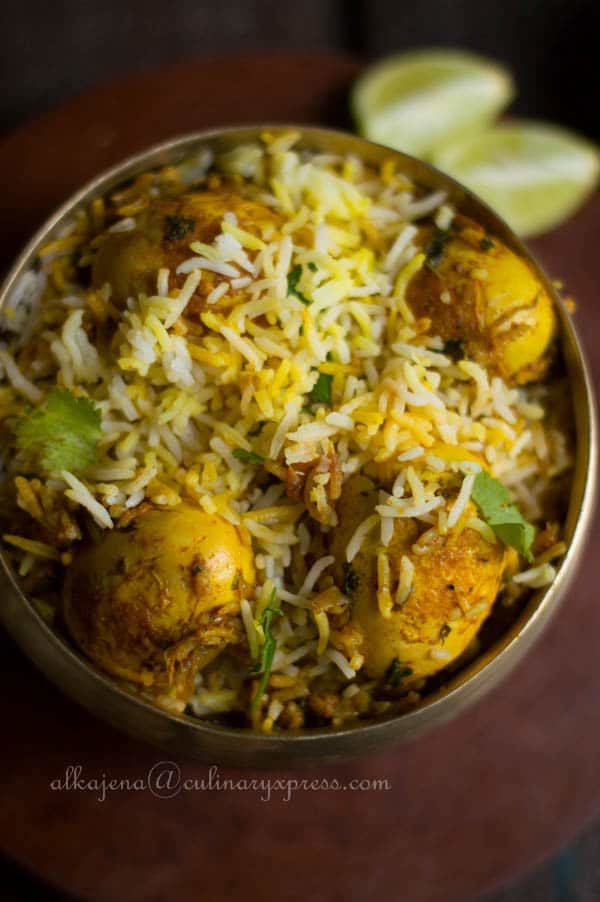 | | |
| --- | --- |
| | |
Soak the Basmati rice in water for 30 minutes.

Boil the eggs and peel it's shell.Make a few slit on the egg and marinate it with salt and 1/4 teaspoon turmeric powder and keep it aside.

Soak the saffron strands in warm milk.

Finely chopped one large onion, two medium tomatoes and one green chilli and keep aside.

Thinly Slice one Large onion and fry in a pan with oil till golden brown and keep aside.

In the same pan , add the marinated eggs and pan roast them on both sides on low flame till light brown on all sides. Keep aside.

In the same pan add the finely chopped onions , green chillies and cook till onions are brown in color .

Add 1 teaspoon of Ginger garlic paste and saute till the raw smell of the paste goes away. Now add the finely chopped tomatoes and cook till the tomatoes becomes mushy and start to separate the oil from the masala.

Add 1/4 teaspoon of turmeric powder, coriander powder, cumin powder, chilli powder and cook with 1 tablespoon of water so that the masala do not stick to the pan.

Now add the pan roasted eggs and the Biryani Masala along with the finely chopped Coriander and mint leaves and 1/4 cup water and brings it to a boil. Cook till the gravy thickens . Make sure it is not too dry nor too runny.

Now in  a large Vessel , Boil water along with the whole spices marked above, 1 tablespoon of oil, juice of one lemon and salt. Strain the water from the rice and add it to the boiling water and cook till the rice is 3/4th done.

Now grease a heavy Bottomed Pan,  add a layer of rice, sprinkle some fried onions, coriander and mint leaves, a teaspoon of saffron soaked milk and top it with a layer of egg masala. Repeat with one more layer  of fried onions,chopped coriander and mint leaves . Sprinkle the top with saffron soaked milk and a teaspoon of kewda essence and a tablesppon of desi ghee on top.

Cover the pan with Silver foil and keep on  a pre heated tawa and cook on slow flame for 30 to 35 minutes. Turn off the gas and let it cool .
Serve it with a cool Onion and cucumber raita along with some Papads for a blissful meal in the afternoon.