CRISPY GARLIC CHICKEN FINGERS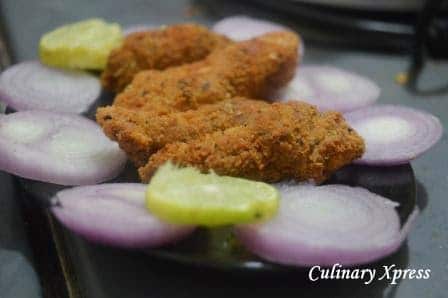 (Visited 215 times, 1 visits today)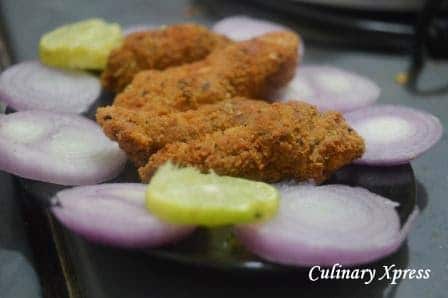 | | |
| --- | --- |
| | |
Wash the chicken breasts and pat dry them. With the help of a kitchen hammer, slightly flatten the chicken breasts by keeping it between two plastic wraps .If you do not have  a kitchen hammer, you still can flatten it by a heavy bottomed pan in your kitchen. Make 1-2'' wide stripes of the chicken breasts ,sprinkle salt and a little bit of pepper on it and keep aside.

Peel the garlic cloves and zest the lemon.Put the cream cracker biscuit in the grinder along with the garlic, lemon zest, finely chopped coriander, freshly ground pepper and salt. Grind to a fine crumb. Pour the crumb into a plate and keep aside.

Put all purpose flour or Maida in another plate and keep aside.

Crack the egg in a bowl and beat well and keep aside.

Now take one piece of chicken stripes and dip in the all purpose flour ( maida) on both sides ,then dip in the egg , and finally in the flavored crumb made of biscuits, garlic, pepper, lemon zest and ground pepper.

Press the chicken stripes into this crumb so that the chicken is finely coated with this crumb. Repeat the procedure for rest of the chicken stripes. Keep aside.

Heat oil in a frying pan on medium flame, and once the oil is hot, fry the chicken strips on both side, until golden and crisp .

Replace to a plate with paper towel to drain excess oil if any .

Serve hot with choice of your dip.