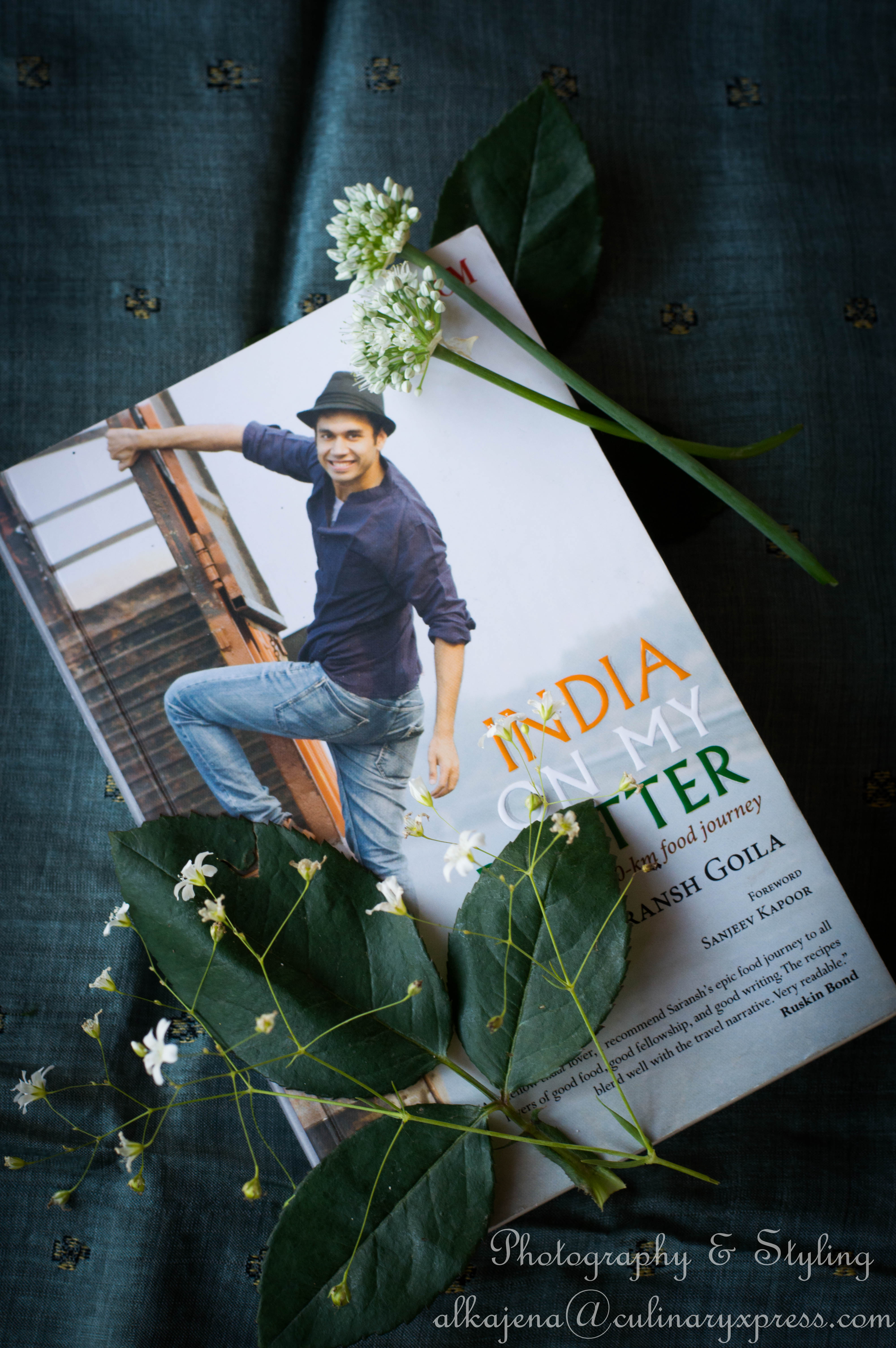 This Cookbook is not another run-of-the-mill recipe book. This Cookbook is a combination of travel stories, recipes, food tales. It also shows Saransh Goila's adventurous and experience around the country that changed his life and outlook as a chef.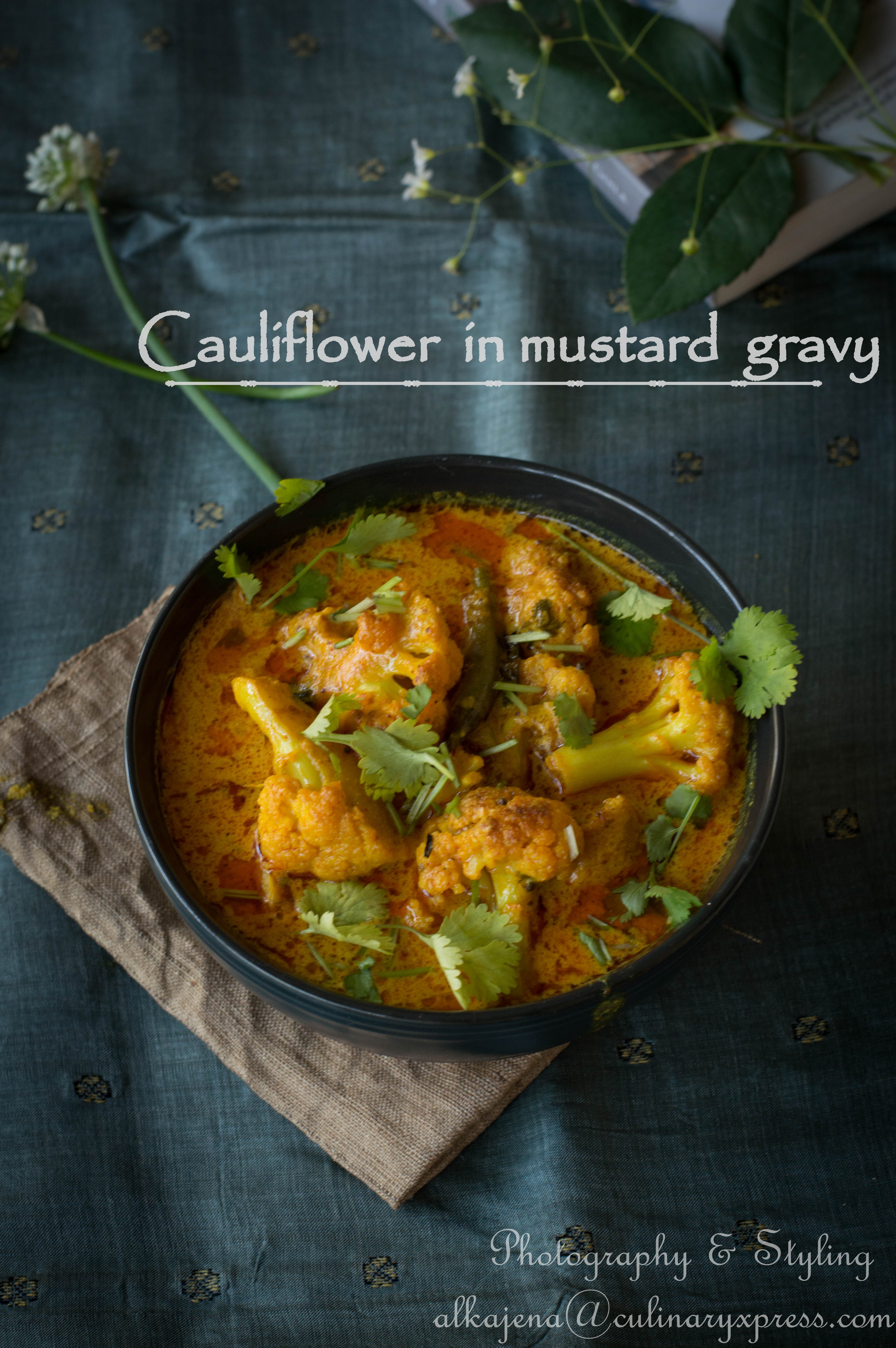 What makes this Cookbook -cum-travelogue more interesting is the fact that it's  author holds the Limca Book Of Records for 'longest road journey by a chef' – while hosting India's biggest food travelogue show-Roti, Rasta aur India on Food Food channel. This Cookbook has a very distinctive personal touch with several recipes.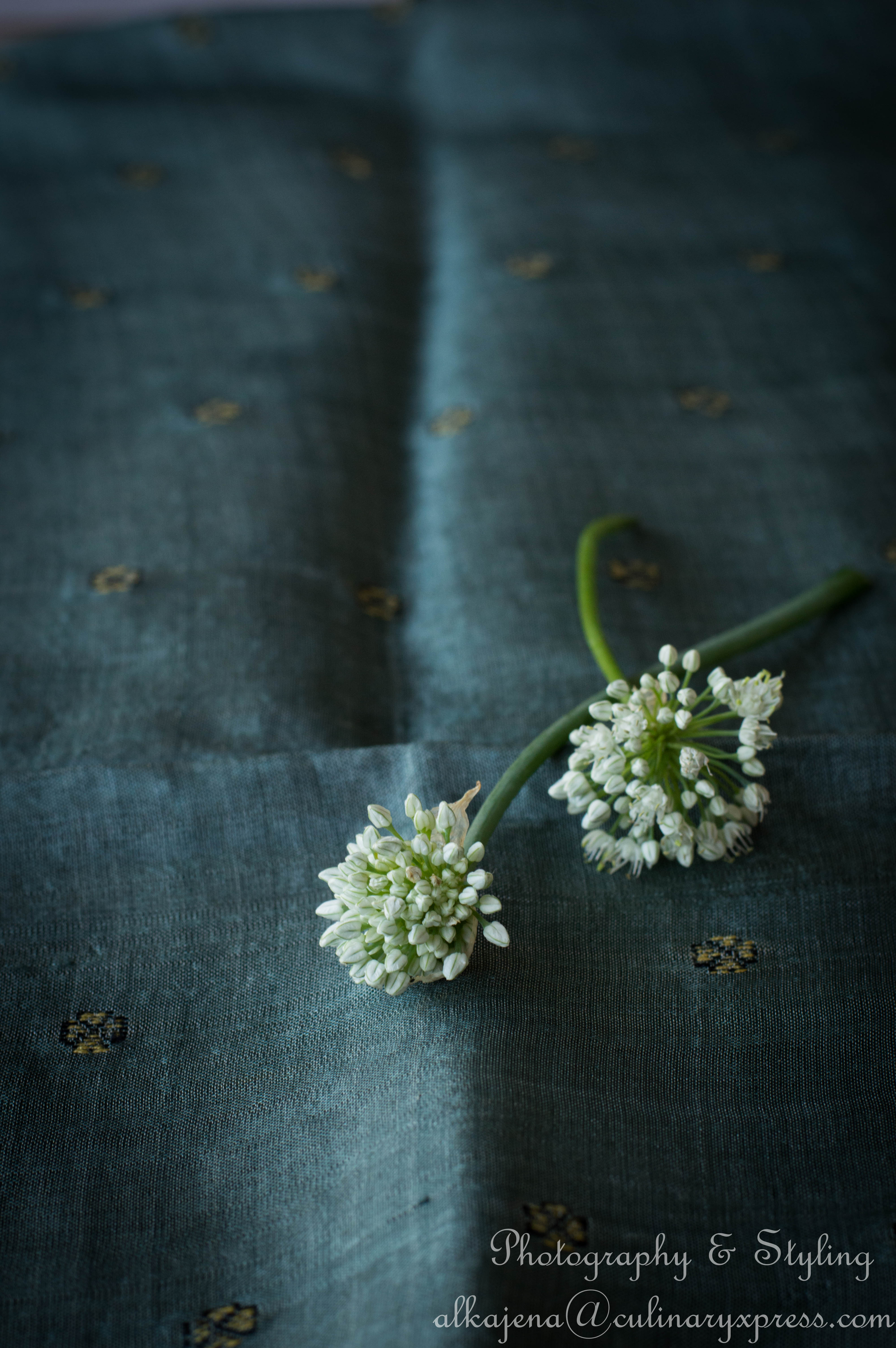 This book was delivered to me as part of winning a cooking competition held y a facebook group. When it was decided to cook something from a cookbook for #80th Foodie Monday Blog Hop, I waste no time in picking up this book to try. I went ahead and tried the Cauliflower cooked in a mustard flavored gravy, which the author shared from his Kolkata chapter, and it tasted yum.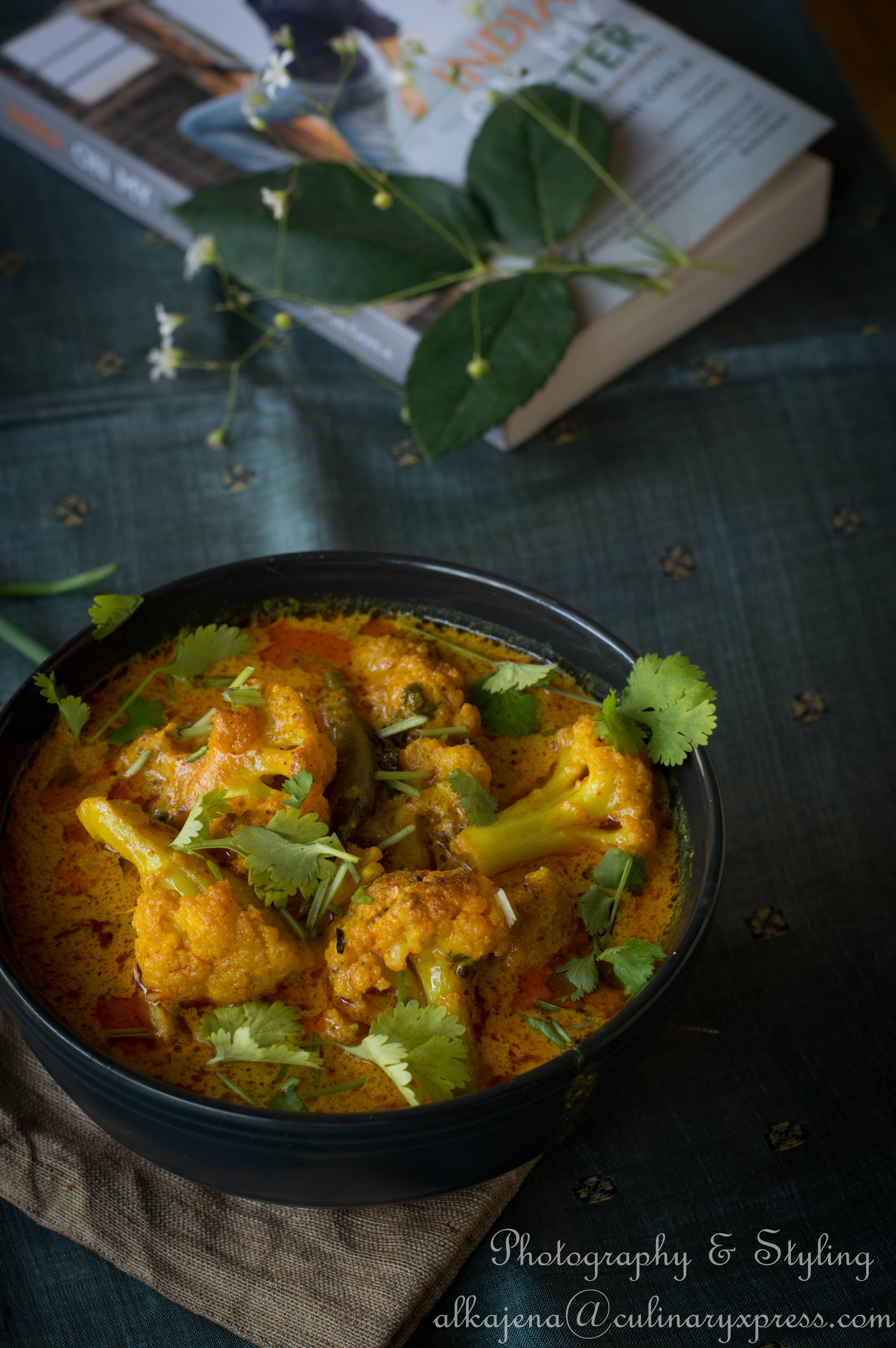 Cauliflower is a vegetable that blends easily into any form and is generally liked by everyone.Cauliflower is a vegetable, that you can cook in different variations, and Cauliflower with curd is a kind of combination, which tastes great. This dish is cooked with less spices, so its healthy also.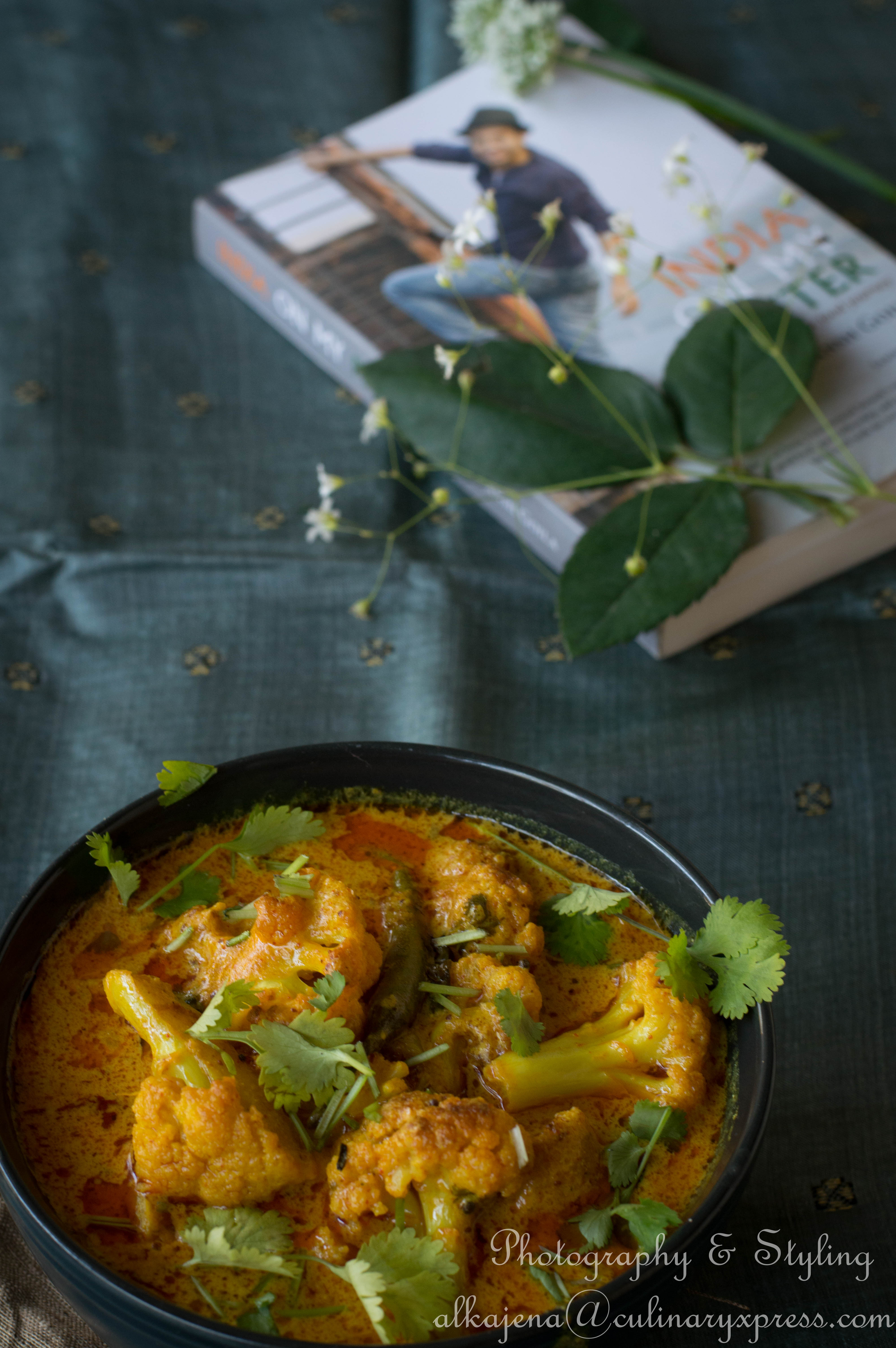 Bengali Cuisine is heavily laded with two main spices – Panch phoron (five spice mix) and Mustard. The people of Bengal have a special love for mustard seed and mustard oil.Mustard seed is considered as"one of the healthiest spice" and mustard oil has the lowest amount of saturated fat(1%) and a good amount of monounsaturated fat-the most desirable fat in our diet(76%).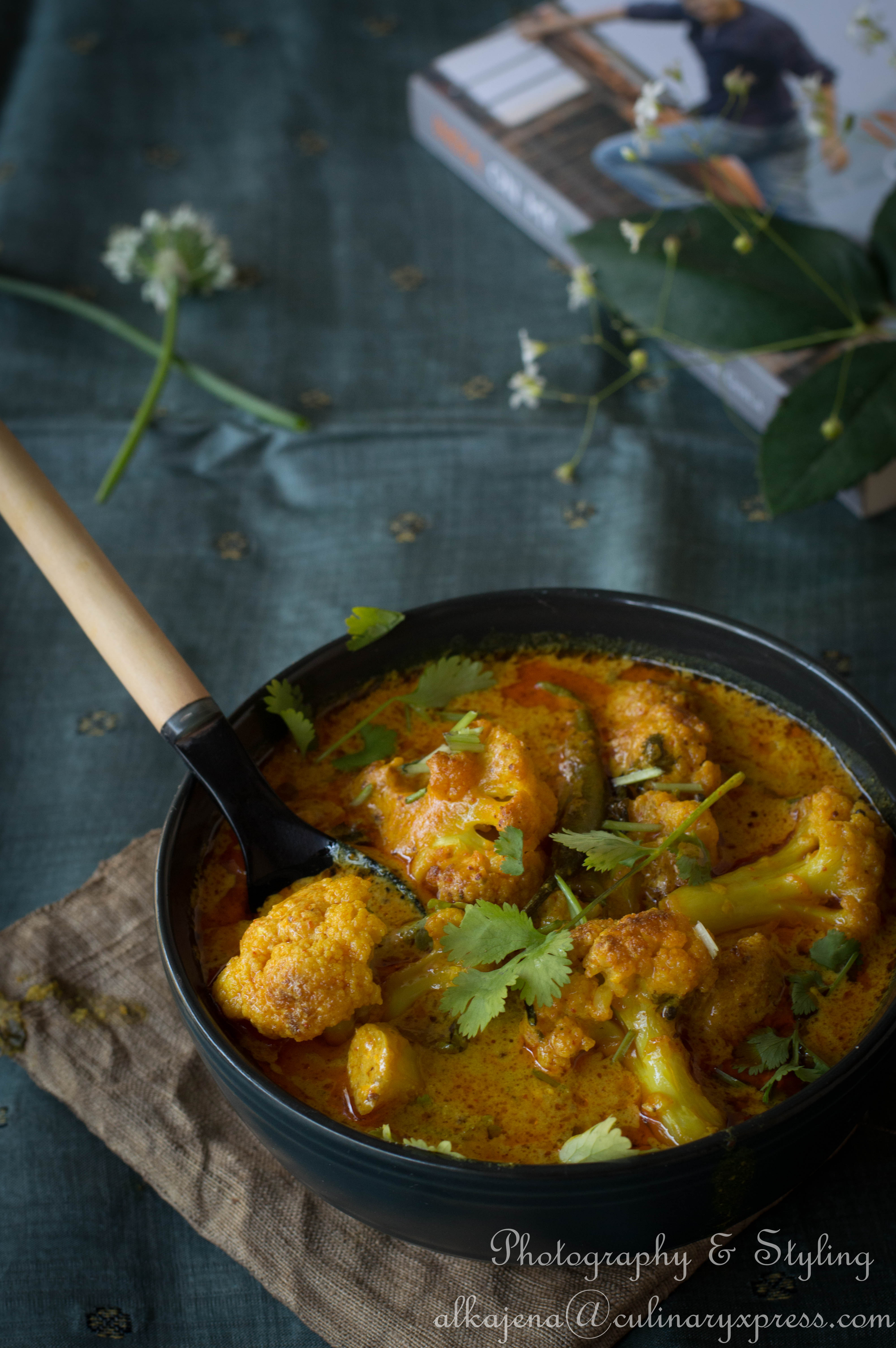 This cauliflower in yogurt gravy has a rich fragrance. The yogurt gravy in this recipe adds a tangy flavour along with the kick of the spices. The florets soak in the spicy essence of the gravy and end up being a delight on the taste buds.
(Visited 284 times, 1 visits today)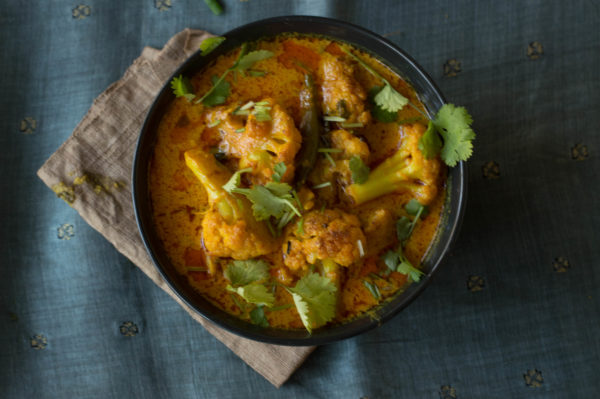 | | |
| --- | --- |
| | |
Wash, cut and rub the cauliflower florets with little salt and turmeric powder and keep aside for 20 minutes.

Soak both the mustard seeds in hot water for 10 minutes and then blend to a fine paste.

Whisk the yogurt, gram flour, sugar and salt together, so that the yogurt doesnot split when it is heated.In another bowl, mix together turmeric, red chilli powder, ginger garlic paste with a little water.

Heat the mustard oil to a smoking point and then reduce thye heat. Fry the cauliflower florets untill they are almost cooked and have a nice golden color. Take out and keep aside.

In the same pan, add the panch Phutan, when the spices start to crackle, add ginger-garlic-spice mix and green chillies and saute for 2 minutes.

Take out the pann from heat and ad the yogurt mix. transfer it back to the stove and continuously stir over low heat till it starts to thicken. Add mustard paste, mix nicely and cook for another 2 minutes.

Add fried cauliflower florets into this paste. Add 1 cup warm water and cook the cauliflower for 5 minutes. Check the seasoning and take it off from the heat. Sprinkle chopped coriander leaves on top and serve with hot rice.