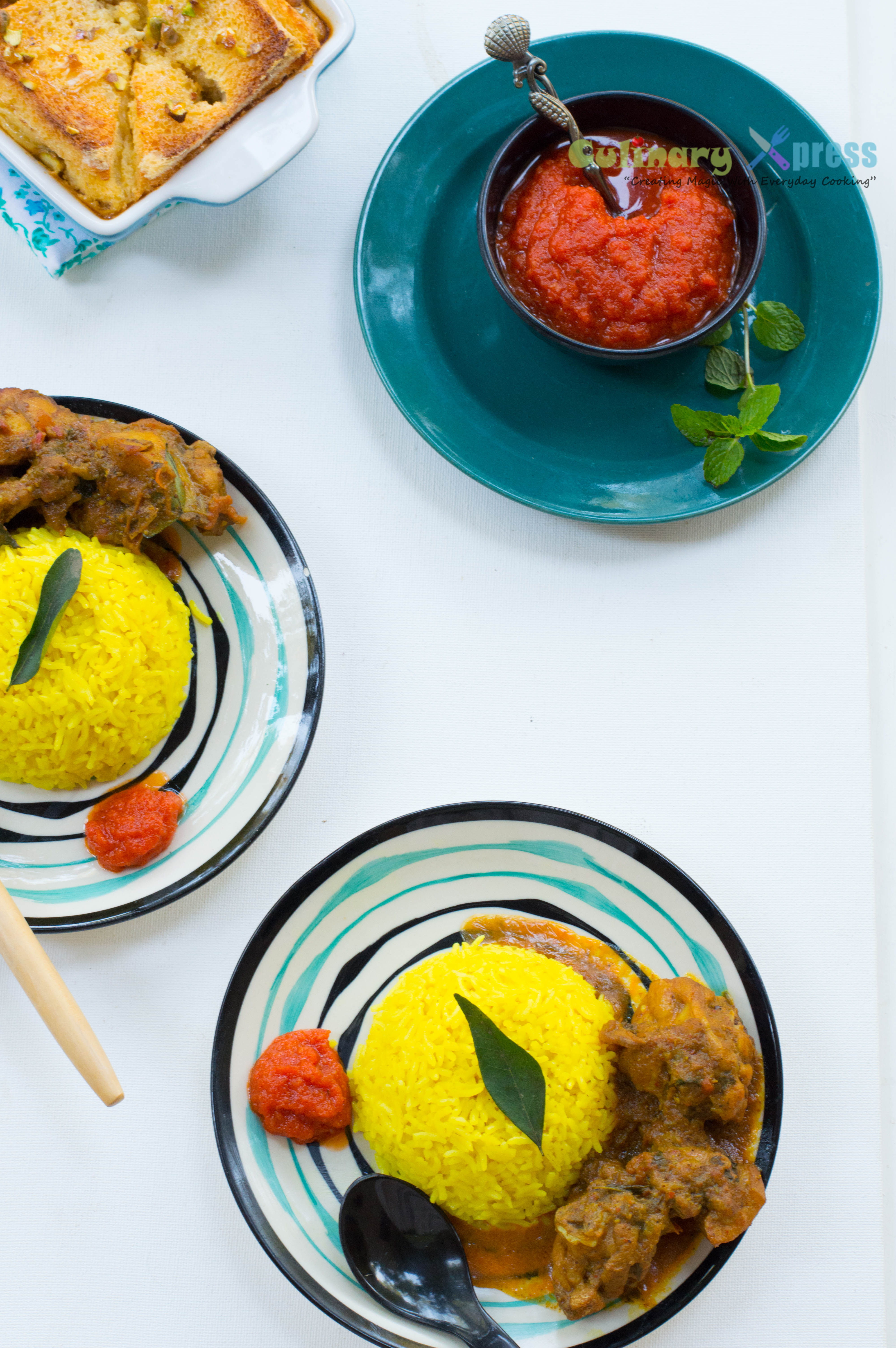 Food has been one of the bright spots of India's colonial legacy .It is not just the "Anglo Indian" cuisine, that needs to be looked at in the "Colonial context". Indian cuisine has been at the heart of the British food scene ever since the East India Company first barged onto the subcontinent in the mid-18th century. From cocktails to soups and curries, the influence is felt everywhere. Colonial  Cuisine was perhaps among the first examples of fusion food in India. Many of the dishes have a unique history behind their existence.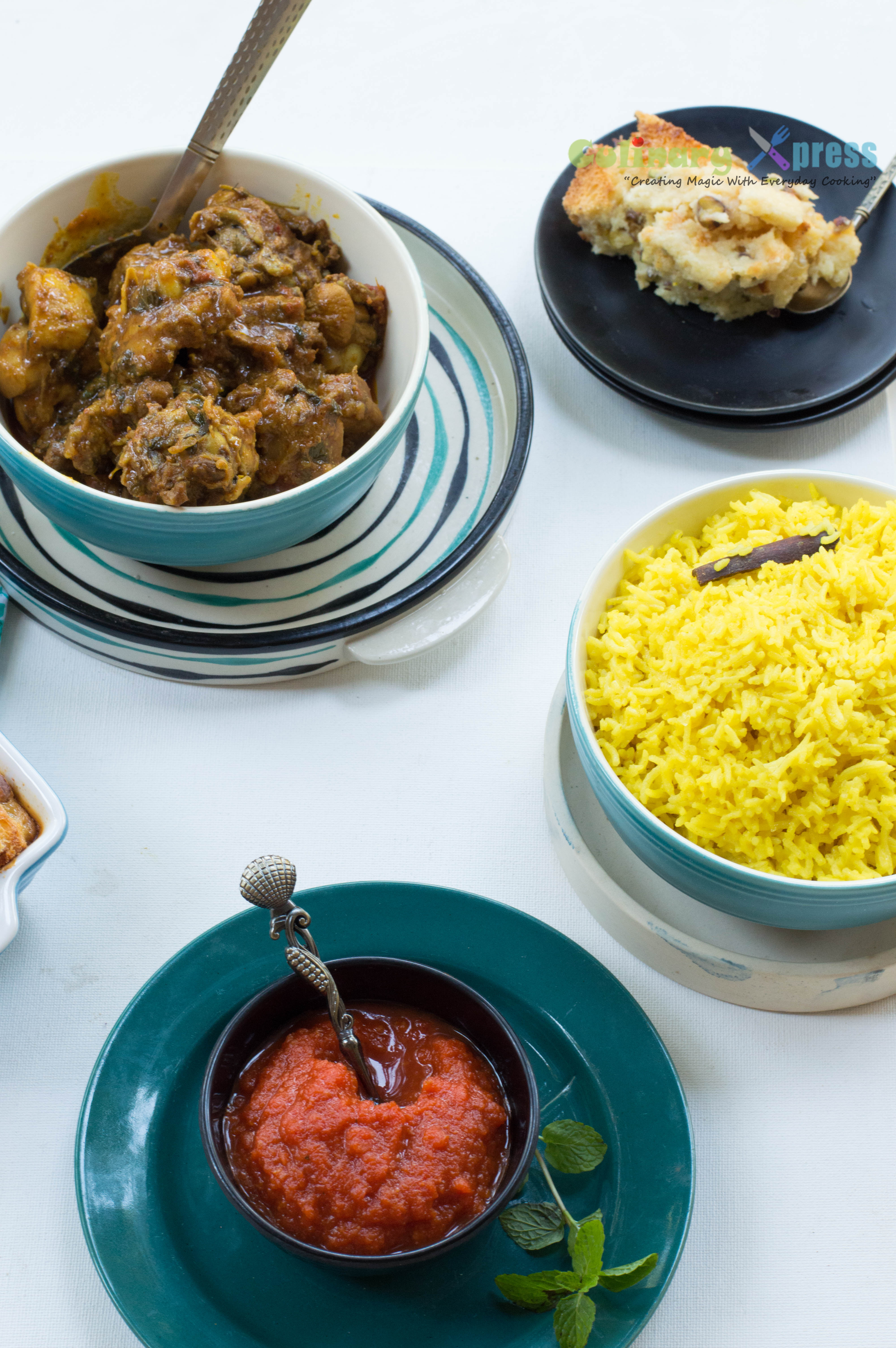 The Indian influence doesn't stop with this. Chutneys, curries, rice dishes and all manner of Indian bread products have become fixtures of British cuisine. In the Victorian age, a craze for all things curry overtook England. However over a period of time, Anglo-Indian cooking became more Indian than British and became more regional based. So Colonial Cuisine was neither too bland nor too spicy, but with a distinctive flavour of its own.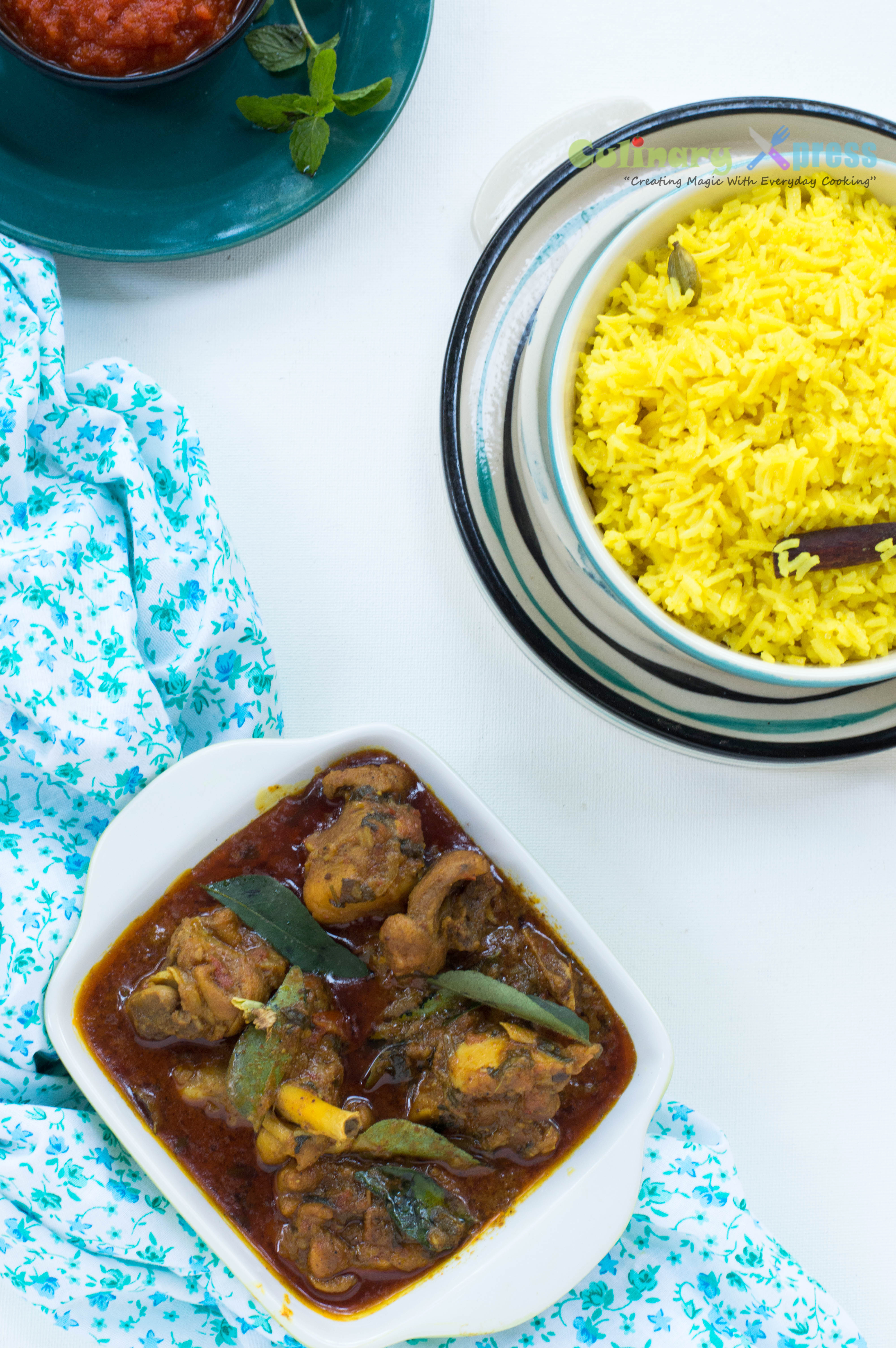 Local ingredients and flavors of a particular region were incorporated in the dishes while the basic ingredients remained the same throughout the country. Coconut based curries were popular in Anglo-Indian dishes in the south while mustard oil and fresh water fish were popular ingredients in the Anglo-Indian dishes of Calcutta and the rest of West Bengal.There are fabulous dishes originally cooked up by Portuguese, British and French arrivals using Indian ingredients to substitute for European ones that weren't available in the India of that time. Cilantro replaced parsley, chili powder substituted for paprika and chicken took over from duck.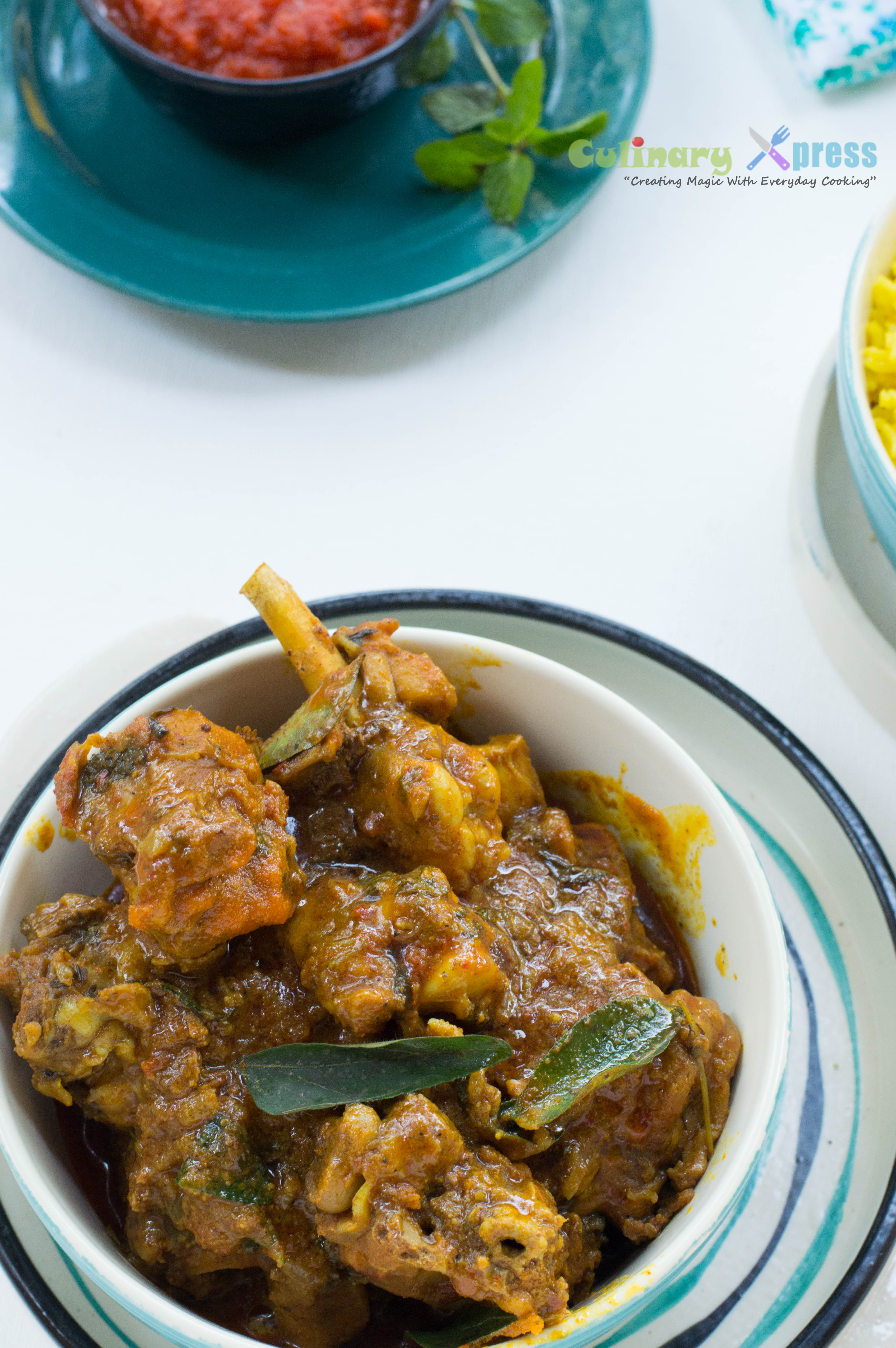 Then there were dishes created especially for travelers in India's pre-Independence who covered vast distances on steam boats and trains, giving rise to popular delicacies such as the Railway Mutton Curry or Railway Mutton Cutlets.
Most spices used in colonial cuisine can be found in any Indian kitchen. Colonial cuisine could be said to be influenced by the various European invasions in India and evolved over centuries to what it is today. Throughout the colonial period, many new hybrid cuisines came into existence. The Indian cooks of those times innovated new dishes, which combined some of the flavours of India with those of Britain and Europe and vice versa. Spices and other ingredients were added to Western dishes giving them a mild Indian flavour.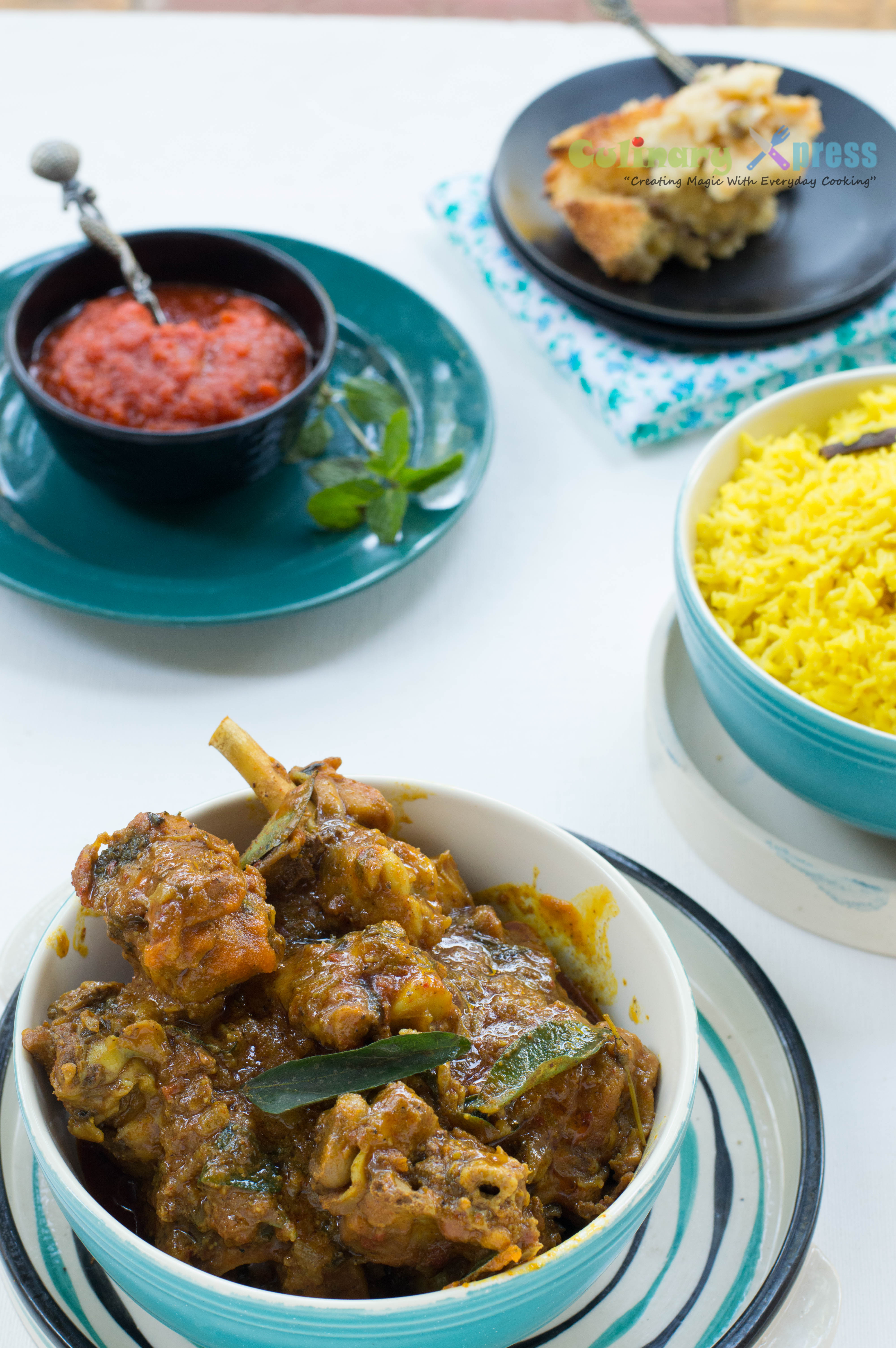 There are various recipes where soups were seasoned with cumin and red chillies, roasts were cooked in whole spices like cloves, pepper and cinnamon, rissoles and croquettes came to be flavoured with turmeric and garam masala. It's believed that mulligatawny soup was created by Indian cooks for British officers who enjoyed traditional, peppery Tamil stews but would only eat them in soup course form. The name mulligatawny soup is an Anglicization of the Tamil term for pepper broth.
Colonial Style of Cooking and use of Curry powder:
Though ready-made garam masala exists in most Indian homes , there have never been readymade "curry" powder to be sprinkled on all "curry". In fact, even curry as a term is a Colonial invention. Indian traditions have no "curry"— there are just different dishes with different spices used to flavour them, depending on the ingredients and method of cooking.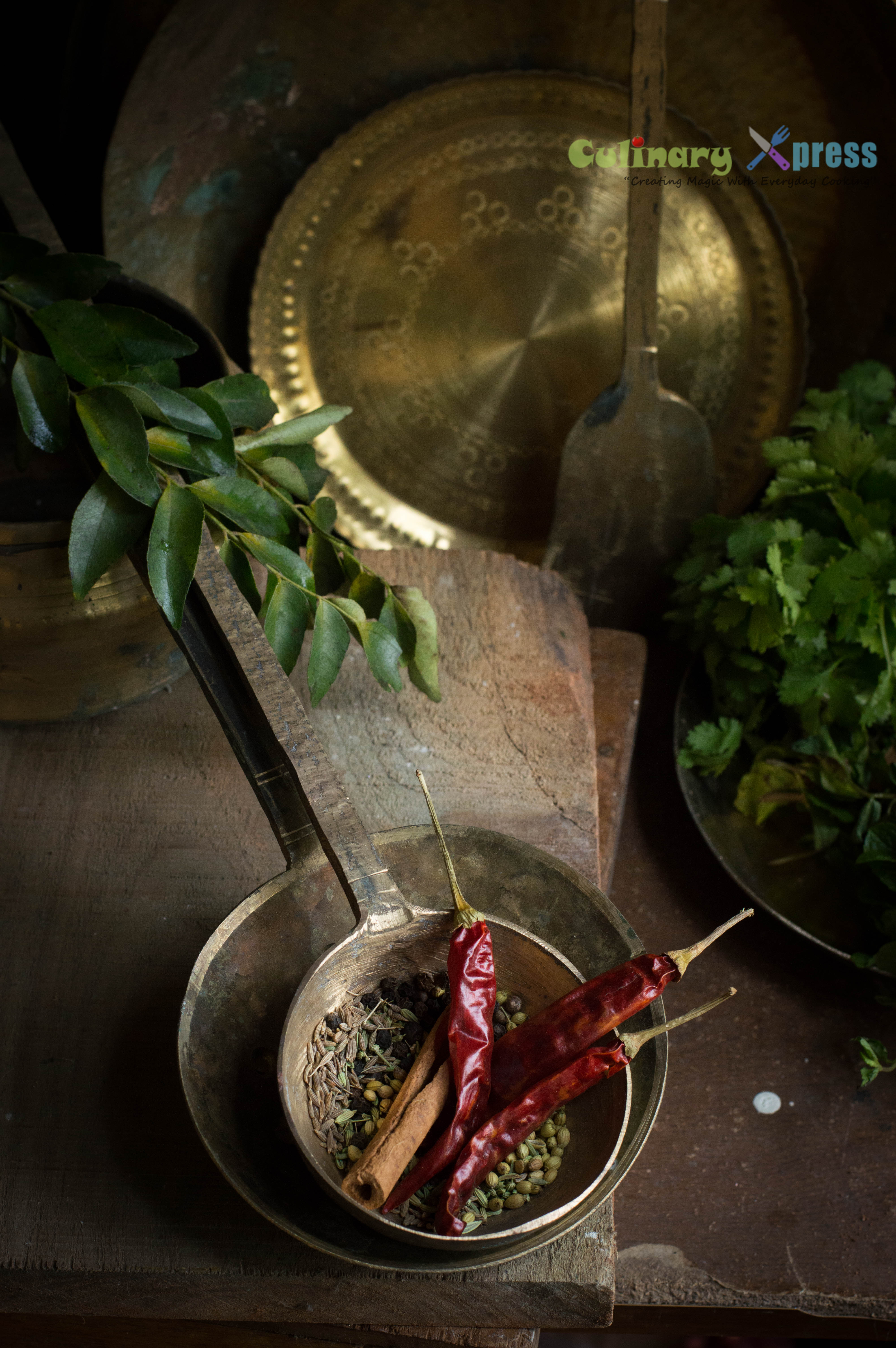 Colonial cuisine was a style of cooking that embraced everything that was Indian and mixed it up with all that was European.It changes from one region to another, especially when it comes to spices." So in the south,  dishes tend to use pepper, cinnamon, cardamom; in the Goa-Mumbai belt, souring agents such as vinegar and kokum are popular, whereas in the east, the gravies use less spice."However, the basic recipes remain the same. The ingredients change in accordance to the availability of local items.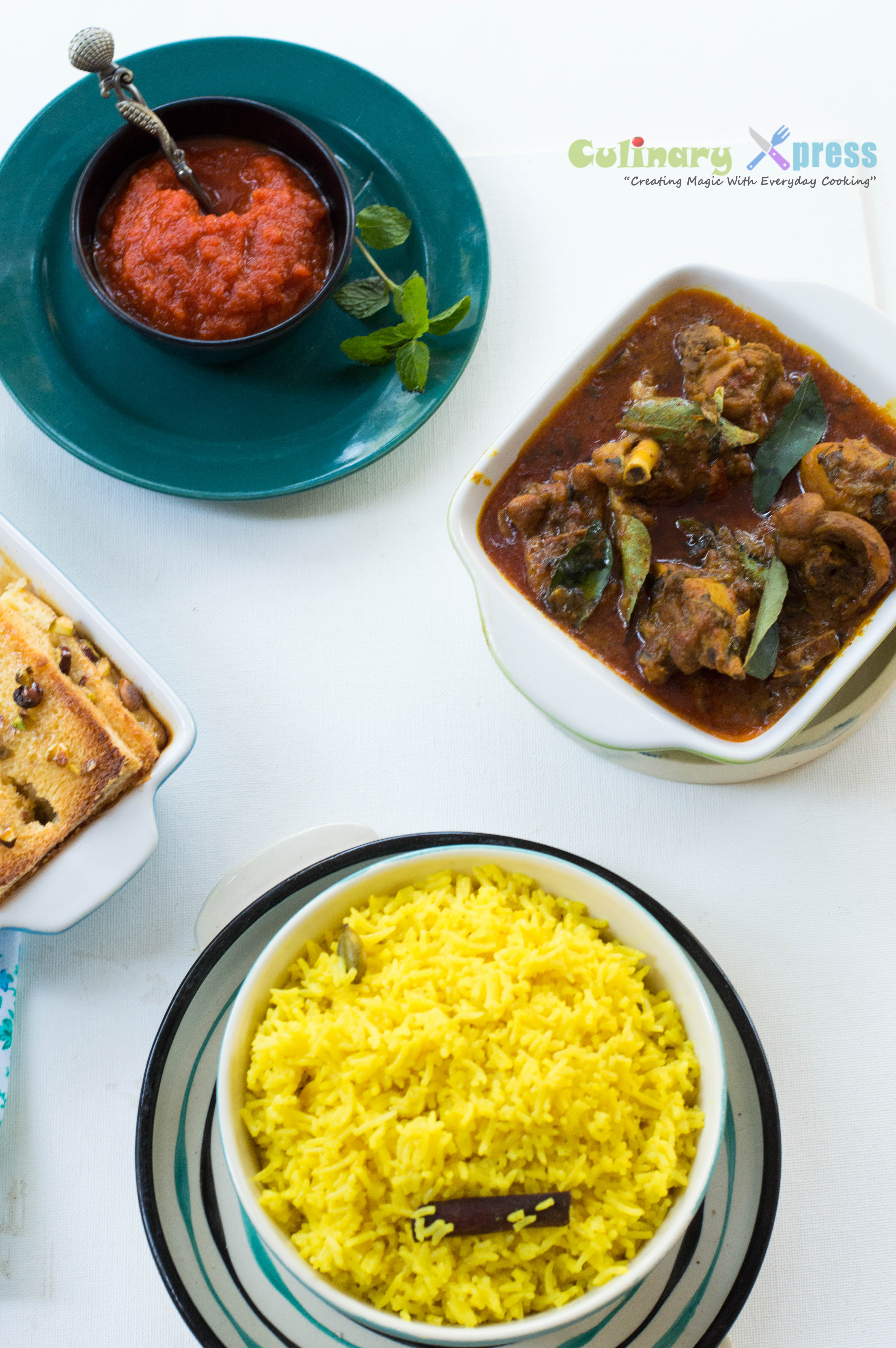 As we are gearing up to celebrate our 68th Republic Day, we the bloggers of Foodie Monday BlogHop decided to celebrate this day with a journey of exploring #colonial inspired cuisines. While searching for recipes, I came across this very useful Blog , which helps me in planning my Menu for the Sunday Lunch. It was such a delight to cook Yellow Coconut rice, Madras Chicken Curry, Devil's Chutney and Bread Pudding as part of the Challenge.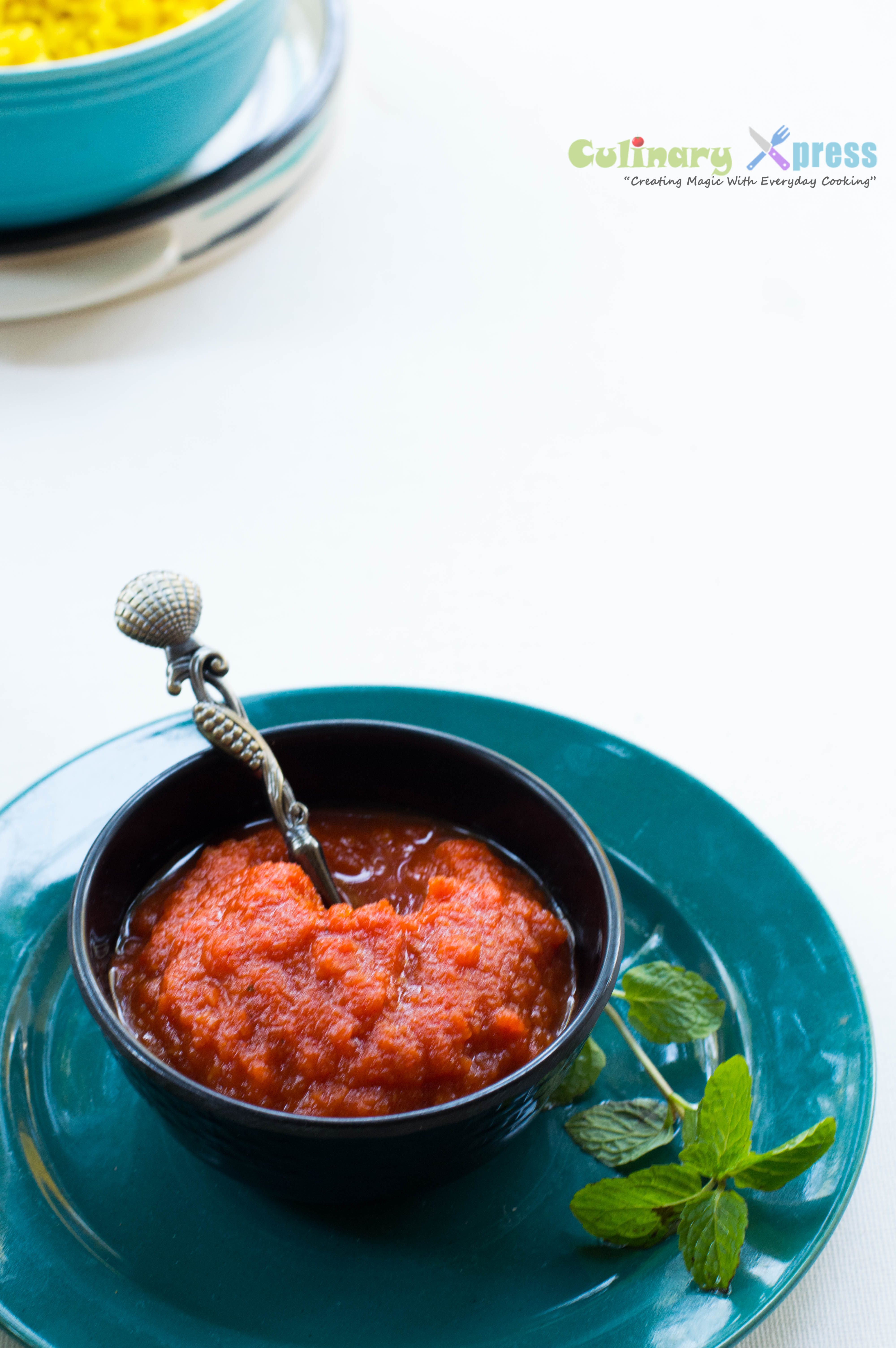 Devil's Chutney:
2 medium size onion chopped finely
1 tsp Kashmiri Red chilli Powder
2 tbsp raisins
2 tsp Sugar
A pinch of salt
Juice of one lemon
Method:
Purée everything in the mixer and serve with rice.
Coconut rice
1cup Basmati rice
2 cups coconut milk
1 tablespoon  oil
1 bay leaf
2 sticks of cinnamon
4 cloves
4 green cardamom
½ teaspoons turmeric powder
1 teaspoon salt
Method:
Soak the rice in water for 15 minutes. Drain and set aside.
Add the oil to a pan on medium heat. Add the cinnamon, clove, bay leaf and cardamom. As the mix splutters, add the rice. Sauté for two minutes then add the turmeric and coconut milk . Stir well. Add salt, stir well and cover the pan.
Cook on low heat for 15 to 18 minutes. When it looks like the rice has soaked in the liquid, remove from the heat, lift the lid and let the rice breathe for 10 minutes. This makes sure that the rice stays fluffy and doesn't stick together. Serve with the Madras Chicken Curry.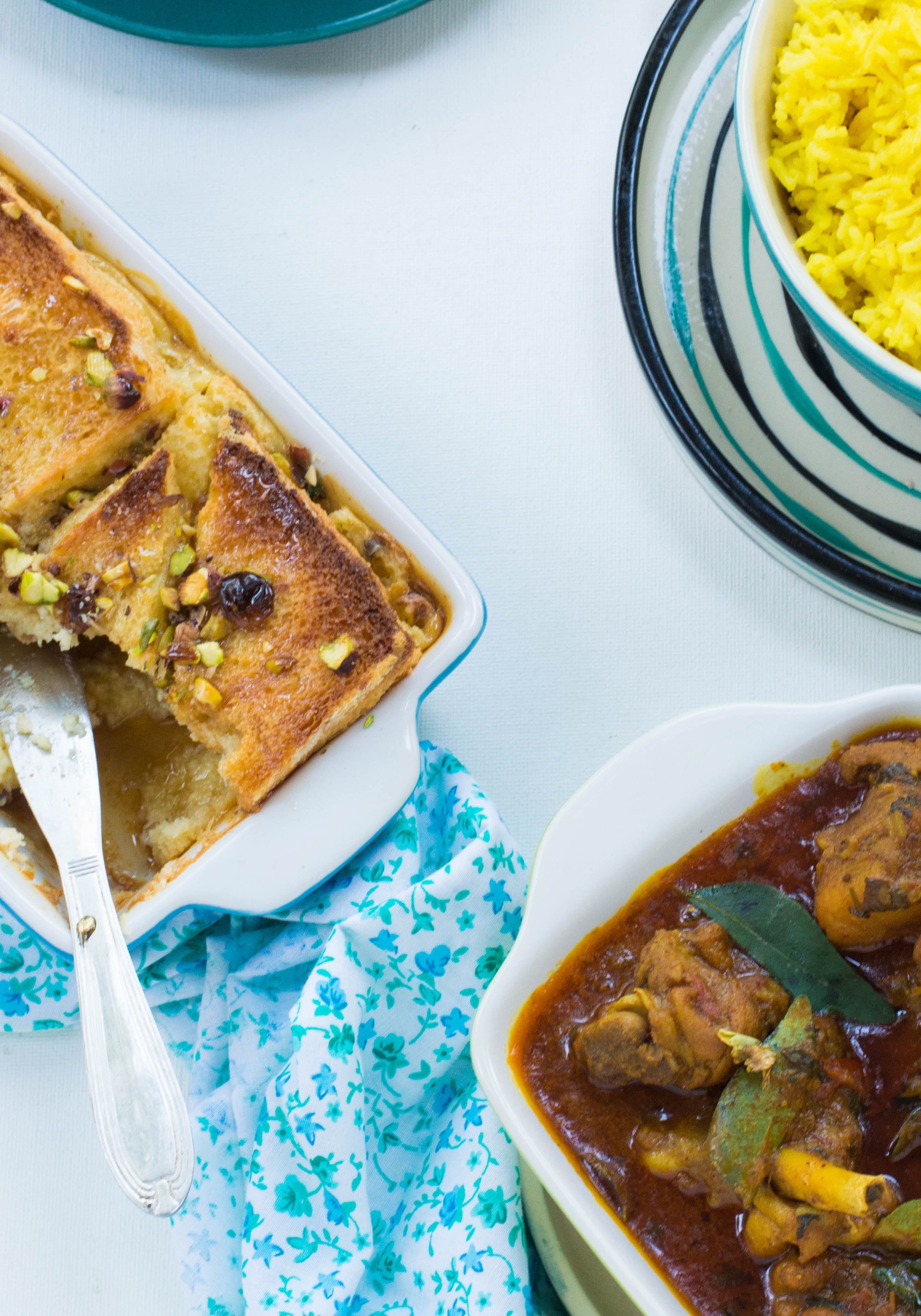 Bread Pudding:
6

 Bread Slices

2 cups  Milk
1/2 tin Condensed Milk
2

 Eggs Beaten

25 g  Butter
¼ cup  Raisins & pistachios Chopped
A pinch

 Nutmeg Powder
Method
Preheat the oven at 160ºC. Trim the edges of bread slices, butter the slices on both sides and cut into two triangular pieces. Arrange the slices in layers in an 8" x 6" oven proof dish, sprinkling the chopped raisins and pistachios in between the layers.
 Mix together Condensed Milk, milk, eggs and nutmeg powder and beat lightly and pour the mixture over the buttered slices.
 Bake at 160ºC  for 30-40 minutes till the top is golden brown. Serve hot or cold as desired.
(Visited 471 times, 4 visits today)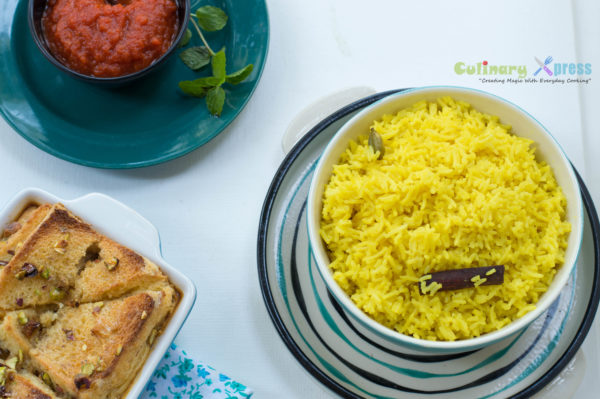 | | |
| --- | --- |
| | |
Dry roast the above masala and powder to a fine power.Keep aside.Mix the Chicken with salt and the powdered masala for 10 minutes.

Heat oil in a pan, saute onions to golden brown. Add the marinated chicken, chopped tomatoes, chopped coriander leaves, chopped mint leaves and mix well.

Saute on medium heat till the oil separates from the mixture. Now add the coconut milk and 1 cup of water and cover the pan.

Cook on low heat for about 10 to 15 minutes or till the desired consistency of the gravy is achieved.

Garnish with few curry leaves and serve hot along with yellow coconut rice.