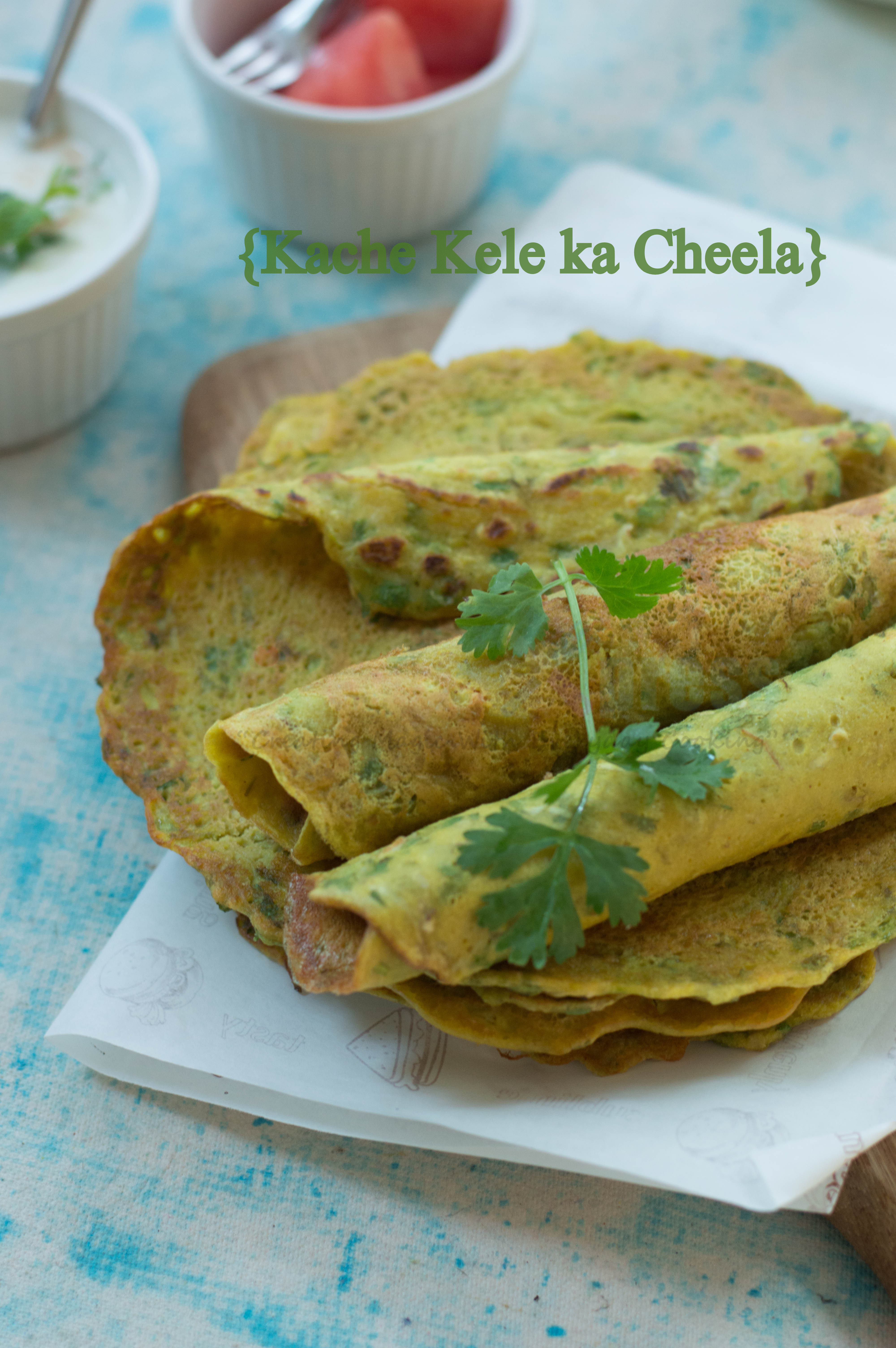 Cheela is a popular Rajasthani snack made with chickpea flour or Besan  as the main ingredient.  Cheela is one of the quick breakfast or brunch or evening snack one can make just by mixing everything together. Rajasthani cuisine has a lot of gram flour dishes and cheela is one among them. Cheela is similar to pancakes of the western world which are made with all purpose flour.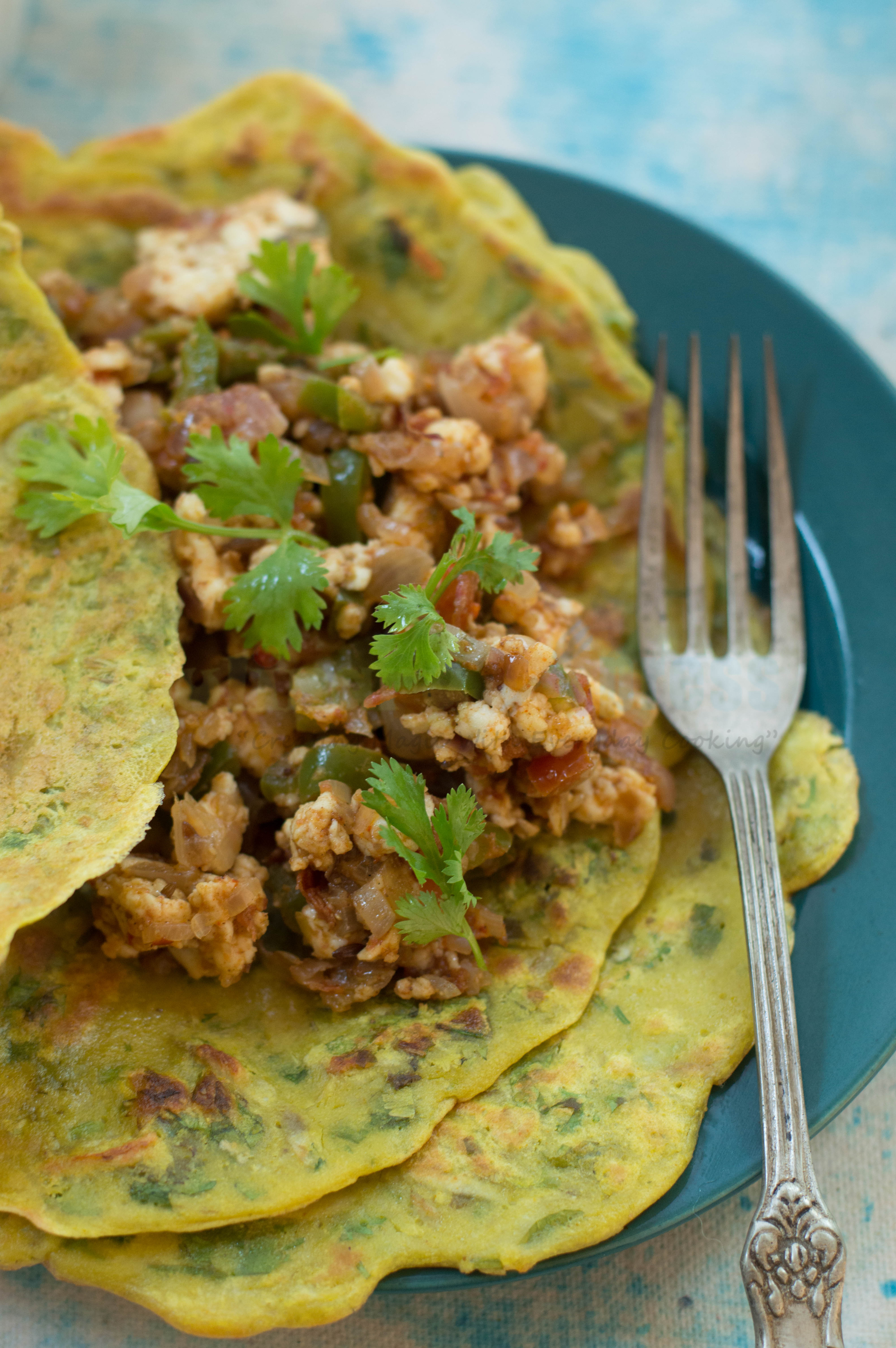 Breakfast being the most important meal of the day need to be healthy and filling to keep our energy level high till lunch time.  In North India it is mostly served as a breakfast or brunch option with chutney,pickles and yogurt. Sometimes it is also compared to the Dosa, but Cheela is more spicy as compared to dosa. It can be made thin and crispy as per taste. The crunchiness of this popular breakfast comes from the finely chopped coriander, chillies and onion.I have decided to experiment with it by adding grated #raw banana to the chickpeas flour  as part of our 89th Foodie Monday BlogHop theme. I must say, the result was awesome.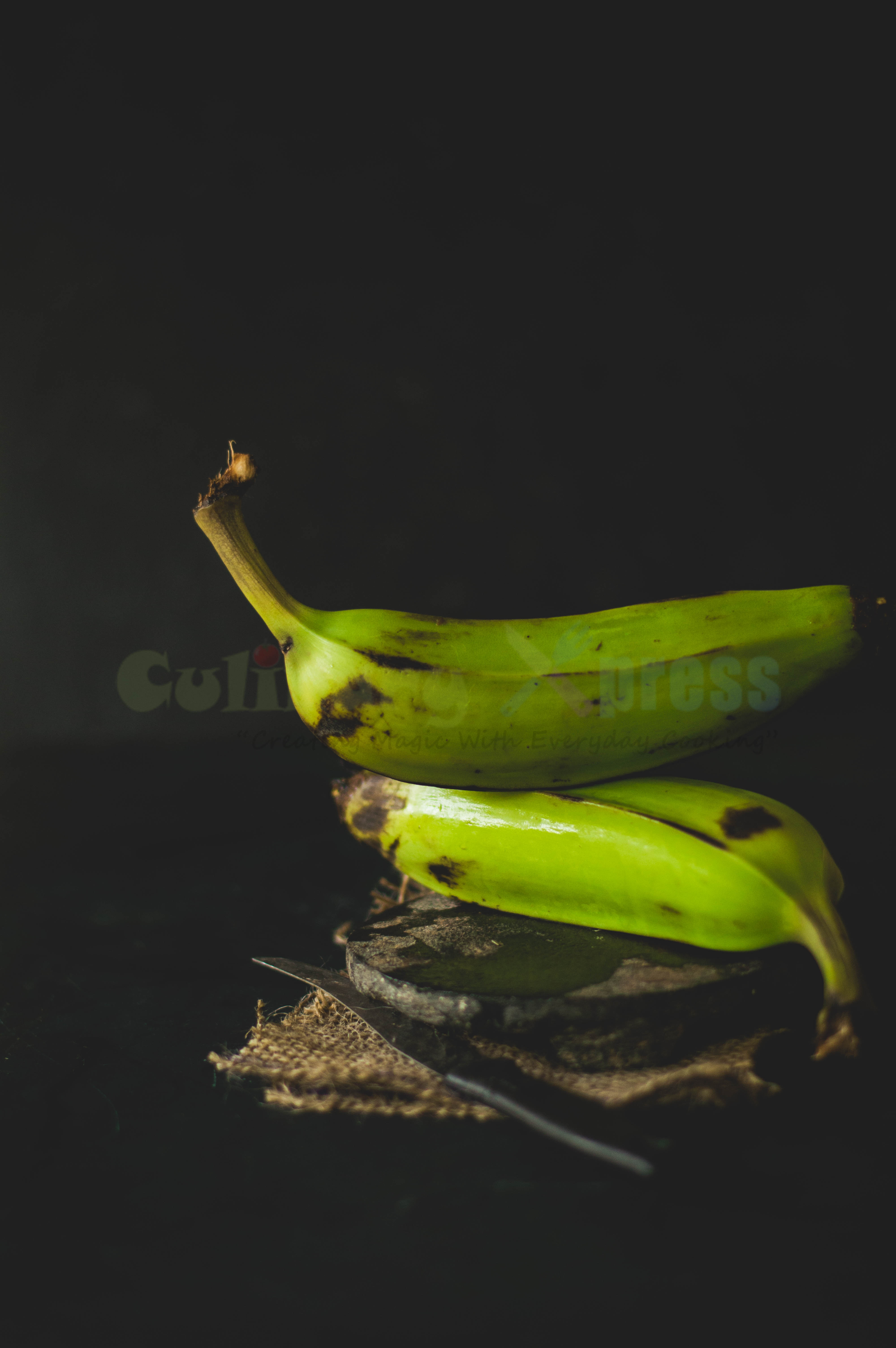 Bananas are a good source of potassium, an essential mineral for maintaining normal blood pressure and heart function. Raw bananas are fuss free and easy to cook with as they can be steamed,stir fried and used as a stuffing . A lot of traditional dishes like Koftas, Cutlets, chips are made from it. Raw bananas are one of the sought after ingredients during Navratri festivals when a strict vegetarian diet is maintained.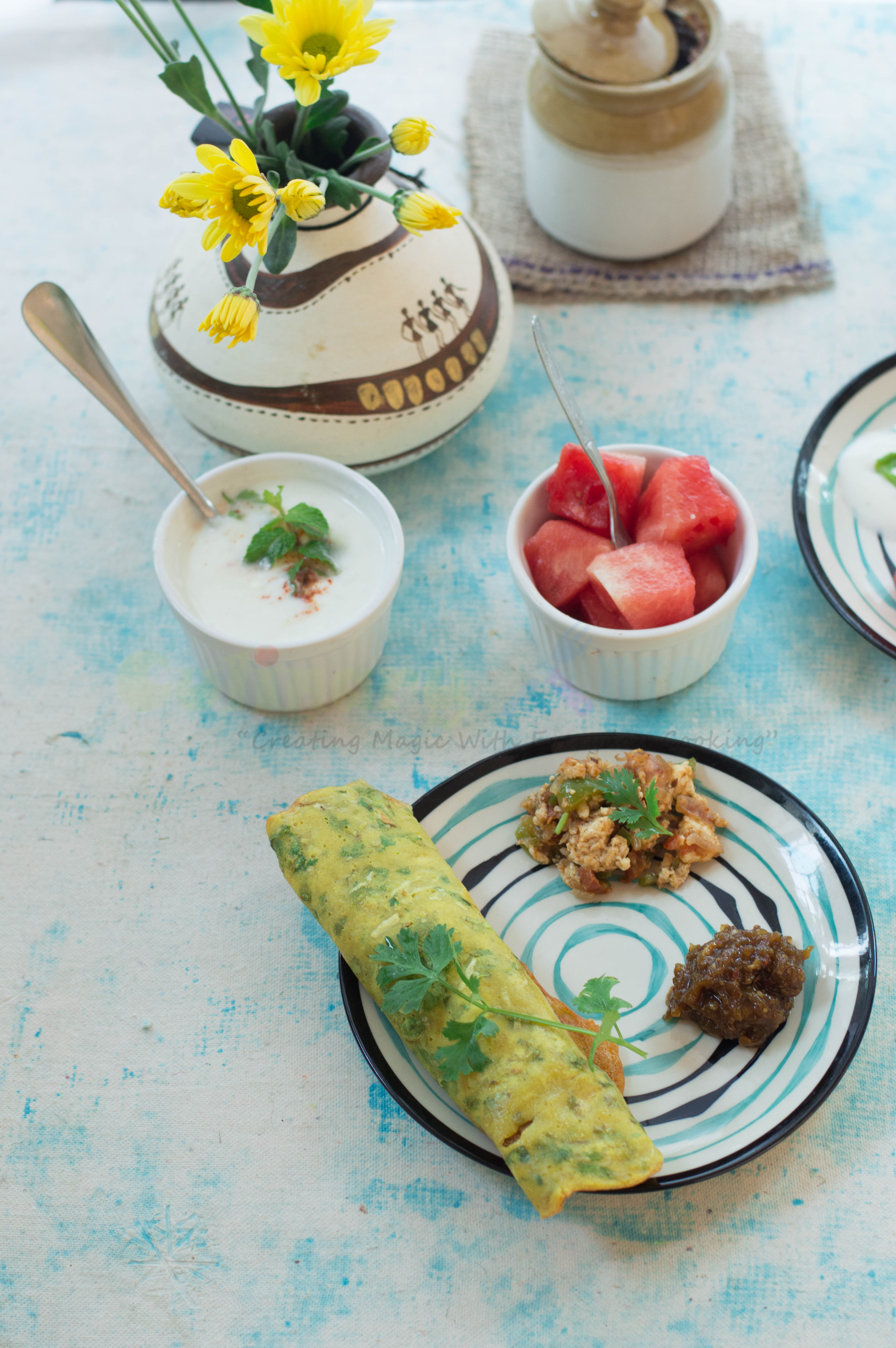 This nutritious Kache Kele ka Cheela with Paneer Bhurjee can be made in 10 minutes and good for kids breakfast.It has high protein along with vegetables. It is often called a vegetarian omelet. To make this super easy breakfast, you have to sieve the chickpea flour to get rid of the lumps. Add in the yogurt, rice flour, crushed garlic, onion, green chillies, grated raw banana,coriander leaves and salt . Add water in stages. Once a thick batter forms, you can dilute it with more water. The batter should be slightly watery than the typical dosa batter.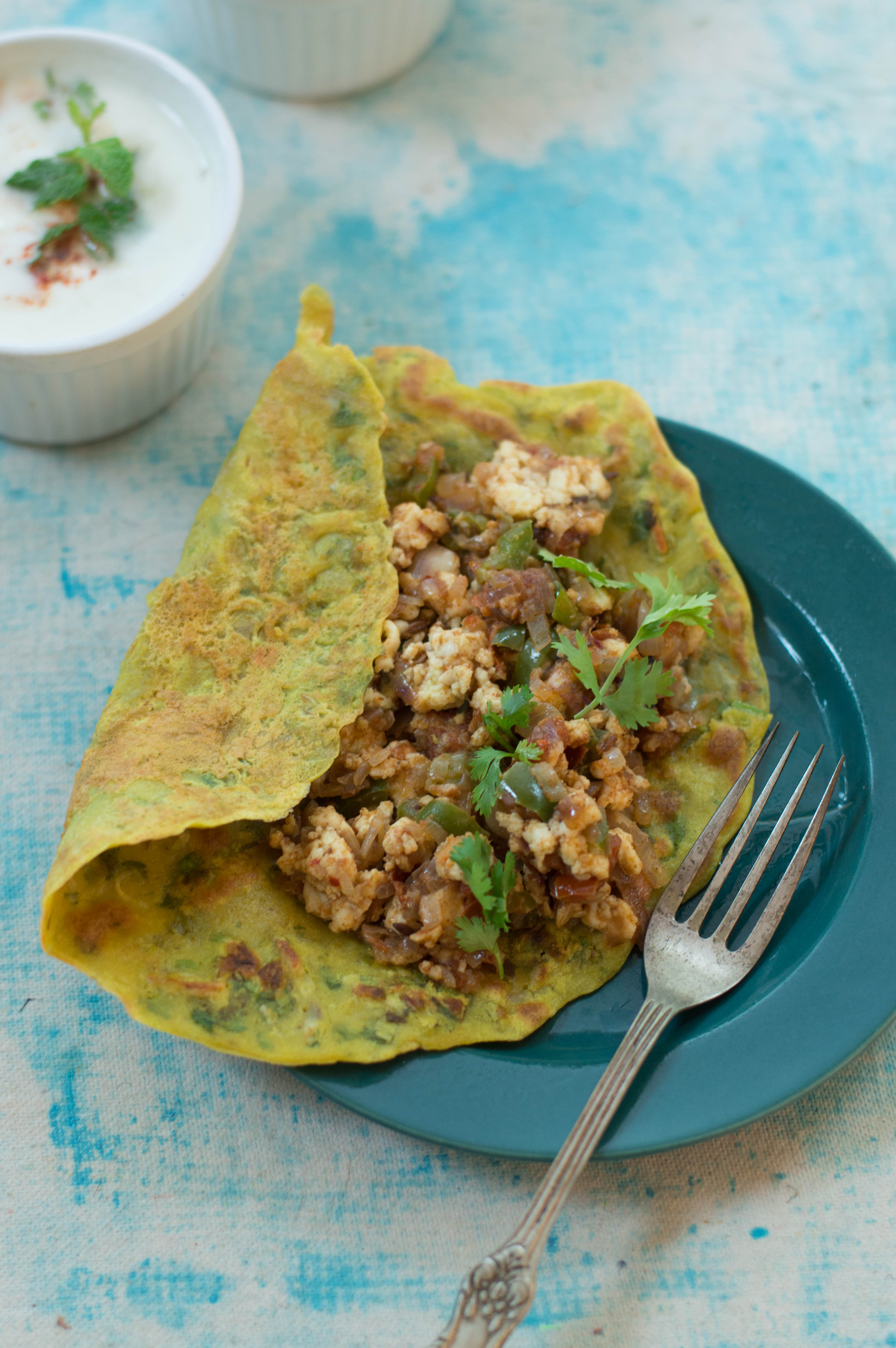 (Visited 351 times, 1 visits today)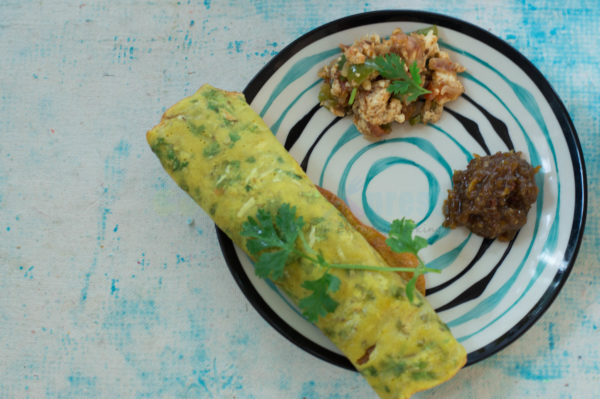 | | |
| --- | --- |
| | |
In a bowl, add yogurt , salt, green chilli ,garlic paste, water and mix well.Peel and grate the banana into the bowl. The yogurt will help stop browning of grated banana.Leave to rest for 15-20 minutes.

In the meanwhile,heat the oil. Add the cumin seeds, bell peppers,tomato and onions with a pinch of salt. Allow to cook on low-medium flame until onions have softened. Add the turmeric powder, red chilli powder, coriander powder, cumin powder along with the crumbled paneer and toss well.Allow this to cook on medium heat for a few seconds. Add garam masala and transfer to a bowl. Keep aside.

Sieve the Chickpeas flour along with the rice flour, turmeric powder, salt and add to the yogurt mix. Add chopped coriander leaves in the above mix.Keep pouring a little water and stir all the ingredients well to make batter of free flowing consistency.

Heat a griddle or Tawa, pour a ladle of batter and drizzle a teaspoon of oil around it. Cook it for 3-4 minutes on medium heat. Flip the side and repeat the same.

Serve these healthy savory banana pancakes with tomato sauce or green chutney at Tea time or for a refreshing breakfast.