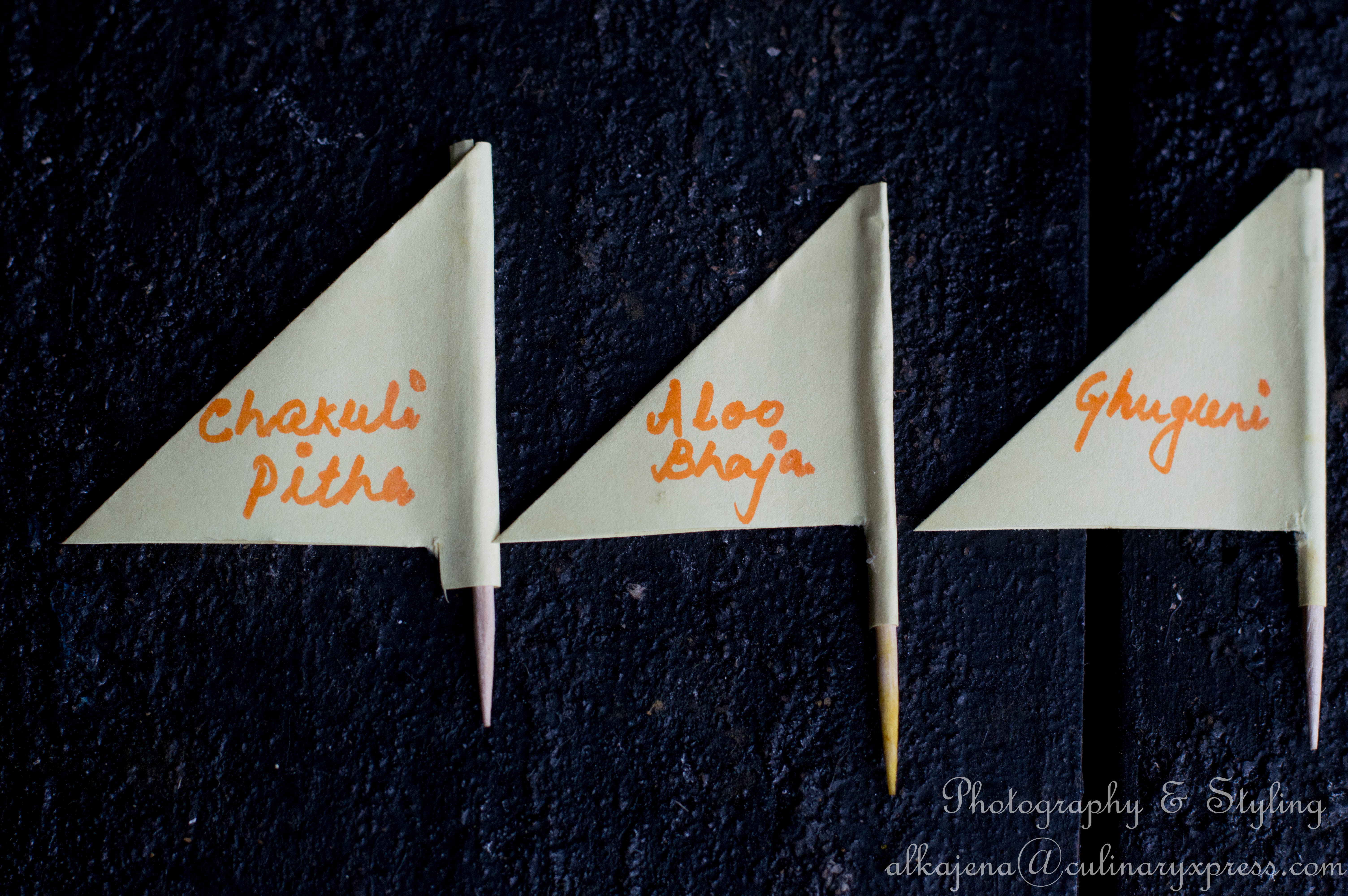 Odisha ,the land of Lord Jagannath, has a very rich religious culture and this is reflected in the food as well. Odia cuisine is very simple yet delicious, prepared in little or no oil which not only enhances the taste, but makes them very healthy as well. In our day to day busy lives we often skip a healthy breakfast. Chakuli Pitha, Aloo Bhaja and Ghuguni  is a very common breakfast recipe in Odisha. Every person belonging to this state must have tasted this recipe at least once in his or her lifetime. Chakuli Pitha is prepared usingrice flour,white lentils(Biri) , refined oil (preferablygheeormustard oil), andsalt.This flat pancake is full of nutrition and best enjoyed with aloo bhaja, ghuguni or white peas curry, dalma or just sugar/jaggery or sweet chutneys.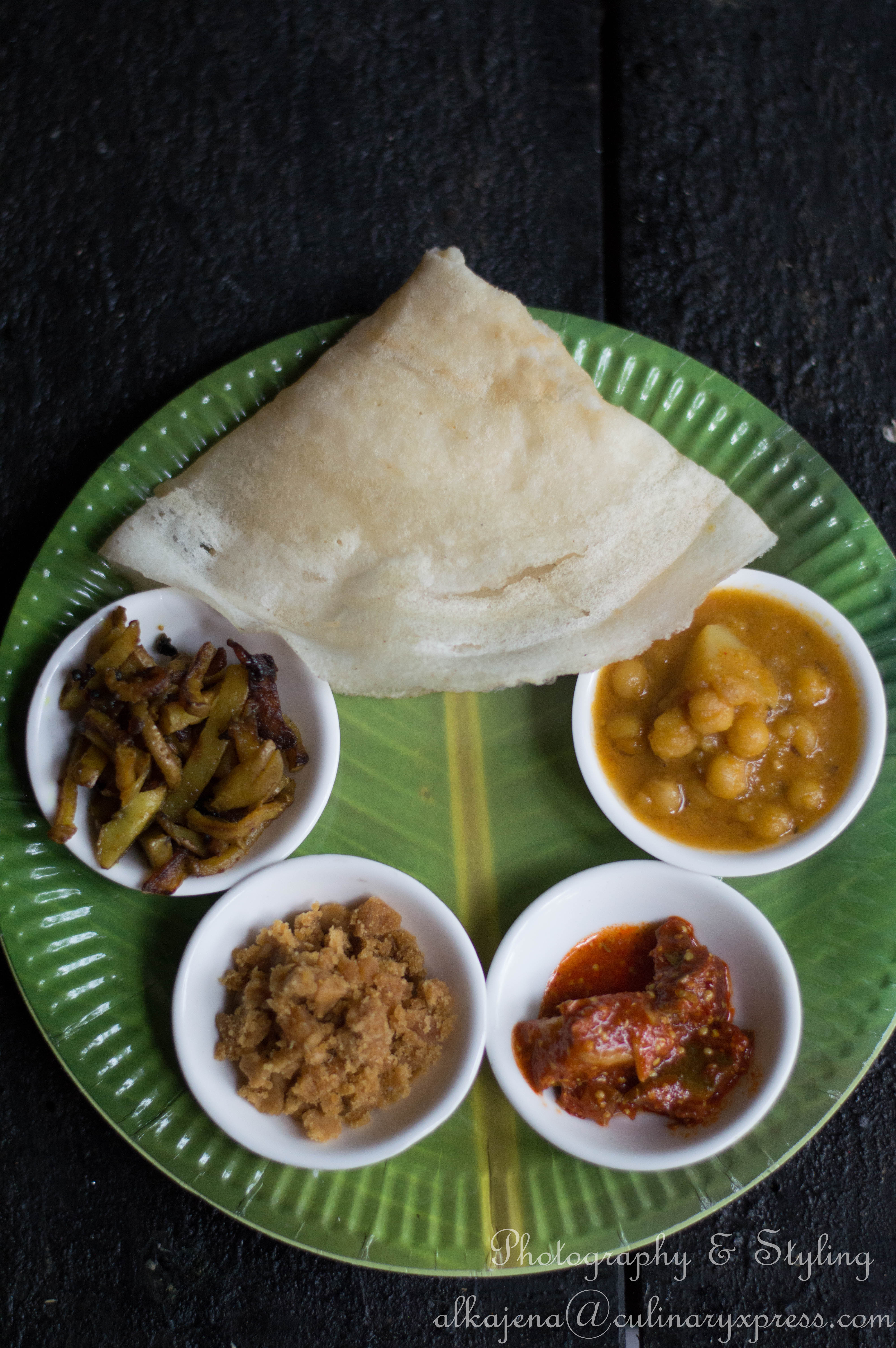 Odisha's identity is never complete without the mention of Pithas. Though Pithas are primarily made during festival times in homes, this Chakuli Pithas  which are a rice based  flat pancakes are routinely prepared and served in Odia homes as breakfast in any normal days.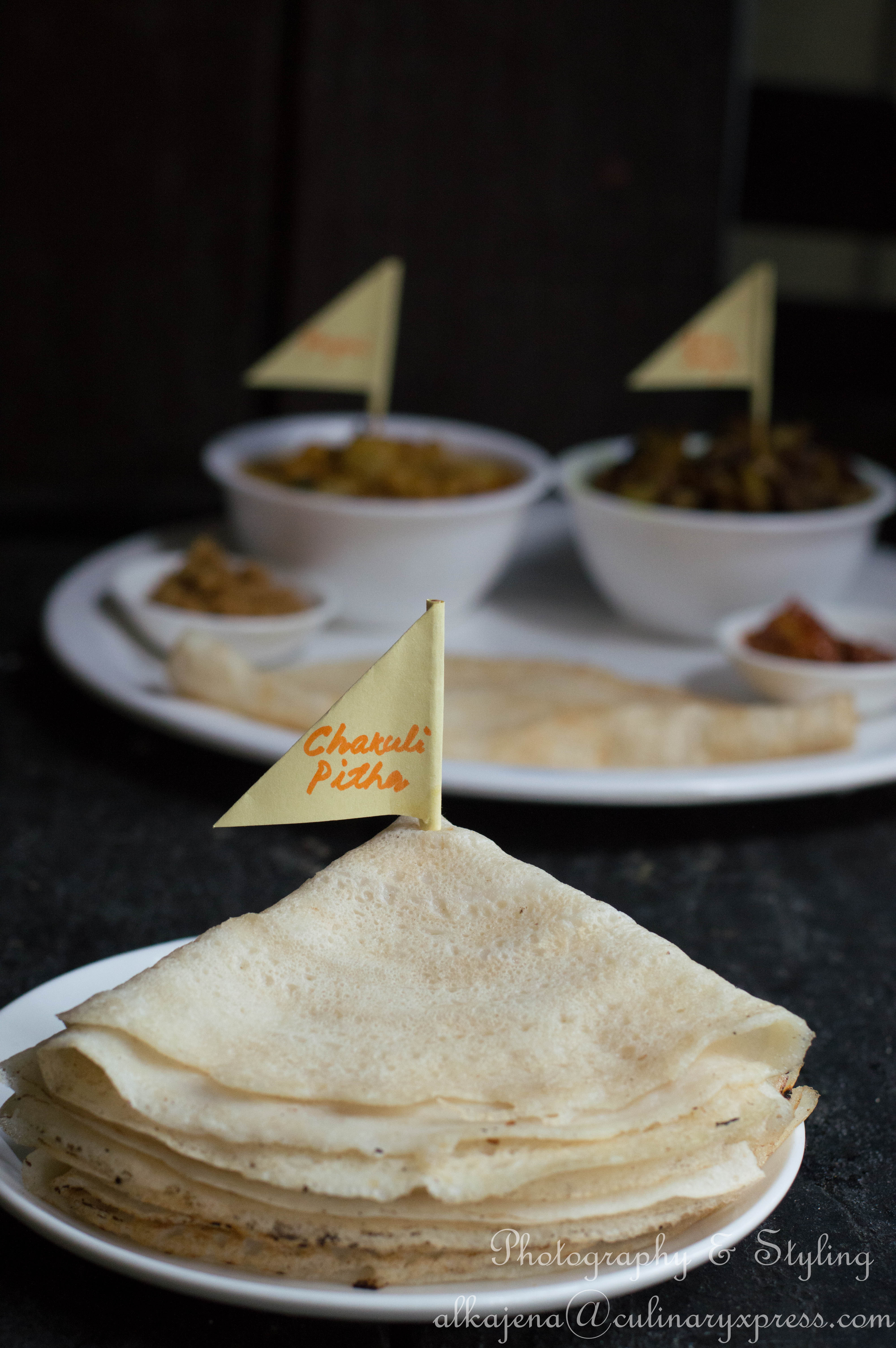 Many people confuse this with the South Indian dish Dosa. It is however different from Dosa in texture and other aspects. Dosa is a crispy and  large solid dish eaten along with spicy or sour Sambhar or Chutney. Whereas Chakuli pitha is a non-crunchy, soft, small and thin pancake best enjoyed with sweet chutneys , dalma, aloo bhaja, ghuguni etc. Chakuli Pitha are of two varieties primarily , The Saru Chakuli( Thin pancake)  and the Budha Chakuli( Thick Pancakes).The origin of Saru Chakuli can be traced back during the early 4th century BC when Buddha had tasted the Chakra apoopa from two merchants coming from Kalinga Kingdom to Magadha. Saru Chakuli can be seen at various restaurants of Odisha. It can also be made at home and can be tasted as a breakfast item or snack item in the evening.
Ingredients
1 to 2 tablespoons
Mustard Oil
Steps
Soak white lentil and rice in water overnight. Then filter out the extra water and grind it to make a fine paste.For grinding add water which covers the lentil and rice.
Keep aside the mixture for 4 to 5 hours for fermentation. Add salt and water to the paste for making the batter a little thin. Make sure the batter doesn't get too watery.
This is the usual method of preparing the Chakuli Pitha, But I like to have it fresh so I just keep the batter covered for 30 minutes after grinding and then use it .


Mix the batter well and place a pan on the stove. Heat a non stick tawa  on a medium flame.
When the pan gets heated, add 1/2 tea spoon oil and spread it all over the pan.
Take a small bowl of batter and spread it all over the pan in circular shape. After a while  check the lower side of the pitha. Once the lower side turns brownish, flip it to other side.
When the pancake (pitha) is cooked well from both the sides, switch off the stove. Repeat the procedure for all the pithas (pancakes).
Serve hot with Aloo Bhaja, Ghuguni and Jaggery on sides.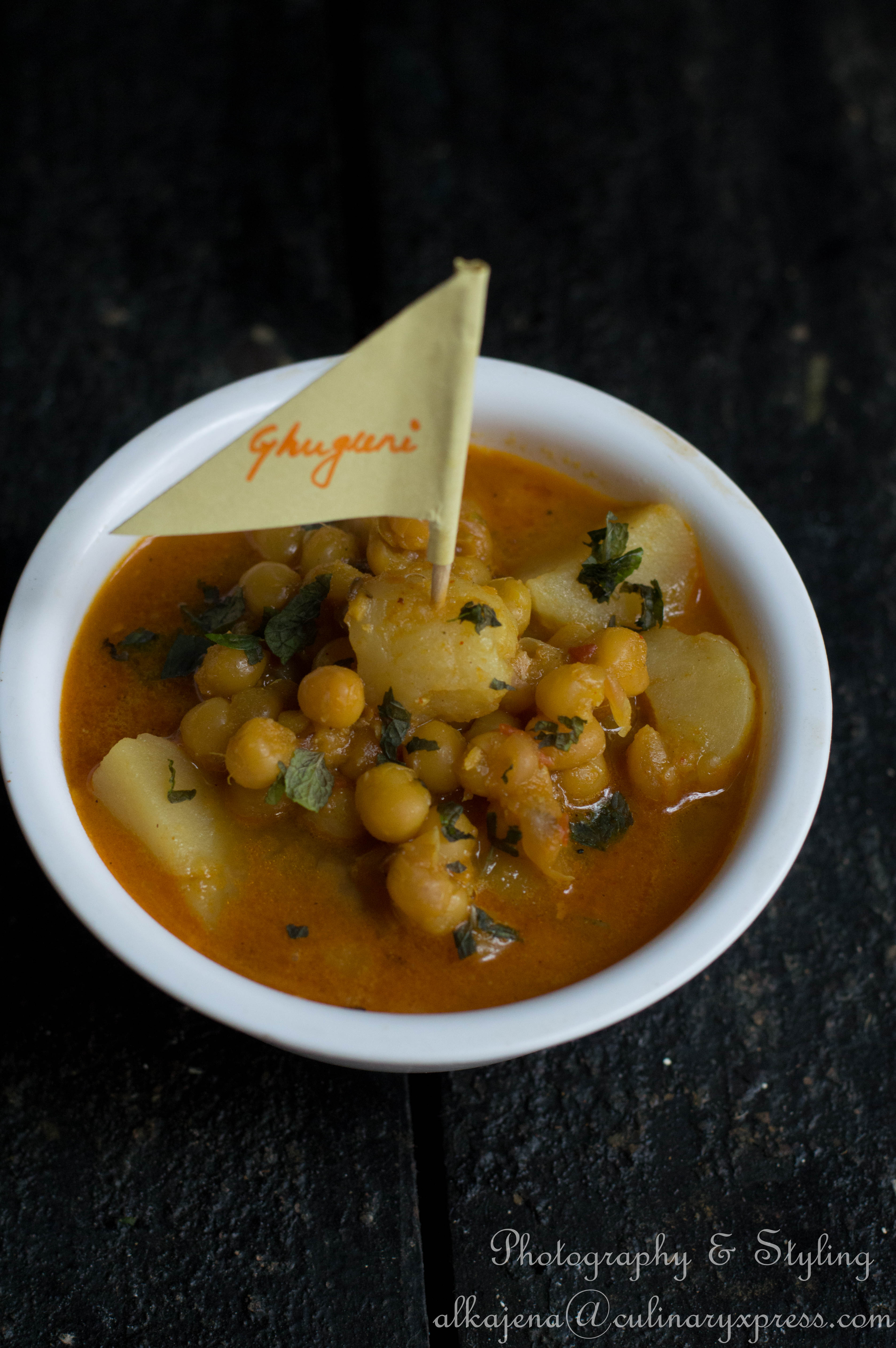 Ghuguni  ( dried Yellow/ green/ white Peas) is a modest cuisine from the eastern part of the Country. In Odisha it is served as an accompaniment to a number of dishes like Bara, Aloo dum, Samosa, Aloo Chop , Chakuli Pitha etc. It is also used as a curry to be served along with Roti or Paratha. This is an awesome and easy to make curry which is rich with protein and cooked with less oil making it healthy too. This recipe is also popular in other eastern States like West Bengal, Bihar and Assam.
Ingredients
1 teaspoon Turmeric Powder
1 Medium Size finely chopped Onion
1 teaspoon Ginger Garlic paste
1 Medium sized finely chopped Tomato
1/2 teaspoon Cumin Powder
1 teaspoon Coriander Powder
1 green chilli finely chopped
1/2 teaspoon Red Chili Powder
1/4 teaspoon turmeric powder
1 teaspoon
chopped coriander leaves
Let's Learn How to make Ghuguni:
Steps
Soak the white peas overnight or minimum 3 to 4 hours.
Peel off the potatoes and cut into pieces.
Pressure cook the soaked Yellow Peas and Potatoes for 2-3 whistles with a pinch of turmeric powder and 1 tsp salt.Open the lid of the Pressure cooker after it is cooled down and the gas has been released.
Heat a Pan with oil.Add the cumin seeds to the heated oil and when it starts to splutter ,add the Chopped onions, green chillies and saute till golden brown.
Add the Ginger-Garlic Paste and saute till the raw smell goes away .Add the chopped tomatoes and saute it till the tomatoes are mushy and the oil is released.
Add turmeric powder, Cumin Powder, Coriander Powder, Garam Masala, Red Chili Powder and saute it.
Now add the boiled white peas and potatoes to it. Mash some of the potatoes which will add a thickness to the gravy and makes it of great taste as potato goes along with every cooking stuff.
Add salt according to the taste.Now add some water and let it simmer for 2-3 mins with the lid. Turn off the gas and garnish with coriander leaves.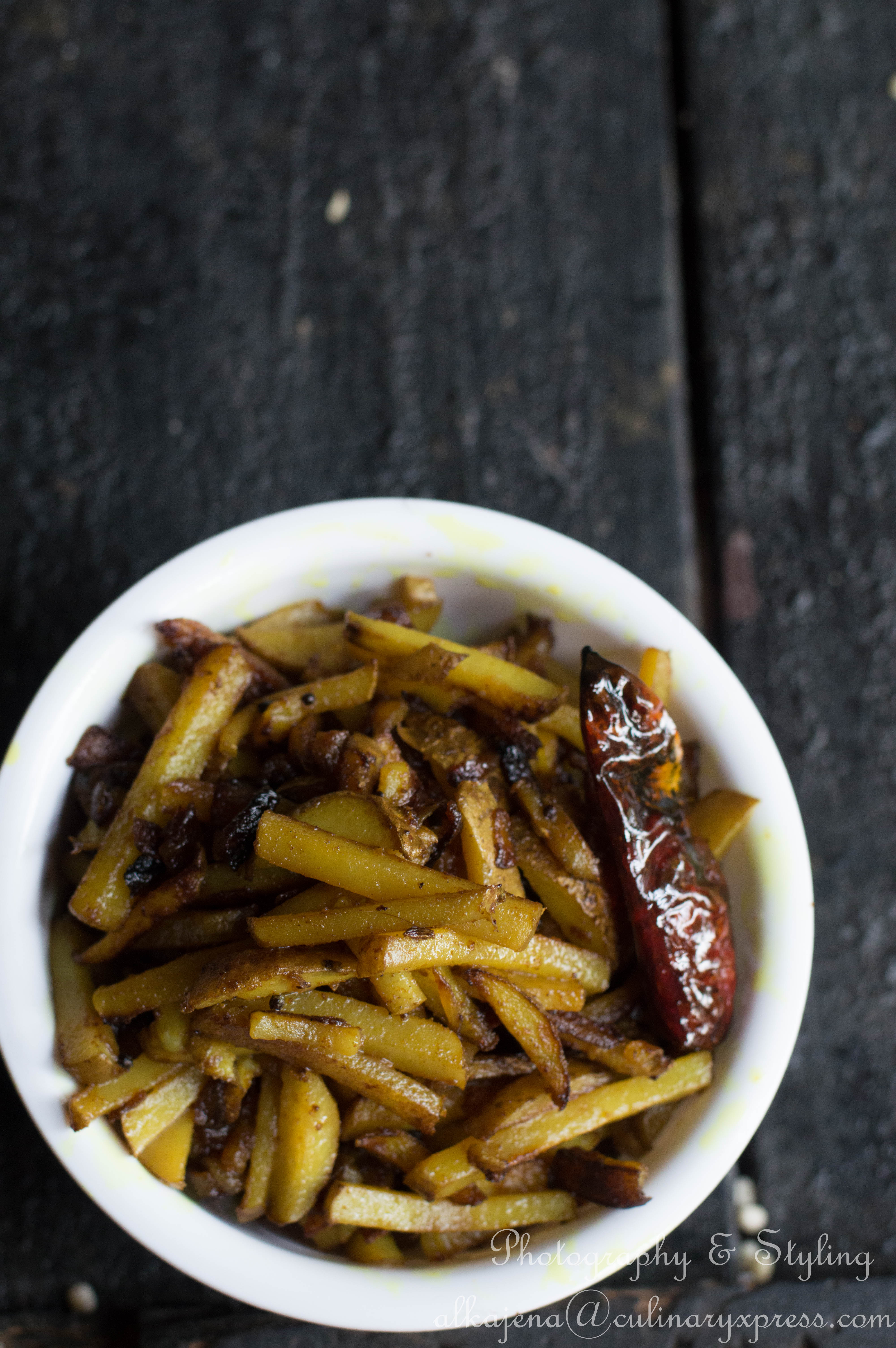 Ingredients
2 nos
of Thin Potatoes cut into very Strips
1/4 teaspoon
Panch Phutan
2 nos
of Dried Medium Red Chilliies
1/2 teaspoon
Turmeric Powder
Lets Learn how to make Aloo Bhaja:    
Steps
In a Pan, Heat Oil, Add the panch Phutan & Red Chilli.Let the Seeds splutter & as the Chilli turns Smoking Red, add Turmeric Powder & Sauté.
Add the Potato Pieces Fry till the Potatoes on High Flame for about 30 Seconds,Cover & Cook on Low Flame till Tender.
Add Salt & Stir for about a Minute.
Serve Fresh & Hot with Thin Chakuli pithas.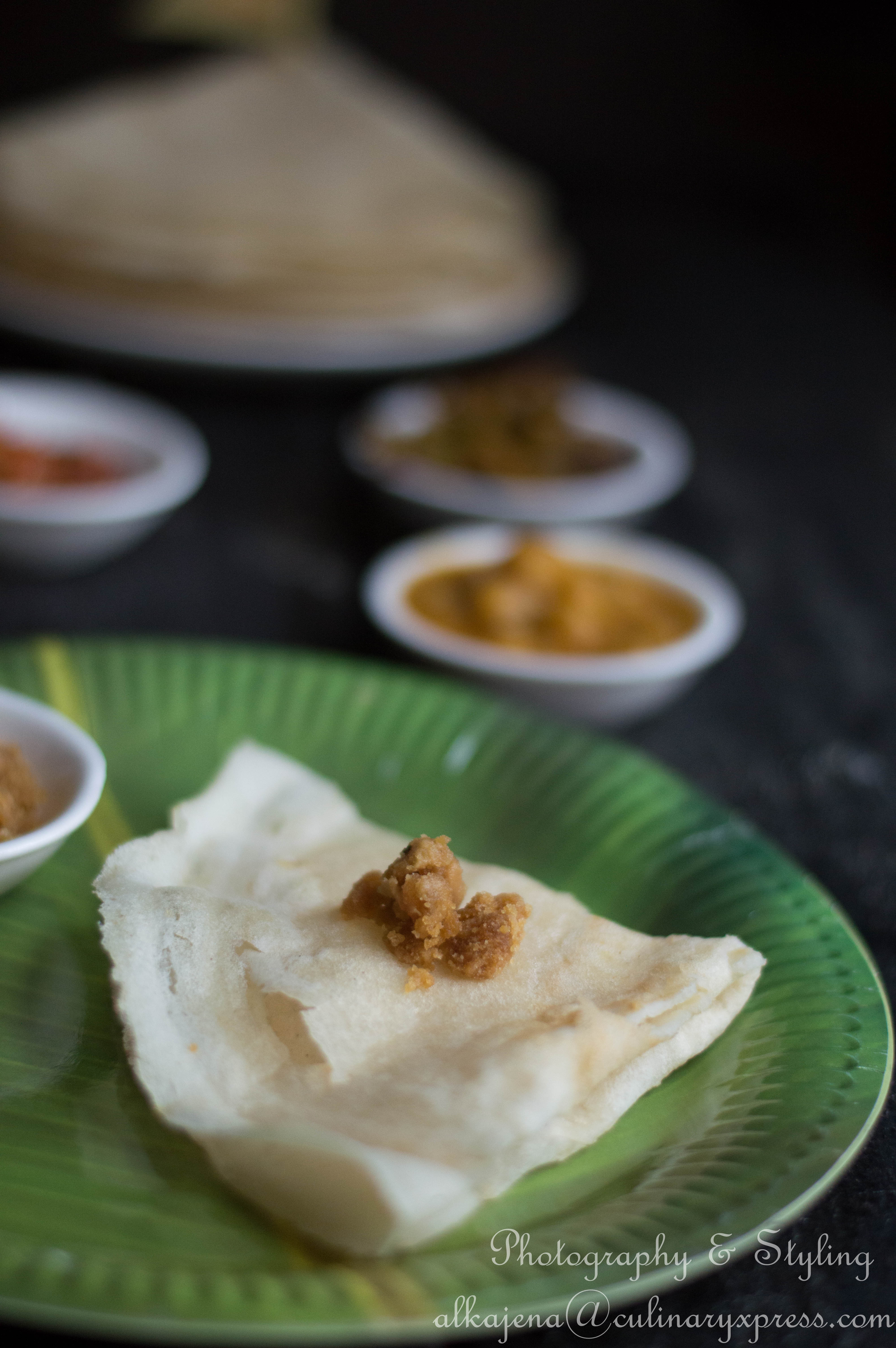 Sending this recipe to the 21st Foodie Monday Blog Hop theme #Regional Breakfast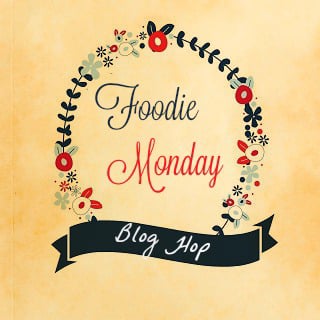 (Visited 906 times, 1 visits today)