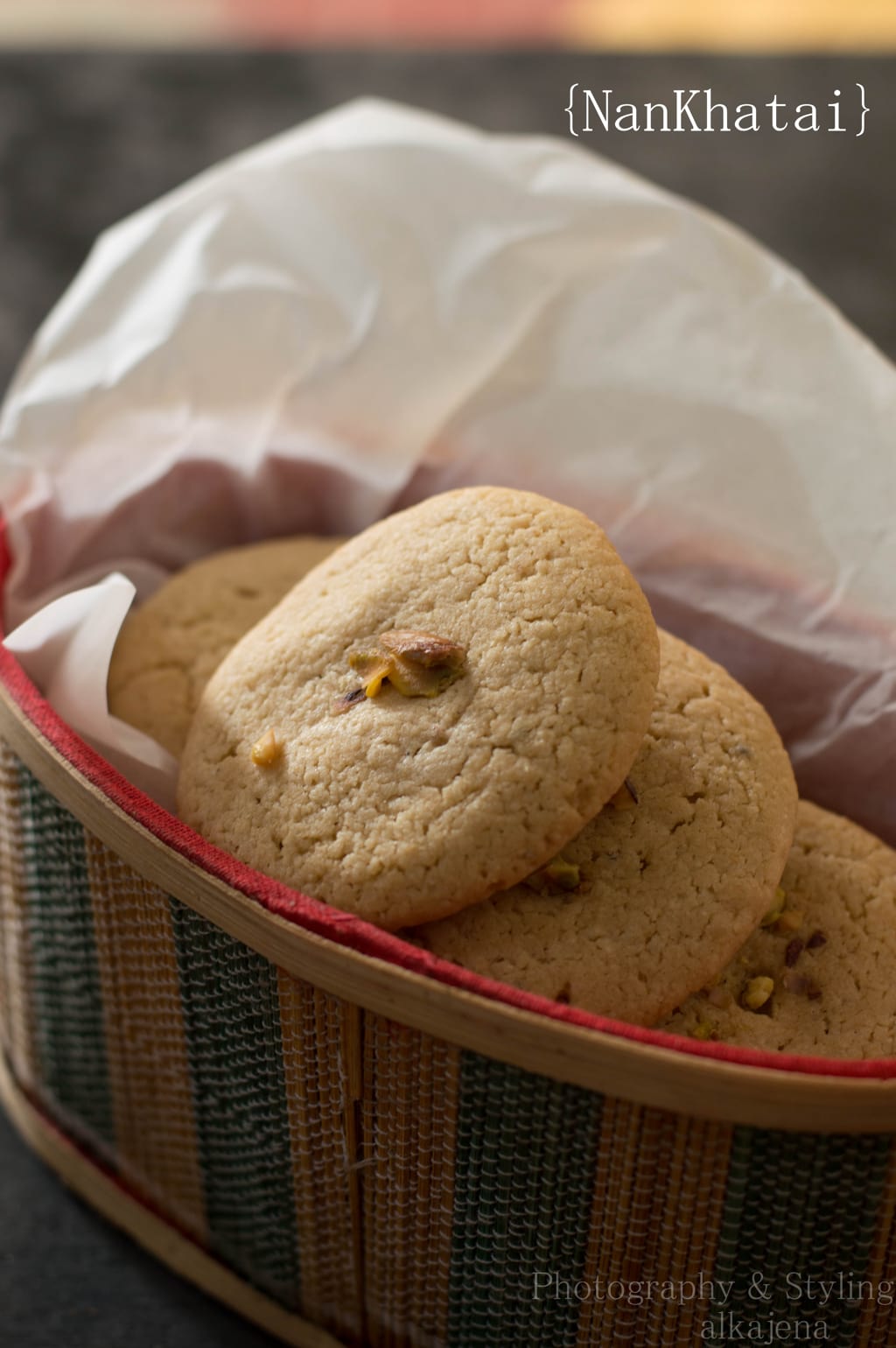 Nankhatai are a very popular biscuit in India . Known for it's melt in the mouth texture, this cookies are the perfect example of Indian ingenuity. . Nan Khatais are cookies with the divine aroma of ghee and cardamom in it. The word Nankhatai is derived from Persian word Naan meaning bread and Khatai from an Afghan word meaning Biscuit. These cookies are a perfect accompaniment for your evening Tea.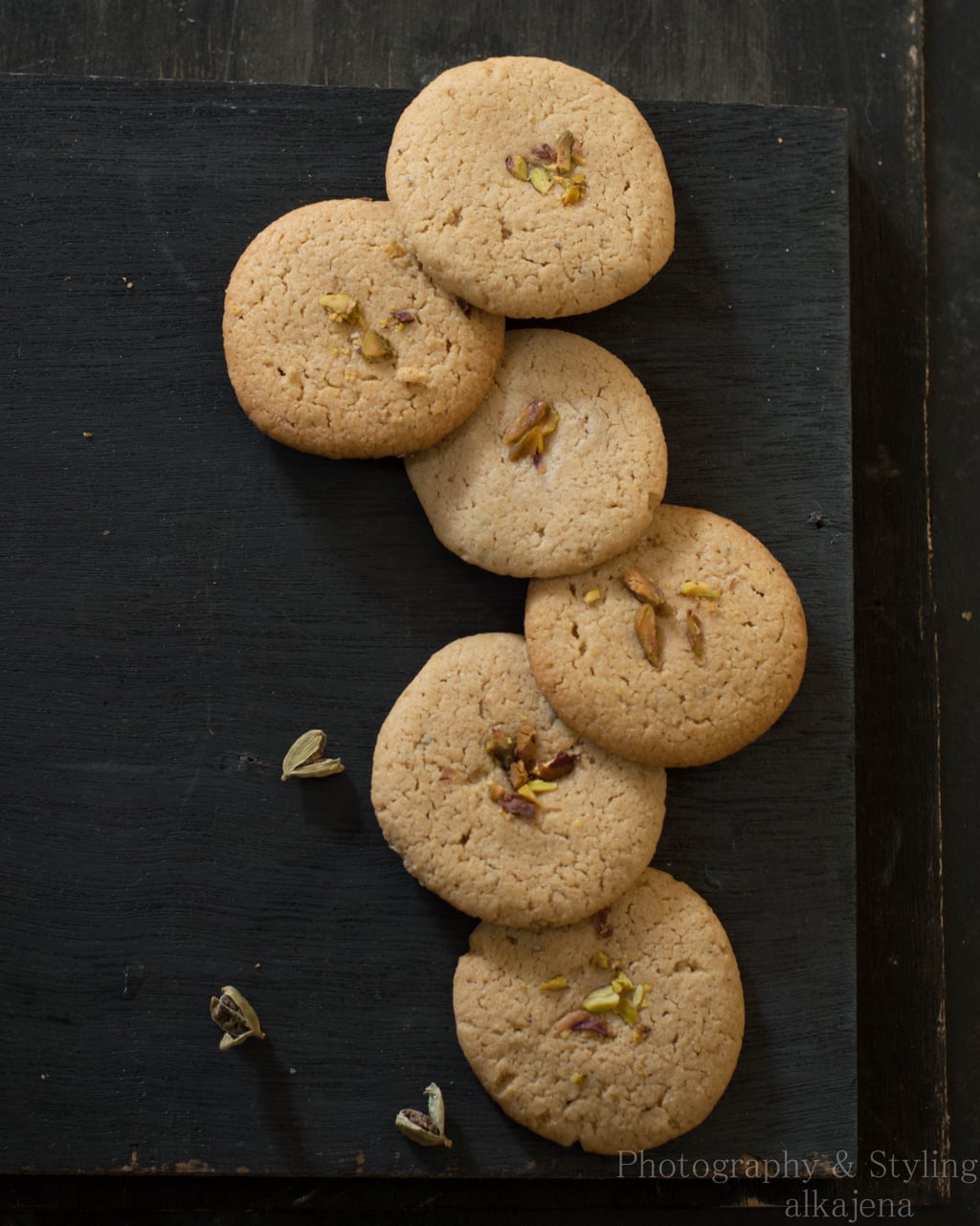 These Nan Khatais are part of my childhood when we used to wait for the street hawker selling these cookies which were part of our tiffin boxes. These cookies are made with a mix of simple ingredients found mostly in any households like ghee, maida and cardamom powder. It's texture is similar to shortbreads. The unique and distinct flavour of these Nan Khatais comes from the ghee in it.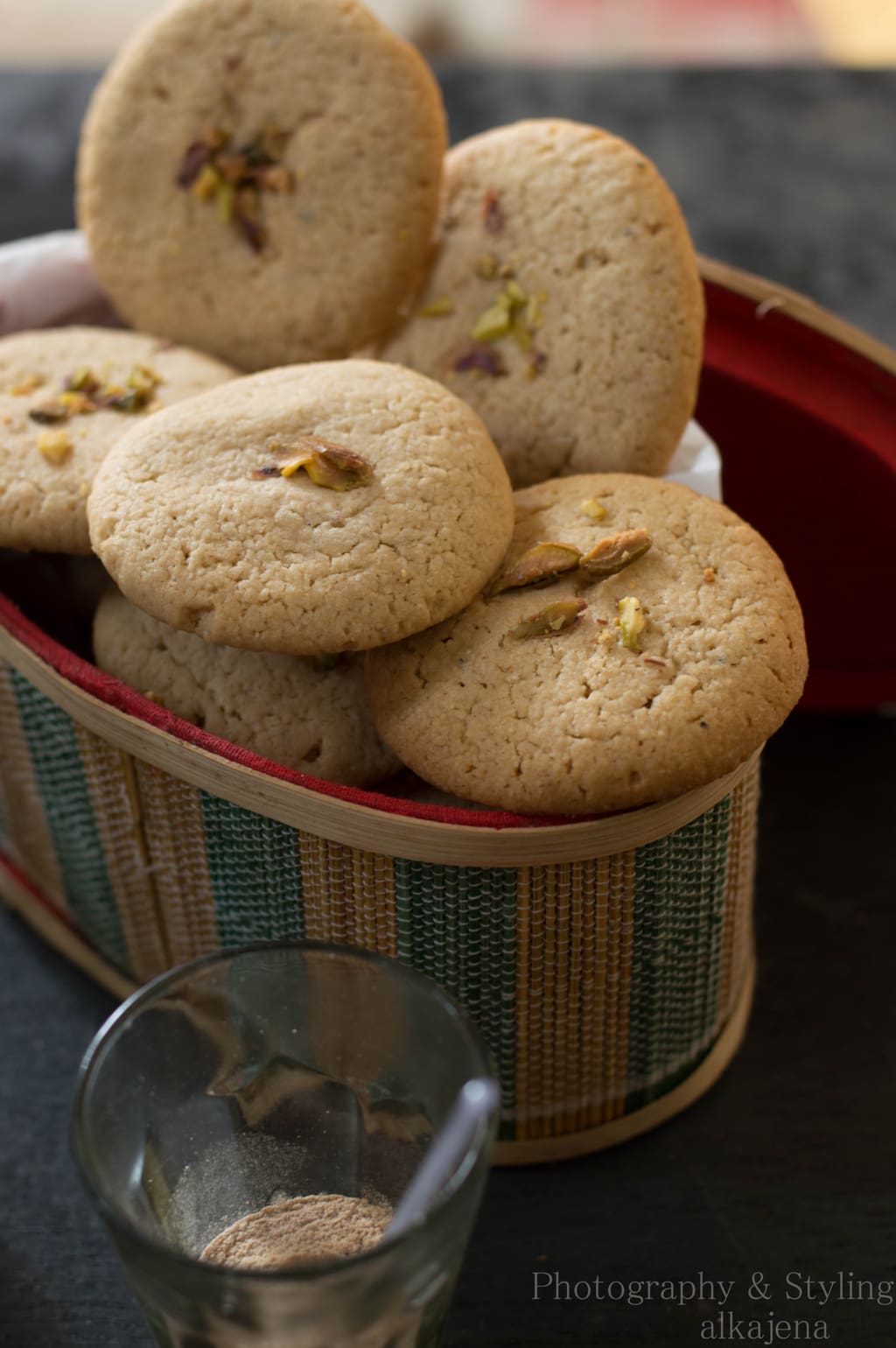 Though I make these cookies quite often at home, surprisingly it has never find it's way to the Blog. When my fellow foodie bloggers decided the theme for our 49th Foodie Monday Blog Hop to be #cookies, I waste no time in making these traditional Cardamom flavoured Indian cookies . There are various ways to make this cookies, the basic being the use of ghee, all purpose flour and cardamom. Cardamom and sugar are mixed till the cardamom releases it's flavour , then a generous amount of ghee is added to it and mixed till it becomes creamy and fluffy. Finally the all purpose flour are added and knead with hands to resemble a crumbly sweet smelling dough. This delicate cookies are perfectly paired with a cup of Masala Chai.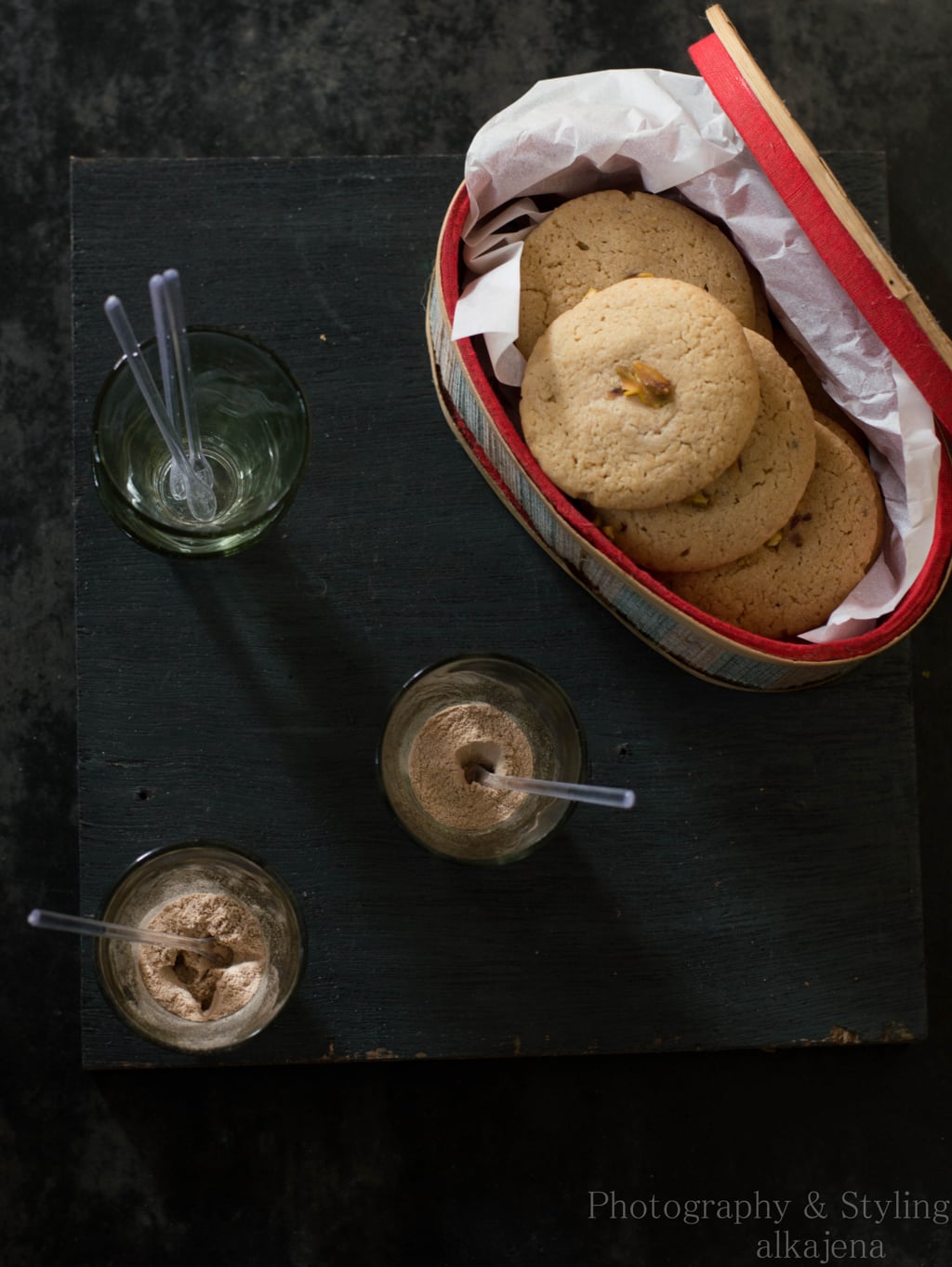 Being a Chai lover, I never lose a chance to incorporate it in the things I make at home. So I decided to make these super soft and melt in the mouth cookies incorporating the chai flavor in it. Few days back I have received a packet of premixed Masala Chai as a gift from my younger sister which were lying idle till now. So a bit of imagination and these yummy chai spiced Nankhatais are made for our Foodie Monday Blog Hop theme.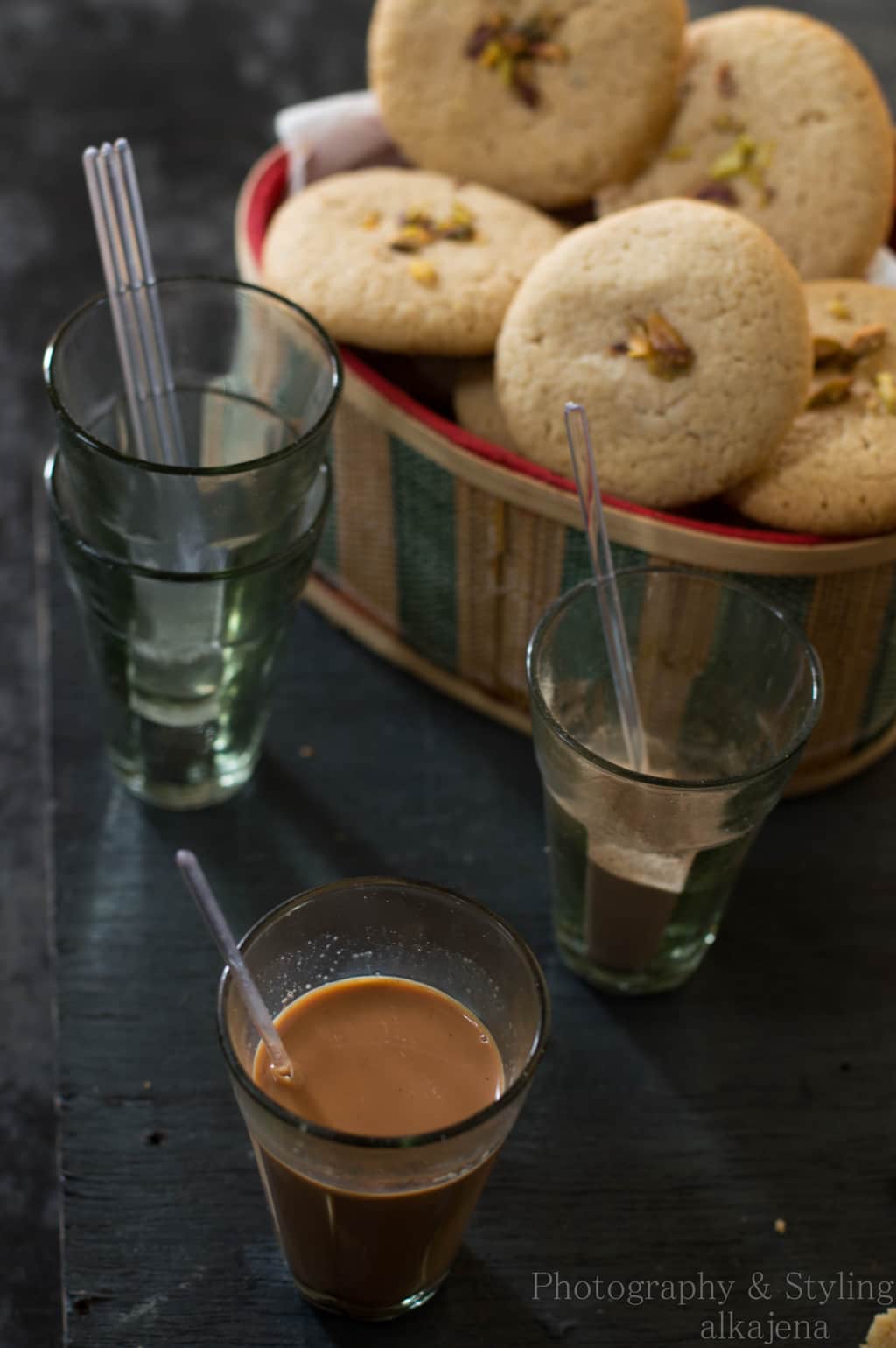 (Visited 308 times, 1 visits today)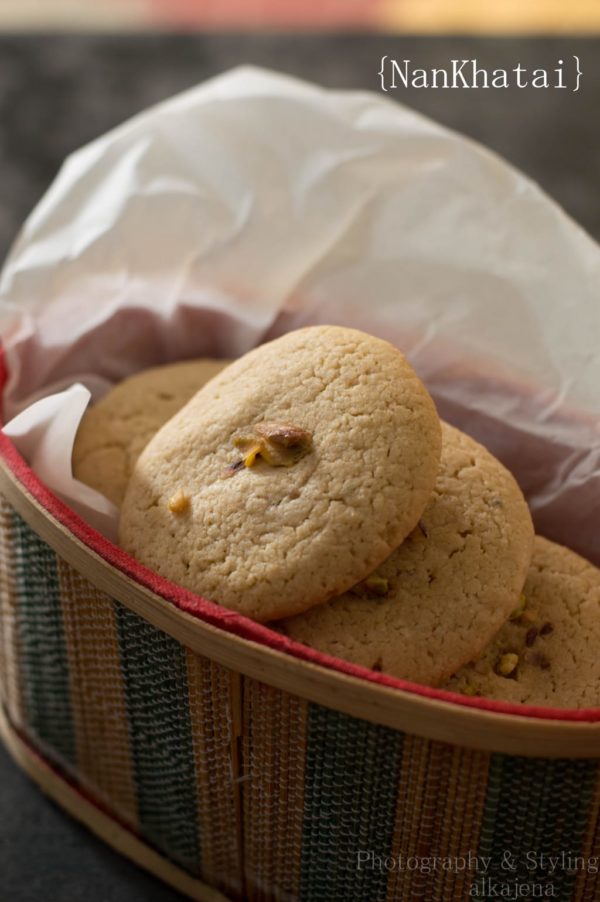 | | |
| --- | --- |
| | |
Preheat the oven to 160 degree C. Line a baking tray with Parchment paper and slightly grease it.

Mix All purpose flour , semolina, gramflour, baking soda and masala chai mix and keep aside.

Grind the sugar and cardamom pods to make a fine powder out of the sugar.

Whisk the ghee and powdered sugar till 10 to 12 minutes or until light and fluffy. I have used an electric whisk.

Fold the dry ingredients in three batches and mix well to form a smooth dough. Let the dough rest for 10 minutes.

Divide the dough in 20 equal portions make small balls out of them. Flatten them with the help of your palms like the one I do as I prefer thinner cookies.

Place the Nan Khatais on the baking tray at equal distance and sprinkle the chopped pistachios on top .

Bake in a pre heated oven at 160 degree c for 20 minutes.

Transfer the cookies when they are still soft and allow it to cool for 10 to 15 minutes.

Serve immediately or store in an airtight container and use when required.