Good Food is very often Simple Food….How true to it's nature. Simple food is always so soul satisfying. After a hard day's work, nothing satisfies like a bowl of hot steaming rice and a flavorful curry to go with.Many a times, I faced the question from most of my readers, that how do I manage to work and cook regularly and share at regular interval. This is simple, I do a lot of pre-planning, like menu planning one day in advance and makes sure my refrigerator has all the basic ingredients to whip up a quick satisfying meal. One such dish is Capsicum Paneer which is fairly easy and quick to make.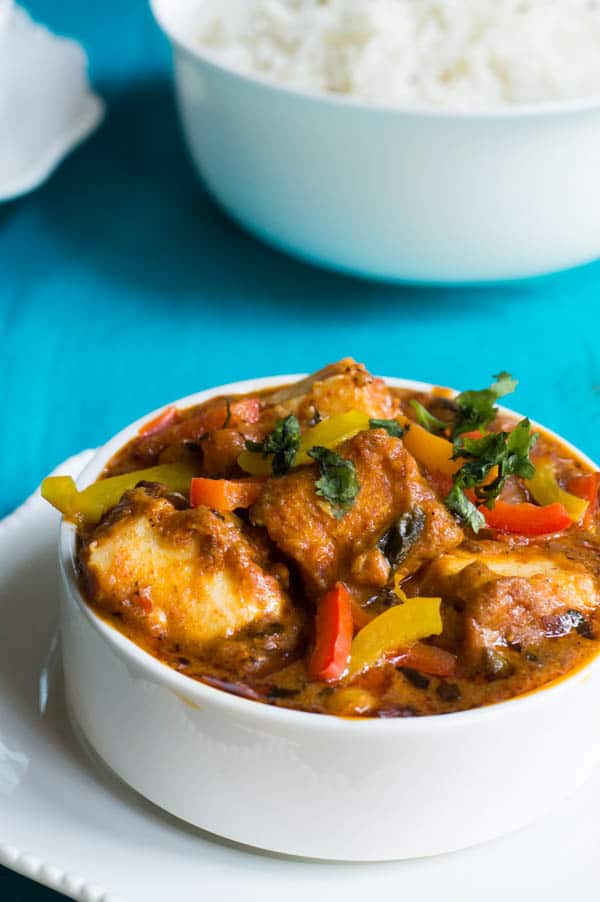 Paneer is the star ingredient in some of my most favorite Indian dishes — and probably yours too. Paneer is home-made, unsalted, white cheese which is fresh and has a dense, crumbly texture that goes beautifully with any spices.This paneer capsicum is a gravy recipe made with marinated yogurt . The addition of yogurt gives a good flavor to this recipe and overall it is a rich creamy recipe which goes best with rotis, parathas or even a simple jeera rice.Although the taste is tangy you could also make them more spicy if you wish. When you're looking at making something quickly for lunch or dinner — which is healthy too, here's a recipe which can be a quick solution.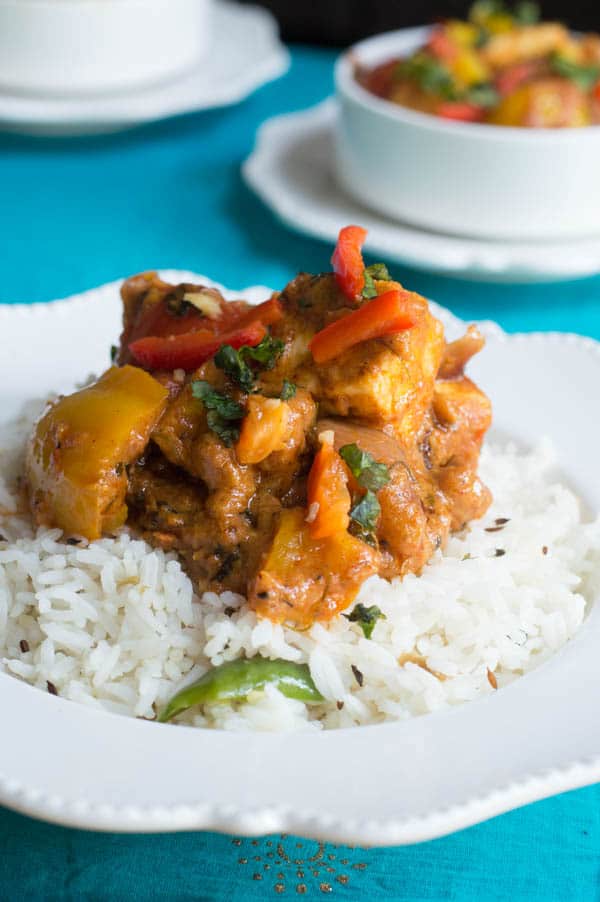 TOTAL TIME:  40 mins
Ingredients for Marinating Paneer:
200 gms Paneer cut into squares
½ cup hung yogurt
2 tsp kashmiri red chili powder
1 tsp dry mango powder
1/4th tsp chat masala
1 tbsp gram flour
1 tsp garam masala
2 tsp oil

(Visited 199 times, 1 visits today)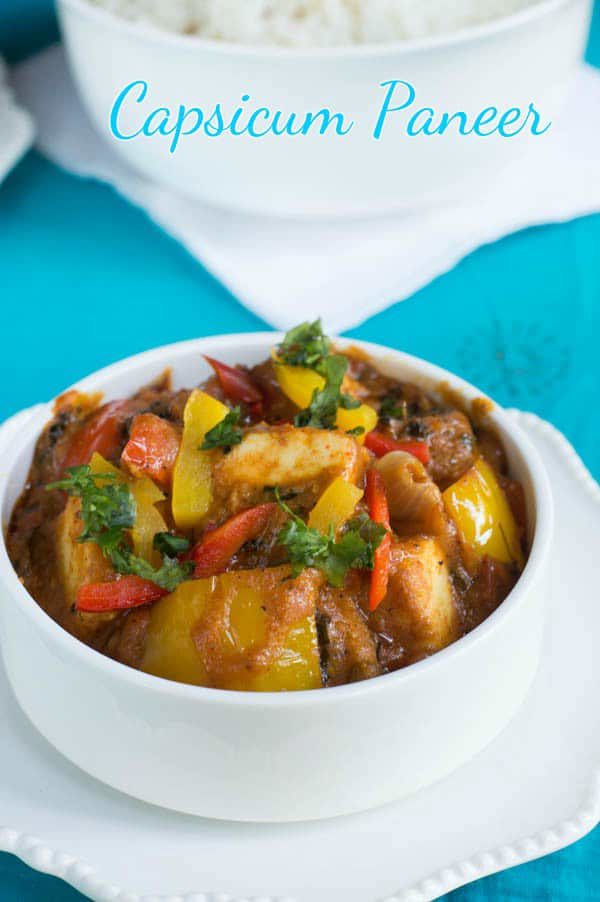 Ingredients for the gravy:

1 onion chopped into squares

1 cup green, yellow and red bell pepper chopped into square

2 tomatoes finely chopped

1 tbsp grated ginger or chopped finely

1 tsp chopped green chili

1 tsp roasted cumin powder

1 tsp kashmiri red chili powder

1 tsp garam masala powder

Fresh coriander leaves for garnishing

Let's Learn How to make this recipe:

Combine all the ingredients for marination and whisk well. Add oil ,gram flour and combine nicely. The mixture should be smooth and lump free.

Add the paneer  pieces into it and coat them nicely with the mixture. Cover with a cling wrap and marinate the paneer for 30 mins in the fridge.

Heat  a non stick tawa or pan. Add a little oil and shallow fry the marinated paneer on all sides till brown . Remove them from the pan and place aside.

In the same pan heat rest of the oil . Add carrom seeds and once they crackle add the onion, ginger and bell peppers.

Saute on high heat for 2 mins . Now add chopped tomatoes, cover and cook until tomatoes become tender.

Mash with the back of the spoon and cook till oil comes out.Add coriander powder, cumin powder, red chilli powder and turmeric powder along with salt .

Cook for 30 secs. Add little water if the mixture dries up.You can add the leftover marination from the paneer to the gravy.

Add the fried paneer and cook for a minute.  Switch off the gas and sprinkle garam masala  , green chilies ad fresh coriander leaves.

Serve this with hot roti, rice or naan.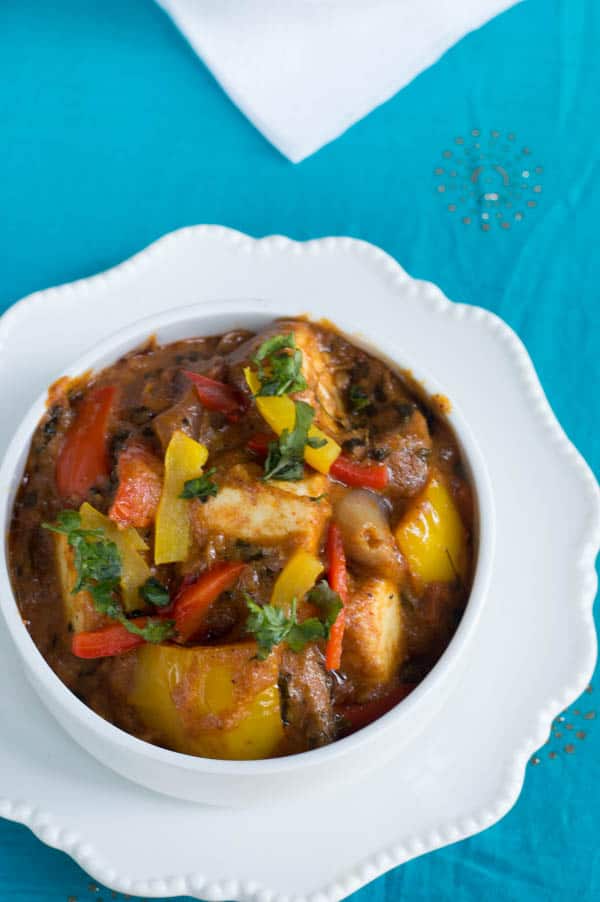 The red, green and yellow bell peppers give a nice juicy, sweet and crunchy texture that compliments the softness of cottage cheese. This one is bound to impress and believe me your family will never know that this was a less than 20 mins job.